INCH UPDATE DESK

August 31, 2005
Walter Leaves UMass Lowell for NHL Deal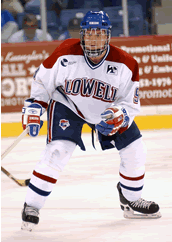 Walter's 26 goals ranked third in the nation last season.
UMass Lowell's Ben Walter, who would have been a senior this season, signed a three-year deal with the Boston Bruins Wednesday afternoon. Walter, a fifth round Bruins selection in the 2004 NHL draft, will forego his final year of eligibility at UML and report to training camp in September.
"I'm really excited to become a part of the Bruins organization," Walter said. "I've had three great years at UMass Lowell and I'm sad to be leaving, but I felt it was the right step for me. I'm glad to be moving on in my hockey career."
Walter played three seasons with the River Hawks, compiling 49 goals, 41 assists, 90 points and 62 penalty minutes in 107 games. He was named second-team All-Hockey East last season, when he posted 26-13—39 in 36 games. He was among the NCAA Division I leaders with 26 goals (third), 0.72 goals per game (fourth) and 13 power-play goals (tied for fourth).
"We're extremely happy and proud for Ben and his entire family, and we're excited to watch him fulfill his dream," River Hawk head coach Blaise MacDonald said. "We were privileged that his journey toward that end came through Lowell."
Walter would have been the cornerstone of a strong senior class at Lowell, which lost just one regular from last season's 20-win team.
August 25, 2005
Canisius Adds NHL Vet Ledyard to Staff


First-year Canisius coach Dave Smith has added former NHL defenseman Grant Ledyard as a volunteer assistant coach.

"We are thrilled to have Grant join our program," Smith said in a statement. "His interest in player development and his enthusiasm for the Buffalo area are great additions to our program and the community."

Ledyard. a Winnipeg, Manitoba, native, spent 18 seasons in the NHL, including four-plus years with the Buffalo Sabres.

August 25, 2005
Shawhan Named LSSU Assistant



New Lake Superior State head coach Jim Roque rounded out his staff by hiring former Laker netminder Joe Shawhan as an assistant coach.

Shawhan, a Sault Ste. Marie, Mich., native, spent the last 10 seasons as coach and general manager of the North American Hockey League's Soo Indians, where he guided the franchise to three league titles and became the winningest coach in the NAHL's 30-year history. The team folded after last season.

A LSSU goaltender from 1982-87, Shawhan's career goals against average of 3.83 ranks 10th on the school's all-time list.

August 25, 2005
NMU's Contois Wins NCAA Appeal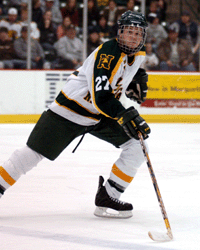 Northern Michigan forward Andrew Contois has been granted an additional year of eligibility by the NCAA.

A misinterpretation between school officials and the NCAA jeopardized the Marquette native's status for the 2005-06 season. NMU believed Contois had another year of eligibility remaining because he sat out the second semester of his freshman season and the first semester of his sophomore campaign after transferring to the school from Lake Superior State. Contois played in nine contests with the Lakers in 2001-02 before his transfer. He gained eligibility at NMU in December 2002 and played in 23 games for the Wildcats that season.

Last season, Contois ranked among the top goal scorers in the CCHA with a career-best 19 goals and 36 points in 39 games. As part of his reinstatement, he'll sit out the team's regular-season opener against St. Cloud State in Marquette.
August 23, 2005
Toffey Leaves UMass for Pros

Massachusetts forward John Toffey, who posted seven points in 40 games for the Minutemen, has signed a contract with the Tampa Bay Lightning, forgoing his senior season to play professional hockey.
"This is a great opportunity for John," said UMass head coach Don Cahoon. "We will miss his senior leadership, but wish him nothing but the best."
Toffey came to UMass in 2002 after spending his freshman season at Ohio State. After sitting out the 2002-03 season due to NCAA transfer rules, Toffey played two seasons for the Minutemen. In 40 games for Massachusetts, Toffey scored two goals and added five assists. During his entire collegiate career, the ninth-round pick of the Lightning in 2002 had four goals and eight assists in 64 games.
August 17, 2005
Holt Bolts UNO for Rangers

Nebraska-Omaha goaltender Chris Holt has decided to forego his final two seasons of eligibility with the Mavericks to sign a professional contract with the NHL's New York Rangers.
"We are very excited for Chris," UNO head coach Mike Kemp said. "Having guys like Chris Holt mature and develop in our program is very gratifying. We wish him the best."
Holt, a sixth round pick of the Rangers in the 2003 NHL Entry Draft, leaves UNO with a 24-31-6 career record over 64 games with a 3.04 goals-against average and a .902 save percentage.
Holt played more than 93 percent of the Mavericks' minutes in 2004-05, as they improved eight spots in the CCHA standings over the year before. Current sophomore Eric Aarnio was Holt's backup, appearing in six games with a 0-2-0 record, a 5.97 GAA and a .797 save percentage.
Holt will join a young corps of Ranger goaltenders including former Michigan netminder Al Montoya, who signed with the Rangers July 27. The former CCHA goalies could form a tandem with the Rangers' AHL team, the Hartford Wolf Pack.
August 16, 2005
Patrick Joins Wisconsin Staff



Bowling Green assistant coach Kevin Patrick has left coach Scott Paluch's staff to assume similar duties under coach Mike Eaves at Wisconsin. He fills the vacancy created last month when Eaves fired associate head coach Troy Ward.

A native of Schenectady, N.Y., Patrick spent three seasons at BGSU. Prior to that, he was an assistant for four seasons under Kevin Sneddon at Union. He also worked with current Badger assistant Mark Osiecki with the Green Bay Gamblers of the United States Hockey League for one season, serving as both assistant coach and assistant general manager.

Patrick, who graduated from Notre Dame in 1992, was a four-year letterwinner on defense for the Fighting Irish and also played varsity lacrosse for two seasons.

August 12, 2005
Report: Jonathan Sigalet Bolts for Bruins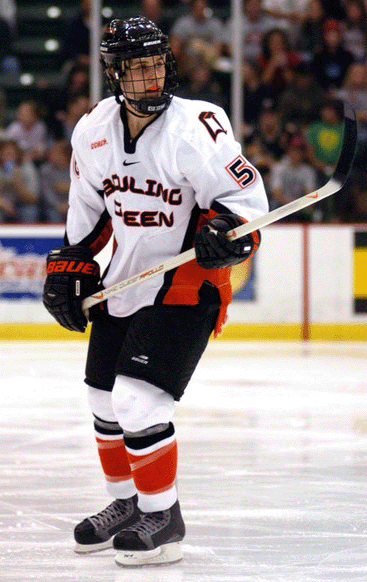 Saturday's Bowling Green Sentinel-Tribune reports Falcon defenseman Jonathan Sigalet will pass up his final two years of eligibility and sign a contract with the Boston Bruins.

"We had no indication this was coming," coach Scott Paluch told the Sentinel-Tribune's Kevin Gordon. "(Jonathan) felt this was the right decision for him."

Sigalet, who scored 31 points in 73 career games with Bowling Green, was selected by Boston in the fourth round of last month's NHL Draft. Jonathan's older brother, Jordan, who wrapped up a successful four-year career in goal for the Falcons last spring, agreed to a one-year contract with the Bruins earlier in the week.

In the story, Paluch said the Bruins offered the younger Sigalet the "maximum bonus" to sign. Terms in the NHL's new collective bargaining agreement limit rookie contracts to three years with a maximum salary of $850,000 per year and a top-end signing bonus of 10 percent of the player's salary per season.

"The important thing is the Bruins feel this is the next step in Jonathan's development and they feel this is best for him," Paluch said. "He's made a lot of progress in his play and we wish him the best of luck in his professional career."

August 8, 2005
AIC Adds Exter to Staff
Joe Exter, a former goaltender at Merrimack who recovered from a serious head injury to spend two seasons in the Pittsburgh Penguins organization, has been named assistant coach at American International.
"We are excited about having Joe on our staff," said head coach Gary Wright. "He is passionate about the game and his career objective is to be a hockey coach. Importantly, he has been a captain at every level, including at Merrimack, where he had a stellar career. Our expectation is that Joe will strengthen our hockey program."
Exter played for the Warriors for three seasons, graduating in 2003. As a senior, Exter was named All-Hockey East Second Team after posting a .915 save percentage and 2.91 goals against average while serving as captain. Late in his senior year Exter suffered a serious head injury as a result of an on-ice collision, but made a full recovery and returned to the ice as a pro.
For the past two seasons Exter player for the Wheeling Nailers, the Pittsburgh Penguins' affiliate in the ECHL. With the Nailers, Exter appeared in a total of 42 games over two years and recorded a .912 save percentage and six shutouts.
In 2003-04, Exter served as the goaltending coach at both Cushing Academy in Asburnham, Mass. and for the Minuteman Flames of the Interstate Junior Hockey League. Exter attended Cushing from 1993-97 and was a member of the All-New England Prep team as a senior before playing for the Waterloo Blackhawks of the United States Hockey League and the Eastern Junior Hockey League's Great Northern Snow Devils.
August 6, 2005
CC's Greco Signs With Tampa Bay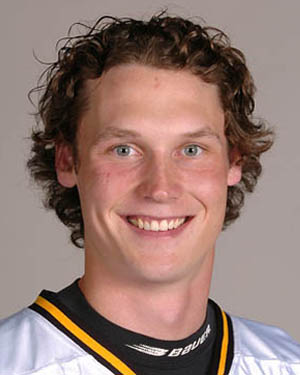 Colorado College defenseman Brady Greco signed a two-year contract with the Tampa Bay Lightning, forgoing his final year of college eligibility.
Greco appeared in 26 games with the Tigers last season, registering four goals, two assists and 36 penalty minutes. As a sophomore in 2003-04, the 6-foot-3, 195-pound native of Middleton, Wis., played in 28 games, scoring seven goals—all on the power play—and five assists while compiling 58 penalty minutes.

Tampa Bay's eighth-round selection at the 2003 NHL Entry Draft, Greco started his college career with Michigan Tech in 2001-02, He scored 10 points in 24 games with the Huskies, but left Houghton after his freshman campaign and landed with Chicago of the United States Hockey League for the 2002-03 season.

Greco is the third underclassman to leave the Tigers during the off-season. Defenseman Mark Stuart, the Boston Bruins' first-round pick in 2003, agreed to a three-year deal with the franchise last week. Just day's prior to Stuart's departure, forward Mike Sertich, the brother of 2005 Hobey Baker Award winner Marty Sertich, announced he wouldn't return due to lingering effects of two reconstructive surgeries on his left shoulder.