October 27, 2004
CHA On The Beating Path
By James Jahnke
Air Force head coach Frank Serratore admits, with a laugh, that his Falcons "screwed up" on Friday night.

Had his cadets outscored the WCHA's Colorado College (no easy task, to be sure), College Hockey America teams would have beaten representatives of all five other leagues on the same night. Bemidji State took care of the CCHA, topping Ferris State 5-2; Wayne State disposed of Hockey East's Merrimack 5-1; Niagara thumped Vermont of the ECACHL 6-1; and Robert Morris won its first ever game, 3-1 over Canisius of Atlantic Hockey.

What's more, Bemidji State was the only one among the CHA victors to have the advantage of playing at home. And it wasn't like the underdogs simply relied on red-hot goalies to steal the wins. Bemidji and WSU actually outshot their opponents, Robert Morris equalled Canisius' 30, and Niagara was only outshot by four. Not a bad night for a conference that's been considered a notch below the Big Four for its entire existence.

"We've emerged as a league," said Bemidji State coach Tom Serratore, Frank's brother. "It's not like it was four years ago when we played these other leagues. We'll compete."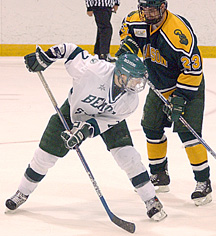 Senior forward Brendan Cook and Bemidji State split a series with CCHA foe Ferris State last weekend.
Of course, the weekend wasn't entirely rosy for the conference. It never is. On Friday night, Air Force lost 4-1 at home to CC and host Alabama-Huntsville fell to Atlantic Hockey's Holy Cross. Plus, despite the fast start, only Niagara was able to complete a weekend non-conference sweep for the CHA. All three other first-night winners lost the rematch. And a convincing case could be made that the CHA's victims were far from the best that the other leagues could offer.

But don't unleash the storm clouds on the CHA's parade, either. No league team was swept last weekend, another rare accomplishment. The Chargers exacted revenge on Holy Cross on Saturday, and Air Force blanked visiting Quinnipiac – thought to be among Atlantic Hockey's finest – on Sunday.

Frank Serratore knows how big of a weekend just transpired, and that the only way the CHA will earn more respect is by doing this more frequently.

"What measuring stick do you have other than nonconference play?" Serratore asked rhetorically. "Everything else is just speculation.Playing teams from the other leagues is a valid measuring stick to see where we are.

"When you get past the top 15 and 20 teams in the country, the bottom 30 or 40 are not going to embarrass each other when they play. It's pretty even. We don't have a bad team in our league."

Tom Serratore believes that the CHA's ability to compete with and beat teams from other leagues is somewhat cyclical, and this is an "up" year. Bemidji, Niagara and UAH all have talented, veteran teams, Wayne State is much improved from last season and Air Force and Robert Morris both have shown indications that they will exceed expectations.

"There's a lot of parity in the CHA this year, and that's what you want to have," he said.
SEEN AND HEARD IN THE LEAGUES

Coach, it's a public health crisis – Apparently, Army players haven't yet asked coach Brian Riley to put a moratorium on practices, but for their safety, maybe they should. The Black Knights have been ravaged by injuries since World Series Eve (perhaps Red Sox fan Riley's karma is just balancing out?), and face an even steeper climb than they had before.

Most notably, starting goalie Brad Roberts and leading scorer Chris Garceau have MCL injuries and likely won't be back until Christmas at the earliest. Roberts was hurt during a collision with a Bentley player Friday night, while Garceau stayed healthy until Tuesday's practice.

Also, freshman forward Lyle Gal is out for a month with an undisclosed injury and freshman forward Robb Ross was hit in the head with a puck while sitting on the bench. He suffered a concussion and required eight stitches and is unlikely to play at Cornell or Colgate this weekend.

Through it all, Riley has kept his sense of humour. OK, maybe it's a little more morbid than usual.

"Our backup goalie against RPI (Saturday) was a freshman forward, Chris Bilec," Riley said. "I had heard that he said during free ice one day that he wanted to put on the pads. He had never played goalie before, but I heard that he had said that, and since you have to have two goalies to start a game, we had him dress as our backup. We could have ended up on ESPN, but I don't think we would have had any positive highlights. I didn't tell (Bilec) this, but if something had happen to (new starting goalie) Treye (Kettwick), I was going to tell the building manager to turn off all the lights and say we blew a fuse."

Army had only two goalies on the roster to start the season, so with Roberts out for a while, Riley is scrambling for bodies. Cliff Rogers, who will graduate in December, has been added to the roster to back up Kettwick. Rogers is a former Army varsity backup and junior varsity goalie who has never appeared in a game. Additionally, the word is that a campus lacrosse goalie is being courted to become the team's No. 3. Needless to say, Kettwick is being relied upon heavily to fill the void until Roberts returns.

No breaks – The CHA was pretty unlucky on the first weekend of the Commissioners' Cup series, pitting each of the six leagues against each other. The predetermined schedule selected the Saturday Bemidji-Ferris and WSU-Merrimack games as the ones that would count in the Commissioners'
Cup standings. Of course, those were the games the CHA teams lost. The league did get two points, however, thanks to UAH's win over Holy Cross.
I guess that was bad luck for Atlantic Hockey, eh? There are no CHA or AHA contests on this weekend's Cup slate, but there are still plenty of interesting nonleague matchups – many of them just one-game deals.

UAH visits Ivy League country for dates against Yale and Princeton, Mercyhurst might pull off an ECACHL sweep at Union and Rensselaer, and Clarkson should be worried about Niagara coming to town for a pair. Dartmouth hosts both Quinnipiac and Connecticut, and then there are Army's games at Cornell and Colgate, which Riley is suddenly dreading.

"I'm trying to track my brother Rob down and ask him why the hell he scheduled these games," he said.
FRIES AT THE BOTTOM OF THE BAG
Great Weekend Getaway

Bentley at Robert Morris (Fri.-Sat.)

If you weren't able to make Robert Morris' maiden home game Saturday, head down Pittsburgh way for two this weekend. The Island Sports Center reportedly was 19 shy of capacity for the home opener, so if I can convince 19 of y'all to fill 'er up this weekend, I'll feel like I've done my civic duty for the month of October. Plus, you'll get to see Simon St. Pierre live and in the flesh (pads, whatever).

Stick Salute

Congrats to Connecticut for beating Massachusetts for the first time since 1979 on Sunday. Cole Koidahl's winner with 4.7 seconds left in overtime was a grand way to seal the team's first win of the season.

Bench Minor

Wayne State has let two wonderful chances to sweep major-conference foes slip through its gloves because of third-period meltdowns the last two weeks. The Warriors had Clarkson down 3-2 heading into the third on Oct.
17 before surrendering three goals (one an empty netter) in the final stanza to lose 5-3. Then this past Saturday, WSU led Merrimack 4-2 about four minutes into the third before allowing three goals and losing 5-4. Without those collapses, the Warriors no doubt would be 4-0-0 and ranked No. 1 in the INCH Power Rankings. As Paula Radcliffe would say, you gotta finish.
• Trivia buffs, write these down: Robert Morris' first goal was scored by Bill Menozzi, first penalty was recorded by Andrew Bonello (27 seconds into the program's existence, not bad), first win was recorded by Christian Boucher, first hat trick was recorded by Brett Hopfe and first game misconduct by Jeff Gilbert. We're still waiting for the first shutout, first six-point game and first suspension for violating unspecified team rules.
• Mercyhurst won its home opener, 8-2, over Robert Morris on Tuesday. Hopefully, Erie fans got their fill, because the Lakers don't play at home again until Dec. 10 – 10 games from now.

• Your Air Force notes of the week: Friday's crowd of 2,879 against Colorado College was the second-biggest in Falcons history. The largest was 3,093 vs. Army in 2001. Friday's loss also marked Serratore's first defeat in a home opener at Air Force (6-1-1).

• Bemidji State's 7-2 loss to Ferris State on Saturday might have been easier to swallow if the Beavers had allowed more than 20 shots on goal. Seven goals on 20 shots? The Kerry and Bush campaigns should try to spin that statistic in a positive way.

• Niagara captain Barret Ehgoetz moved past Air Force's Scott Zwiers into second place on the CHA's all-time career scoring list with his four-point weekend against Vermont. His 126 points are 16 fewer than leader Andy Berg of Air Force.

• Sacred Heart's quick start (the Pioneers have six points in Atlantic Hockey, while nobody else has more than one) is reminding some people of the beginning of Holy Cross' wire-to-wire championship last season. It's actually a pretty fair comparison.

• Niagara coach Dave Burkholder's show (appropriately, "The Dave Burkholder Show") debuted Oct. 12 on both Empire Sports Television and WLVL-AM (1340).