October 27, 2004
Two-Headed Goalie Sighted Near Lake Superior
By Jess Myers
Seemingly every preseason mention of Minnesota Duluth's chances to win the WCHA title included the name Isaac Reichmuth. And indeed, the junior goalie who backstopped the Bulldogs to the Frozen Four last spring has been a key factor in leading the nation's top-ranked team to a 2-0-1 record in Friday night games thus far.

But on Saturday nights, the Bulldogs are 3-0-0, and Reichmuth, along with an army of UMD fans, has been a spectator for the Josh Johnson show. A sophomore from nearby Cloquet, Minn., Johnson leads the Bulldog goaltending corps in every statistical category thus far, and has doubled the number of things opponents need to consider when preparing to take a shot on goal.

"We saw a lot of maturity in Josh last season, and he's still only lost one career start," said Bulldogs coach Scott Sandelin after Johnson stopped all but one of Minnesota State, Mankato's 44 shots during his last start (a 4-1 win). "He seems like he's more in control of the net, and he handles rebounds very well."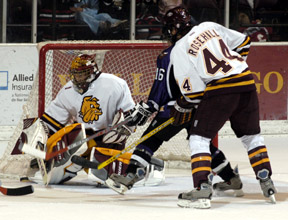 In three starts, UMD's Josh Johnson has posted a 2.00 GAA and a .945 save percentage.
Johnson saw action in nine games as a rookie, coming in to relieve Reichmuth in a few mid-season games when the starter struggled, and getting the 4-2 victory over Alaska Anchorage as a starter in the WCHA Final Five third-place game last March. Sandelin would like to keep splitting the goaltending duties for the time being, and added that in a season's opening months, rotating helps keep both goalies fresh.

"Early in the year, fatigue can be a factor," Sandelin said. "Having two guys who can play keeps them on edge and allows them both to get into game shape quicker."

The Bulldogs are ranked number one in the nation for the first time since October 1989, when they started out 8-0-0 en route to a 20-19-1 finish. As for the added pressure on his goalies, and the entire team, that comes from having the top ranking in the nation, Sandelin said it's nice recognition, but nothing to get too worked up about.

"It's exciting, especially for our fans because it hasn't happened in a while, but we have to keep it in perspective," Sandelin said. "It's only October, and those things change like the weather."
SEEN AND HEARD IN THE WCHA
Buckled by Bucky – There's been plenty of talk about more strict enforcement of the rules this season, and a crackdown on obstruction and unnecessary contact. But what is an on-ice official to do when the guy in the stripes is the victim of the contact, and the offender is dressed like a burrowing animal that's eight feet tall?

Those were the questions confronting WCHA assistant referee Karl Olm last Friday in Madison when the Bucky Badger mascot slammed into Olm before the game between Wisconsin and Michigan Tech. While a few who witnessed it allege that that contact looked intentional on the part of the mascot, others point out that the collision happened during the introduction of the Badger players, when the lights are dimmed and there is a great deal of noise in the building. The more innocent explanation is that the person in the Bucky suit couldn't see well and crashed into Olm by accident.

WCHA supervisor of officials Greg Shepherd, who was not at the game, was reportedly very angry after being informed of the incident by phone, but had calmed considerably by Monday and said that the contact was accidental.

"I talked to the guy and sorted it out, so it wasn't that big a deal," said Shepherd, adding, "But if one of the players gets run into before a game, we've got a real problem."

Olm worked both games, but told friends after the Friday night contest that the collision had given him a bruised and sore leg. Shepherd said that a different person was in the Bucky suit on Saturday and there were no problems.

Earlier this fall, the university police ticketed another Bucky mascot for an illegal body-passing stunt at a Wisconsin football game.


Great Weekend Getaway

Denver at Wisconsin
(Fri.-Sat.)
These two teams were supposed to be all about defense and struggle to find offense. Instead, both the Badgers and Pioneers put double digits on the board last weekend, with Jon Foster averaging a goal a game for Denver and the wunderkind duo of freshman Joe Pavelski and sophomore Robbie Earl leading the way for Wisconsin. And for those who give Bucky the edge playing at home and all, we present you with this interesting stat: Denver sports a 7-0-2 mark in its last nine regular season games played in Madison.

While You're There: We may be just a bit past peak fall color in southern Wisconsin, but that would hardly diminish the view from Observatory Hill in the heart of the UW campus. Take in the view of Lake Mendota's vast expanse, and the forest on Picnic Point just off to the west. Then stroll down the hill toward the Capitol dome to State Street, and if you're a bit parched from the walk, you won't have to look far to find a friendly barkeep with something to wet your whistle.

Stick Salute

The WCHA (and INCH, for that matter) will see a dear friend move to a higher elevation Nov. 5. After 18 years as sports information director at Michigan Tech, Dave Fischer is leaving Houghton to become the director of media relations for USA Hockey in Colorado Springs. A face of consistent optimism and good humor throughout the Huskies' past decade of on-ice struggles, Fish is the man who brought us the most entertaining and informative line charts in the business and has served as the press conference moderator at the Frozen Four seemingly since the days when ECACHL teams were winning titles. Here's hoping Fish does his many friends in the WCHA a favor and stops by World Arena for a game now and then.

Bench Minor

Last Thursday, the student body at St. Cloud State elected Fue Khang, a student from Minneapolis, as the school's 2004 Homecoming Queen. Khang was nominated for the honor by the student senate, of which he is a member. Yes, he. Fue Khang is a man, and his election marks the first time since SCSU homecoming royalty was first selected in 1940, that the Queen has had to use the men's restroom. "We don't like putting people in a box," student government president Hal Kimball told the St. Cloud Times. "We don't discriminate. It's a beautiful world." One likes to think that Aerosmith's "Dude Looks Like A Lady" was blasted over the speakers as Khang made his-post crowning stroll down the aisle, tiara and all
Hill to Undergo Surgery– John Hill was Don Lucia's assistant coach for several years, both at Colorado College and Minnesota, before following his mentor into the head coaching ranks when Hill took the helm at Alaska Anchorage in 2001. Now, Hill is following in Lucia's footsteps to the operating room too.

Seawolves beat writer Doyle Woody of the Anchorage Daily News reports that Hill will undergo back surgery on Dec. 14 to have some vertebrae fused. It will be the third back operation for Hill, who has been plagued by back pain for a few years. The Seawolves have no games between Dec. 11 and Jan. 7, giving Hill nearly a month to recuperate.

Fans will recall that Lucia underwent neck surgery in early 2004, spending one weekend following games from the Mariucci Arena press box and several weeks directing games from behind the bench while wearing a neck brace.
PUCKS TO PICK UP AFTER PRACTICE

• While many were surprised to see Minnesota rout North Dakota 6-0 last Saturday in Grand Forks, even more may have been surprised by the attendance count during Friday's 4-2 come-from-behind win by the Sioux. Despite being ranked No. 2 in the nation and despite having their arch-rivals in town, the Sioux failed to sell out Friday night's game, with more than 200 tickets unsold.

• It was "goals all around" last weekend in Colorado Springs when Colorado College beat Air Force (4-1) and Quinnipiac (7-2) to remain unbeaten. Seven different Tigers scored goals over the two games and 15 different players recorded at least one assist. CC is off this weekend before a key series at North Dakota on Nov. 5-6.

• While Colorado College extended its lopsided winning ways over Air Force last weekend, the WCHA gets a taste of its most lopsided in-conference rivalry this weekend at Mariucci Arena. Minnesota, which hosts Minnesota State, Mankato in the Gophers' home opening series, holds a 12-2-4 all-time mark versus the Mavericks, who come north to Minneapolis looking for their first win of the season. MSU's lone win at Mariucci came in Don Brose's final season as the Mavs' coach (and Don Lucia's first season as Minnesota's coach) when Andy Fermoyle scored the overtime winner on Jan. 29, 2000.

• When St. Cloud State visits Hobey Baker Rink this weekend, it will be the Huskies' first game at Princeton since a 4-3 loss to the Tigers on Dec. 2, 1987. That was St. Cloud State's first season as a Division I independent and Craig Dahl's first season as the Huskies head coach. On Saturday, the Huskies will make their first-ever visit to the Yale Whale. Perhaps they'll use their time in the Ivy League to do some intensive study on how to make a power play work. Thus far this season, the Huskies are just 2-for-51 with the man advantage.

• While some writers in Ann Arbor don't think college hockey will benefit from the absence of the NHL, it's a different story in the State of Hockey. The Minnesota Wild's web site ran a recent online poll asking fans what hockey they'll watch instead of NHL games this winter. As of early this week, "WCHA Hockey" was the far and away leader with 63% of the vote. A distant second, with 17% was "I don't watch, I play.".