November 3, 2004
Canisius Coach Honors Mother's Passing
By James Jahnke
Atlantic Hockey/CHA Notebook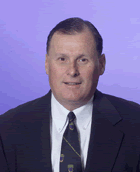 Canisius head coach Brian Cavanaugh

For the first time in 24 years at Canisius, coach Brian Cavanaugh wasn't alongside his team at the hotel, during the pregame meal or on the bench for a Golden Griffins road game.
Cavanaugh's mother, Eileen Cavanaugh, who would have been 91 years old this week, died last Thursday morning, causing the coach to stay behind in Buffalo while his team traveled to Wayne State for a pair of nonconference games. Eileen Cavanaugh suffered from Alzheimer's disease and her condition had recently deteriorated. Brian Cavanaugh was at the induction ceremony for the Greater Buffalo Sports Hall of Fame – he's on the board of directors – last Wednesday night when he received a call that she didn't have much time left, so he rushed out to Orchard Park and spent the final hours of his mother's life at her bedside.
Missing a couple of hockey games was the last thing on his mind.
"She had a great life," Brian Cavanaugh said this week. "She's in a better place. She was a very religious person, so I know she's in heaven right now, helping me out with a few close games."
His mother's wake was Friday and funeral was Saturday, meaning Cavanaugh conceivably could have made it to Detroit for at least part of the Golden Griffins' Saturday-Sunday series. He said the thought of driving down Sunday morning crossed his mind, but in the end, the youngest of eight children decided to spend more time with his grieving family, including a sister from Tulsa whom he rarely gets to see.
Plus, he didn't want to infringe upon his assistants, Clancy Seymour and Stephen Fabilli, who handled the team admirably despite 3-2 and 3-1 losses.
"I didn't want them thinking that they did something wrong and Coach was coming in to correct the loss," Cavanaugh said.
The series constituted only the third and fourth games Cavanaugh had ever missed in his nearly quarter-century at Canisius (he was suspended for two home contests several years ago). Whenever he got a chance this past weekend, he was on the phone seeking updates from sports information director Steve Rudnicki in the press box or conversing with his assistants – neither of whom had ever been a head coach before – during intermissions.
"It was just typical stuff – bouncing things off each other like what the other team's doing and what we're doing tactically," Cavanaugh said. "And reaffirming the decisions they were making. A lot of times, it's a confidence thing for new coaches."
Cavanaugh said he thinks the Griffs might have been trying too hard to win for him this weekend and, thus, came up short. But team captain Fred Coccimiglio said the team just didn't come out with enough energy.
"It wasn't the coaches' fault," Coccimiglio said. "It was tough without him, but we just came out flat. I don't think it would have been any different (if Cavanaugh were there)."
SEEN AND HEARD IN THE LEAGUES

We're asking that you remain calm – Mercyhurst coach Rick Gotkin could be accused of using spin tactics on Election Day. While standing in line at the polls in Erie, Pa., (God bless him), a lady from his neighborhood asked him how the Lakers' season was going.
"Oh, pretty good."
How many games have you played?
"Six"
What's your record?
"One and five"
You can imagine the neighbor's reaction. But Gotkin really does believe that his Lakers, who, prior to the season, were the popular choice to win the Atlantic Hockey championship, are playing all right despite the emaciated numeral in their win column. Their losses came to Wisconsin (twice), New Hampshire, Union and Rensselaer – nothing to be ashamed about. But the lone win came against first-year Robert Morris, which is nothing to brag about, either. Even though college hockey observers wouldn't have been surprised to see Mercyhurst beat Union and/or RPI last weekend, Gotkin says he's not worried.
"I like our team a lot," he said. "We find more good than bad in the losses. We've had a good work ethic, the players are paying close attention to our systems and we haven't been rattled by the tough places and teams we're playing. With the exception of three periods (the third stanza of an 8-0 loss to the Badgers, the first period at UNH and the third period against RPI), we've been OK.
"We knew when we took this schedule that we could be 1-5."
Things should get a bit easier this weekend with league contests against Army and Connecticut, although both games are on the road. And let's not forget that both Army (vs. Colgate) and UConn (vs. Massachusetts) have more impressive nonleague victories than Mercyhurst does this year.
Adding injury to early-season insult, the Lakers still might be without leading scorer Dave Borrelli, who missed last weekend's games with an injury. "He's day-to-day now," Gotkin said.
Over the top – Astute observers of Air Force hockey might have noticed that sophomore goalie Peter Foster is stationing himself farther out of the net than he did last year. It's no accident.
"We're trying to make it difficult for shooters to go under the bar on him," Falcons coach Frank Serratore said. "At 5-feet-8, he needs to play above the top of the crease to survive in college hockey. He's very athletic, and I think athletic goalies in juniors can tend to sit back in the crease and rely on their reflexes to make saves. But that won't work in college.
"Peter's gotten stronger mentally and physically. He's increased his leg strength. Against Colorado College, he made four or five big-time saves on shots over the top that he probably wouldn't have made if he were sitting back in the net."
Thus far, Foster has two shutouts, making him the first Falcon with two blankings in a season since Marc Kielkucki in 2000-01. Foster is 2-2-2 with a 2.17 goals-against average and .902 save percentage.
FRIES AT THE BOTTOM OF THE BAG
Great Weekend Getaway

Robert Morris at Alabama-Huntsville (Fri.-Sat.)

The Colonials get initiated into College Hockey America with a tough road series in the Deep South. The Chargers already have wins over Yale and Atlantic Hockey power Holy Cross and a tie against Princeton on their resume, so it might be easy to overlook the newbies from Pennsylvania. But RMU has proved to be a competitive team thus far and won't roll over in their first league contests.

While you're there: Third-ranked Auburn has a bye week, so there might be a few more butts in the seats at Saturday night's contest. But you should still be able to get a walk-up ticket after your pregame barbeque feast at Dreamland BBQ. Mmmmmmmmmmm ... boy.


Stick Salute

Kudos to Atlantic Hockey's Army and Quinnipiac and College Hockey America's Niagara and Alabama-Huntsville for their wins over ECACHL teams last weekend. The Black Knights beat Colgate 3-2, Quinnpiac topped Dartmouth 2-1, Niagara disposed of Clarkson 5-3 and UAH thumped Yale 5-2. Throw in the Chargers' 5-5 tie against Princeton, and the two youngest leagues did themselves proud for a second straight week. Plus, all five of those games were on the road.

Bench Minor

I don't need to dust off my Ph.D. in hockey analysis to prove that I know why these teams lost last weekend: Robert Morris (0-10 power play Fri.), Mercyhurst (0-8 PP Fri., 0-5 PP Sat.), Sacred Heart (0-10 PP Fri., 0-5 PP Sat.) and Canisius (0-8 PP Sun.). In fact, of the 12 CHA and AHA teams that lost, only three of them scored a power-play goal during their defeat.
• From the Who'da Thunk It? file: Army, crippled by numerous key injuries and stinging from a 7-1 pasting at Cornell on Friday night, went to Colgate on Saturday and beat the Raiders for the first time since 1987. That helped ease the Black Knights' embarrassment of being outshot 49-9 by Cornell.
• Bemidji State forward Brendan Cook tied the CHA record for career short-handed goals by notching his seventh during the Beavers' most recent game. He ties former UAH skater Steve Charlebois atop the list. Speaking of shorties (not the ones about whom Master P raps), Wayne State had its streak of four straight games with an SHG snapped Sunday.
• Sacred Heart will be without the services of defenseman Bernie Chmiel
for the first game of the Pioneers' series at Ohio State this weekend. He received a game disqualification – and subsequent one-game suspension – for spearing at the end of the Cornell loss Saturday.
• It's becoming clear that opponents are going to have to shut down UAH's top line of Jared Ross, Craig Bushey and Bruce Mulherin if they are going to have any success against the Chargers this season. Four games in, that trio has combined for 21 points – nearly 50 percent of the team's output. Their percentage of goal scoring jumps to 56 percent (nine of 16).
• Not to be outdone, the Barret Ehgoetz-Ryan Gale-Justin Cross line at Niagara is pushing the Chargers Three for the distinction as the best trio in the CHA. Ehgoetz, Gale and Cross have combined for 24 points in seven games. In the last four contests (three wins and one loss vs. ECACHL competition), they've combined for eight goals and 12 assists. And the good news for the Purple Eagles is that their top line has better support from the other three offensive units than UAH's big guns.
• Former Michigan State Spartan Damon Whitten has been hired as an assistant coach at Wayne State. He'll replace former Badger Eric Raygor, who left the Warriors in September to take a non-hockey job. Whitten, a smart chap who was an assistant captain on MSU's last Frozen Four team (2001), has spent the last two seasons as a volunteer assistant coach under Rick Comley.
• Holy Cross showed some fortitude by scoring two extra-attacker goals to scratch out a 2-2 home tie against Air Force on Friday night. Without a doubt, the star of the weekend was Crusaders forward Pierre Napert-Frenette, who scored the first goal Friday then had a hat trick among four points in Holy Cross' 5-2 victory Saturday.
• Several interesting nonconference games dot the CHA and AHA schedule this weekend, and as usual, all of them are on the road. The top CHA teams, Bemidji State and Niagara, will play winnable series at Minnesota State, Mankato and Western Michigan, respectively. As you might know, Bemidji coach Tom Serratore and Mankato coach Troy Jutting were college roommates. The good news for the Beavers is that they were 6-0-0 coming off an idle weekend last year. The bad news is that they're 0-16-2 on Olympic-size ice since becoming a Division I program. Elsewhere, Sacred Heart has a pair at Ohio State, Wayne State two at Providence (a homecoming for Warriors forward Jason Bloomingburg) and Connecticut plays one at Northeastern. If the CHA and AHA can win, say, three to five of those 9 games, it will be another positive weekend.
• Spotted in the stands at Compuware Sports Arena on Sunday: Michigan State forward Colton Fretter, who was watching his buddy Josh Zavitz man the blue line for Canisius. Both are natives of Harrow, Ontario. While watching the game, Fretter no doubt was trying to figure out just how MSU lost to Wayne State last season.
• Another big "first" for the Robert Morris program came to pass last weekend – the Colonials' first home win. A 3-1 victory over Bentley salvaged a series split and sent fans home happy from the Island Sports Center for the first time in three tries.