November 3, 2004
First Things First for BU
By Nate Ewell
Hockey East Notebook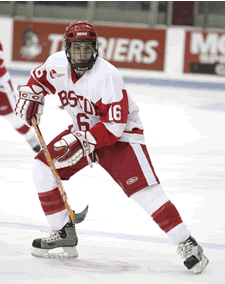 Freshman Pete MacArthur had goals in each game last weekend and has four on the year to lead BU.

Is it the swagger, or the scoring?
That's the chicken-or-egg question at Boston University right now, as the Terriers are riding a wave of increased confidence and goal production. They carry a three-game winning streak into Friday night's game against New Hampshire in Manchester.
They aren't breaking offensive records – in fact, head coach Jack Parker's team is last in Hockey East with 2.40 goals per game – but the goals seem to be coming much more often, and in timelier situations, than they did a year ago.
As the Terriers slogged their way to a 12-17-9 season, Parker often found himself praising his team's effort, but noting that they were gripping their sticks too tightly. They just didn't seem to have the poise or confidence needed to turn chances into goals.
Whichever came first, there's no doubt that the Terriers have a spring in their step and goals in their sticks.
"I think this team has a little more swagger, a little more confidence than last year," said Parker, who is looking for his first four-game winning streak since February of 2003. "We're more capable than last year of putting the puck in the net. We played real well at times last year, but we were tentative around the net and couldn't score. Although we're not getting seven goals a game or anything like that, we are scoring, and I like the way we're playing poise-wise."
A big part of the improvement on Babcock Street comes from a talented freshman class. Chris Bourque has an incredible amount of poise and has been BU's best player in several outings so far. And while Bourque (0-3—3) hasn't scored himself yet, his classmate and linemate, Pete MacArthur, leads the team with four goals and six points. Bourque and MacArthur rank 1-2 on the team in shots on goal (29 and 17, respectively) and have combined for more than a quarter of the Terriers shots.
They combined on a great goal in Sunday's BU win over Maine that demonstrated what each one has brought to the team. Bourque made a nifty play to chip a puck past Black Bear goaltender Jimmy Howard, but it hit the post. MacArthur was there to finish the play.
"We knew what Chris Bourque was going to do, and he's been tremendous but that wasn't a surprise," Parker said. "Pete MacArthur has been good as well. He's always been a player who's been in the right place at the right time."
That knack around the net is precisely what the Terriers needed after last year, and has given them good reason to carry their heads high.
SEEN AND HEARD IN HOCKEY EAST
Saluting 700 – Nobody gets to 700 victories alone, and Jerry York was quick to praise those who have played for and coached with him when he became just the third coach to reach that milestone Friday night against North Dakota.
There's also something to be said for a head coach putting that supporting cast in roles where they can succeed. Speaking to Father Tony Penna, who works closely with the Eagles team, this summer, he said a key to York's success was not just his own excellence as a coach, but also the trust he has in – and the responsibilities he gives to – his assistants.
York, to his credit, is quick to heap praise on all of his assistants, past and present. At the Frozen Four last year, for example, he went out of his way to cite the role of Bowling Green head coach Scott Paluch in recruiting some of the players who had led BC to that point.
Chances are, down the road, York will take as much pride in watching the success of Paluch, former BC assistant Ron Rolston, and current assistants Mike Cavanaugh and Greg Brown as he does in his own incredible resume. But regardless of whether it's measured in his record or the people he's influenced, it's clear that York leaves a remarkable legacy in college hockey.
FRIES AT THE BOTTOM OF THE BAG
Great Weekend Getaway

Boston University vs. New Hampshire (Fri. at Manchester)
The Terriers have enjoyed some success at the Whittemore Center, but this game heads to Manchester where a packed house should be waiting. There are two potentially great games at Maine this weekend (Boston College and New Hampshire visit), but BU-UNH is the most intriguing on the docket. Both teams had goaltending questions before the season that have largely been answered, and the offense has been there thus far.

While You're There: We had good luck tracking down out-of-town games at Billy's Sports Bar, a short drive from the rink, during the Northeast Regional last year. There won't be a chance to catch any other games Friday night, but the grub is worth the trip.


Stick Salute

Kudos to Boston College Director of Hockey Operations John Hegarty and his staff for lending a hand to North Dakota after Friday's game. BC provided two of their own vans, and Hegarty and two of his assistants volunteered their time to help take all of the Fighting Sioux's equipment to Northeastern's Matthews Arena late Friday night. This saved North Dakota from fighting through the 3.2 million Red Sox fans in the city on Saturday morning for the parade.


Bench Minor

Northeastern's penalty kill has allowed at least a goal in every game thus far and checks in at 69.0 percent, good for 56th in the country. The good news: last weekend the Huskies allowed only three power-play goals on the weekend, snapping a string of three straight games in which they gave up three PPGs in each contest.
• Coaches often point to the jump between freshman and sophomore year as the biggest opportunity for improvement. We touched on Matt Byrnes' jump in production at Merrimack last week, and Brett Hemingway is making similar strides at UNH.
A big reason for optimism in Providence is the play of three sophomores who, at least to this point, have made that leap. Chase Watson (2-4—6), Colin McDonald (5-0—5) and Bill McCreary (4-1—5) are all averaging a point per game through five games and are among the top four Friars in scoring; last season that trio finished seventh, eighth and ninth on the team in points, respectively.
• Boston College has played the fewest games of any Hockey East team (four), and yet Patrick Eaves leads the conference with 11 points.
• BU found a gem in freshman Bryan Ewing, but the Terriers will miss him over the next six weeks due to a shoulder injury. "We knew he was going to be good," head coach Jack Parker said, "but we didn't think he'd be this good."
• Can Connecticut make it two in a row? The Atlantic Hockey Huskies visit the Hockey East Huskies – Northeastern – Friday night and hope to duplicate their 3-2 overtime win at Massachusetts two weeks ago.
• There's no need to panic yet at Maine, but there is room for improvement. The Black Bears (5-4-0) have only won two games in a weekend once in four tries (against Niagara), and have a tall order ahead this weekend with Boston College and New Hampshire in Orono. The Black Bear defensemen have had difficulty with aggressive forechecks, and the offense generated only one goal at BU Sunday with playmaker Michel Leveille injured and out of the lineup. The good news: Jimmy Howard, who had mononucleosis and a sprained ankle in the off-season, is back at the top of his game.
• Ben Walter's four-goal performance at Rensselaer was the first time a UMass Lowell player scored four goals since 1995 (Neil Donovan, at Massachusetts). Perhaps more significant for the River Hawks, Andrew Martin's goal in that game was their first at even-strength all season.
• All three UMass Lowell goaltenders saw action in the two victories in ECACHL country, including freshman Peter Vetri's first career start in the 3-2 win at Union.
• He's only 1-2-0 and lost 6-2 Friday night at Providence, but Tim Warner has played well along with Gabe Winer in the Massachusetts goal. "He worked hard over the summer and has played well," head coach Don Cahoon said of Warner prior to the Providence game, when he was victimized by three power-play goals. "He gained confidence late last year, but it's been more than that. He's played really well."
Winer, meanwhile, has been spectacular, with a 3-1-0 record, a 1.75 goals-against average and a .931 save percentage, numbers that are second only to Boston University's John Curry in the conference.
• New Hampshire will have played one game in the 18 days before its faceoff with Boston University Friday night.
• UMass, Northeastern and Providence all unveiled new sweaters this season, and we've got to give Providence the nod for the UMass Lowell Award – named after the River Hawks jerseys introduced last year – for the league's best new threads. That's impressive, considering that we welcome Providence uniform changes like dentist's visits, but they got this one right.
A variety of sources were utilized in the compilation of this report.