March 16, 2005
Sterling is Golden
By Jess Myers
WCHA
FINAL FIVE PREVIEW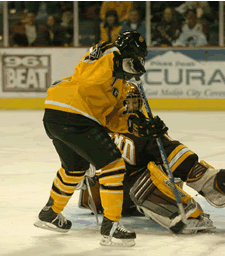 Brett Sterling leads the nation with 30 goals entering the Final Five.

For the Colorado College Tigers, the past month has been filled with contradictions. For example, winning your conference title is a joyful moment, and watching your arch-rivals win the conference title is a moment you'd probably like to forget. The Tigers got to experience both within the span of about 24 hours recently.
Then there are the national standings to consider. The Tigers enter the WCHA Final Five in a strange position of being ranked No. 1 in the nation in some polls, but holding the No. 2 seed in their own conference.
The Tigers' leading goal-scorer, junior Brett Sterling, is in a somewhat similar position as his team heads east in search of its first-ever outright WCHA playoff title. He's leading the team, the conference and the nation in goals scored, but is widely considered to be just the second-best player on his own line, which has been dominated by Marty Sertich's magical ways all season.
INCH caught up with Sterling before his team's final home practice this week, before they boarded a Minnesota-bound plane on Wednesday for a weekend date with the Golden Gophers, and a chance (with two wins this weekend) to remove the "co-" from the Tigers' current title of WCHA Co-Champions.
Inside College Hockey: Tell us about sharing the MacNaughton Cup with your arch-rivals. That had to be an interesting experience.
Brett Sterling: We went into the weekend of those two games knowing we had to sweep or at least win and tie to get the full share. We knew it would be tough because the series between us and Denver is always a difficult one. It was an interesting experience, and it was great to get at least a piece of the Cup that first night. Things didn't exactly go our way the second night.
Final Five Capsules
No. 1 Denver
Record: 26-9-2 (19-7-2 WCHA)
Pioneer Fact: Pioneer fans in search of bragging rights are hoping that their team beats Minnesota for the Final Five title on Saturday night. DU enters the weekend tied with the Golden Gophers on the list of schools with the most all-time WCHA playoff titles to its credit (Minnesota and Denver have each won it 13 times). This is just the Pioneers' fifth Final Five trip, but they've won two of the previous four they've played in.
How Denver wins: Play deep. No matter who they face on Friday, the Pioneers will have six days rest, while their opponents will be lucky to get six hours sleep after the Thursday play-in game. If DU coach George Gwozdecky can rotate four lines and generate first period offense, they may be able to take the fight out of either the Badgers or Sioux and earn their date for the title game early. A third period lead versus a battle-weary opponent is a scenario any coach would like.
No. 2 Colorado College
Record: 28-7-3 (19-7-2 WCHA)
Tiger Fact: Since the WCHA went to the Final Five format in 1993, the Tigers have been among the most frequent visitors to the tournament. The 2005 Final Five marks their 10th appearance in 13 years. In fact, the 2000 season (in which the Tigers were upset by rookie Minnesota coach Don Lucia in the opening round, is the only Final Five CC has missed in the past 11 seasons. Their best finish has been runner-up, in 1996 and 2003.
How Colorado College wins: Dance with them that brung ya. While they're not maintaining North Dakota's torrid offensive pace in the playoffs, the Tigers did put up 11 goals in their two post-season games thus far. More important may be quieting Minnesota's offense, as the Gophers are 20-0-1 when scoring four or more this season. Hold Minnesota to three or fewer, and you'll have a date for the dance on Saturday night.

No. 3 Minnesota
Record: 26-12-1 (17-10-1 WCHA)
Golden Gopher Fact: Minnesota, winner of the past two Final Five titles, has a shot at history this weekend, as no WCHA team has never been the outright playoff champion three years in a row. Between the mid-1960s and late-1970s the league awarded co-playoff titles, and Minnesota split the title with Michigan Tech three years running then (in 1974, '75 and '76).
How Minnesota wins: Play like the home team. The WCHA does nice work to bring in elements from each of the league's 10 rinks for the tournament, to try to make the Xcel Energy Center feel like more of a neutral venue. The effect is muted somewhat when the gates open and 15,000 fans in maroon and gold file in and start rooting for their favorite rodent mascot. Don Lucia's teams have felt right at home in St. Paul (with a 11-3-0 lifetime record in the X). One or two wins this weekend and a No. 1 seed in the NCAAs should be a lock.

No. 4 Wisconsin
Record: 23-12-4 (16-9-3 WCHA)
Badger Fact: This is Wisconsin's first trip to the Final Five since Mike Eaves took over the program at the end of the 2002 season. In the Badgers' two most recent appearances (in 2001 and '02) they went one-and-done, losing to Colorado College in the play-in game both times. They've won the Final Five twice previously, beating CC in overtime for the title in '95 and beating North Dakota 3-2 in 1998 before a raucous red-clad crowd at the Bradley Center in Milwaukee. Incidentally, '98 was the last time the Final Five was held outside of Minnesota.
How Wisconsin wins: Play with desperation. Their backs against the wall last Sunday, trailing at home in the third and deciding game of their opening-round series with Alaska, the Badgers summoned enough offense (a pair of goals – one of them somewhat controversial) and enough defense (16 third period saves by Bernd Bruckler) to survive and advance. Badger fans hope Eaves can convince his team that their NCAA tourney future is at stake on Thursday, so that desperation surfaces again.

No. 5 North Dakota
Record: 20-13-5 (13-12-3 WCHA)

Fighting Sioux Fact: North Dakota rookie coach Dave Hakstol will be chasing the Dean this weekend, and for once we don't mean his predecessor, Mr. Blais. Long-time Wisconsin skipper Jeff Sauer was the last first-year coach to win the WCHA Playoff title, in 1983. Sauer and his Badgers traveled to Grand Forks that March (the playoffs were held at campus sites then) and beat the Sioux 6-5 in three overtimes to win the playoff crown.

How North Dakota wins: Survive on Thursday. The Fighting Sioux have appeared in the tournament's Thursday play-in game only twice before (in 1995 and 2003), and have gone one-and-done both times. True, no team has ever won three games in three nights to take the Final Five title, and the task is especially daunting this year, with the Thursday night winner having to face top-seed Denver just 15 hours later on Friday afternoon. But that monumental journey begins with a single step called "win on Thursday." Plus, who'd bet against the team wearing green on St. Patrick's Day?

INCH: It must be an interesting time for the rivalry between the Tigers and Pioneers. You won the Cup two years ago. They won the NCAA last year. You split the Cup this year. Things must be pretty intense right now.
Sterling: The rivalry games between us and DU are always tough and something you don't have to work to get up for because it just happens naturally. With how good both teams have been doing the past couple years, it's definitely made things a little more exciting.
INCH: The last time two teams split the Cup was in 1997, when North Dakota and Minnesota tied. A few weeks later they met for the tie-breaker in the WCHA Final Five championship. Are you hoping for a similar rematch with the Pioneers?
Sterling: Right now I'm just looking for us to get into that championship game. We've got a very tough opponent in Minnesota to start with, and if we get past that, we'll take whoever is there next. If it's Denver, great.
INCH: You've faced Minnesota at the Xcel Energy Center before, with thousands of Gopher fans and their band there, while your side has a handful of fans and no band. Does that make a difference?
Sterling: In some ways it does. It's nice having fans there and playing in front of a huge crowd like they have in St. Paul. But I love playing in front of a big crowd anyplace. And we have a lot of guys from Minnesota on our team who are playing in front of their families, so none of us have a reason to need to get up. We should all be excited about the series. If you play your game and play the way you're supposed to, I don't think the crowd should matter.
INCH: Coming from Southern California, was college hockey a part of what you expected to do in your athletic career?
Sterling: Not really. When I started out I was just playing to play. As I started to get higher in the ranks, college became an option, but I really wasn't sure I had a shot at college hockey. I was playing in a lot of select festivals, and got asked to play in the national program. Once I got to Ann Arbor, I knew college hockey would be the route I'd go.
INCH: You're still a long way from Southern California, but Colorado College is about as close to home as a kid from the Los Angeles area can play college hockey, isn't it?
Sterling: This is as close as you can get, and it's nice being as close to home as I can be. My family gets to come out here a little bit more, and I love the area. I really love Colorado.
INCH: Do you have a peer group of other Southern California guys you stay in touch with in the college hockey world?
Sterling: I see Gabe (Gauthier) a little bit in the summer. We're all kind of rooting for each other, except when we're playing against each other. But other than that, we're all happy to see Californians like Robbie Earl and others doing well, even if they're playing in different programs. We all kind of know that there's a small group of us in college hockey from California, and it's nice to see them do well.
INCH: Do you envision a day where four to six Pac-10 teams are playing D-I college hockey?
Sterling: That would be great, especially for kids from California, being able to stay close to home and getting to play. But do I see it happening? Maybe. I don't see it in the near future, but hopefully someday.
INCH: The numbers you and Marty Sertich have put up together this season have been amazing. You must be having some fun out there.
Sterling: It's a blast. I'm loving it. Marty and I have played together for the past two years and we really feel like we know each other on the ice and know that the other is going to do. That definitely helps us out. This year we've both been able to stay healthy all year, so that's been a positive.
INCH: Since the start of the season, people have looked at your team's numbers and have said that you stop the Tigers if you can stop the Sertich-Sterling line. How have you dealt with checking lines and teams whose sole focus has been to shut down your line?
Sterling: I don't think it is one line on our team. Yes, Marty and I have been able to put up some really good numbers this year, but there are other guys on this team with good numbers. And when Marty and I have been kept scoreless, other guys have found ways to put the puck in the back of the net and lead us on to victory. So there are a lot of factors that go into us playing well. Even when we can't score, our goaltending has picked it up and we've won some 1-0 games.
INCH: With the goaltending and defensemen you have, there's probably a fair amount of confidence in your team's defensive abilities.
Sterling: Between Curtis (McElhinney) and Matt Zaba, then having Mark Stuart, Richard Petiot and the rest of our D corps out there, it's a huge benefit for us on the offensive end because we don't need to go out there and score six goals a game. We can let our defense speak for itself, then we can relax a little bit and score when we need to.
INCH: You're leading the nation in goals, but when you talk to people nation-wide, the general consensus is Marty is probably the favorite to win the Hobey right now. Do feel like maybe you're not getting some of the attention despite the numbers you've put up?
Sterling: Not at all. Marty's done some great things for us this season, and he is a sparkplug for us. I let people think what they want because I'm not worried about the award. There's so much more hockey to be played, and we've got a lot of things left to accomplish this year. I just want to keep on going, and hopefully I can continue to put the puck in the back of the net. As long as our team does well, I'm not too worried about anything else.
INCH: Two years ago you won the MacNaughton Cup, then fell short of the Frozen Four. Lat year you had a chance to play your way into the NCAAs and lost to a surprising Alaska Anchorage team in St. Paul. Do you feel like you've got some unfinished business this season in the playoffs?
Sterling: Definitely. We've done what we needed to do to get to this point, but in the past we haven't done as well as we should've at the Final Five, and CC hasn't won the championship in quite a long time. There's definitely some pressure on us to get it done, get past the first game with Minnesota, get to the championship game and just let ourselves play. Because when we play, we're good, but we've got to play our own game.
INCH: How does your team do under pressure?
Sterling: Our team has been able to stay really calm this year, which is nice. I think we're pretty confident going into games, even if we go down by a goal. We've got enough confidence to stick it out, continue to work, and get those wins.
INCH: You played in Columbus in December and won. Did you tell the folks at the hotel to save your rooms for you because you'd need them in April?
Sterling: (Laughs) No, we didn't say anything about that. It was nice to play in the same place, to play in Columbus and get a little bit of a feel for the city, but there is so much more to go before we can make it there. I don't want to get too far ahead of myself.
Other Tournament Previews: Atlantic Hockey | CCHA | ECACHL | Hockey East