March 16, 2005
OSU Goalie in Caruso Control
By Mike Eidelbes
CCHA
SUPER SIX PREVIEW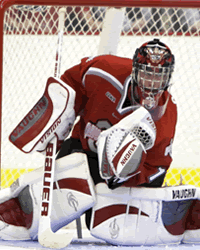 With 24 victories in 2004-05, Ohio State goaltender David Caruso has broken the Buckeye record for single-season wins.

Humor us for a moment while we make a point using a bit stolen from the "Five Questions" segment of "Late Late Show with Craig Kilborn."

Think of a CCHA goaltender. Now think of another one. Now think of a third.

Any of 'em Ohio State's David Caruso?

It wouldn't be a surprise if the junior netminder from Roswell, Ga., slipped your mind. After all, this is the CCHA, a league that boasts impenetrable Northern Michigan backstop Tuomas Tarkki, Bowling Green's acrobatic Jordan Sigalet and goaltending's golden boy, Al Montoya of Michigan.

Caruso measures up favorably with that trio – or any goalie in the nation, for that matter. His 24 wins are the second-most in the country behind Montoya's 27, he's second in the CCHA to Tarkki with a 2.12 goals-against average, and only Tarkki and Michigan State's Dominic Vicari have better save percentages than Caruso's .918 mark.
Of course, Caruso has one thing the rest of the league goalies don't – the opportunity to help his team defend its CCHA playoff title. It was a year ago when the little-used backup to then-senior Mike Betz got the starting nod from coach John Markell in each of the Buckeyes' games at Joe Louis Arena. Caruso rewarded Markell and the rest of the team by helping OSU to three victories and its first conference postseason crown since 1971. This time around, Caruso is hoping to extend his personal win streak at the Joe to five straight and keep the Mason Cup in Columbus for another season.
INCH touched base with Caruso prior to the Buckeyes' departure to Detroit for the CCHA Super Six.

Inside College Hockey: 11th seed Ferris State took you guys to three games in last weekend's first round playoff series. Did the series serve as a wake-up call?
David Caruso: I don't think so. We knew they were a good team coming in and we knew they definitely had a chance. We had to bring our A game…because we had to go three games and into overtime to beat those guys. Right now, everybody's looking to extend the season a little bit longer and nobody wants it to end. We were fortunate enough to get a break or two…we got a little bit of luck and some timely goal scoring.

INCH: Most people thought OSU would have a tough time matching last year's success because so many seniors graduated, but here you are again. What's been the key for the team's solid play this season?

DC: Sticking to our systems. Coach Markell, [assistant coach] Casey Jones, [assistant coach] Steve Brent and [volunteer assistant] Kurt Brown…the system that they coach is great. If we follow it and execute our game plan, things work out in our favor.
Super Six Capsules
No. 1 Michigan
Record: 25-12-2 (18-8-2 CCHA)

Wolverine note: Michigan is in the midst of an eight-game winning streak during which they've scored 45 goals, an average of 5.6 per game. Until they eked out a 1-0 OT win against Notre Dame in the first round of the playoffs last weekend, the Wolverines hadn't scored fewer than four goals in their seven previous wins.

How Michigan wins: The onus is on junior goaltender Al Montoya to be merely adequate. He leads the country with 27 wins despite a sub-standard .894 save percentage and during the recent winning streak, his save percentage is .884. Rare are the occasions Montoya faces a lot of shots – he's seen 25 or fewer opponent attempts 22 times in 36 starts. As long as he keeps the softies to a minimum, the Wolverines will be in good shape.
No. 2 Ohio State
Record: 26-9-4 (21-5-2 CCHA)
Buckeye note: Ohio State got off the schneid last season by winning its first CCHA playoff championship since 1972, but if they want to repeat they'll have to buck history once again – the Bucks have never advanced to the league playoff title game in consecutive seasons.
How OSU wins: The Buckeyes may have developed the blueprint for beating Michigan during their 4-1 win at Value City Arena in January. The Buckeyes outshot the Wolverines by one (something that's only happened to U-M on seven occasions this season), won the special teams battle with four power-play goals in seven tries (the visitors were 1-for-9) and eliminated unnecessary penalties (OSU is the leads the league with an average of nearly 25 PIMs, but logged 22 to Michigan's 18 that night).

No. 3 Northern Michigan
Record: 22-10-7 (17-7-4 CCHA)
Wildcat note: The good news – since returning to the CCHA seven seasons ago, NMU has made the March trip to Joe Louis Arena five times. The bad news – they've failed to move past the semifinals in all but one instance.
How NMU wins: Taking the lead and forcing the opponent to solve goaltender Tuomas Tarkki is critical to the Wildcats' success as evidenced by NMU's 14-1-3 mark when scoring the game's first goal, including a 12-0-2 record against CCHA foes. It also pays to revisit this statistic that appeared in the INCH Power Rankings earlier this month – when the Wildcats score two or more goals, they're 22-0-4. When they don't, they're 0-10-3.
No. 4 Nebraska-Omaha
Record: 19-15-4 (13-11-4 CCHA)
Maverick note: UNO is the first team to go from last place in the CCHA standings one season to a berth in the playoffs at Joe Louis Arena since Miami turned the trick behind then-coach George Gwozdecky in 1992. The Redskins won the league regular season crown the following year.
How UNO wins: Only two CCHA teams (Michigan and Ohio State) scored more goals than the Mavericks' 133 this season, but UNO allowed more goals than all but three league clubs. They can get past Michigan State by playing firewagon hockey, but the Mavs will have to tighten up defensively and kill penalties at better than the 79.8 percent rate they own so far this season to survive a likely semifinal matchup with Michigan. The Wolverines converted on 6-of-10 power play opportunities in a sweep against UNO in Omaha last month.
No. 6 Michigan State
Record: 19-15-4 (12-13-3 CCHA)

Spartan note: After finishing first or second in the conference playoffs six times in eight years from 1995-2002, MSU has failed to advance to the league semifinals twice in a row.

How MSU wins: The Spartans have won a season-high five in a row after enduring a dismal 1-4-3 stretch. Scoring depth has been an issue. The quartet of Jim Slater, Colton Fretter, Drew Miller and Jim McKenzie has scored 24 of the team's 33 goals since the beginning of February. During the win streak, however, MSU has thrived on the power play with 11 goals in their last 36 chances (a 30.6 percent success rate). If they can play their opponents even five-on-five and win the special teams battle, centralized production becomes less of an issue.
No. 8 Alaska-Fairbanks
Record: 15-15-4 (11-14-3 CCHA)

Nanook note: Some postseason debut – freshman Ryan McLeod scored twice in the first 13 seconds of UAF's first-round match at Bowling Green last Friday, setting CCHA playoff marks for fastest two goals, fastest goal to start a game and fastest two goals to start a game.

How UAF wins: Scoring goals in bunches has been the Nanooks' forte this season. In last weekend's first round playoff sweep at Bowling Green, for example, UAF scored thrice in the game's first 3:19 Friday and took a 2-0 lead after one period Saturday. Conversely, the Nanooks struggle when the team they're facing strings goals together. Keeping that in mind, UAF has to take a basketball approach and put together a run before its opponents do.
INCH: You've got an interesting mix of defensemen playing in front of you – an offensive guy like Sean Collins, a bruiser such as Nate Guenin, a couple of defensive defensemen. It's quite an eclectic group.
DC: It's an honor to play behind those guys because they each bring something great to the table. They all give their bodies up to block shots and go in the corners hard. They give 100 percent every single shift. When the time does come for me to have to make a save, I try to make it and if there's a rebound, those guys are there to clear it out. They're definitely there for me through and through.
INCH: Despite your record, the computer rankings peg the Buckeyes on the bubble for an at-large bid to the NCAA Tournament. Do you and you're teammates pay attention to that stuff?
DC: You'd rather do it yourself than hope it falls into place. We know that Friday night if we stick to our system and play our game, then hopefully it will turn out well for us and we go from there…and then Saturday, maybe we can have the same type of result. Winning the Super Six – that's the surest way to get into the NCAA Tournament. Hopefully, we can play our best because there are definitely some good teams there.

INCH: It almost smacks as a lack of respect. Here you are at 26-9-4 and your NCAA status is tenuous at best. Do you think OSU gets the respect it deserves?
DC: I think when a team plays us, they do. We respect every team we play because we know there's a lot of parity. On any day, any team can beat anybody. Take Ferris State – they came up here and played a heck of a weekend. Really, we're not concerned about what other teams are thinking about us. We're more concerned about sticking to our game plan.

INCH: Since we're on the topic of respect, do you think you get overlooked when the discussion turns to the country's top goalies? Your numbers are as good as anyone in the nation.
DC: I don't really consider any of that. I'd rather just win games. Winning games is the most important thing to me. I couldn't care less about any of the other stuff. If we win 10-9 and I have 10 shots on me and I save one, I'll be happy. That's the most important thing – winning.

INCH: You're the defending CCHA playoff champs. Can the team draw confidence from that?

DC: Definitely. You've definitely been there before…but every single team that's there is looking at you – if they play you – thinking this is the defending Mason Cup champions. They want to give us a little bit extra, and they want to knock us off. Every game is going to be a tough game. Five of the last seven playoff games we've had have gone into overtime. It's tight in the playoffs.
INCH: Prior to last year's Super Six, you were a little-used backup before being thrust in the spotlight. What did that experience teach you?
DC: Playing my game and sticking to what I do best, which is my skating ability and using my athletic ability to make the save. Also, I try not to get all out of control, but stay in control while being aggressive.

INCH: One of the most notable improvements in your game is your lateral quickness and ability to quickly get back into postion.

DC: I play an aggressive style that has to do with a lot of skating and really challenging the shooters. That's a big part of it. Plus, the coaches have really worked with me on doing goalie-specific things during the past four years. I'm trying to be quick…and use my great skating ability as my biggest asset.
INCH: You guys earned second place in the regular season standings easily, but you chased Michigan for the title right to the last weekend. Did the race for first help keep the team in a playoff mindset?
DC: Maybe a little bit. With everything going on and the season being so short, you've got to come to play every weekend. The most important thing is playing consistently and playing well going into the playoffs. You don't really concern yourself with the other teams, but try to go out there and play your best and give your all every game.

INCH: After winning the playoff championship last year, the team ran into Rick James at the hotel. Rick's no longer with us, but if you could choose someone to replace him should the Mason Cup stay in Columbus another year, who would it be?
DC: Hopefully, it would be a country music singer like Tim McGraw or Kenny Chesney. But I wouldn't mind Martina McBride or Faith Hill being there at all.

CCHA Brackets

Other Tournament Previews: Atlantic Hockey | ECACHL | Hockey East | WCHA