March 9, 2005
Colgate's Lucky Seven
By Joe Gladziszewski
ECAC Hockey League
CHAMPIONSHIP PREVIEW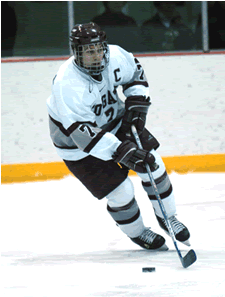 Adam Mitchell leads Colgate in assists (17) and is third in points (28).

If you're headed to the Pepsi Arena this weekend or plan to catch one of Colgate's games on television and you're not familiar with the Raiders, be warned. It will appear that Colgate's number 7, Adam Mitchell, never leaves the ice. There are a few other Raider players – Jon Smyth, Darryl McKinnon, and Joey Mormina in particular – that you'll also see a bunch. Those guys wear 23, 15, and 27 respectively.
These are the players that have made Colgate one of the best teams in the ECACHL over the past two seasons. Despite their conference success, last year's Raider squad lost a semifinal game to Clarkson and barely missed out on the NCAA Tournament. With its NCAA position almost identical to last year, this weekend's return trip to Albany is a chance for Mitchell, his senior classmates, and the Colgate program to claim an ECACHL playoff championship and return to the national tournament for the first time since 2000.
So go ahead and check your program time and time again. There's only one guy wearing number 7 – and he's waited his whole career for that privilege. Don't say we didn't warn you.
INCH caught up with Mitchell, a senior co-captain at Colgate, earlier this week.
Semifinal Capsules
No. 1 Cornell
Record: 24-4-3 (18-2-2 ECACHL)
Big Red Fact: An 11-goal, 11-assist season is good for most players. Cornell junior Matt Moulson has those stats just on the power play, and has 21 goals and 37 points overall this season. His line with Byron Bitz and Shane Hynes is one of the best in the league.
How Cornell wins: What's that old formula for playoff success? Get good goaltending and special teams play? Done and done for Cornell. Dave McKee is the ECACHL first team goaltender and Cornell led the league in power play and penalty killing percentage. They'll hurt you on the scoreboard, even while short-handed. Mike Iggulden has four short-handed goals and Mike Knoepfli has two.
No. 2 Harvard
Record: 20-8-3 (15-5-2 ECACHL)
Crimson Fact: Harvard has never won this tournament in consecutive years, but this year's group of seniors has won it as freshmen, and last year as juniors. The seniors are 15-1-0 in this tournament.
How Harvard wins: It starts with solving Colgate, a team that defeated Harvard twice during the regular season. The Crimson's top four defensemen are as good as any group in the nation, playing in front of one of the best goalies in Dov Grumet-Morris. Harvard can out-defend you and win a low-scoring game, and they've also got the skill players to match if you try to run-and-gun, but that's not the type of game they prefer to be in.
No. 3 Colgate
Record: 24-9-3 (14-5-3 ECACHL)
Raider Fact: Colgate's 24 wins ties the second-best win total in school history, set in the 1999-2000 season. The most wins (31) came in the 1989-90 season. It's a good omen, as 2000 and 1990 were the last two years that Colgate qualified for the NCAA Tournament.
How Colgate wins: Cornell's Dave McKee and Harvard's Dov Grumet-Morris are the goaltenders in contention for the Hobey Baker Award, but folks around the Colgate program like their guy, Steve Silverthorn, just as much as Dave and Dov. Vermont's Joe Fallon is no slouch himself. Silverthorn, Colgate's all-time shutout leader, has a chance to further his legacy by shining among an elite goaltending group in Albany.

No. 4 Vermont
Record: 21-12-4 (13-6-3 ECACHL)
Catamount Fact: The last time Vermont played at this venue, it was 1996 and the Catamounts defeated Lake Superior State 2-1 in the Eastern Regional to advance to the Frozen Four in Cincinnati.
How Vermont wins: This is clearly the least experienced of the four teams in this stage of the playoffs. The Catamounts will need to block out the excitement and nerves they'll face in the first period on Friday afternoon. Cornell will certainly capitalize on early jitters, and the Big Red is a tough team to beat after they get a lead.
Inside College Hockey: Your team had eight seniors dressed in last week's sweep of Brown, and nine seniors have seen regular duty this year. You guys were in this position last year and things didn't go your way. How has that affected your team this year?
Adam Mitchell: It's been huge all season. Every time you see things slip, you remind the guys of Albany and what happened last year. We saw that especially last weekend. We knew we had a chance to get back to Albany and didn't want to let that get away.
INCH: I don't know if regret is the right word, but how have the memories of last season helped your team?
Mitchell: Some guys probably used the feeling of regret to motivate themselves. When you miss out like that where one more win might have been the difference you think about a game when you might not have prepared your best or a time when you didn't work your hardest.
INCH: Coach Vaughan has relied on a handful of players in all types of situations, and you're one of those players that plays power play and penalty kill, along with skating on one of the team's top lines. How do you prepare yourself for that much ice time?
Mitchell: For me and Darryl (McKinnon, a lifelong friend and teammate since youth hockey in Port Elgin, Ontario) it starts back home in the summer. We really work hard to get in great cardiovascular shape. Once the season starts, you've got to take care of yourself all week long by eating and sleeping properly. During a game, you have to always be ready to go out there and have the mental attitude that you're not going to get tired.
INCH: Superstitions are a big part of hockey, especially in the playoffs. You've worn a different uniform number every year that you've been at Colgate. Is that because you're not superstitious, or extremely superstitious?
Mitchell: I'm VERY superstitious. My freshman year was the first time in my hockey life that I didn't wear number 7 and I knew that Matt Nicholson had it so I probably wouldn't be able to get it for at least three more years. So that year, I took 16, because one plus six is seven. My sophomore year it was 23, which was kind of out of the blue. Last year, I went to 17, and got my hands on a part of a seven. This year I finally got to wear seven.
INCH: What's it like in Hamilton with the other students away for spring break?
Mitchell: The town's pretty much dead. The students are all scattered getting some nice sunshine.
INCH: But I trust that you'd rather be going to Albany than Daytona Beach?
Mitchell: You bet.
Other Tournament Previews: Atlantic Hockey | CCHA | Hockey East | WCHA