March 17, 2005
Holden the Key to Success
By James Jahnke
Atlantic Hockey
CHAMPIONSHIP PREVIEW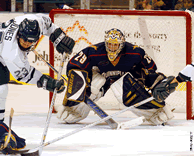 Quinnipiac goaltender Jamie Holden leads Atlantic Hockey in wins and ranks second in goals against average and save percentage.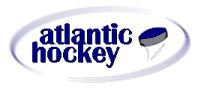 Jamie Holden is a smart guy. He has a 3.98 grade-point average in biology at Quinnipiac and is the reigning Atlantic Hockey Scholar-Athlete of the Year. After his hockey career, he wants to become a dentist.
Jamie Holden also is a good goalie. He ranked second in Atlantic Hockey in goals-against average (2.59) and save percentage (.914) and first in wins (19) this season. He made 42 saves in a 2-1 upset of Dartmouth on Oct. 30 – stealing a win for his team despite a 43-11 shots disadvantage. Last year, he was on the all-Atlantic Hockey first team and set school records for GAA (2.32) and save percentage (.932).
So how could we pass up the opportunity to profile the Bobcats' senior netminder in advance of the AHA's final four this weekend? We couldn't.

Especially not when Quinnipiac is the No. 1 seed and, thus, hosting the tournament. In fact, Holden might be the single most important player on the ice for any of the four teams still alive.
INCH tracked down the 23-year-old on Wednesday evening for his thoughts heading into a weekend that could clinch his second NCAA tournament berth.
If you don't know more about Holden than what you just read, keep going.
He might be coming to a regional near you next week.
Semifinal Capsules
No. 7 Bentley at No. 1 Quinnipiac
Bentley: 8-19-6 (6-13-5 AHA)
QU: 20-12-3 (16-6-2 AHA)
Season series: Quinnipiac won, 3-0-1

Falcon fact: Senior goalie Simon St. Pierre needs to win both games this weekend to tie Barratt Davison for the school's all-time wins record (35).
Bobcat fact: When sophomore defenseman Reid Cashman and freshman forward Ben Nelson were named the CSTV/HCA National Division I player and rookie of the Month, respectively, for February, it marked the first time players from the same school won in the same month. Cashman and Nelson also were the first two Atlantic Hockey players to win the national awards.

How Bentley wins: By taking an early lead, or at least keeping the game tied into the third period. The pressure is always on the favorite in those situations, so the Falcons can make Quinnipiac squirm if they keep it tight. St. Pierre's netminding will be important.
How Quinnipiac wins: Bentley is susceptible to good-skating teams, and that's exactly what the Bobcats are. As long as Quinnipiac plays smart and doesn't make dumb turnovers in its own end, it should generate enough chances offensively to get it done.
No. 4 Holy Cross vs.
No. 3 Mercyhurst
HC: 16-13-6 (12-7-5 AHA)
Mercyhurst: 16-15-4 (14-7-3 AHA)
Season series: Mercyhurst won, 2-1

Crusader fact: Junior forward Andrew Weber doubled his season goals total with a hat trick in Holy Cross' quarterfinal win over Sacred Heart.
Furthermore, last Saturday's game accounted for a quarter of Weber's career goals (12).
Laker fact: Mercyhurst is deep with offensive threats, as evidenced by it having six of the top 19 scorers in Atlantic Hockey (in order, David Wrigley, Scott Champagne, Dave Borrelli, Ben Cottreau, Rich Hansen and T.J. Kemp).

How Holy Cross wins: Goaltending is always critical during the playoffs, especially against a high-powered team like the Lakers. Whoever gets the start for Holy Cross – Tony Quesada or Ben Conway – will have to be sharp. And the Crusaders' league-worst penalty-killing units must step up and try to negate Mercyhurst's league-leading power play.
How Mercyhurst wins: By taking advantage of that very same power play vs. penalty kill matchup. If the Lakers can bury two or more power-play goals, they'll be in great shape. At the same time, strong defensive efforts must be made to aid rookie goalie Mike Ella.
Inside College Hockey: You guys must be having a lot of fun up there, what with the roll you're on and the fact you're hosting the final four this weekend. What's it like?

Jamie Holden: It's nice. We struggled at the start of the year, and I think a lot of people counted us out. But we've been on a nice run here, and I think it's going to be an advantage for us. And it'll be an advantage to be playing on home ice. It seems like we're peaking at the right time.
INCH: Can you tell a difference between the team's attitude and outlook in the locker room now versus when you were struggling in December and January?

JH: Oh yeah, there's a big difference. You can see it. Guys are a lot more positive. When we were struggling, if we got down a goal, guys would kind of hang their heads a little bit. We didn't have confidence we could come back. Now, if we get down a goal, we just work harder and find an extra gear. We've even won a few games lately after being down a couple of goals, so we know that we can do that.
INCH: Can you pinpoint a time when that mental turnaround started?

JH: There was a game we lost to UConn at home (on Jan. 14) when we didn't play all that well and there was a goal that looked like it was kicked in by them and it wound up being the game winner. The next day, we went to their rink and dominated them for the entire three periods of play and got the win. You know, the first night, they got the bounce and we didn't. But we came back and put together a great game. Then the next weekend, we beat Holy Cross, and you could just see guys' attitudes changing.
INCH: Was it a case where, all of a sudden, the lightbulb just went on for a bunch of guys at once? Or did the captains or coaches say something at that point to get the ball rolling?

JH: I think a lot of guys just kind of found it at the right time. Our freshmen started scoring goals. That was about the time Ben Nelson started getting hot. And Mark Van Vliet and Matt Sorteberg scored some big goals. We were getting it from everybody. Everyone was stepping up, and for that, I credit our captains and our coaching staff. We were starting to jell, and all came together.
INCH: Earlier, you mentioned how having home ice will be an advantage this weekend. Do you really think this weekend's results will be affected by the location?

JH: Obviously, everybody's more comfortable at home. You get to sleep in your own bed and go to your own rink. And the fans are on your side. Even if you get down a goal, the fans are cheering at the right times, and that helps. If you get down a goal on the road, everybody's cheering against you and it makes it really tough to come back on someone else's rink. We have a phenomenal home record this year, so we should come out strong and get it done.
INCH: Your opponent this weekend, Bentley, is the one team in the final four that people probably didn't expect to be there. What's your scouting report on them?

JH: Bentley, besides Army, is one of the hardest-working teams in the league. They're always hitting, their coach always has them ready to compete, and they have a good goalie. I think (Simon) St. Pierre could be a big factor this weekend. They're tough to play. We've had a lot of tough battles with them. The only time we really handed it to them was when we had them here (on Nov. 20). So I'm expecting a good game this weekend.
INCH: Being from Telkwa, British Columbia, I assume the question you most often hear is, "Where the hell is that?"

JH: Yeah. It's way, way up there in the middle of nowhere. About 13 or 14 hours north of Vancouver. There's not much to do up there except winter sports, so there's a lot of hockey and skiing going on.

INCH: On a map, it looks like Telkwa is about halfway between Vancouver and Juneau. Is that accurate?

JH: I guess you could say that.

(Holden seemed amused by this question, probably because it's like describing Atlanta as halfway between Detroit and Miami.)
INCH: OK, I want to ask you about being the Atlantic Hockey Scholar-Athlete of the Year. That must have been pretty cool for you, eh?

JH: Yeah, because a lot of hard work goes into both sides. I didn't want to come down here and just solely focus on hockey. I want a degree that means something that I can take with me after hockey's over. I try to do my best in both. To excel, especially in the biology department, involves a lot of long nights studying. But I think it's going to be worth it down the road.
INCH: Do your teammates give you crap for studying so much?

JH: Oh yeah. I get it all the time. Especially when I'm reading all throughout a bus ride or something like that. But they're all supportive of me.
INCH: I bet it's those lousy, good-for-nothing forwards who don't do any work who are giving you grief.

JH: (Laughs.) No, no. As a team, we all do really well in school.
INCH: Was it tough splitting time with Justin Eddy your first three years at Quinnipiac?

JH: Kind of. I always want to play, want to compete, want to get in every game I can. But when you're sharing time with a goalie like Justin Eddy, you're not just watching the other guy in net and saying, 'Man, I should be out there.' You're watching a great goalie and rooting for him. Our relationship was interesting because we were best friends on and off the ice. I supported him as much as he supported me. We'd always work on stuff together and try to get better. It was tough not playing all the time, but the experience made me a better goalie.
INCH: How much would it mean to you to go out as a senior in the NCAA tournament? You'd kind of be ending at the pinnacle.

JH: It would be great. The best way to go out. Going to the NCAAs as a freshman, you almost take it for granted. You're like, 'I've made it,' and you don't realize how tough it is. Especially after losing in the tournament final as a sophomore and then getting knocked off in the first round last year, this is pretty exciting. That freshman class we had when we got to the tournament was really strong, kind of similar to this year's class. The teams are a lot alike.
INCH: Last question. Do you have any shout-outs?

JH: No, not really. Just my mom and my dad. And my teammates.

Atlantic Hockey Brackets
Other Tournament Previews: CCHA | ECACHL | Hockey East | WCHA