November 9, 2005
Puttin' on the Foil
By James Jahnke
CCHA Notebook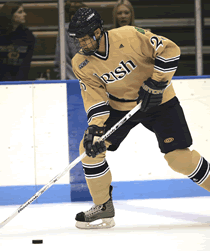 Christian Hanson has played four of Notre Dame's six games thus far.
(Photo by Jerry Edman)

Atlantic Hockey Notebook
CHA Notebook
ECACHL Notebook
Hockey East Notebook
WCHA Notebook
Notre Dame forward Christian Hanson's dad barely batted an eye when some emboldened 7-year-old greeted him with a movie quote full of curse words.
Dave Hanson gets that $#*@ all the time while making promotional appearances stemming from the crude 1977 cult hit movie "Slap Shot." Yes, the son of one of the fabled "Hanson Brothers" – the most famous forward line in cinema history – is now mucking it up in CCHA rinks.
"It's pretty sweet," said Christian Hanson, a freshman center with the Irish. "When I was 11, my dad took me out to this celebrity hockey game in L.A., and guys like Pavel Bure and Martin Brodeur were coming up to him and getting his autograph and taking pictures with him. I was just in awe of the fact that these were guys I had on my wall at home, and they knew my dad."
Despite his connection to the movie, Christian Hanson says he didn't see "Slap Shot" until he was 12, when a parent popped it in during a youth hockey bus ride. Offered the theory that most people probably don't see it until that age – or later – because the film's persistently vulgar language isn't for really kids, Hanson disagreed.
"Actually, I think I was the only one on the bus who hadn't seen it before," he laughed.
But he's seen it plenty of times since then, and he counts himself among the flick's legion of fans. He'll gladly share with you how his father's real-life exploits with the minor-league Johnstown Jets were woven into the script for the fictional Charlestown Chiefs and the goon brothers that made his family famous.
Dave Hanson, who played briefly with the Red Wings and North Stars after becoming a movie star, now runs Pittsburgh's Island Sports Center, home of the Robert Morris Colonials. Christian said his dad and the other Hanson brothers (Jeff Carlson and Steve Carlson) still make about 30 or 40 promotional appearances a year, including a current tour of Europe. That's down from the couple hundred of appearances they used to make when it was Hanson's full-time job to play in charity golf outings and sign mementos.
Christian Hanson is a good sport about living in the shadow of his father's fame. "I hope that it opens some doors for me and then I'm able to get a reputation and have some success myself," he said.
Fighting Irish coach Jeff Jackson, for one, thinks the younger Hanson has plenty of promise as a player. Six games into Hanson's college career, Jackson already likes his big power forward's soft hands and understanding of the game.
"He has a lot of tools," Jackson said. "He just has to be intense all the time and make the full commitment to fight for ice out there. He's not really the image of a Hanson brother right now – not that I would want him to be."
SEEN AND HEARD IN THE CCHA
Full attention – Even though Michigan State's opponent this weekend, Nebraska-Omaha, doesn't carry the same cachet as already-faced North Dakota, Michigan and Cornell, the Mavericks should command just as much attention from the Spartans. That's because one of MSU's downfalls during the Rick Comley era has been losing to teams it shouldn't lose to (remember Findlay, Wayne State, et al?). The Spartans already had a mini-letdown this week, tying Ferris State on Tuesday.
So, in a way, this Maverick venture might tell us as much about the Spartans as their recent marquee matchups. They have to overcome the stigma that they play to the level of their opponent.
"That criticism is very real, and we have to endure it because it's true," coach Rick Comley said. "We still have to prove that we're going to be good every night. I think we're in the process of doing that."
The Spartans are in the midst of a frantic stretch of eight games in 16 days, thanks to back-to-back Tuesday affairs against Ferris State and Ohio State. The good news for MSU is that ailing forward Nick Sucharski and defenseman Brandon Gentile are ready to make their season debuts this weekend. Senior forward David Booth (rib) has been cleared to play by school doctors but is seeking a second opinion before returning to the
lineup (a move Comley endorses). Sophomore forward Chris Mueller (shoulder) probably won't play against UNO but should be ready for Ohio State. When all of them return, only Tim Kennedy will remain on MSU's once-expansive injury list.
No more dancing a Blue streak – If games at Yost Ice Arena seem to have less boogie this year, there's a good reason: Michigan's tradition of the pep band director dancing during the waning moments of a Wolverine victory has been put to a halt.
Director of university bands Michael Haithcock and new hockey band director Scott Bersaglia agreed to discontinue the practice, which had been going on for more than a decade, prior to the season. Haithcock began to sour on the dancing as former hockey band director Damon Talley evolved from a graduate student to a full-time faculty member while in the role. Haithcock's decision to nix the whole production was made easier by the fact that Bersaglia, Talley's successor this year, didn't want to get his groove on anyway.
"Really, there are three reasons," Haithcock explained. "Having 8,000 people scream at a faculty member to dance isn't very professional. I can't put on the job description that the hockey band director has to dance. It's not fair. Second, I was tired of turning on the TV and seeing Damon's pelvis. The camera guys always focused in on that part of the dance, and that's not fair to him. Third, it's a student band. The director is there to facilitate the enjoyment of the crowd, not be the enjoyment of the crowd. I can't imagine Red (Berenson) running out onto the ice to celebrate a goal with the team.
"If people are upset, sorry. It's my job to protect our faculty members, and I think these three issues are substantial. The tradition had outlived its usefulness."
Great Weekend Getaway

Michigan at Northern Michigan (Fri.-Sat.)
The Wolverines only managed a split during their last foray onto Olympic-size ice, and you know the Berry Events Center will be rockin' for this series, U-M's first visit since 2002. So the ingredients are there for an upset (or two). But to do so, the Wildcats will need sounder defensive coverage than they exhibited against Michigan State. The Wolverines boast the top two freshman scorers in the nation, Andrew Cogliano (7-8—15) and Jack Johnson (3-11—14).

While you're there: To extract the last drop of enjoyment from this year's autumnal colors, take a hike up Sugarloaf Mountain. It won't be the same by the time the next series rolls around.

Stick Salute

Lake Superior State's 10-0 win over Western Michigan last weekend was the Lakers' largest margin of victory since beating Michigan State 11-1 in 1994. More important, however, is the fact that LSSU's sweep of the Broncos was its first CCHA sweep since December 2000.

Bench Minor

While Penn State's head-to-head win over Ohio State in football is looking pretty big right now, the Nittany Lions also have a leg up on Ohio State in hockey. PSU's club team has an indirect win over the thought-to-be-fearsome Buckeyes. Penn State stunned Robert Morris in an exhibition, then Robert Morris beat Western Michigan, which swept Ohio State two weekends ago. It's just one of several early season embarrassments for the Buckeyes, who are tied with Nebraska-Omaha for the most league losses (four) and with Notre Dame for the most overall losses (five) among CCHA teams. Ohio State has outshot its opponent in all eight games, but has just two wins in part because of star goalie David Caruso's suspect play. His save percentage is just .890.
FRIES AT THE BOTTOM OF THE BAG
• Notre Dame coach Jeff Jackson has noticed the same thing about slumping junior goalie David Brown as many fans have: He's displaying negative body language. "It's apparent," Jackson admitted. "I'm working on him every day. He wants to do well, but he gets frustrated. Confidence is a fragile thing right now." Jackson said Brown will continue to share time with freshman Jordan Pearce "until somebody steps forward."
• Miami senior forward Chris Michael is a power-play whiz, so much so that 19 of his 27 career goals (70 percent) have come with a man-advantage. "That's something I can never explain," Michael said. "It was never like that until I got here. It just seems like the game slows down on the power play – and I've also gotten some lucky bounces." The first-place RedHawks visit third-place Lake Superior State (and its 82.2 percent penalty killing) this weekend.
• What a great night for offense Friday. Half of the league's 12 teams scored five goals or more, including a 10, an 8 and a 7. Other tidbits from the box scores ... Michigan and Notre Dame combined for 13 goals by 12 different players Friday. Only U-M freshman Andrew Cogliano scored twice (the last two goals of the night). ... Meanwhile, Lake Superior State had four two-goal scorers (Jeffrey Rainville, Trent Campbell, Troy Schwab and Dan Eves) in its 10-0 romp over Western Michigan. ... In the same game, backup Broncos goalie Ryan Mensing allowed four goals on six shots.
• Quotebook: Northern Michigan play-by-play announcer Dave Danis on the officiating during Friday's loss to Michigan State: "(Referee Brian Aaron) needs a big red nose and floppy feet." ... Michigan State coach Rick Comley to the Lansing State Journal about facing NMU, his former squad: "I'm not afraid to tell you that I don't like to play that team. Just too many feelings there. I like to beat them, but I don't like to play them."
• Miami set a school record with 77 penalty minutes against Ohio State on Friday. But that number was dwarfed by the Buckeyes' 101 PIM. And that number was dwarfed by OSU's school record. According to SID Leann Parker's diligent research, the Buckeyes amassed an NCAA-record 150 PIM at Northern Michigan on Jan. 30, 1981. The game included five players from each side ejected for fighting and the OSU goalie getting five and a game for butt-ending.
• Bowling Green goalie Jon Horrell and Alaska Fairbanks forward Kelly Czuy were out of their teams' lineups last weekend, but for different reasons. Horrell's knee needed stitches after being cut by a skate during practice last week. He is expected to be available against Notre Dame this week. Czuy, meanwhile, was left home by coach Tavis MacMillan as the team traveled to Ferris State. The coach was not happy about his lone senior's disposition. "It was a tough decision to make," MacMillan told the Fairbanks Daily News-Miner. "Kelly has more talent in his pinkie than a lot of players on this team have in their whole bodies. But Kelly is also going to have to learn to use his skills the right way, and be unselfish and stay out of the penalty box. He's going to have to learn to simplify his game rather than try to do everything himself and get in one-on-one battles."
• Other dress-list casualties last weekend: talented, young defensemen Joe Grimaldi (Nebraska-Omaha), Wes O'Neill (Notre Dame) and Chris Zarb (Ferris State). All three were healthy scratches for one game. Ah, the messages sent early in the season.
• Bowling Green has rescheduled its oozed-out home game against Ferris State for 7:05 p.m. Jan. 16. Although we were previously told the game would start where it left off – 0-0 at the beginning of the second period with FSU on the power play – it's the CCHA's call, and the league has yet to make it.
A variety of sources were utilized in the compilation of this report.