November 9, 2005
Bill's Badger Backstops
By Jess Myers
WCHA Notebook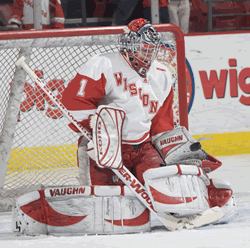 Junior goaltender Brian Elliott leads the WCHA with a 1.48 goals-against average and a .942 save percentage.

Atlantic Hockey Notebook
CCHA Notebook
CHA Notebook
ECACHL Notebook
Hockey East Notebook
Stop us if you've heard this before: Wisconsin is strong in goal.
Not since, well, last season have the Badgers been so dominant between the pipes, as junior Brian Elliott has seamlessly filled the gaps left by Bernd Bruckler's graduation. After a little more than a month as the team's top goalie, the Newmarket, Ont., native has the league's best numbers with a 1.48 goals-against average and a .942 save percentage. He's played every minute of the Badgers' 6-1-1 start.
Of course, before Elliott was Bruckler's understudy it was Graham Melanson in goal, who was preceded by Kirk Daubenspeck, who followed Jim Carey, who followed Duane Derksen, who backed up Curtis Joseph, who was just before Dean Anderson, who was preceded by the likes of Mike Richter, Marc Behrend, Roy Schultz and Julian Baretta. Are we sensing a trend here?
Ask anyone in the know about Badger hockey and the program's amazing tradition of excellence between the pipes, and they all point to the same culprit – long-time goaltending coach Bill Howard. Now in his 35th season working with Badger goalies, Howard has had a hand in the development of seven All-Americans.
"Bill's got a nice touch with the young guys," says Joseph, who was named the WCHA's most valuable player in his lone season at Wisconsin under Howard's tutelage. "He works them hard in practice, and you can see the results in games."
Badger radio personality Rob Andringa says the classroom approach Howard brings to practice comes naturally, as he's always been more of a teacher than a coach. Before he skated for the Badgers for four years, winning a NCAA title in 1990, Andringa had Howard as his accounting and business law teacher at Madison Memorial High School. A few years earlier, Colorado College coach Scott Owens was one of Howard's students at Memorial and played for Howard there.
"He's a great teacher," Owens says. "He teaches the position well and stays really up-to-date. Combine that with the fact that he's very demanding, and you can see reasons for the success they've had."
Everyone who knows Howard also comments about his often-intimidating personality. Elliott says the joke around Badger practices is that Howard's known as the Prince of Darkness, but that all have seen his soft side too.
"He's naturally a gruff person," says Andringa. "Let's face it – he's not Mr. Happy, but he warms up to the people he's teaching."
Elliott says that his first two years in Madison included Howard essentially breaking him down and rebuilding him again, taking the goalie skills he'd already learned in Canadian junior hockey and incorporating them into Howard's system.
"In Canada there's so much more emphasis on playing the butterfly style, but with Coach Howard you learn a special system that concentrates on angles, rebound control, efficient use of energy and being in position for the second shot," says Elliott, who works at Howard's summer goalie schools. "The first year of practice in his system was pretty tough, but you definitely develop a special relationship."
Badgers coach Mike Eaves admits that Howard's exterior can be intimidating, but thinks some of that is just a façade.
"You can hear his voice off the ice in nearly any arena in the country, no matter how loud it is," Eaves said. "He's very demanding and determined, and he wants good habits from his guys. But I think he's really a softy who cares deeply about his guys. He's the first one to put an arm around them after a tough game."
Andringa feels that Howard's reputation and his resume of goalies who have had success beyond Madison are what keep the talent coming.
"Now, it's a given," Andringa said. "Good goalies want to come here, and know they're going to get better if they do."
A glance at the degrees offered at Wisconsin shows no mention of goaltending as a major course of study. Apparently that's because the folks who put things together on the academic side have never gotten a look at Professor Howard and his classes on the ice of the Kohl Center.
SEEN AND HEARD IN THE WCHA
Hot and cold times in Grand Forks – With the success he's had since taking over the North Dakota program in the summer of 2004, it's easy to forget that Dave Hakstol is in just his second season behind the Fighting Sioux bench and there are still new experiences to be had. With his team on a three-game losing skid after a somewhat surprising start, Hakstol reflected this week on how perceptions of a team can change from game to game.
"Two weeks ago I was constantly being asked if I thought it would be this easy to make the transition," Hakstol said, noting his team's 5-1-1 start with four freshmen leading the way offensively. "This week I'm constantly being asked if I thought it would be this hard."
The Sioux were swept at home by Wisconsin last weekend after being left without the services of three key players due to injuries and the ejection of junior defenseman Matt Smaby early in Saturday's game for a checking-from-behind penalty. Hakstol makes no excuses for the losses, and credits the Badgers for winning a pair on the road.
"Friday night we were maybe a little tight, but I thought the game could've gone either way," he said. "On Saturday, Wisconsin was just the better team, and we weren't able to overcome losing Smaby 10 minutes into the game. But give them credit. I picked (Wisconsin) to win the league for a reason."
The challenges just keep coming for Hakstol's team, which travels to face a Minnesota Duluth team that's on the upswing, having gone undefeated in their past four games. The coach says a fun rivalry has developed between the Bulldogs and Sioux in recent years, and both will play an up-tempo game despite the DECC's notoriously small ice sheet. As for the bigger picture, Hakstol says a three-game losing streak is no reason for desperation.
"We've played probably the toughest schedule in the country and we're above .500," Hakstol said. "Is that where we want to be? No. But I still feel very good about this team."
Great Weekend Getaway

Colorado College at Wisconsin
(Fri.-Sat.)
Not only does the series pit two of the nation's top-ranked teams, it matches two programs with some interesting connections. Legendary Wisconsin coaches Bob Johnson and Jeff Sauer got their starts at CC. Current Tigers boss Scott Owens, meanwhile, is a Madison native who played for Wisconsin goalie coach Bill Howard, letterwinniner in goal for CC, in high school and served as an assistant with the Badgers under Sauer. Oh, there's the matter of the seemingly unstoppable CC offense facing the tight-as-a-drum Wisconsin defense. But focusing on those elements would be to ignore CC's emerging defensive prowess and the fact that the lightly-regarded Badger offense is averaging nearly five goals per game in the last few weeks.

While You're There: The Wisconsin football team's final home game of the season is also the last time long-time coach Barry Alvarez's will grace the Camp Randall Stadium sidelines. Saturday's game vs. Iowa (2:30 p.m. CT) is such a big deal that they've moved the start of that night's hockey game back an hour for fans who want to see both. Locals claim the surrounding streets shake like there's an earthquake happening when the students "Jump Around" en masse at the start of the fourth quarter. If you can get tickets, don't forget to hang around for the Fifth Quarter, the Badger band's famed 45-minute post-game concert.

Stick Salute

Congratulations to INCH contributor Jeff Sauer on being named head coach of U.S. Team at the TUI Nations Cup, being played this week in Mannheim and Hannover, Germany. The winningest coach in WCHA history with 655 career victories, Sauer's roster includes 11 former WCHAers currently playing in Europe – goaltender Karl Goehring (North Dakota), defensemen Brett Hauer (UMD), Mike Pudlick (St. Cloud State), and Andy Hedlund (MSU-Mankato), and forwards Brian Swanson (Colorado College), Shawn Carter (Wisconsin), Aaron Fox (MSU-Mankato), Ryan Kraft (Minnesota), T.J. Guidarelli (MSU-Mankato), Jeff Panzer (North Dakota), and Kelly Fairchild (Wisconsin)..

Bench Minor

KMSP-TV in Minneapolis-St. Paul has had a solid lock on the lower rungs of the market's ratings for many years thanks in part to the type of hard-hitting "journalism" displayed this week. The station spent weeks and untold dollars on a hidden camera report strung out over three nights which revealed this shocking bit of news: from time to time, underage college students (five of whom happen to be Gopher hockey players) consume alcohol. The station's news anchor is former St. Cloud State hockey player Jeff Passolt, who still holds many of the program's scoring records from the D-III days. We're reminded of Albert Brooks' response to a similar report on date rape in the 1987 film "Broadcast News," when he sarcastically told a rival reporter, "You really blew the lid off of nookie."
FRIES AT THE BOTTOM OF THE BAG

• Phoenix Coyotes owner/head coach Wayne Gretzky attended Monday's Gopher practice at Mariucci Arena to watch his 2004 first-round draft pick, Blake Wheeler, skate. The Great One's presence prompted a cheeky remark directed at freshman Phil Kessel from one Gopher. "The greatest hockey player ever is in the building, and it's not you."
• If you happen to be wagering on the series in Mankato between Denver and Minnesota State, Mankato, it'd be wise to bet the over. Strange things that can happen by the big bend in the Minnesota River, which is a topic the two-time defending NCAA champs know well. The last two times the Pioneers have visited the home of Troy Jutting and company, the Mavericks have put up eight goals in a game. Those are the only two times in the past two seasons that Denver has given up that many on the road. The Pioneers are 5-6-1 all-time at the Midwest Wireless Civic Center.
• Saturday's 3-2 win versus St. Cloud State was the first time this season that Colorado College's score sheet didn't have either Marty Sertich or Brett Sterling's name on it. The last time both were held without a point was in the Tigers' 6-2 loss to Denver in last year's Frozen Four.
• This weekend's road series with Michigan Tech marks the first time this season that St. Cloud State faces an unranked opponent. After eight games, Bob Motzko's team stands at 2-5-1 after series with Northern Michigan, Wisconsin, Minnesota and Colorado College.
• Prolific Minnesota hockey author Ross Bernstein has another book in print just in time for the holidays. Bernstein, who has penned books on Gopher hockey and on the history of hockey in Minnesota, has collaborated with another Gopher legend to write "Beyond the Goalcrease: Wit & Wisdom on Life Between the Pipes From Former NHL Netminder Robb Stauber." The book's cover features artwork by Tim Cortes of a goaltender slumped in his locker room stall after a hard game. The trained eye will notice that the goaltender Cortes has featured in the painting is none other than current Bulldog backstop Isaac Reichmuth. Information on that and Bernstein's other works is available at www.BernsteinBooks.com.
• Speaking of Reichmuth, no matter what happens between now and April, the Bulldog's college hockey career will end with at least one Frozen Four appearance and a mighty impressive record versus his team's arch-rivals. With a home tie and win versus Minnesota last weekend, Reichmuth improved his career mark versus the Golden Gophers to 7-2-1, stopping more than 70 shots in the process. He was named the league's co-defensive player of the week (with Elliott). Consistent goaltending has been one of the things UMD has lacked in the past year, but if Reichmuth's sudden resurgence is a sign of the way he intends to finish his final year in Duluth, the Bulldogs may yet be a "team of interest" in the WCHA.
• Another team with some surprising success against Minnesota lately is Alaska Anchorage. The Seawolves visit Minneapolis this weekend having gone undefeated against the Gophers last season. The Seawolves came away with three points in their last visit to Mariucci Arena last February, earning a win and a tie and beat Minnesota 3-2 in the championship game of the 2004 Nye Frontier Classic in Anchorage. For many Seawolf players who played for John Hill before he left Anchorage to return to Minnesota over the summer, Friday will mark their first time facing the man who recruited them.
• One potential bright spot to come out of Michgan Tech's two losses in Denver last weekend was the long-awaited offensive spark from junior defenseman Lars Helminen, who finished with three assists in the series. Saturday's two-assist game was Helminen's first multi-point effort of the season and 14th of his career. He heads into the Huskies home series with St. Cloud State sporting a three-game assist streak and leads all Tech players in assists with six. He was the team's second-leading scorer last season with 32 points in 37 games.
A variety of sources were utilized in the compilation of this report.