November 9, 2005
Unlikely Army of One
By Jeff Howe
Hockey East Notebook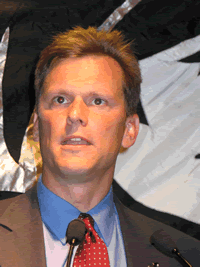 Tim Army has energized Providence into an unlikely first-place team.

Atlantic Hockey Notebook
CCHA Notebook
CHA Notebook
ECACHL Notebook
WCHA Notebook
Ask anyone; the person next to you, your resident hockey expert on speed dial, anyone. Have them tell you who is sitting high atop the Hockey East standings a month into the season. Maybe you'll hear about the hot starts of Maine and Vermont or even the regulars like Boston College, New Hampshire or Boston University. Going out on a limb? Lowell might get tossed around, too.
But Providence? No, you probably won't hear too much about the Friars. After a seventh-place finish in the league last year, only scoring 16 points in the standings and in the midst of a coaching change, Providence wasn't expected to pose much of a threat to anyone in the league this year, maybe not even next.
But wait. There the Friars are, on top of the Hockey East world, out-shining everyone with a 5-1-0 league start, sitting on a four-point cushion heading into the weekend and fresh off a series sweep of the Massachusetts Minutemen.
So it turns out that this "sub-par team" is third in the league in scoring and defense, fourth in the power play and fifth in the penalty kill. This new coach is Tim Army, a member of a proud hockey tradition in Rhode Island's capital city.
His father Tom was part of a group that got PC reinstated into the Division I hockey world back in the 1950s and served as the team's first ever captain. It would be a sign of things to come. Tim Army played for former coach Lou Lamoriello – who the Hockey East championship trophy is named after – during the Hockey East legend's final two years on the PC bench. And he was on the Friar team that won the first Hockey East championship during the 1984-85 season. And he added to his family's Providence legacy by being named team captain during his senior season.
"You feel that you have a great deal at stake because the school means so much to you, and the program means so much to you," Army said. "For me, it's my opportunity to give something back to the college, so it's a great feeling to have the opportunity to build a program in your vision and to build a program that is on the national landscape every year."
So it's not like losing was much on his mind. But to play this well this early?
"We're just trying to play the best hockey that we can play, and we're trying to change the culture and identity of our program in respect to how we play," Army said. "We've played some good hockey. I think our kids are becoming more natural in respect to the things we are trying to do as a team."
He entered this past summer giving his team a clean slate. He didn't want any preconceived notions of what his team could or couldn't do. Army watched a few tapes of last year's team to garner a general idea, but he wanted to see everything first-hand, in person.
Since then, he has put together more of an aggressive approach than Providence teams of the past. He is getting everything out of his players that he possibly can, maximizing their strengths to help the team in the best way imaginable.
"We're tapping into skill levels of guys who maybe weren't able to get as much out of them in previous years," Army said. "With a little adjustment to our style of play, we're able to get more out of them."
For instance, Army wanted to use Chase Watson's skating ability and vision to set up the offense, and he is keeping on Torry Gajda to use his individual talent to get the puck to the net as often as possible.
The results? Gajda has four goals and six assists, and Watson has three scores and seven helpers; they are each tied for fourth in Hockey East in total points.
With three wins away from home, the Friars have already equaled their total from last season, and their five league wins have them just one shy of what they accomplished a year ago.
But let's not get ahead of ourselves. We're only in November, and PC has only played six of its 27 league games. It goes without saying that a fast start doesn't mean a successful finish, especially in a conference loaded with talent like Hockey East.
Although, when you have a coach who is as rich in school pride as anyone you'll meet and a man who has never known anything but success at the college level, it isn't too difficult to see why his team is playing so hard for him.
"I just want to play the best hockey that we can play," Army said. "I told the guys in July that I didn't want to have to wait for one, or two, or three or four recruiting classes. I expected that this team, with good players on this team, that we were going to change our culture and identity as a hockey team. I wanted this group to have as much success that it could possibly have, and you can only do that by getting better everyday."
If the Friars keep this thing going, it will be interesting to see what Army has to say to his team next July.
SEEN AND HEARD IN HOCKEY EAST
Fluke or fortune-telling? – The third-period debacle against Holy Cross figured to be a fluke for Massachusetts. Ahead of the Crusaders 2-1 with under four minutes to play, the Minutemen surrendered two goals in front of their home crowd in the matter of 67 seconds and dropped their home opener, 3-2.
Fluky or not, UMass hasn't recovered, as it marked the first of five consecutive losses, with two more of the devastating third-period variety in the home-and-home series with Providence this past weekend.
With the game on Friday night tied at 2-2 with under five minutes to go, freshman Chris Davis became the latest victim of a game misconduct for hitting from behind. With the man-advantage for the remainder of regulation at home, the Friars scored a pair of goals in 1:52 to steal a 4-2 decision.
After the Minutemen appeared to reverse their fortune by scoring two third-period goals of their own to knot the score at 2-2 in Amherst the next night, they were snake bitten yet again. Providence's Cody Wild sent the puck in from beyond the point, and it somehow made its way past senior goalie Gabe Winer with only 83 ticks remaining on the scoreboard, giving the Friars a weekend sweep.
It's evident to see why the Minutemen have gotten off to such a rocky start in 2005, with 11 of the 22 goals they have allowed this season coming in the final frame.
Great Weekend Getaway

Providence (Fri.) and Boston College (Sun.) at Vermont
Providence will lug its Hockey East-leading 10 points up to The Gut this weekend to square off with Vermont in a matchup between two of the more surprising teams in the country at the start of the season. Two days later, Boston College will soar into Burlington to cap off the biggest weekend Vermont has seen in quite some time.

While You're There: With roughly 40 hours between games this weekend, give it the old college try and take a stroll less than two hours north to Montreal. If the club scene isn't your thing, check out some more quality hockey on Saturday night when the Canadians host the Maple Leafs. Not feeling so ambitious? Stay local and check out the sights at the Church Street Marketplace.

Stick Salute

Boston University broke out of its early slump in resounding fashion this weekend, handing UVM its first loss on the season Friday night, 4-2, before ruining Maine's unblemished home mark on Sunday afternoon by a 2-1 score. Terrier goalie John Curry earned INCH Player of the Week and Hockey East Player of the Week honors by turning away 56 of 59 shots on the weekend, including all 19 Black Bear attempts in Sunday's third period.


Bench Minor

Vermont's addition to the league means two teams, not one, will now miss the Hockey East postseason. Northeastern (0-3-1 in the league), Merrimack (0-3-0) and Massachusetts (0-4-0) are anchoring the bottom of the standings, and if one of these teams doesn't heat up at some point, it may be every bit as unexciting to watch the three duke it out for the final playoff spot as it is exciting to watch the top teams vie for the league crown in March.
FRIES AT THE BOTTOM OF THE BAG
• Everyone knows that UNH blueliner Brian Yandle can score at will, and now Craig Switzer is joining in on the fun. After tallying just one assist in his first four games this season, he has caught fire of late, contributing two goals and five assists over the last four contests. How would you like to be an opposing goalie with Yandle, Switzer, Brett Hemingway, Daniel Winnik and Jacob Micflikier all on the ice at the same time?
• Northeastern freshman Ryan Ginand made sure his first, second and third career goals would be memorable ones. He scored his first one at the 3:56 mark of the second period on Friday night against UNH, and just 7:44 later, he had his first career hat trick. The three goals in under eight minutes marked the first hat trick by a Hockey East freshman in a league game since Boston College's Kris Kolanos did it in March of 2000.
• Eagles' senior forward Chris Collins will have to start wearing sunglasses to the rink – or at least some sort of dark visor – with the way he has been lighting lamps lately. In the team's last six games, Collins has scored seven goals, two of the shorthanded variety.
• The second time was, in fact, a charm for BU coach Jack Parker, who finally won his 300th Hockey East game with the Terriers' 4-2 Friday night celebration over UVM. Parker had to wait 20 days between victories 299 and 300, as the only league game in between was a 7-4 loss in Lowell.
• If the Black Bears had it their way, they wouldn't welcome any Boston teams to Alfond during the first week of November ever again. Sunday's home loss to BU marked the first time Maine had been on the short end of the stick in Orono in more than a calendar year – 366 days to be exact – since UM dropped a 3-1 decision to BC on Nov. 5, 2004.
• A couple scoreless streaks ended this past weekend. Maine goalie Matt Lundin allowed his first goal in 161:03 when Jason Lawrence scored his first career goal in the second period for BU. UMass ended its drought of 117:35 with a Marvin Degon tally in the first period against Providence on Friday night. As only the hockey gods would have it, Lundin shut the Minutemen out on Oct. 29, making both of these streaks possible.
A variety of sources were utilized in the compilation of this report.