January 11, 2006
Falcons Flying High, Even through Turbulence
By James Jahnke
CCHA Notebook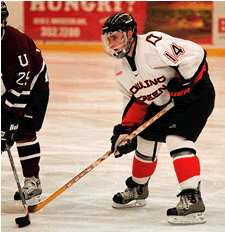 Mike Falk is second on the Falcons in goals with 11, trailing only Jonathan Matsumoto.

Bowling Green remained one of the hottest teams in the country even without one of its best players last weekend.
Sophomore forward Jonathan Matsumoto, who leads the Falcons with 12 goals, was suspended for the entire sweep of Ohio State after running afoul of the law hours after the team's win over Colgate last week. According to Kevin Gordon of the Bowling Green Sentinel-Tribune, Matsumoto, 19, was cited at 2:30 a.m. Jan. 4 for underage drinking and petty theft.
Matsumoto was reinstated by coach Scott Paluch this week and practiced for the first time since the incident on Wednesday. He probably will play in this weekend's home-and-home series against Western Michigan.
"He's back," said Paluch, who wouldn't comment on the incident. "He served his suspension and has been reinstated."
The situation somewhat overshadows the Falcons' dramatic turnaround over the past month, which has included six straight wins over teams from four leagues (St. Lawrence, Massachusetts, Connecticut, Colgate and Ohio State). BGSU has climbed to sixth in the CCHA and sits just one game under .500 overall after a dismal 3-10-1 start to the season.
Reason No. 1 for the improvement has been cutting down on goals against. Senior Jon Horrell is on a roll, winning all six games during the streak and not allowing more than two goals in a game since early December. That's really saying something, considering BGSU is 53rd in the nation at 3.82 goals against per game even after this recent about-face.
Above all, Horrell has benefited from much better defensive work in front of him.
"We're playing a safer style of hockey after making some bad reads and turning the puck over too much earlier in the year," Paluch said. "We've made adjustments with our defensemen and gotten our forwards into better position for transition. We're just keeping things simple, keeping the puck in safe areas and staying away from turnovers."
On a side note regarding Matsumoto, one rumor we heard this week had him leaving school to play in the Ontario Hockey League. That turned out to be unsubstantiated, as did similar theories about Ohio State sophomore forward Tom Fritsche and Nebraska-Omaha sophomore defenseman Joe Grimaldi floated on message boards this week. Officials with the Buckeyes and Mavericks say Fritsche and Grimaldi have shown no signs of contemplating a move away from campus, and they are expected to play against each other this weekend in Columbus.
Update: Thursday Grimaldi left UNO for the OHL's Ottawa 67s.
SEEN AND HEARD IN THE CCHA
Not Running with the Devils: Despite whispers to the contrary, Northern Michigan coach Walt Kyle said he never was contacted by the New Jersey Devils about their coaching vacancy, let alone offered the job.
"Total speculation," Kyle said. "From my vantage point, there was nothing to it. No one ever contacted me, and I've been in the business long enough to know you need that to happen to get a job."
Kyle's alleged candidacy popped up in the New York Post while he was leading the U.S. team at the recent World Junior Championships in Vancouver – and simply added to what already was a whirlwind few weeks. After dropping the bronze-medal game to Finland last Thursday, Kyle and U.S./Miami forward Nate Davis drove to Seattle for the night, then had a 4 a.m. wakeup call for a flight to Cincinnati, landed at 2 p.m. and drove to Oxford for Friday night's NMU vs. Miami game. After all of that, Kyle's 12ish-hour bus ride back to Marquette on Sunday was a drain.
"The World Juniors is a tiring tournament, for sure," Kyle said. "But it was a great experience. I enjoyed it."
Hopeful Irish: Notre Dame is on a three-game unbeaten streak after a successful trip to UNO, and first-year Fighting Irish coach Jeff Jackson thinks it might be a sign that he and his players have finally figured out each other.
"Really, it's taken a half a year for me to really get to know our personnel and for them to know me," Jackson said. "I think they understand that I'm not going to tolerate not working hard, not giving the effort. If they do that, they're going to sit, whether it's a senior, junior, freshman, whoever. Some guys have learned that and are turning the corner, while others are still learning."
One of Notre Dame's most pleasant surprises has been freshman Erik Condra, who is tied for the team scoring lead with 18 points. He and co-leader Josh Sciba have formed an effective forward pair despite a rotating cast of wingers on their line.
"Coming into the season, I didn't know who was going to create for us," Jackson said. "But Condra has been good. He's smart and he competes hard. If we can bring in players like him on an annual basis, we'll be doing well."
Great Weekend Getaway

Nebraska-Omaha at Ohio State (Fri.-Sat.)
Cynics might already consider these underachieving squads to be out of the league race. That's probably not true just yet in the tightly packed CCHA, but whoever comes out on the wrong end of this weekend's Dan Knapp Bowl can probably forget about catching Miami, et al. So what does that mean? Desperate hockey, which is always fun to watch. OSU coach John Markell wants nothing more than a consistent level passion from his club, while Mike Kemp's crew heads into an incredibly tough six-week stretch riding a 2-4-1 skid.

While you're there: If this is your first trip to the 'Bus since last year's Frozen Four, you had might as well revisit the scene(s) of your greatest glory. For us, that would be O'Shaughnessy's Public House in the Arena District.

Stick Salute

Michigan goalie Billy Sauer had an 18th birthday to remember, notching his first career shutout with an 26-save effort against Alaska Fairbanks on Friday. Even better, the freshman displayed a bit of clairvoyance. He said he woke up that morning knowing it was going to be a good day.

Bench Minor

Halfway through January, it's too bad that OSU coach John Markell still has to scratch some of his regulars in an effort to motivate his team. On Friday, he sat John Dingle. On Saturday, he scratched Bryce Anderson and Domenic Maiani, although Maiani also had a finger injury. For Tuesday's win over Miami, it was Andrew Schembri. "We can't scratch everybody that probably deserves it," Markell told the Columbus Dispatch on Saturday. For a veteran group, that says a lot about where the team's focus lies.
FRIES AT THE BOTTOM OF THE BAG
• In case you missed it, three CCHA players were among 18 nominees for the Hockey Humanitarian Award: Western Michigan goalie Eric Marvin, Michigan State forward Drew Miller and Notre Dame defenseman Chris Trick. Five finalists will be announced Jan. 20, and the award presentation is April 7 in Milwaukee.
• Michigan State swept Wayne State in the only nonconference action for the CCHA last week. The games didn't count in the Commissioners' Cup standings, but we'll give you an update anyway. The CCHA (5-4-1) is tied for second place with the CHA, one point behind the ECACHL, with just two total Cup games remaining. For the CCHA to win outright, Northern Michigan must defeat Wayne State on Feb. 4 while UConn beats Yale on the same night.
• The only "nonconference" game in the league this week is Michigan hosting the U.S. Under-18 Team, a crosstown foe, for an exhibition Friday. Many Wolverine regulars are expected to get the night off (read: banged-up Brandon Kaleniecki and at least a few of U-M's World Junior participants) as they rest up for Tuesday's showdown at MSU.
• Injury report: Ferris State freshman Dan Riedel (3-13-16) is expected to be back in the Bulldogs' lineup for this weekend's visit to Northern Michigan after missing six games with mononucleosis. ... MSU goaltender Dominic Vicari was held out of the Wayne State series because of an eye infection caused by his contact lenses. He is expected to be available this weekend.
• Nebraska-Omaha forward Bill Thomas and Miami goalie Jeff Zatkoff were honored by CSTV and the Hockey Commissioners' Association as the national player and goalie of the month, respectively, for December. Thomas had nine goals and six assists in six December games, while Zatkoff went 2-0-1 in three December games against ranked teams.
• From the sound of it, Michigan and Alaska Fairbanks were lucky to have their entire rosters available to them for Saturday night's game. Near the end of U-M's 4-0 win Friday, something between a scuffle and a brawl broke out among players on the ice. The level of chaos differs with each viewpoint, but at least one Wolverine thought it was a big deal. "I thought (Michigan's Jack) Johnson and (Travis) Turnbull were gonna get kicked out," U-M forward Chad Kolarik told USCHO after the game. "They
were throwing punches left and right. I was a little nervous, but (captain Andrew Ebbett) tried to go talk (the referee) out of it, and I guess he did a good job persuading." Throwing punches left and right? In this year of the DQ, it sounds like there could have been some.
• Minutiae: Bowling Green recorded two shutouts in the same week for the first time since 1977. ... Miami is the only team in the country not to have given up more than three goals in a game this season. ... MSU's goal scorers in Friday's 3-1 win over Wayne State (Corey Potter, Jared Nightingale and Nick Sucharski) had combined for seven career goals in 271 games played before the contest.
• Ferris State coach Bob Daniels on senior forward Greg Rallo, who leads the team with 12 goals after only scoring seven in each of the last two seasons: "He broke his ankle playing softball in the summer before last season, and it really affected his skating. He was never the same last year, until he started getting better sometime in March. But this year, he's really stepping up and having a great senior season. In that way, he reminds me of Chris Kunitz. He's not just getting it done offensively, he's playing well from a defensive standpoint and he's one of our top penalty killers. It's nice to see."
• Only two teams are represented among the league's top four point-scoring defensemen: Michigan and Miami. The Wolverines have the co-No. 1s, Jack Johnson and Matt Hunwick, with 21 points apiece. The RedHawks boast No. 3 Andy Greene (16) and No. 4 Mitch Ganzak (15), who is, by far, the least heralded of the quartet.
• Miami goalie Charlie Effinger lost for the first time in 364 days Friday, dropping a 2-1 decision to NMU. Since losing to MSU on Jan. 7, 2005, he had built a 12-game unbeaten streak.
A variety of sources were utilized in the compilation of this report.