INCH UPDATE DESK
January 21, 2006
York, BC Agree to Contract Extension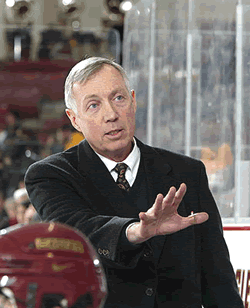 Boston College coach Jerry York agreed to a contract extension that will keep him behind the Eagles' bench through the 2010-11 season, athletic director Gene DeFilippo announced Monday.
"We're very fortunate to have Jerry York here at BC and we're all very excited that he will continue to lead our hockey program," DeFilippo said in a statement. "Jerry is the best hockey coach in the country and the young people that play for Jerry become the very best student-athletes they can be."
York, who took the helm of the BC program in 1994 after seven years as bench boss at Clarkson and 15 seasons at Bowling Green, has a 272-148-40 record in 12 seasons with the Eagles. He ranks third on the NCAA's career victories list with 739 wins behind Ron Mason and Bob Peters.
January 21, 2006
AHCA Announces 2006 Award Winners
Former Army head coach Rob Riley and Michigan assistant coach Billy Powers are among the 2006 award winners that the American Hockey Coaches Association will honor at its convention in April.
Riley is the 2006 recipient of the AHCA's John MacInnes Award, given annually to an honoree who has shown a great concern for amateur hockey and youth hockey programs. Riley, a 1978 graduate of Boston College, won 297 games in 21 years behind the benches at Army and Babson College.
Powers is the recipient of the Terry Flanagan Award, which honors an assistant coach's body of work. A 14-year assistant coach, including 12 at Michigan, Powers is the second member of Michigan's staff to earn the honor, following Mel Pearson in 2000.
Other honorees include: Vic Levine (The John Mariucci Award), Frank "Mac" McIntosh (The Jim Fullerton Award), Carl Marottolo (The John "Snooks" Kelley Founders Award) and Charlie Stryker (The Joe Burke Award).
For more information on the AHCA and each honoree, visit ahcahockey.com.
January 21, 2006
UMD to Retire Hull's Number
On Feb. 3, Brett Hull's No. 29 jersey will be officially retired by Minnesota Duluth in a special ceremony between the first and second periods of the Bulldogs' game against Wisconsin at the Duluth Entertainment and Convention Center.
"Retiring Brett's jersey is a fitting and lasting tribute for the tremendous impact he has made on the UMD hockey program," said athletic director Bob Nielson. "His accomplishments while with the Bulldogs and in the National Hockey League are remarkable and shows why he's truly one of the game's greatest players."
During his two-year career with the Bulldogs, Hull distinguished himself as the most prolific goal producer in UMD history. In 1984-85, he was chosen the WCHA's Freshman of the Year after leading all league newcomers in points while setting a Bulldog single-season mark for goals by a rookie with 32. The following winter, Hull collected an NCAA-best 52 goals – a figure no Bulldog has come close to equalling since (Derek Plante, with 36 in 1992-93, is his nearest rival) – en route to landing All-WCHA first team honors
and becoming a Hobey Baker Memorial Award finalist. In addition, he established Bulldog records for hat tricks (seven), multiple-goal games (13) and power play scores (20) in one season.
Hull, a 1997 UMD Athletic Hall of Fame inductee, signed on with Calgary for the 1985 Stanley Cup playoffs and went on to play 20 years in the NHL before retiring five games into the 2005-06 season as a member of the Phoenix Coyotes.
Hull becomes just the second UMD male athlete to ever have his jersey retired. He joins fellow hockey forward Keith "Huffer" Christiansen (1963-67) in that elite group.
January 12, 2006
Grimaldi Leaves UNO for OHL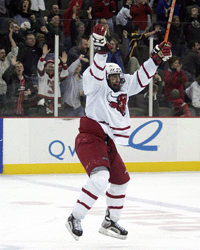 Nebraska-Omaha defenseman Joe Grimaldi has left the Mavericks program for the Ontario Hockey League's Ottawa 67's.
"We are extremely pleased to have Joe as a member of our team" Ottawa coach-general manager Brian Kilrea said in a press release. "Grimaldi will...work hard and will help improve our defense."
According to the OHL team's Web site, Grimaldi joined the team in Toronto Thursday where the 67's start a three-game road trip against the St. Mike's Majors. The Ronkonkoma, N.Y., native – whose rights were acquired by Ottawa in a trade with the Windsor Spitfires in exchange for a conditional pick in this year's OHL draft – won't suit up for Ottawa until it hosts Peterborough Jan. 20.
Earlier this week, UNO officials told Inside College Hockey's James Jahnke that Grimaldi had no plans to leave school for the major junior ranks.
Grimaldi was named to the CCHA's All-Rookie team last season after leading the league with a +24 plus-minus rating and scoring four goals and 13 assists for 17 points in 38 games for the Mavericks. Through 19 games this season, the 6-0, 205-pound rearguard had no goals and four assists.
"We are disappointed to lose a player of his caliber," UNO coach Mike Kemp said in a statement. "However, we wish him the best as he follows his dream to play in the NHL."
January 9, 2006
Army to Host Derek Hines Night
The Army hockey family will honor the memory of former Black Knight Derek Hines Saturday night before their game against Atlantic Hockey rival Holy Cross at West Point's Tate Rink. Game time is set for 7 p.m.
Derek Hines served as team co-captain his senior year and was a four-year letterwinner during his playing days at West Point. 1st Lt. Hines was killed in action in the district of Daychopan, Afghanistan during a fire fight with suspected Taliban leaders.
The Army hockey team will honor his memory in a brief ceremony before the game involving Hines' surviving family. Head coach Brian Riley will speak to the Army fans before the game.
In an open letter to the college hockey community shortly after the tragedy occurred, Riley wrote, "At 5-6 and 165 pounds, 'Hinesy' was certainly not the biggest player when he stepped onto the ice. But when the game started, he played as big as anybody out there. As a result of his hard-working attitude, he was a fan favorite here at Tate Rink."
Hines scored 12 goals and registered 20 assists for 32 career points in 119 games with the Black Knights. He returned to West Point in the spring semester of the 2003-04 season to serve as the hockey team's athletic intern.
January 9, 2006
SCSU Removes "Interim" from Motzko's Title

St. Cloud State made its long-anticipated move official Monday, removing "interim" from head coach Bob Motzko's title.
"We are delighted to have Bob Motzko running the Husky hockey program," athletic director Morris Kurtz said. "He is a man of integrity, who is committed to academic and athletic success which is consistent with the overall mission of Husky athletics.
"SCSU looks for Bob to build on the foundation put into place by Craig Dahl, and return Husky hockey to a level of prominence."
Motzko was named the Huskies' interim coach at the beginning of the 2005-06 season, after the resignation of Dahl.
The Huskies have charted a solid 9-8-3 overall record this season under Motzko¹s leadership, including wins over nationally ranked Colgate, Northern Michigan, Minnesota and North Dakota along with a tie against No. 1 Wisconsin.
"I would like to thank President Roy Saigo and Morris Kurtz for providing me with the opportunity to come back to St. Cloud State," said Motzko, a 1987 graduate of the school. "In the college coaching profession, you always hope to have the chance to come back and coach at your alma mater. Now, I'm one of the fortunate ones to get that opportunity."
January 4, 2006
Union's Coyle Declared Ineligible
Union's leading scorer, sophomore forward Josh Coyle, has been declared ineligible by the school and will miss the remainder of the season. Coyle had nine goals and nine assists (18 points) in the first half of the season, but did not accompany the team to the Dodge Holiday Classic in Minnesota.
"It's going to be a great learning experience for Josh," head coach Nate Leaman told Ken Schott of the Schenectady Daily Gazette. "I know Josh is going to return to the program and not only have a successful career here, but be a much better student and earn his Union degree."
Union is 10-8-2 overall (3-3-0 ECACHL). The Dutchmen host Harvard and Dartmouth this weekend.
INCH Update Desk Archives: December | November | October | September | August | July | June | May | April