INCH UPDATE DESK
September 26, 2005
Wayne State Returns to Fairgrounds
Wayne State announced today the Warriors will play their home games for the next three seasons at the Michigan State Fairgrounds Coliseum starting this fall.
"As we continue to look for that 'home' away from campus, the Coliseum at the Fairgrounds offers us proximity, a classic venue and familiarity," said Fournier. "Hopefully our fans will quickly transition back to the Fairgrounds to create the atmosphere a top-tier college program should play before."
Head coach Bill Wilkinson begins his seventh season behind the Warrior bench in the same arena Wayne State hosted its first hockey game.
"We are excited to be back at the Fairgrounds," commented Wilkinson. "The Coliseum has a great aura. It will be nice to practice and play at the same building. Hopefully this location will allow our students to attend on a more regular basis. Playing in a centrally located arena will be a bonus for our fans in metro Detroit."
After playing its inaugural campaign at the Coliseum, WSU played the next three seasons at the Great Lakes Sports City Arena in Fraser followed by two seasons at the Compuware Sports Arena in Plymouth. The third season in Fraser also saw WSU play two homes game at Joe Louis Arena, Taylor SportsPlex and Compuware.
In addition to serving as the home arena for Warrior men's hockey in 2005-06, the Michigan State Fairgrounds Coliseum will be the site of the 2006 College Hockey America men¹s and women¹s conference tournaments March 9-12.

September 22, 2005
RPI's MacDonald to Return
Rensselaer senior forward Kirk MacDonald expects to return to the Engineers lineup in a playing capacity this season. MacDonald was diagnosed with testicular cancer in April and has been working toward a full recovery and the resumption of his playing career. It has yet to be determined when he will resume practicing with the team, although it won't be at the start of the season on October 1.
RPI announced its captains on Thursday and MacDonald was named as a tri-captain for this season along with Brad Farynuk and Kevin Croxton. An official release from RPI's Athletic Communications department stated, "MacDonald, Farynuk and Croxton are among 21 players returning from last year's team."
MacDonald, who hails from Victoria, British Columbia, was RPI's leader in goals (16), points (36), power play goals (8), shorthanded goals (1) and game-winning goals (4) last season. He was second with 20 assists in 37 games. At season's end he was named the team's Most Valuable Player and he won the Coach's Award. In 104 career games, MacDonald, who has battled numerous injuries and illnesses during his collegiate career, has 35 goals and 41 assists for 76 points.
September 6, 2005
Dumont Joins BGSU Staff
Bowling Green has named Jamie Dumont an assistant coach, replacing Kevin Patrick, who joined the Wisconsin staff on Aug. 18.
"I am very excited to join the Bowling Green family," said Dumont. "With the strong tradition of hockey at BGSU and working with Scott [Paluch] and Ron [Fogarty] it will be a wonderful experience. They are two of the most respected coaches in college hockey."
Dumont, an Oswego State graduate and former assistant coach at Bowdoin, comes to BGSU after serving as a graduate assistant with Maine over the past summer.
"We are really excited to have Jamie join the Bowling Green program," said head coach Scott Paluch. "He brings a great amount of enthusiasm and work ethic to our team. Jamie has worked for some outstanding coaches and is an outstanding on ice teacher and tireless recruiter."
September 6, 2005
Richter Joins Yale Staff
Mike Richter, a legendary goaltender with the New York Rangers, U.S. Olympic Team and the University of Wisconsin, has joined the Yale men's hockey staff as a volunteer coach.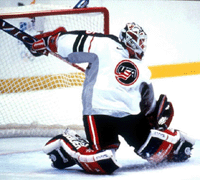 Richter, currently enrolled as Yale student, had 301 victories, a 2.89 goals-against average and 24 shutouts over 15 seasons with the Rangers. He owns most of the Ranger goaltending records, was a three-time NHL All-Star, two-time team MVP and led the Rangers to the 1994 Stanley Cup title. He had his number retired by the team in 2004.
Richter won a silver medal with the 2002 Olympic team and also was in net for the 1988 squad as well as numerous U.S. teams at World Junior, Canada Cup and World Championship events.
The Abington, Pa., native played two years at Wisconsin and was an academic All-WCHA pick before joining the 1988 U.S. Olympic team and turning pro.
September 5, 2005
Holy Cross to Host Atlantic Hockey Championship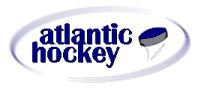 Holy Cross will host the 2006 Atlantic Hockey Association Tournament semifinals and championship game at the Hart Center on Friday and Saturday, March 17 and 18. The quarterfinals will take place on Saturday, March 11, at the home ice of the higher seed in each game.
"We are excited to host the Atlantic Hockey semifinals and championship game," said Bill Bellerose, Holy Cross associate athletic director and former Crusader head hockey coach. "Hockey has become very big on our campus since the Atlantic Hockey Tournament champion has been able to get an automatic bid into the NCAAs, so I think hosting this type of event is something to look forward to."
This will be the third time Holy Cross has hosted its conference's postseason hockey tournament. The Crusaders previously hosted the MAAC playoffs in 1999 and 2002. Atlantic Hockey, which formed two years ago, has held its championship weekends at Quinnipiac last year and Army in 2004.
"Our program is extremely excited about hosting the Atlantic Hockey Championships in March," said head coach Paul Pearl. "We have hosted twice in the past, and the city of Worcester and our student body have enthusiastically supported it."
Tickets for the event can be purchased by calling the Holy Cross ticket office at (508) 793-2573 or at any home Holy Cross hockey game.
INCH Update Desk Archives: August | July | June | May | April