December 8, 2005
Yale Gets Rewarded
By Joe Gladziszewski
ECAC Hockey League Notebook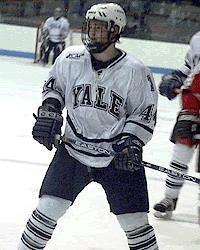 Injuries have limited Christian Jensen to eight games for Yale this season, but he has seven points.

It would have been understandable if the players and coaches on the Yale roster threw their hands in the air and said, "Here we go again." The season started with a winnable game that slipped away against Cornell and close losses to St. Lawrence and Harvard quickly followed.
Sprinkled in among those close losses were more lopsided defeats against Colgate and Dartmouth. Yale lost its first six games and appeared headed for another miserable season. The Bulldogs won just five games last year.
A win over Mercyhurst broke the losing streak, but a humbling trip to Duluth saw Yale drop two games by a combined score of 14-2 against the UMD Bulldogs.
All along, head coach Tim Taylor never lost confidence. Despite a 1-8-0 overall record, he saw signs that things would get better. In particular, his team's defensive commitment was greatly improved in some stretches of early games.
"We've had our low points, but we've also had some high points that didn't turn into victories," Taylor said. "The biggest challenge was to be more competitive in the defensive zone. We've had a propensity to give up goals and make ourselves easy to play against at times. We needed to address our defense and make it a priority for 60 minutes. I saw that coming. We responded to that challenge and that's when I thought it was there."
It all came together last week. Taylor's optimism was justified as Yale won a pair of ECACHL games against Brown and Harvard. Those two wins have given the team a lift.
"I feel like we're a better hockey team than our record shows," Taylor said. "But for a couple of bounces here and there we might have won our first game against Cornell and the game at Harvard which we lost in overtime."
Better overall defense, solid goaltending from freshman Alec Richards, and Yale's trademark quick-strike offense were all on display in the victories. The Bulldogs buckled down in their own zone. Richards made 68 saves on the weekend. And Yale used three-goal spurts over a span of 8:59 in the win over Brown, and 13:06 against Harvard.
Richards, a rookie from Robbinsdale, Minn., has emerged from a trio of goaltenders that shared time at the start of the year. Josh Gartner and Matt Modelski have also seen time between the pipes. For now, it's the rookie that stands as the last line of defense. Taylor handled the young netminder with caution in the early part of the year.
"It was not my intent to throw him into the fire right away. It was up to him to earn the job and I didn't want him to get burned," Taylor said. "He's eased into that role. He is big and calm and doesn't get flustered when things get chaotic in that end."
Offensively, seniors such as Joe Zappala, Jeff Hristovski, and Nate Jackson are near the top of the Yale scoring chart. Nagging injuries have affected the team throughout the season. Some of the injuries have kept players such as captain Christian Jensen out of the lineup. Other injuries have limited the effectiveness of players that were on the ice.
Now that Yale has some momentum, an extended exam and holiday break comes at an inopportune time. The benefit is a return to physical health. The detriment is trying to continue a winning streak amid a three-week layoff.
"It will be nice to get guys healthy but as a coach I don't like these extended breaks," Taylor said. "I like to play, and it would be nice to build off of these wins and try to maintain success. My concern is that the guys will hopefully come back in good physical shape. They will stay in good mental shape because they're happy about these two wins."
SEEN AND HEARD IN THE ECACHL
Opposite story up I-91 – At the same time that nothing seemed to go right for Yale, everything was going right for Quinnipiac. The Bobcats rolled off an eight-game winning streak early on and made a statement by sweeping Harvard and Dartmouth in their first weekend of ECAC Hockey League play. But Quinnipiac is just 1-8-0 in its last nine games. Five of the eight losses are by a single goal and a sixth was a two-goal margin provided by an empty-net goal.
Tuesday's loss to Harvard was Quinnipiac's third one-goal loss in a row. All of those came against nationally-ranked opponents, showing that the Bobcats are certainly capable of playing at a high level. The results are getting a bit frustrating. Overall, the Bobcats stand at 9-10-0 thus far.
Coach Rand Pecknold told New Haven Register reporter Chip Malafronte after the game that he has seen progress through the first half of the year.
"We certainly need to get over the hump," Pecknold said. "We're right in every game, we're not going in and losing 6-0. Not a lot of people picked us to be at that point, and we're ahead of where I thought we'd be. But it's still a bitter taste."
Championship formula – Last week's notebook examined what St. Lawrence is doing well so far this season. Scoring balance and consistency in effort throughout the lineup are among the team's strongest attributes. That takes pressure off of marquee forwards John Zeiler and T.J. Trevelyan. They've flanked a variety of centermen so far this season.
"You can see every night different guys chipping in. Some nights the top line isn't on but you have third- and fourth-liners putting goals in. That's definitely a championship team when you can do that," Zeiler said. "It's not all about scoring goals for the first line. It's being leaders on the ice and setting an example and getting some energy going and fighting defensively."
Great Weekend Getaway

St. Lawrence at Miami (Fri.)
Clarkson at Miami (Sat.)
Perceptive INCH readers know that Oxford, Ohio, is one of our favorite destinations. We couldn't pass up the chance to recommend a road trip to check out a pair of solid ECACHL teams as St. Lawrence and Clarkson take on the Miami RedHawks. All three teams are nationally ranked and the hosts are the runaway leaders in the CCHA.

While You're There: There's so much to do, or rather, so much to see in Oxford. It's the final year of hockey home games at Goggin Ice Arena. Enjoy the old barn, and then enjoy the Brick Street Tavern (formerly First Run) for post-game festivities and much better sight lines than in good old Goggin. For a pre-game happy hour – I mean dinner – we recommend Mac and Joe's where classic hockey sweaters and pucks are on display in the upstairs bar.

Stick Salute

One challenge that coaches face is keeping things fresh over a long season. The Yale staff used some unique and creative ideas to motivate the team in Sunday's win over Harvard.

Bench Minor

Clarkson's Shawn Weller wasn't included on the roster for the United States entry at the IIHF World Junior Championships to be held in Vancouver one month from now. Weller was a member of the team last year and accepted a penalty-killing role. He's even better this year and his size would be a good asset to have since Team USA's tournament games are being played on North American-sized ice surfaces at the Pacific Coliseum and GM Place.
FRIES AT THE BOTTOM OF THE BAG
• Harvard earned a gutty 1-0 win over New Hampshire on the road Thursday. An early goal from freshman defenseman Brian McCafferty held up as the Crimson played sound defense. Particularly noteworthy were Harvard's solid play in the third period and steady goaltending from senior John Daigneau. He made 32 saves.
• Cornell has quietly put together a four-game winning streak as it breaks for most of December before returning to the ice in the Florida College Classic after Christmas. It hasn't always been pretty, or as easy as some might have anticipated prior to the season, but the Big Red are taking care of business.
"I think we're almost there," senior captain Matt Moulson said recently. "We've still got to fix some of the problems that we're having but we have to stay positive. It feels like we're right there and sometimes the bounce doesn't go our way in front of the net. We're still making some mistakes but they can be cleaned up. To look at the future and the potential of the team, we know that we can't make those mistakes and we'll be a better hockey team for it."
• Clarkson coach George Roll and Bowling Green coach Scott Paluch played together at BG in the mid-1980s and have retained a close personal and professional relationship over the past 20 years. They'll face each other as head coaches for the first time on Friday night when Clarkson visits Bowling Green.
• While Clarkson and St. Lawrence work the travel-partner exchange with Bowling Green and Miami, Union will also invade the Buckeye State and play two games at last year's Frozen Four venue against Ohio State.
• In another bizarro travel-partner situation, Union faced RIT last week, and swept a home-and-home series. This weekend RIT visits Rensselaer on Saturday night.
• Brown is 0-6-1 in its last seven games and has scored just 11 goals during the streak. The Bears scored first, but it was their only goal, in losses against Providence and Maine this week.
• Colgate forward Dustin Gillanders is out for the season due to a knee injury and is applying for a medical hardship waiver. In the meantime he is lending his writing skills to Colgate Athletic Communications, and authored game recaps for recent Raider wins over Quinnipiac and Princeton.
• Dartmouth's first nine games were against ECACHL foes. This weekend they'll host Boston University and travel to UMass-Lowell. Fans can participate in the team's annual toy drive to benefit the Children's Hospital at Dartmouth at Saturday's game.
A variety of sources were utilized in the compilation of this report.