October 26, 2005
'Mount the Wagon
By Jeff Howe
Hockey East Notebook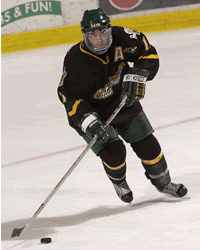 Brady Leisenring has been among the stars in Vermont's 4-0-0 start.

If you haven't already made your reservations, do so now. Go to your local hockey merchandiser or jump on the information superhighway and get yourself some green and gold. But do so quickly, because space on Vermont's bandwagon is limited as the Catamounts have jumped out to a to a ferocious 4-0-0 start.
In just a couple October weeks, UVM has transformed itself from being the new kid in Hockey East to being the lone soldier without a loss on its shoulders. Granted, the team has yet to play a conference game, but it has earned its stripes by knocking off a WCHA opponent in each of its four chances and a 6-0-2 record against the league in the last eight meetings dating back to last year.
Following a weekend that saw the Catamounts bring home bragging rights from the Nye Frontier Classic in Alaska with victories over Michigan Tech and Alaska-Anchorage, they pounded Minnesota-Duluth – ranked No. 1 in the country at one point last year – in Burlington with a pair of 5-1 decisions.
And they have hit on every phase of the game to this point. The Catamounts are tied for first in Hockey East with an average of four goals per game, and ranked first in defense, allowing a mere 1.25 goals per game. They top the conference in power play percentage, converting on 26.9 percent of their opportunities, and the penalty kill is ranked third, only surrendering a single goal in 22 chances.
"The most important stat right now is the five goals against," Vermont coach Kevin Sneddon said. "It shows me that the team is focused on the right thing, and that is playing great in our own zone. We're getting good goaltending, really good defensive play on our penalty kill, and we're blocking a lot of shots."
The offense has been carried by its two most dangerous veteran scorers in Brady Leisenring (3-5—8) and Torrey Mitchell (1-7—8), but they have received some much-welcomed help from freshman Peter Lenes, who scored his first career goal over the weekend and went on to score another three en route to Hockey East Rookie of the Week honors after his breakout series.
"You never know when they are going to start to feel confident enough to find the back of the net as freshmen, but we knew he had the ability," Sneddon said. "He is one of the most skilled players I have ever coached. He has tremendous hands, very good quickness and agility. He is going to be an exciting player to watch for four years. We didn't know if he would break out that early and, again, it's one weekend, but we know he has the ability to do it again at any time."
It helps that sophomore goalie Joe Fallon picked up where he left off on his record-setting freshman season. He has played in every minute of every game, registering a league-best 1.24 goals-against average and one shutout.
"We've come to expect it, which isn't really fair to him, but he makes it look so simple back there," Sneddon said. "We're playing pretty well in front of him. He has had to make some key saves. He has been very solid and looks like he is in midseason form already."
Up next for Vermont is a weekend road trip to Niagara, a team that stormed through Burlington last year and outplayed and out-hustled the Catamounts to steal a pair of games. This is the last weekend UVM can tune up its skills against non-conference opponents before its Hockey East orientation on Nov. 1 at Northeastern, starting a string of nine straight league contests.
"There is just an incredible buzz around athletics and around the school," Sneddon said. "There is a lot of energy, and it has really spilled over in the community. I think we've had more students at our games this weekend than we've had in the past 10 years. It's probably one of the toughest tickets to get right now, and we're really appreciative of the support we're getting.
"I really like our team speed, our work ethic right now and the cohesiveness of the team. Our leadership is as good as it's ever been, and if we can keep that going, I think these guys can accomplish some great things this year."
If you want to take Sneddon's word for it, go ahead and buy your UVM winter clothes now, and you may be able to buy a championship T-shirt when spring rolls around.
SEEN AND HEARD IN HOCKEY EAST
Tough Three Minutes, Man – UMass appeared to be closing in on a tough, grind-it-out win against in-state rival Holy Cross at the Mullins Center on Friday night, but the Minutemen couldn't escape what could eventually prove to be the most frustrating three minutes they play all year.
Trailing 2-1 with 3:29 left in regulation, the Crusaders called a timeout. Just four seconds later, they put the puck into the back of the net, tied the game, completely shocking everyone in attendance. Just 67 seconds later, Holy Cross took the lead on a Kai Magnussen goal, closing out one of the most dramatic turn of events in the young season to date.
"I think we were so caught off guard by [the tying goal] that it stayed with us for a minute or so, and that allowed them to have a play develop only a minute or two later," UMass coach Don Cahoon said. "The next thing you know, [the puck] is in the back of the net, and we're totally stunned. Trying to scramble to catch up at that time was too little too late."
Cahoon has been happy with the way his team has responded in practice this week, but the Minutemen can ill afford any type of hangover this weekend as they entertain New Hampshire on Friday night and Maine on Saturday.
Flying Low – Ever since UMass Lowell exploded for four unanswered goals in a span of 20:16 between the second and third periods in a 5-3 win vs. Rensselaer on Oct. 9, the River Hawks have had a tough time getting their offense off the ground.
The last time UML lit the lamp was on a Jeremy Hall goal at the 9:59 mark of the first period in the team's 3-1 loss at Boston University on Oct. 15. Since then, the River Hawks have gone a school-record 170:01 without putting a dent on the scoreboard. They were shut out twice over the weekend by Providence, the second time in program history they failed to score in back-to-back games.
In case you were wondering, and I know you were, the other nine Hockey East teams put up a combined 39 goals this past weekend.
Good news for Lowell, though. They get another crack at BU on Friday night when the Terriers make a visit to the Mill City. Whether Day 13 of the scoreless streak will be unlucky or not for Lowell on Halloween weekend remains to be seen.
Great Weekend Getaway

New Hampshire at UMass (Fri.); Maine at UMass (Sat.)
Since No. 5 Maine and No. 13 New Hampshire aren't expected to cross paths over the next few days, mediators shouldn't be in such high demand in Amherst this weekend. Both, however, will be spending a couple hours at the Mullins Center, as UMass plays host to UNH Friday night before taking on the Black Bears for a Saturday showdown.

While You're There: If you still haven't satisfied your UMass/UNH fix by Friday night, the No. 7 Minutemen are hosting the No. 4 Wildcats at noon on Saturday in a highly anticipated Division I-AA football war. If you'd rather watch the game on TV, go early and grab a table at The Hangar, where you can work up a sweat with some world famous wings.

Stick Salute

Being named Hockey East Player of the Week and HEA Defensive Player of the Week are nice awards and all, but getting the nod as INCH Player of the Week is something to really brag about. Providence goalie Tyler Sims recorded his first two career shutouts by blanking Lowell twice over the weekend, turning away all 43 shots he faced.


Bench Minor

The schedule makers weren't the most generous of folk when thinking about the Friars. Forget that PC is in the middle of nine straight Hockey East games early in the year because its game on Saturday night in Lowell kicked off a much less desirable streak. The Friars only get to play in Rhode Island a grand total of two times from Oct. 22 until bringing in Maine on Dec. 2. That equals two home games in 41 days.
FRIES AT THE BOTTOM OF THE BAG
• UNH head man Richard Umile announced last week that the Wildcats have added a few non-conference opponents to their future schedules. Colorado College will visit Durham next season, UNH will travel to North Dakota sometime in 2007-08, and Michigan is likely to play a game at UNH in either 2007 or 2008.

• Though the Terriers dropped a 3-2 decision to Rensselaer Friday night, they kept their perfect penalty kill alive. In eight shorthanded situations comprising 19 minutes, BU has only allowed five shots.
• For the first time in nearly 10 years, Northeastern's Matthews Arena attracted more than 5,000 fans on Friday night. A crowd of 5,402 saw the Huskies skate to a 1-1 draw with intra-city rival Boston College, the most people on hand since November of 1995.
• For the first time in the 11-year history of the Whittemore Center, UNH failed to pick up a single win in its first weekend at home after dropping a 3-2 decision to North Dakota on Friday and tying the Sioux 3-3 on Saturday.
• Even though Maine was 3-1-0 heading into last weekend, the Black Bears figured they would change things up a bit during their home series with Alabama-Huntsville. After starting off each of its first four games down 1-0, Maine scored first in both contests and still managed to win both games.
• Former UNH great Colin Hemingway made his NHL debut on Oct. 19 for the St. Louis Blues, who beat Anaheim 3-2. Reigning Hockey East Player of the Year Patrick Eaves made his Big Show debut a week prior to that for the Ottawa Senators, skating on the same line as Daniel Alfredsson and Bryan Smolinski.
A variety of sources were utilized in the compilation of this report.