October 26, 2005
Forward-Looking Fighting Sioux
By Jess Myers
WCHA Notebook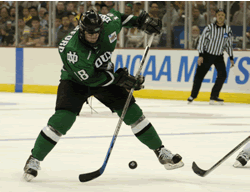 The national championship game is fresh in the memories of Drew Stafford and the Fighting Sioux.

It's a common sports cliché to hear players talk of taking things "one game at a time" and "not looking ahead" to future opponents. But in the case of at least one member of the North Dakota Fighting Sioux, not looking ahead was nearly impossible this summer.
In August, INCH had an extended conversation with Sioux forward Drew Stafford as the junior-to-be took a break from his summer training regimen to meet some friends in Chicago. During the long drive through Wisconsin (a journey the Sioux hope to reprise in
April en route to the Frozen Four in Milwaukee), Stafford spoke via cell phone about how the summer seemed to be dragging along, with an October weekend in Grand Forks foremost in nearly all of his returning teammates' minds.
"It was an amazing feeling to make it as far as we did, and to have the season end like it did makes us even more hungry," Stafford said. "We play DU right away in October, at home, and everyone on the team is looking forward to that."
Those thousands in attendance in Columbus last April and countless more Sioux fans watching on TVs from Williston to Wahpeton saw their hockey heroes outplay Denver in the second period of the national title game and look poised to take control before a Pioneers rally brought the NCAA's top hockey trophy back to the Front Range for a second consecutive year. That lingering sense of unfinished business has the Sioux Nation snapping up tickets, and their opponents prepared for a big pre-Halloween series.
"It's only natural that you'd get a little more revved up for the team you've butted heads with, not only in the regular season but in the national tournament," said Denver coach George Gwozdecky. "Their team, on paper, looks somewhat similar to ours, as far as strengths and potential weaknesses. Their blue line took some big hits due to pro signings, as did ours."
The reasons Sioux players want to see the Pioneers again go back much further than a warm April Saturday in central Ohio. None of them have forgotten Grand Forks native Robbie Bina, who will miss the entire 2005-06 season after suffering a broken neck via a hit by Denver's Geoff Paukovich in the WCHA Final Five last March. And Stafford notes that the past two Sioux hockey seasons have ended with a loss to the Pioneers in the NCAA Tournament.
"They ended our season twice," Stafford said. "They've taken away championships from us. So it's up to our older guys to let the younger guys know how important this is."
SEEN AND HEARD IN THE WCHA
Great Weekend Getaway

Denver at North Dakota (Fri.-Sat.)
Denver has won its last five meetings with North Dakota, including one in the WCHA playoffs, one in the NCAA regionals and one in the national championship game. But none of North Dakota's current top scorers will be truly looking for revenge this weekend when the Pioneers visit the Fighting Sioux because the top four scorers on the team are rookies. Freshmen T.J. Oshie, Jonathan Toews, Ryan Duncan and Brian Lee have led the way as the Sioux have jumped out to a 4-1-1 record and the no. 2 spot in the INCH Power Rankings. And one Sioux veteran is just fine with having the youngsters lead the way. "It's not really surprising because they're so talented," said junior Drew Stafford. "We really don't think about this being a young team because their skills take over as soon as the game starts."

While You're There: The Hrkac Circus returns to Grand Forks for a one-day engagement this Saturday, as the 1986-87 Sioux hockey team will be inducted into the school's Hall of Fame. North Dakota cemented its status as the hockey dynasty of the 1980s that season, winning the WCHA and its third NCAA hockey title of the decade with an impressive 40-8-0 record. In addition to Hobey winner Tony Hrkac, the team featured such notables as Bob Joyce, Ian Kidd, Steve Johnson and a freshman goalie named Ed Belfour.


Stick Salute

College Avenue in Houghton and Canal Street in New Orleans are 1,338 miles apart, but the folks on the former will be pitching in to help the people on the latter this weekend. The WCHA is coordinating an effort to collect hurricane relief dollars on Saturday night during the games at Michigan Tech, Wisconsin, St. Cloud State, North Dakota and Minnesota State, Mankato, as well as at three WCHA women's games. In addition to collecting monetary donations at the rinks, each home club will donate an official team sweater to the effort, dubbed "WCHA Cares, Katrina Relief Drive."

Bench Minor

The Minnesota Duluth Bulldogs set a school record last weekend – but it's not anything you'll see commemorated on a plaque in the locker room. Saturday night's 5-1 loss at Vermont gave coach Scott Sandelin's crew three consecutive losses by that identical score. For many long-time Bulldog fans, it brought back unpleasant memories of the team's trip to the St. Paul Civic Center for the inaugural WCHA Playoff Championships in 1988. After upsetting Denver to make the league's final four, the Bulldogs limped back to Duluth following back-to-back 6-0 losses to Minnesota and North Dakota in St. Paul.
Lambeau Labor – During last Sunday's Vikings-Packers game at the Metrodome, Tice and Sherman weren't the only head coaches named Mike roaming the sidelines. Wisconsin fans with a keen eye might have been surprised to spot Badger hockey head coach Mike Eaves among the support staff near the visiting team's bench.
Thanks to the Titletown connections of Badgers assistant coach Mark Oseicki, who spent several years with the Green Bay Gamblers, the trio of Eaves, Oseicki and director of hockey operations Rob Malnory took a detour on their way home from the team's win and tie at St. Cloud State and worked the game as volunteers on the Packers' sideline. Their main duty was to ensure that the assistant coaches' headset cords didn't get tangled. Eaves found the Sunday afternoon experience to be filled with similarities to his work on Friday and Saturday nights.
"It was like being on the bench with the same intensity as a (hockey) game," Eaves said. "It didn't seem like a break at all. In fact, we were all exhausted when we got into the car afterwards. But it was fun to see up close how those people operate and the intensity of preparation on the part of the coaches."
For Eaves, it might have been good preparation for the Frozen Tundra Hockey Classic, set for Feb. 11 at Lambeau Field. On that day he'll get the experience of coaching a hockey game and being on the Packers' sideline simultaneously. After the Packers' ticket office sold 22,000 tickets for the Wisconsin-Ohio State match-up the first day of public sales, there may be considerable intensity in the stands that day too.
FRIES AT THE BOTTOM OF THE BAG

• It's a well-known fact that sunlight is in short supply in Alaska during the hockey season. Apparently, goals are in short supply among the Alaska hockey teams this season too. Alaska Anchorage and Alaska Fairbanks are tied in the race for the Governors' Cup after the teams split a pair of 2-1 games last weekend in Anchorage. The six total goals scored in the two-game were the fewest scored between the teams in a two-game set since their intrastate rivalry began in 1979.
• While his team struggles to make marks in the win column, Michigan Tech forward Chris Conner made a mark in the school's hockey record books last weekend. Conner scored shorthanded for his team's lone goal in a 5-1 loss at Northern Michigan on Friday, giving him a dozen shorties for his career – which is the most ever by a Husky. Conner's goal gave the Huskies three shorthanded goals in their first six games. By contrast, the team scored three shorthanded goals in all of the 2004-05 season.
• When Colorado College rallied from a 2-0 deficit to beat Colorado Springs rival Air Force 6-3 on Saturday, it marked two decades of domination by the Tigers in their series with the Falcons. Since a 6-5 overtime win by Air Force on Nov. 9, 1985, the Tigers are 27-0-1 in their last 28 games versus their cross-town counterparts.
• St. Cloud State TV hockey announcer Clay Matvick will make his ESPNU debut Friday night, calling his alma mater's game versus Minnesota. In a related note, Matvick was thisclose to making his big screen debut last Friday. The new Charlize Theron/Woody Harrelson movie "North Country," which is set on Minnesota's Iron Range, features a scene with Harrelson in a bar where a St. Cloud State-Minnesota Duluth game is playing on a TV in the background. SCSU officials sent the movie's producers video of the 1993 game for use in the film and it originally featured audio from Matvick, who was a student broadcaster at the school when the game was played. Matvick, who saw the film this week, said any traces of his call of the action are drowned out by the sounds of karaoke.
• Minnesota State, Mankato rookie goalie Mike Zacharias didn't get a win in his first collegiate start. The Plymouth, Minn., native stopped 31 Minnesota shots in the Mavericks' 4-3 loss last Saturday in Minneapolis. But he gained the respect of his coach for finding a groove after allowing three opening period goals, and turning in a solid effort.
"I thought he played very well in a situation where obviously he's going to be nervous," said Mavericks coach Troy Jutting. "He's making his first collegiate start 10 miles from where he grew up. But he settled down and played a solid game." With that said, Jutting admitted that his team's goaltending situation is still unsettled and with top defenseman Chad Brownlee out of the lineup when high-scoring Colorado College visits Mankato this weekend, he's got a tough task ahead. "It's not an ideal situation, but I don't know what is an ideal situation when you're facing the Hobey Baker winner and his compatriot who could've easily been the Hobey Baker winner," Jutting said.
• When Minnesota coach Don Lucia looks over at the opposing bench on Friday night at the National Hockey Center, he'll see a familiar sight – one of his former assistant coaches facing him as a head coach. Lucia notes that he's seen it before in Dave Laurion at Alaska Fairbanks, Scott Owens at Colorado College, John Hill at Alaska Anchorage, Tavis MacMillan at Alaska Fairbanks and now Bob Motzko at St. Cloud State. "I'm just happy that so many of my former assistants have gotten the chance to run their own programs, and I'm particularly happy for Bob," Lucia said. "I want them to be the second-best team in the state of Minnesota. I just want to make sure that they're behind us."