October 19, 2005
Maine Event
By Jeff Howe
Hockey East Notebook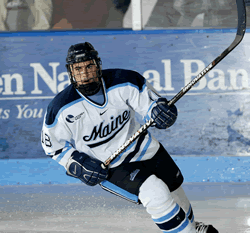 Josh Soares had three points in the Black Bears' sweep of Denver.
(Photo by Michael York)

Early-season records are often useless, especially when a team has completed less than one-tenth of its actual schedule, but early indications are beginning to show that Maine could be the Hockey East favorite. The Black Bears turned the collective head of the college hockey world this weekend by sweeping two-time defending champion Denver in Orono.
Backed by two standing-room-only crowds, the Black Bears bullied the Pioneers at Alfond Arena, beating them 5-1 on Friday night and 4-2 on Saturday.
It was the activity after Friday's game that had Maine fans growling, though. To the home crowd, what looked to be an act of poor sportsmanship by Denver turned out to be nothing more than a difference of conference tradition. Hockey East teams line up after each game to shake the hands of their opponents, but WCHA teams – who almost always play the same team twice in a weekend – only do it when the weekend series has concluded.
So when goalie Ben Biship and company were on the ice to pay their respects only to see the Pioneers making their way to the locker room, all 5,641 in attendance paid their respects to the Pioneers instead, not necessarily with all five fingers.
Maine coach Tim Whitehead didn't see the situation as a big deal.
"[Denver coach] George [Gwozdecky] and I were actually walking off [the ice] together, and right away he said, 'You know, we don't shake hands after the first game,' and I said, 'Hey, don't worry about it.' It was really just a misunderstanding. Our players weren't fazed by it at all, and I don't think [Denver's] were either."
What did faze the Pioneers, though, was the solid play of Maine's young defensive group, which started at the back end with the performance of Bishop, who saved 38 of 41 chances over the weekend. Bishop has now been named Hockey East Rookie of the Week twice in a row.
"We played defense as a team," Whitehead said. "We didn't rely on a goalie, or our defense or just our forwards. We got contributions from everybody, and it did start with our freshman goalie. I thought Bishop played very well. We tried to limit the scoring chances against him just to give him the opportunity to succeed."
When the Pioneers did get a scoring chance, Bishop was there to make the play. Denver's star forward, Gabe Gauthier, found a seam in Maine's defense on Friday night with the Pioneers trailing 3-1 in the third period, but Bishop proved to be a royal pain, as he stopped Gauthier's point-blank shot and made sure the defending champs couldn't sniff any third-period momentum.
SEEN AND HEARD IN HOCKEY EAST
The right foot – New Merrimack coach Mark Dennehy accomplished something in just one night over the weekend that former coach Chris Serino couldn't achieve during his last few months on the job in North Andover.
In his first game on the Warrior bench, Dennehy led his team to a 3-2 victory over Bowling Green on Friday night, closing the books on Merrimack's program record of 14 consecutive losses. It was the Warriors' first win in 2005, after dropping every single contest since their 4-1 triumph over Connecticut on New Year's Eve.
To put things in perspective, Merrimack hadn't won a game in 287 days, a streak that fell just shy of the 301 days it took for the National Hockey League and its players to reach a tentative agreement to end the lockout.
So does this mean that the whole head coaching thing is really as easy at it may sound to Dennehy, who for a brief period of time shared the best winning percentage of any coach in the nation? Well, not really.
"It was a battle," Dennehy said. "It took a lot out of me. I felt like I played the game by just going through what we went through on the bench, but hopefully it's as rewarding down the road as it is right now. That was a fun game to be a part of."
The fun stopped soon after, though, as Dennehy watched Michigan put up a touchdown and extra point in the first period on Sunday before the Warriors fell 9-2 to the Wolverines.
He'll take his ups and downs for awhile at Merrimack, as he took over a team that finished in last place in Hockey East a year ago, managing to win just one out of 24 league games. But he knows where his team stands and that, with one win already out of the way, they are at least ahead of the curve.
"I've heard from other coaches that you really don't get your feet underneath you until after year-two," he said. "I'll have to take their word for it because I'm not there yet. I think things are still moving pretty quickly. There are a lot of things that are not the way I want them to be. I'm just trying to knock off a couple things a day, a couple things a week, a couple things a month."
Great Weekend Getaway

North Dakota at New Hampshire (Fri.-Sat.)
If North Dakota were in Hockey East, the Fighting Sioux would be in first place with a 2-0 conference record after knocking around Northeastern twice last weekend. Either way, if you make it to the Whittemore Center this weekend, you can see tournament-quality hockey in October when No. 12 New Hampshire graciously welcomes the sixth-ranked Sioux for a pair.

While You're There: Check out UNH's football team, ranked fifth in the nation in Division I-AA, which hosts Northeastern at noon on Saturday. If you're still looking for some time to kill between Saturday's two games, take a 15-minute cruise to historic Portsmouth, or stay local and grab a slice at Durham House of Pizza.


Stick Salute

This Hockey East thing is easy, isn't it, Vermont? One weekend down, and the Catamounts are already champs. OK, so they won the Nye Frontier Classic in Alaska by taking down Michigan Tech, 4-3 in overtime, and Alaska Anchorage, 2-0, but UVM is the only team in conference with a championship belt so far.


Bench Minor

A lot of teams lose twice in one weekend, but no one lost twice the way Providence did during its season-opening road trip. The Friars spent a combined 98 minutes in the penalty box against Clarkson and St. Lawrence, and they allowed seven power-play goals in 24 chances. At least all of their four-on-five practice paid off, as they were able to capitalize with a short-handed tally in Saturday's loss at St. Lawrence.
FRIES AT THE BOTTOM OF THE BAG
• Boston College had its four-game winning streak over Michigan snapped with a 3-2 loss in Ann Arbor on Friday night. BC's last loss to Michigan came on April 4, 1998, in the national championship at the FleetCenter.
• Hockey East finally found some success against the WCHA over the weekend, as HEA teams went 4-2 over their interleague opponents. Maine beat Denver twice, while Vermont earned its conference stripes with its wins over Michigan Tech and Alaska-Anchorage. But North Dakota, which eliminated both Boston University and Boston College in last year's NCAA Tournament, toppled Northeastern twice.
• Merrimack snapped more than just its 14-game losing streak on Friday. It was also the Warriors' first win in – count 'em – 45 games when trailing at the conclusion of the second period. They were 0-44-1 during the streak that dated back to Jan. 24, 2003.
• Northeastern should be happy it didn't score a single goal in its season opener against North Dakota on Friday. The last time NU was blanked on opening night was in 1987, conveniently the last time the team won the Hockey East Tournament. Book your tickets to Milwaukee, Husky fans.
• If the Minutemen could play Clarkson every night of the year, some serious scoring records would get shattered. UMass beat the Golden Knights 6-4 last year and 4-2 on Saturday night. In those two games, captains Matt Anderson, Stephen Werner and Marvin Degon racked up nine goals and 10 assists.
• Vermont's Brady Leisenring couldn't have asked for a better return to the ice after missing the team's final 33 games due to injury last year. Leisenring tallied a pair of goals, including the overtime game-winner against Michigan Tech on Friday, and then dished out an assist in UVM's 2-0 win over Alaska-Anchorage on Saturday. For his efforts, he was named the Nye Frontier Classic MVP and Hockey East Player of the Week.
• It appears that Maine's offense packs a little more punch than it's given credit for. Trailing Denver 1-0 in the second period on Friday, the Black Bears scored two goals in a 41-second span to claim the lead. In the third period, Maine put home another pair in 34 seconds. In their 3-1 win over Air Force on Oct. 7, the Bears clawed their way for two lamp lighters in an 87-second span.
• Twenty-second birthdays are typically more depressing than anything, serving as a reminder that 21 is long gone, and 30 is inevitably on its way. But on Friday, Oct. 21, it will mark the 22nd anniversary of Hockey East naming Lou Lamoriello its first commissioner. Since the league's inception in 1983, Hockey East has expanded from four to 10 teams, received 63 NCAA Tournament bids, seen 28 teams make it to the Frozen Four and won four national championships.
A variety of sources were utilized in the compilation of this report.