October 19, 2005
Hendry's Happy Return
By James Jahnke
CCHA Notebook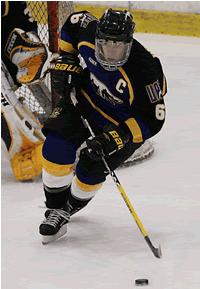 Jordan Hendry's goal tied the score at 2-2 Friday night.

Legendary American author Jack London once spent an entire winter effectively icebound in a tiny cabin in the Arctic wilderness. The solitary experiences he had during his time in what became Alaska were the foundation for much of his genius – and fueled his iconic writing career.
Alaska-Fairbanks junior defenseman Jordan Hendry didn't face quite the same hardships as he spent last winter recovering from a blown knee, but he says he might have felt just as lonely at times.
So when Minnesota fans got a look at Hendry and his blazing slap shot last weekend, as the Nanooks opened their season with a surprising win and tie at Mariucci Arena, they might have been witnessing the start of a stirring comeback in the making. On at least three occasions during the Friday night game, Hendry let fly from the blue line, and his opponents paid notice. One of those three shots, which according to UAF coach Tavis MacMillan, routinely reach more than 100 mph, found the net in the third period, giving Hendry his first goal in more than a year and helping the Nanooks earn a 4-3 overtime win – the first victory over a No. 1-ranked team in school history.
In October of last season, Hendry went down with a bad right knee in a game versus Alaska Anchorage. A visit to the team doctor revealed he'd torn his ACL, MCL and meniscus.
"I figured I might as well go for the full package," Hendry joked Friday.
He spent the winter in recovery, and missed out not only on nearly an entire season of action, but all of the team's road trips as well. He says it was the first time he'd sat out more than one game at any point in his hockey career.
"It was probably one of the hardest things I've had to deal with," he said. "It was a pretty long winter up north."
While the Nanooks advanced all the way to the third-place game at the CCHA championships in Detroit, Hendry was stuck back in Fairbanks, listening to "afternoon" games on the radio, and working to get his knee back into playing shape. In May, he finally got back on the ice, and needed a little more than 45 minutes of the season to record his first goal.
"I really feel like I missed out on some big stuff, so this feels unbelievable," he said of the season-opening upset. "It's definitely a good time to score in my first game back."
Hendry's knee appears to be fully healed, as evidenced by his third straight fastest-skater title in the Nanooks' preseason skills competition.
"And he was in cruise control coming around the third corner every time," MacMillan reminds. "He wasn't even pushed.
"I'll stand on my soapbox any chance I get to talk about him. He's a man. He's strong as a horse. And if you polled our team about who our leader is, who is the guy they'd follow, it's Jordan every time. Him coming back makes a big difference for us."
– Jess Myers
SEEN AND HEARD IN THE CCHA
New in the Soo – Something different is afoot at Lake Superior State. Offense.
New Lakers coach Jim Roque opened his tenure with a win and a tie against formidable Colgate last weekend, and although they only scored five goals in doing so, there seems to be more flair in their attack.
"We're a lot more creative now," senior defenseman Mark Adamek said. "There's not as much structure where you have to be in a certain place all the time. Coach Roque has been telling us to take our time and try things and not to worry about losing the puck if we're trying new things. He's giving us the green light to take chances."
The Lakers averaged 2.21 goals per game under Frank Anzalone's conservative system last year, second-worst in the CCHA. So Roque decided to open things up a bit.
"He's even given me the green light to jump up into the play," said Adamek, a stay-at-home defenseman if there ever was one. "I think it shows that he trusts us."
In the rearview – CCHA commissioner Tom Anastos tries not to put too much emphasis on a weekend or two – whether the results are good or bad. But fans of the league have to be pleased by the early part of this season.
Michigan, thought to be severely weakened by attrition, has ascended to No. 1 in the country after a weekend sweep of Boston College and Merrimack. Alaska-Fairbanks took a win and a tie at Minnesota. Nebraska-Omaha won its Maverick Stampede by beating New Hampshire in the final. Michigan State is 2-0 with a win over North Dakota. Ohio State split on the road at Colorado College (snapping the Tigers' nonconference
unbeaten streak at 20 games). Lake Superior State got the win and tie against Colgate.
The only league teams without victories are Bowling Green, Western Michigan and Notre Dame (the Irish haven't played yet), and the conference's cumulative record is 14-7-2.
"We're off to a good start, but I like to looking at things over a period of time," Anastos said. "It's a marathon, not a sprint."
Further measuring sticks are on tap this weekend as UAF plays for the Governor's Cup at Alaska Anchorage, Northern Michigan has a home-and-home against Michigan Tech, Notre Dame plays at Colorado College and Denver, and Western Michigan travels to CHA contender Niagara. Six of those seven games are on the road, so we might know more about what the CCHA is made of in a few days.
Great Weekend Getaway

Michigan State at Michigan (Sat.)
Both of these teams have passed serious tests already (MSU over North Dakota, Michigan over Boston College), but this is conference play. This is when it counts. A major question will be how well the Spartans' battered defensive corps can stand up to the speedy Wolverines forwards. Saturday is the only meeting in Ann Arbor between the rivals this season. Fortunately for the Yost atmosphere, both schools' football squads play early in the day.

While You're There: Look for INCH correspondent James Jahnke. He'll be the one wearing the handsome costume up in the press box.


Stick Salute

Who said Ferris State was going to struggle to score this year? They obviously weren't considering the play of Matt Verdone, who scored the final four FSU goals in a 5-2 win over Army on Saturday. It was the first four-goal game by a Bulldog since Doug Smith on Feb. 19, 1994. Verdone, a junior, had just eight goals in his first two seasons in Big Rapids combined. He's on pace for 72 this year.


Bench Minor

We know that indirect wins don't mean all that much, but it still doesn't look good when Western Michigan loses to Robert Morris, which previously was beaten by Penn State's club team.
FRIES AT THE BOTTOM OF THE BAG
• Want a confusing end to a confusing story? Lucky you! Northern Michigan senior forward Andrew Contois sat out Friday's series opener against St. Cloud State as a stipulation of his NCAA reinstatement after a muddled
transfer from Lake Superior State. The thing is, Wildcats coach Walt Kyle woke up Friday morning thinking Contois was eligible to play that night. NMU was under the impression that Contois had served his penalty by sitting out an exhibition game against the U.S. National Development Team on Oct. 7, and Kyle even told INCH last Thursday that Contois would play both games against St. Cloud. But Kyle said the university finally got a hard copy of the NCAA's ruling on Friday morning and realized that they still needed to scratch him for a regular-season game.
"It wound up being nothing," Kyle said, "because we won the game. But it was a strange situation." Contois, as would be expected, scored in his return to the lineup Saturday.
• Northern Michigan continues its tour of WCHA Huskies by playing its annual series against archrival Michigan Tech this weekend. It starts a stretch during which NMU plays its four biggest rivals – Tech, Lake Superior State, Michigan State and Michigan – in back-to-back-to-back-to-back series. Think the Puckheads are amped up?
• Michigan State forward David Booth suffered a shoulder injury during an exhibition win over Western Ontario and very well might not play against Michigan on Saturday. He joins a list of injured Spartans that includes top-six defensemen Chris Snavely, Jeff Dunne and Brandon Gentile, who is definitely out for Saturday. The others are questionable.
• Quick, who are the top two scorers in the nation? Why, Michigan's T.J. Hensick (10 points) and Matt Hunwick (nine) of course. The Wolverines' Jack Johnson is tied for third with eight points. Both Hunwick and Johnson are defensemen. Scary, eh?
• Longtime Michigan backup goalie Noah Ruden made his first career start at Yost Ice Arena against Merrimack. The senior's previous five starts had either been on the road or at Joe Louis Arena.
• Ferris State's Matt Verdone got the stick salute and Nebraska-Omaha's Alex Nikiforuk got the INCH Player of the Week, but don't forget about Bowling Green's Jonathan Matsumoto and Michigan's Kevin Porter. Matsumoto scored three goals in the loss to Boston College while Porter had a natural hat trick in the 9-2 romp over Merrimack, giving them the third and fourth CCHA hat tricks of the week.
• Bowling Green went over the 2 million mark in all-time attendance at BGSU Ice Arena on Saturday. The 37-year-old rink has averaged about 55,555 fans per season.
• Former Ohio State All-American linebacker Randy Gradishar addressed the Buckeyes after their win Friday in Colorado Springs. I bet he never got called for checking from behind.
• New Notre Dame coach Jeff Jackson made a concerted effort not to look at any game film from last year's 5-27-6 debacle because he wanted every Irish player to enter this season with a clean slate. That means the first time Jackson saw his players pitted against another team was Friday's 4-0 exhibition win over Waterloo. Big Wes O'Neill got the night started right with a goal 4:29 into the game, and David Brown and Jordan Pearce combined for the shutout in net.
A variety of sources were utilized in the compilation of this report.