October 19, 2005
Not How You Start
By Jayson Hron
WCHA Notebook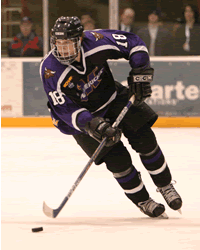 David Backes and Minnesota State dropped two games at Bemidji State last weekend. Through two weeks, the WCHA is 5-10-1 against non-conference foes.

Late last month, Commissioner Bruce McLeod told Jess Myers that the WCHA wasn't taking its success for granted after producing the NCAA's Frozen Four just six months prior.
"A league can certainly start a downward trend pretty fast, and it takes even more effort to get it going back in the right direction again," he said.
While no one is calling the WCHA's current 5-10-1 non-conference record a downward trend – yet – it still proved to be the talk of college hockey in the season's opening weeks.
WCHA coaches were blaming the malaise on a combination of factors that could generally be summarized as a lack of preparation and determination. Minnesota's Don Lucia was among the most irritated after his team's flameout at Mariucci Arena against Alaska-Fairbanks.
"We've got some guys who are wind-burned because (the Nanooks) skated by so many guys," Lucia told the St. Paul Pioneer Press. "We have to go back to work. We can throw the press clippings away and put the work boots on because that's when you have success.
"I obviously have done a poor job of getting this team ready the first two weeks of the season. So we'll see who wants to earn it this week in practice, which 12 forwards and which six defenseman."
The Nanooks claimed three of a possible four points from the Golden Gophers on the weekend. It was the first time Minnesota failed to achieve at least a split at Mariucci Arena since February, when Alaska's other team – the Seawolves – took three of four.
Minnesota Duluth and Minnesota State are also stinging from non-conference losses after being swept by Bemidji State. The Mavericks were BSU's most recent victim, suffering 4-3 and 7-3 defeats last Friday and Saturday, respectively. Preparation was, once again, in question.
"You'd like to think you'd come out ready to go," senior forward Jeff Marler told the Mankato Free Press.
The defending national champions from Denver also struggled, dropping a pair of games at Maine.
"This is a good example of, if you're not ready to play, you're going to struggle," Pioneers head coach George Gwozdecky told the Denver Post.
Alas, it's still early.
SEEN AND HEARD IN THE WCHA
Great Weekend Getaway

Wisconsin at St. Cloud State
(Fri.-Sat.)
The Badgers, ranked No. 11 in the most recent INCH Power Rankings, will get their first taste of WCHA action in the Granite City this weekend against St. Cloud State, which extracted a split from Northern Michigan's Berry Events Center last week. Wisconsin is also 1-1 after splitting a series with St. Lawrence on Oct. 7-8.

The Badgers have a nice collection of talent and boast a sophomore class that ranks among the nation's best with Joe Pavelski, Matthew Ford and Kyle Klubertanz leading the way. Pavelski, a former USHL Rookie of the Year, posted 45 points (16G, 29A) as a Badger freshman and didn't waste any time denting the twine this season with a shorthanded goal against the Saints on Oct. 8. His game is more function than flash but when something good happens for Wisconsin, he's usually involved.

St. Cloud State will counter with a squad picked to struggle. Playing with nothing to lose and the always-raucous Husky partisans behind them, expect a spirited effort.

While You're There: Don't miss one of the most ridiculous sights in college hockey, found in the National Hockey Center's inner concourse. It's an image portraying two-time Vezina Trophy-winning goaltender Frank Brimsek, a St. Cloud State alumnus, in a Chicago Blackhawks jersey – of sorts. The SCSU administration found Chicago's logo to be so insulting that it superimposed a Husky logo on Brimsek's jersey crest.

After the game, search for the intersection of Highways 15 and 23 where you will find Granite City Grill and Brewery. The pasta is peppery but excellent. If your skates are dull, wander toward Waite Park's Industrial Park until you find Hockey Zone Minnesota. It's quite possibly the best hockey pro shop in the state.

Stick Salute

Regardless of where you stand on the North Dakota nickname issue, you had to like the Fighting Sioux's choice of attire during Friday's win over Northeastern. UND debuted its 1955 throwback sweaters, three of which will be auctioned later in the year with proceeds benefiting the Make-A-Wish Foundation. For some, the sweaters brought back memories of former Fighting Sioux forward Billy Reichart, who starred with North Dakota in the mid-1950s before embarking on a solid minor pro career.

Bench Minor

Since were talking sweaters, we would be remiss if we didn't mention Minnesota and Minnesota Duluth, both of which debuted new threads this season. The Golden Gophers' new look isn't great. In fact, it's really bad. Even in the 1990s, when diagonal lines were trendy, they didn't look good. Minnesota, steeped in tradition, should consider wearing their alternate jersey from last season instead.

UMD redesigned its entire wardrobe as well. The team's standard home-and-road look is sharp, and a return to tradition, as the bulldog head stands alone on the crest once again. The yellow laces in the neck are a unique touch. UMD also went yellow on a set of third jerseys. It's bright. Really bright. Unfortunately, instead of sewing a diagonal "U.M.D." across the crest similar to the Huffer Christiansen-era sweaters, they fastened "BULLDOGS" on there in a font that looks a bit similar to the Colorado Avalanche third jersey.
Putting the 'D' in Dakota: North Dakota was among the few WCHA teams that didn't sputter last week, sweeping Northeastern rather comfortably. The Fighting Sioux surrendered just a single goal on the weekend, riding the terrific play of goaltenders Jordan Parise and Phillippe Lamoureux. Parise posted a shutout on Friday, his second straight after blanking Miami one week earlier.
While North Dakota's coaching staff expected solid play between the pipes, the immediately outstanding performance of their youthful defense corps came as a pleasant surprise.
"After four games, having only allowed four goals and getting two shutouts, we're pretty excited, especially considering we've only been playing one returning defenseman – Matt Smaby," said Fighting Sioux assistant coach Cary Eades.
"There's no question that a learning curve exists when it comes to playing defense in the WCHA and our freshmen have been forced to learn quickly with the substantial minutes they've been playing. They've done well and our goaltending has been great. That's a big part of it. When goaltenders don't play well and pucks end up in the net, it hurts the defense's confidence, which leads to tentative play. Our goalies have made the big save when we've needed them to so far, which has helped our defense."
The surprising play of North Dakota's rearguards is a bit less surprising when you consider that two-thirds of them were selected in the first or second round of the NHL Draft.
Honor Rollers: Michigan Tech forward Chris Conner, who led all WCHA players with three goals over the weekend at the Nye Frontier Classic in Anchorage, Alaska, and also added an assist for four points, was named WCHA Offensive Player of the Week. Colorado College goaltender Matt Zaba claimed top defensive accolades after posting his fourth career shutout and allowing just two even-strength goals in a two-game non-conference series split with Ohio State. North Dakota forward T.J. Oshie and Alaska-Anchorage defenseman Mat Robinson shared weekly top rookie honors. Oshie, currently the WCHA's top-scoring freshman, had four assists against Northeastern. Robinson recorded four assists to help the Seawolves to a 6-3 victory over Rensselaer on Friday. His four assists – of which three came in the third period – tied a UAA mark for most assists in a game by a defenseman.
FRIES AT THE BOTTOM OF THE BAG

• Minnesota lost more than points against Alaska-Fairbanks. The Golden Gophers also lost standout forward Danny Irmen who broke the index finger on his left hand while blocking a shot on Friday, according to a St. Cloud Times report. Minnesota's co-MVP from last season will be out from four to six weeks.
• The next victory for Minnesota will be the program's 1,500th in 84-plus seasons.
• Kerry Rodd, UMD's longtime radio play-by-play voice, resigned after 21 years at KDAL-AM, a Midwest Communications station that recently signed a new general manager. He worked the Bulldogs' season-opening series against BSU but left the station last Thursday.
• UMD's series at Vermont this weekend will be the Bulldogs' first-ever visit to Burlington where Bob Corran serves as director of athletics. Prior to joining the Vermont athletic department, Corran was UMD's athletic director.
• Colorado College junior Brett Sterling assumed 37th place on the Tigers' all-time scoring chart over the weekend with 137 career points (80G, 57A). His teammate, senior Marty Sertich, ranks 38th with 135 points (48G, 87A). Sterling, by the way, will take your questions when he guests on INCH's weekly chat on ESPN.com's "The Show" at 1:30 p.m. ET Thursday. | Join INCH at ESPN.com's "The Show"
• St. Cloud State goaltender Bobby Goepfert earned a win in his first start as a Husky, downing Northern Michigan on Saturday. Goepfert transferred to SCSU from Providence.
• Conference play in the WCHA opens this weekend for St. Cloud State, which hosts Wisconsin, and Minnesota, which hosts Minnesota State.
• Wisconsin, which will travel to St. Cloud State this weekend, has outscored the Huskies 14-3 in the teams' last four meetings.
• Alaska-Anchorage hosts intrastate rival Alaska-Fairbanks this weekend. An early advantage in the Governor's Cup battle will be on the line.