November 3, 2005
CC's Balancing Act
By Jess Myers
WCHA Notebook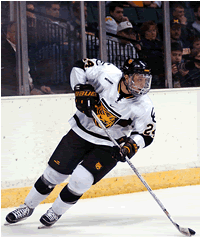 Defenseman Brian Salcido is injecting offense in Colorado Springs.
(Photo by Andris Visockis)

While balance is clearly a good thing, being a one-line team isn't necessarily a bad thing, especially when two of the three Hobey finalists are on that line. Nevertheless, Colorado College coach Scott Owens saw something to work on in his team's lack of offensive diversity last season, when linemates Marty Sertich and Brett Sterling combined for 61 of the team's 160 goals en route to the team winning a share of the MacNaughton Cup and making it to the Frozen Four.
"That was one of our Achilles heels last year, and one of our points of emphasis this year," said Owens, after his team's dozen-goal sweep at Minnesota State, Mankato last weekend vaulted the Tigers to the top of the INCH Power Rankings. "We had our power play clicking pretty good, and were able to get some other people scoring, which was important."
A glance at this year's team statistics shows the usual suspects (Sterling and Sertich) again leading the way offensively, with Sterling the reigning WCHA Offensive Player of the Week. But last weekend was a breakout of sorts for the likes of freshman forward Chad Rau, who put up a goal and three assists at the Midwest Wireless Civic Center and was named the league's Rookie of the Week. Top defenseman Brian Salcido complimented the team's solid play throughout with his first two goals of the season. He anchors a defensive unit that is quickly overcoming the early departures of Mark Stuart and Brady Greco, and the graduation of Richard Petiot.
"It's coming together," says Owens of his defense. "We've had several different combinations out there. We lost three pretty big guys and we're still adjusting to that, so it's definitely still a work in progress."
The Tigers and their newfound fame as the nation's top-ranked team return home to face a St. Cloud State team that has upsets of Minnesota and Northern Michigan on its resume already.
"They're a dangerous team because their team defense and goaltending will keep them in every game they play," Owens said. "There's also a freshness to their game right now that they haven't had in a few years."
SEEN AND HEARD IN THE WCHA
Title town – The two-time defending national champs will raise another banner this weekend while hosting Michigan Tech, which has been at or near the bottom of the league standings for roughly a decade. But anyone expecting two Pioneer blowouts in Denver this weekend needs to turn the clock back 11 months and recall what the Huskies did on their visit to Magness Arena in January.
Tech had a miserable first half of the 2004-05 season, winning just one game before a 3-0 upset of the Pioneers on Jan. 7 (sparked by 35 Cam Ellsworth saves) launched the Huskies on a respectable second half. Jamie Russell's crew was 7-8-2 in the remainder of the regular season, and met Denver again in the WCHA playoffs, only to see their campaign end via to a hard-fought 1-0 loss to the Pioneers on March 12.
Much has changed from last season to this one, but the Huskies again travel to Denver with just one win, seeking a spark to jump-start a resurgence. With the hype surrounding the banner-raising ceremony and the school's homecoming weekend (with no football team, the hockey games are clearly the sports focus of homecoming at DU), the Pioneers' coaches know that guarding their team against distractions and focusing on the on-ice tasks ahead is important.
Great Weekend Getaway

Minnesota at Minnesota Duluth (Fri.-Sat.)
It might not sound like much of an on-ice battle is to be had when two teams that have combined for just four wins take to the rink. And if you take away the history and bragging rights at stake when Minnesota visits Minnesota Duluth this weekend, that's just what you've got. But it's seemingly always an emotional battle when the Gophers come to the home of the Bulldogs and the cozy DECC is invaded by throngs of boisterous Twin Citians. The nationally-ranked Gophers would appear to have the clear edge over the 1-4-1 Bulldogs this weekend, but UMD has won six of its last eight meetings versus Minnesota. That's enough to have the UMD Penalty Box in full throat when Don, Phil, Blake, Kellen, Gino and friends come to call.

While You're There: Bulldog and Gopher fans will have reason to celebrate early stars of their respective hockey programs on
Saturday afternoon when the U.S. Hockey Hall of Fame holds its 2005
induction luncheon at the DECC. Gopher legend Murray Williamson (who later coached Team USA to a silver medal at the 1972 Winter Olympics) and Bulldog legend Keith "Huffer" Christiansen (whose #9 sweater is the only number ever retired by the UMD hockey program) are being inducted into the Hall. Rounding out the class of 2005 are the late Maurice "Moe" Roberts, a star goaltender in the 1930s and '40s, and 1989 Hobey recipient Lane McDonald, who led Harvard to its only NCAA title that year. For luncheon ticket information, call the Hall at 800-443-7825.

Stick Salute

After guiding his team to its biggest win of his short time behind the bench, St. Cloud State coach Bob Motzko wasn't above a little bit of ribbing directed at his doubters. With a handful of reporters gathered in the Huskies player lounge shortly after the 3-2 upset of Minnesota last Friday, Motzko opened his comments by saying that the win was important, "to prove we're not as bad as Inside College Hockey thinks we are." After a pause, he grinned and winked at the INCH reporter in the room. Nice to know that the WCHA's newest coach is an INCH reader, and that he's determined to make us look foolish for picking his team 10th in the WCHA.

Bench Minor

More than 300,000 Minnesotans have purchased deer hunting licenses and will take to the state's woods and fields on Saturday morning, the deer season opener, seeking the elusive whitetail. Undoubtedly, thousands of those men and women are college hockey fans who might be interested to attend a showcase series like Minnesota-UMD, if not for their once-a-year hunting trip. Why the WCHA schedule-makers fail to take this factor into account, and have Minnesota's four teams play on the road during the opening weekend of November, is beyond us.
"Knowing full well how good they are, and what they did to us last year, we respect the heck out of them," Gwozdecky said. "We all saw how well they played in the second half last season, and having played them, I know."
Without the services of departed Hobey finalist Colin Murphy, Tech is still searching for scorers to complement senior star Chris Conner. After a breakout offensive year last season, defenseman Lars Helminen has no goals and just three assists in Tech's 1-6-1 start, but Russell says the real focus should be on what the junior has done defensively.
"A lot of what Lars did defensively last season was overshadowed by his offensive numbers," Russell said. "I know for him there's some degree of frustration this year because things haven't clicked offensively yet."
On Friday, another Pioneers team of national champs will be honored when the 2005 NCAA skiing champions are recognized after the first intermission. The school has 18 NCAA skiing titles all-time, which look nice next to the Pioneers' seven NCAA hockey titles. The hockey banner raising will take place prior to Saturday night's game.
FRIES AT THE BOTTOM OF THE BAG

• After bouncing around between sites in St. Paul, Milwaukee and Minneapolis for its first dozen years, the WCHA Final Five has now found a home for more than a decade. The league and officials from the Xcel Energy Center and Minnesota Wild recently announced an extension of the contract to host the tournament through 2011.
"We're very excited about continuing our relationship with one of the premier college hockey conferences in the nation," said Jack Larson, vice president & general manager of the building. "The WCHA Final Five is a marquee event for the Xcel Energy Center and the Twin Cities area."
Since 2002, the five-game tournament has drawn better than 72,000 each year, including an impressive audience of more than 16,000 for last year's title game between Denver and Colorado College. Frozen pizza maker Red Baron will continue to be the event's title sponsor.
• This weekend's home series versus Minnesota State, Mankato will be a first on a few different levels for first-year Seawolves coach Dave Shyiak. Not only does the two-game set mark the first WCHA home series since he took over the UAA program, it will be the first time he has faced the Mavericks either as a coach or a player. Shyiak played in the WCHA for Northern Michigan during the days when the Wildcats were one of the league's powers, and the Mavericks were playing D-III hockey. When NMU left the league for the CCHA, it opened up a spot eventually filled by the Mavericks.
• Another coach looking for a first this weekend is Wisconsin's Mike Eaves. His team visits North Dakota, where Eaves will seek his first victory at the home of the Sioux. He may be striking when the iron is hot after the Badgers scored 11 goals last weekend in their home set with Alaska Anchorage. "I've learned from the football guys here that defenses usually have the advantage early in the season, so offensively it's nice to have some rhythm and flow going, especially heading into this series," Eaves said.
Despite going 0-3-1 at the Ralph in his three previous seasons running the Wisconsin program, Eaves says he likes visiting the palace on the prairie. "It's an exciting place to play," he said. "If you want to take your team to a fun place to play hockey, Engelstad is the place to go."
• One friend of INCH quoted another this week, when Anchorage Daily News scribe Doyle Woody related a quip told to him by former Wisconsin radio voice Bill Brophy. As the pair was having a Saturday evening beverage and recounting the Seawolves two lopsided losses to the Badgers in Madison last weekend, Brophy assessed the young UAA team's struggles, telling Woody, "Doyle, I don't think you're going to be writing about a lot of unbeaten streaks this season."
• One lesson Denver's coaches took from the aftermath of Brock Trotter's season-ending injury last weekend in Grand Forks is to not put too much stock in early information. Trotter, who crumpled to the ice behind the net early in Friday's game after a hard check from Matt Smaby, was taken off the ice by stretcher. At the time, an arena medical staffer told Gwozdecky that Trotter had a cut that would be sewn up and that the player would likely return to the ice in a week or two.
"That was obviously extremely erroneous, and I gave that information to the team and to the listening audience during our radio post-game show," Gwozdecky said. "I should know better. The diagnosis on the scene is usually pretty vague."
It was only after North Dakota's 3-1 victory that Gwozdecky and the team learned Trotter was in surgery at Altru Hospital in Grand Forks. Doctors repaired a four-inch cut that had severed the Achilles tendon and two major muscle groups in the freshman forward's right leg. The school is expected to apply for a medical redshirt for Trotter, who had three goals and two assists in his first five collegiate games.