November 2, 2005
Bronco Giddy-up and Go
By James Jahnke
CCHA Notebook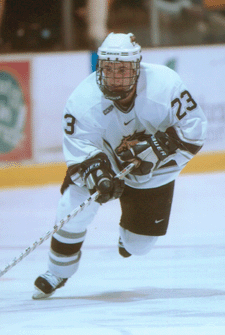 He wasn't as prolific as teammate Paul Szczechura, but Western Michigan's Brent Walton had a goal and four assists in last weekend's sweep of Ohio State.

Atlantic Hockey Notebook
CHA Notebook
ECACHL Notebook
Hockey East Notebook
WCHA Notebook
By Paul Szczechura's own admission, Western Michigan was "pretty bad" in losses to Robert Morris and Niagara to start the season. So with Ohio State coming to town last weekend, a bloodbath was inevitable, right?
"Actually, we always get up for the bigger games around here," Szczechura said. "It's kind of a problem, really. We need to be ready for everyone."
Szczechura and the Broncos certainly were ready for the Buckeyes, sweeping the No. 5 team in the INCH Power Rankings right out of Lawson Arena. Szczechura accumulated seven points (one goal, six assists) as the high-powered WMU offense finally looked dangerous, scoring 10 goals. It was a major statement series for a Western team that was predicted to be tethered to the double-digit portion of the CCHA standings all year.
"We've seen improvement from Week 1 to Week 2 and then again to the Ohio State series," coach Jim Culhane said. "Now we need to see whether we can go forward. I'm interested to see how mentally tough the team is."
Such mental toughness is the main intangible in question in Kalamazoo. With six freshmen and five sophomores in the lineup, it's tough to predict where the Broncos will go from here. Will they build on the Ohio State shockers and seriously challenge for home ice in the playoffs? Or will Lake Superior State come into Lawson this weekend, catch them napping again and derail any momentum generated last weekend?
If you know the answer, call Culhane.
"I think we're in good shape," he said. "We're beaten up along the blue line, but we just have to keep getting better. How good we will be will be determined by our areas of improvement, which is to get better defensively and have a better road record."
SEEN AND HEARD IN THE CCHA
Cheer up, Brutus – On the other side of the two upsets was Ohio State, which came in with a top-five ranking and left with a sub-.500 record. At 2-3-1 overall, OSU is one of just four CCHA teams with a losing record – and we're pretty sure the Buckeyes weren't planning on keeping company with Notre Dame, Bowling Green and Lake Superior State before the season started.
So what's gone wrong in Columbus? Well, special teams for one thing. Western Michigan converted 7 of 17 power plays, while OSU went 0-for-18. That more than offset the Buckeyes' 78-36 shots advantage. Ohio State also got sub-par goaltending from all-CCHA performer David Caruso and his backup, Ian Keserich, and the Bucks were victimized by bad luck. Leading by a goal halfway through the third period of Saturday's game, a WMU dump-in took a funny bounce off the boards and squirted out in front of a vacated OSU net. Jason Moul's goal tied the game (which the Buckeyes had led 4-1) and set up the eventual sweep.
"We haven't scored a goal like that in my 13 years here," OSU coach John Markell said. "It was kind of like, 'Are you kidding me?'"
But Markell's not making excuses for his club, which was the odds-on favorite to win the CCHA in preseason polls.
"We could have competed a little harder," he said. "And we've been a little snake-bitten on the offensive end. We might change some guys and some positions on the power play. But we've been put on a pedestal, and we've warned the guys that they have to learn how to deal with that. It's new for us. Every program has to go through it. Boston College, Minnesota, Michigan, they've gone through it.
"Hopefully, we've learned our lesson. I still love our hockey club – I don't like them at times – but I think we'll be there at the end."
In Search of Mojo – Two of the most famous hardhats in the CCHA have been hung up, as Mojo (real name Darren Muljo) and his sister Lujo (Linda Muljo) "retired" from the Puckheads fan group at Northern Michigan last month. Mojo, Lujo and their band of merry men and women have been fixtures at NMU home and road games for the past eight years, embodying the spirit of college hockey fandom and making sure every opposing goalie knows that he is, in fact, a sieve.
Mojo said he felt it was time to "pass the torch" to a new generation of younger Puckheads. He and Lujo were the final original members of one of the best fan groups in the nation. Luminaries such as Banjo, Kujo, Hojo, G-moneyjo, The Big Guy and others have previously moved on to other parts of the country. Now, student Average-jo (Erich Merrill) takes the reins of what Mojo hopes will become a more student-friendly outfit in Marquette.
"I'll continue working on the side with Average-jo and the Puckheads so that they stay true to our founding beliefs: That the only requirement to be a Puckhead is that you truly love NMU hockey, you're not afraid to show it, and that, win or lose, you smile, show respect for other teams' fans and be good ambassadors for NMU and college hockey in general," Mojo said.
"Even though we have hung up the jerseys and laid down the hardhats for the last time, we will continue being ambassadors and friends of college hockey. I'm still Mojo and although departed from the Puckheads, I'll continue to show my support for NMU hockey the only way I know how ... by being loud and proud!"
Mojo also mentioned that he's in the market for a good writer (present company excluded). Apparently, the sing-alongs with opposing coaches, players and fans, photo-ops with mascots and general shenanigans across the Midwest would make for a good book. If interested, apply in person at the Berry Events Center.
Great Weekend Getaway

Northern Michigan at Michigan State (Fri.-Sat.)
These might be the hottest teams in the CCHA at the moment, and both will venture into unfamiliar terrain. The series is NMU's first trip outside of the Upper Peninsula this year, while Friday marks MSU's regular-season home opener. The Spartans have performed quite well through a brutal early season schedule, and this weekend promises to be just as tough. Getting and playing with a lead will be important to both squads. If Northern is to have success, it will be without forward Dusty Collins on Friday. He is suspended one contest after picking up a game disqualification against Lake Superior State.

While you're there: Make some noise at Munn, will ya? After the games, Crunchy's should be hopping with a hockey crowd, especially with Northern in town.

Stick Salute

A belated thumbs up to Notre Dame's gold helmets, being worn for the first time since 1976. They are created with the same gold metallic paint as the Irish football helmets, and like the football headgear, have no markings except an American flag on the back. The next CCHA team we'd like to see adopt its school's football helmet design: Ohio State. Buckeye stickers and all.


Bench Minor

Whoever failed to stop drilling when they felt resistance at BGSU Ice Arena on Thursday night sure caused some inconvenience. The game between Ferris State and Bowling Green had to be suspended when a drill used to clean out the holes for net moorings accidentally punctured a pipe beneath the ice at the goal line during the first intermission, releasing a pink ooze onto the ice. The rink was fine by BG's Monday practice, but no makeup date for the game has been announced. It will resume where it left off, 0-0 at the start of the second period with Ferris on a power play.
FRIES AT THE BOTTOM OF THE BAG
• For an answer to how Notre Dame broke its 22-game winless skid (dating to last season), look to the toilet. During new Irish coach Jeff Jackson's first team meeting back in September, he had every returning player write down what they hated about their dismal 2004-05 season on index cards. He then took the index cards down to where center ice would be at the Joyce Center, threw them in a wastebasket and burned them. The ashes were placed in a jar in the locker room to serve as a reminder of last year's depths. But things didn't get much better as the Irish stumbled to a 0-3 start, so during the first intermission of Saturday's home game against Princeton, Jackson took the ashes and flushed them down a locker-room toilet.
"(The players) laughed a little bit, but the toilet flushed, and last year is behind us," Jackson said. "I'm just glad it's behind them and we can move on."
Notre Dame went out and scored two goals in the second period and beat the Tigers, 2-0, for its first win since Jan. 2. Furthermore, it was the Irish's first victory by more than one goal since the 2003-04 season.
• The Fighting Irish have had some injury problems, most notably captain T.J. Jindra's strained shoulder suffered against Denver. He didn't play in either game against Princeton, and is questionable for this weekend's home-and-home versus Michigan. On the bright side, the Irish welcomed back sophomore defenseman Dan VeNard, who missed the first three games with a stress fracture.
• Michigan State has plenty of positives emanating from its 3-1-1 start, but one negative has been the Spartans' power play. Despite getting three man-advantage tallies at Cornell, they still are only clicking at 17.5 percent, and coach Rick Comley thinks the problem goes deeper than common early season malaise. MSU lacks a dangerous man at the point because it doesn't have a top-flight offensive defenseman on the roster. "We'll have to try a couple of different things," Comley said. "We're a little bit deficient of the right power-play guy, and that's been our biggest problem this year." He hopes freshman forward Justin Abdelkader will be the answer ...
• ... but Abdelkader won't be available for Friday's game against Northern Michigan because he received a game disqualification late in the series finale at Cornell. That means as many as eight would-be contributors might be out of the Spartans' lineup against the Wildcats. Forward Jim McKenzie (leg) and defensemen Chris Snavely (shoulder) and Brandon Gentile (abdomen) are questionable, while forwards David Booth (rib, not shoulder as previously thought), Chris Mueller (shoulder), Tim Kennedy (hand) and Nick Sucharski (mononucleosis) are out. The thinned lineup has created opportunities for regularly scratched players such as junior defenseman Brandon Warner, who scored his first career goal Saturday against the Big Red while taking shifts at forward.
• The CCHA finished the early part of its nonconference schedule with a 2-2-0 weekend (splits by MSU at Cornell and Notre Dame hosting Princeton). The league doesn't get to test itself against outsiders again until Nov. 18-19, when Bemidji State visits Ferris State.
• Miami is putting on a neat jersey auction for which the RedHawks will wear throwback jerseys from 1978 (their first varsity campaign) during every Saturday night home game. At least two game-worn jerseys will be auctioned off each home weekend, with the winners collecting their prizes after the season. Unfortunately, player nameplates will be removed. Starting Dec. 2, a "legendary" Miami jersey will be auctioned during each home weekend. Those sweaters represent Kevyn Adams, Alain Chevrier, George Gwozdecky, Randy Robitaille, Steve Cady, Brian Savage and Dan Boyle.
• Several backup goalies helped their teams bounce back from a first-night loss last weekend. Michigan's Noah Ruden beat Alaska Fairbanks, Michigan State's Jeff Lerg beat Cornell and Notre Dame's Jordan Pearce (who might be considered a co-No. 1) beat Princeton. But Ohio State's Keserich wasn't as fortunate, losing to Western Michigan in his first start since Dec. 11, 2004.
• Two start times for Ohio State games have been changed. Saturday's home tilt against Miami has been moved back to 8:05 p.m. because of the Buckeye football game against Illinois (fans with football tickets can gain free admission to the hockey game). And OSU's Jan. 7 game at Bowling Green has been moved from 4:05 p.m. back to 7:05 p.m. to accommodate television (which prompted the first switch).
• Michigan notes: Being Will Ferrell fans, we liked this answer from Wolverines forward T.J. Hensick's interview with Go Blue Wolverine magazine: