November 2, 2005
Frank and Earnest
By Thomas Baldwin
College Hockey America Notebook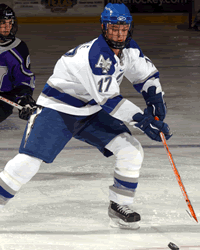 Air Force senior foward Mike Knaeble notched a pair of assists in his team's split with Bemidji State last weekend.

Atlantic Hockey Notebook
CCHA Notebook
ECACHL Notebook
Hockey East Notebook
WCHA Notebook
Air Force coach Frank Serratore tells you the way things are – he's unfailingly candid. And he does not believe in issuing public relations statements or similar fodder regarding his hockey club.
Serratore's Falcons got a huge victory last Friday and did something two WCHA clubs failed to accomplish when they knocked off undefeated and 15th-ranked Bemidji State, 4-3. In the process, two notable streaks came crashing to a halt.
• It was Frank's first victory against younger brother, Tom. The BSU pilot entered the weekend with a 15-0-1 record against his sibling.
"To be honest with you, it was a matter of our team needing to get a win against Bemidji," the elder Serratore said. "To throw the brother b.s. aside, our team needed to have success. We've been close, but we haven't been able to get over the hump. The win was more about our kids and our program than my brother and I.
"I don't care who it was against. We knocked off a ranked team. Me and my brother had very little to do with it. It was about the 20 players in blue and the 20 players in green."
• As you can probably figure, it was also Air Force's first victory over BSU after 14 straight losses. Saturday's loss to the Beavers took a bit of the luster off the achievement, but Frank Serratore was philosophical.
"It's better than getting swept, but it's not as good as sweeping them or getting three points," said Serratore, whose Air Force bosses recently rewarded him with a contract extension. "I think when you win the first game you get greedy and if you lose the first game, then you are more than willing to be happy with a split."
The Falcons are 2-6-0 this season. Frank Serratore believes his team has performed better than its record belies.
"We've played pretty consistently all year," he said. "Our team has had a winning attitude and has given a winning effort in every game this season. We can't let the losses we have demoralize us. We've played well enough defensively to win...it's just hard to score goals."
One issue has been a lackluster power play, which enters the weekend with a dismal 7.5 percent (5-for-67) success rate – "If our power play was clicking at 20 percent or so, we would have won a lot more games," Serratore says – but the coach believes beating a team of Bemidji State's caliber can provide a jolt of confidence.
"We just have to find a way to score three or four goals a game," Serratore said. "if we can maintain the way we are playing defensively, we going to find some success in the remainder of the season."
SEEN AND HEARD IN THE CHA
Dandy Randy – It's normal to give the Comeback Player of the Year Award to a player who follows a disappointing season with a great year.
Is Niagara senior forward Randy Harris eligible for such an award? Harris was a freshman on Niagara's team that downed New Hampshire in the first round of the 2000 NCAA Tournament and skated for the Purple Eagles the two seasons thereafter. He's back for his senior campaign this season...after taking three years off, and it's as if he never left.
So far, Harris has been a godsend for a team that wondered who would replace the offensive firepower it lost from last year's group. A model of consistency for the Purple Eagles, Harris has registered at least one point in each of the teams six games and currently leads Niagara with four goals and six assists for 10 points.
"When he approached us about getting his year back, with the offensive numbers we graduated last year, we definitely thought it would be worth a chance to give Randy a really good look," Niagara coach Dave Burkholder said. "He has not let us down...or himself or his teammates. He's been phenomenal.
"I don't think I had any expectations. To see where he is at after six games is a remarkable story, and I hope it continues."
Great Weekend Getaway

Slim pickins in the CHA this weekend with half of the league off, but that doesn't mean you have to power down. In fact, go the extra mile – split your time between the two Friday-Saturday series in western New York. Wayne State plays a pair at Niagara, while Alabama-Huntsville strays out of the league for two at RIT.

Stick Salute

Niagara's line of Randy Harris, Matt Caruana, and Jason Williamson played quite well in two close losses to Vermont last weekend, accounting for three of the Purple Eagles' four goals and eight of the team's 10 points in the series.

Bench Minor

Wayne State's early season schedule is one only Michigan native Bob Seger can love. For the third time this year, the Warriors are on the road again. This weekend, they're at Niagara. Next weekend, WSU finally gets to turn the page when it plays its first home games of the season against Bemidji State Nov. 11-12.

"It will be nice," Wilkinson said. "It will be almost six weeks before we get a home game. That's just the way the schedule shook out this year."
Wayne's World – Wayne State, which was swept at Clarkson by 5-2 and 7-1 scores, finds itself in a predicament similar to that of Air Force. The Warriors can't get the power play going. They're just 2-of-33 (6.1 percent) so far.
"It's execution," Wayne State coach Bill Wilkinson said. "When you have opportunities on the power play, you have to pass the puck, shoot the puck and all the skill things that right now we are not doing. We need to continue to work at getting better in that part of the game. The only thing you can do is practice."
The loss of a talented offensive player – forward Stavros Paskaris will miss another month to six weeks with an injury – certainly doesn't help, but Wilkinson didn't use the sophomore's absence as an excuse.
"When you take one of your skilled players out of the lineup, it is going to hurt a little bit," he said. "But you can't have him out on the power play all the time. At this point in time, we are trying to figure out where we need to make adjustments. We are getting opportunities to score, we are just not putting it in the net."
Another troubling element for the Warriors is how opponents have overpowered them as games evolve. Wayne State has only been outscored 5-3 in first periods this year. In the second, they're being outscored, 10-1, and they're being outscored in the third by a 6-0 margin.
"I wish I had an explanation for it," Wilkinson said. "We had two breakaways in the second period Saturday night and two other chances to score and didn't score at all. I don't think there is any magic formula to it. We just need to continue to work at a higher level of intensity and force a situation where we get the break and the bounce of the puck and a couple garbage goals here or there."
FRIES AT THE BOTTOM OF THE BAG
• Niagara, which was swept in a tough series with nationally-ranked Vermont, got some bad news when it learned sophomore defenseman Travis Anderson is out for the season with a ruptured anterior cruciate ligament and a strained medial collateral ligament. He will undergo surgery to repair the ACL in approximately six weeks, which gives the MCL sufficient time to heal.
"He was playing so well for us," Burkholder said. "At the time of the injury he was one of our best defensemen. He has a big frame, very physical, and he will be missed."
Anderson, who received Niagara's "Claw" Award as the player who exemplifies effort and often times does the least enviable jobs on the ice, is eligible for a medical redshirt
• In more Niagara injury news, senior forward Justin Cross remains listed as day-to-day with a concussion he suffered against Western Michigan Oct. 22. Freshman forward Vince Rocco, meanwhile, has been hampered by a twisted knee, but Burkholder said he could be ready for this weekend's games against Wayne State.
• Air Force, which is off this week, travels to West Point for a series with Army Nov. 11-12. Serratore said he'd give his players some extra time off (the Falcons always have Tuesday off to rest and recuperate). Being a student at one of the service academies is a grind. Serratore says his players carry 21 or 22 hours of classes and participate in military training.
"Here at the Academy, rest is sometimes the best thing they can have to get caught up on their schoolwork," he said. "They need time to rest or they will get worn into the ground."
A variety of sources were utilized in the compilation of this report.