October 25, 2006
The Seven Might Be For Heaven ...
By James Jahnke
The INCH Player of the Week is a liar.
Asked why all Notre Dame players are wearing practices jerseys with the No. 7 on the back, Irish junior Mark Van Guilder hemmed and hawed and said: "It's for Luke Lucyk. He was No. 7, and we miss him."
INCH: You're fibbing.
CCHA Notebook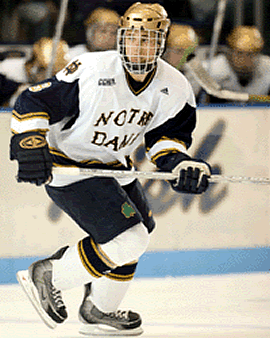 Notre Dame senior forward Josh Sciba wears an 8 on his sweater in game nights, but No. 7 in practice, just like the rest of his teammates.

Van Guilder: "Yeah, I am. It's kind of a team secret, and you're supposed to think of something clever to say if people ask. I'm not very good at that."
Steve Wozniak of the South Bend Tribune also tried to get to the bottom of the matter and got responses such as, "It's just a number," (Wes O'Neill), "It's our lucky number, I guess," (Jeff Jackson), and "Lucky number 7,
that's all," (T.J. Jindra). Wozniak deduced that the digit is some sort of reference to having a seventh man on the ice, such as the guys on the bench or the fans in the stands.
We're pretty sure that it's not a reference to Lucyk, who left the Irish to return to juniors this season.
Regardless, the seven mojo is working for Notre Dame, which plastered No. 1 Boston College and Providence during last weekend's trip east. It has outscored its opponents 21-6 in compiling a 3-1 start to the season.
Senior goalie David Brown is playing lights-out. And the offense, led by Van Guilder (5-3—8), is displaying as much firepower as has been seen in South Bend.
"Part of it is that the freshmen can really play," Van Guilder said, alluding to rookie stars Kevin Deeth (4-3-7), Ryan Thang (3-2-5), and Dan Kissel (3-1-4). "And the other part is that we're all on the same page with our systems now. We know what to do with the puck and without it.
"The system isn't any more offensive than it has been, but we're executing our defense much better, and that's led to offense. In the past, teams would just cycle on us constantly, but now we're putting more pressure on the other team, forcing more turnovers, and turning that into transition offense."
Van Guilder denied that his two-points-per-game average has him on par with Brady Quinn in terms of campus popularity. But he does have at least one newfound similarity to the quarterback: a scholarship.
Van Guilder came to Notre Dame as a recruited walk-on from the Tri-City Storm, where the Irish staff first noticed him while scouting, ahem, Lucyk. So the Rosedale, Minn., native paid his own way the first two years on campus before getting some financial relief this season. He says the game continues to slow down for him, seemingly providing more room to operate this year.
"If you give anyone time and space, they'll look a lot better," he reminds.
Time and space might not be much of an issue as the Irish host the inaugural Lightning College Hockey Classic this weekend at the St. Pete Times Forum in Tampa, Fla. ND opens with Army, followed by either Air Force or Alabama-Huntsville.
"It'll be nice and warm, but we're going down there to play two hockey games," Van Guilder said.
SEEN AND HEARD IN THE CCHA
Generation Gap: Northern Michigan came away with the Mutual of Omaha Stampede championship last weekend, but coach Walt Kyle is still trying to figure out his squad. The Wildcats are a somewhat odd mix of seniors, rookies and inexperienced second-year players — with little middle ground.
Thus far, they've been swept by Wisconsin in Green Bay, split with Michigan Tech, and beaten UMass Lowell and Nebraska-Omaha to win the Stampede. NMU is averaging only two goals per game, but Kyle says offense will come.
"We're just a young team," he said. "We lost a lot of guys who gave us a lot of quality minutes last year. We have not scored as much as we'd like, but we're just feeling through it right now."
Ohio State heads to Marquette this weekend, and it's tough to know what
we'll see from either team.
"Ohio State has a good roster," Kyle said. "You talk about (Sean) Collins and (Domenic) Maiani and now that (Tommy) Goebel kid, those are some of the top players in our league. They present a lot of issues, they always play us tough up here and they got bit by Minnesota last week, so you know they're going to come out hard."
Family secrets: A.J. Sturges is a defenseman on the U.S. National Team Development Program's Under-18 Team. The Americans played an exhibition at Michigan State last Thursday. Sturges' brother, Dan, is a sophomore on MSU's team. But because A.J. Sturges is verbally committed to the Spartans and doesn't sign a national letter of intent until next month, Dan couldn't talk about his brother with the media because of NCAA recruiting rules.
But their father, John — a former Spartan player himself — could talk, and he said Thursday's 5-4 upset by the U.S. team at Munn Ice Arena was thrilling (and a little nerve-wracking at the beginning).
"They've been singing the Michigan State Fight Song since they were old enough to talk," said John Sturges, who traveled in with his wife from their home near Madison, Wis. "A.J. was on the USA bench, almost rooting for Michigan State but stopping himself, and Dan was rooting for Michigan State to score, but not when A.J. was on the ice."
John played for MSU from 1972-76, amassing 209 points, good for 10th on the school's all-time scoring list. He also spent a considerable amount of time in the penalty box (ranking eighth in MSU history with 287 minutes), so a few friends and family members at Thursday's game hoped Dan and A.J. would run afoul of the law to uphold a family tradition. It didn't happen, but the boys will have more chances the next two seasons as teammates for the first time in their lives.
"It will be a neat deal," John said. "Dan was kind of the deciding factor in A.J. picking Michigan State over Wisconsin. It's very exciting."
FRIES AT THE BOTTOM OF THE BAG
Great Weekend Getaway

Ohio State at Northern Michigan (Fri.-Sat.)
Both teams have showed weaknesses so far — NMU with scoring and OSU with keeping teams from scoring — but both also have the ability to be upper-echelon CCHA teams. The Buckeyes' rookie goalies and struggling defensemen are going to have to adjust to the Berry Events Center's big ice quickly, lest they let the Wildcats get on a roll. These four points might look pretty big when the race for a first-round playoff bye heats up in February.

While you're there: Not sure what to make of this, but there will be a midnight production of "The Rocky Horror Show, the play" on Saturday night in nearby Negaunee, including a costume contest with prizes. Audience participation is welcomed with props such as rice, toilet paper, noisemakers, etc. Not suitable for children under 13! Good luck.

Stick Salute

Nebraska-Omaha junior Brandon Scero set a school record with four goals — his only points of the season — against Niagara. UNO is in its 10th season of hockey.

Bench Minor

After Minnesota throttled Ohio State, 7-2, on Friday, Gophers freshman Mike Carman was quoted as saying, "It's a huge rivalry. The football rivalry transfers over to the ice." OK, we tried to give the rookie the benefit of the doubt, but after careful analysis, only three of his 12 words even resembled the truth.
• The CCHA had a decent nonconference showing last week, going 6-5-1. The Fighting Irish were the big winners, while Ohio State (swept by Minnesota) and Alaska (a loss and a tie versus Alaska Anchorage) bogged down the league. This weekend's pride is on the line when Michigan hosts Northeastern for a pair, Michigan State welcomes St. Lawrence and Sacred Heart, Lake Superior State faces visiting American International twice and Notre Dame plays in the Sunshine State.
• Commissioners' Cup points are on the line in Saturday's Huskies-Wolverines matchup.
• The Columbus Dispatch reported last week that Ohio State junior Tom Fritsche has returned to classes and is working out after spending much of September hospitalized with severe ulcerative colitis, which caused him to lose 40 pounds. But Fritsche, OSU's leading scorer the last two years, has to make up a lot of ground physically and academically if he hopes to play for the Buckeyes this season.
• Congratulations to all the CCHA players who notched hat tricks last week: Miami's Nathan Davis, Notre Dame's Van Guilder and Kissel, Nebraska-Omaha's Brandon Scero (four goals), and, especially, Michigan's Chad Kolarik, who became the first Wolverine with hatties in back-to-back games since Mike Knuble in 1995.
• By beating Providence on Friday, Bowling Green earned its first road win over a Hockey East school since Oct. 18, 1986, when the Falcons topped New Hampshire.
• Former Lake Superior State athletic director Bud Cooper, who was instrumental in the Lakers starting their hockey program and getting into the CCHA, will be honored during Great Lake State Weekend — LSSU's equivalent of homecoming — during the second intermission of Saturday's game against AIC.
• Jason Blain, a transfer from Northeastern, was cleared to play for LSSU last weekend. He skated in both games against Clarkson without registering a point.
• Miami senior forward Matt Christie was considered probable last weekend, but didn't play against Michigan because of an upper-body injury. A team official said Christie is probable once again for the Bowling Green series this weekend.
A variety of sources were utilized in the compilation of this report