January 31, 2008
Beau Knows Goaltending
By Ken McMillan
There is nothing more frustrating for a goaltender than having the proper angle on a shot only to have the puck carom off the stick or the skate of one of his own players and into the net.
Connecticut sophomore netminder Beau Erickson certainly saw his share over the first half of a difficult season.
Atlantic Hockey Notebook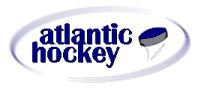 "We had a few bad bounces," Erickson said. "We were trying to do too much, blocking too many shots where we caused ourselves more trouble."
Erickson remained patient, and once a young Husky lineup matured a bit and took coach Bruce Marshall's simplifications to heart, the positive results have become more evident.
Atlantic Hockey leader Rochester Institute of Technology rolled into Storrs last week and Erickson performed his best Pink Floyd karaoke, hitting all the right notes in "The Wall." His 40 stops on Friday supported a 3-0 UConn victory and his 30 saves on Saturday were good enough to secure a 1-1 tie.
Erickson said every game in a tight Atlantic Hockey league is important but you have to get up to face the top teams.
"Anytime you face the No. 1 team in your league, and they're ranked in the country, it makes it exciting and gives you a chance to put your team on the map," Erickson said.
Staying busy is what Erickson likes. He has stopped at least 30 shots in 15 of 23 appearances and stopped more than 35 in five games, all since Dec. 30. His season-high was 41 saves against Mercyhurst on Jan. 19, the weekend before his heroics against RIT.
"I love it," Erickson said of his heavy workload. "You have to stay sharp every night. I like the work. I like the shots. It's easier to get into the groove. When you are busy, you don't think – you do."
Erickson leads all Atlantic Hockey goaltenders with 691 saves – the next closest is Louis Menard of RIT with 617 (only Jeff Lerg of Michigan State, with 705, has faced more shots nationwide).
Erickson has surrendered the second-most goals (62) but his save percentage ranks third (.918). He is 3-1-2 in his last six outings.
"I feel like I am playing pretty well right now," Erickson said. "I am seeing the pucks. I am stopping the ones I should and a few that I shouldn't."
Part of that has to do with Marshall's decision to refocus efforts on the defensive end of the ice.
"We tweaked some things to simplify it for them," Marshall said. "In principle, (our system) is the same but what we allow you to do and what not to do is changed a bit."
The result is the Huskies are giving up a few more shots but not the high-quality shots, Erickson notes.
"The younger defensemen are starting to understand their positioning out there," he said. "When a shot is taken, they make sure that they let me see it, and if there is a rebound they do a good job of clearing it. I am not really battling or fighting through screens ... and if you see it, you have to stop it."
Erickson hails from Iowa and played juniors with Sioux City of the U.S. Hockey League. He had several college offers but he chose Connecticut because the coaches told him he would have a chance to play right away.
"I wouldn't change it," Erickson said. "The chance to play in college is unbelievable. To know you are going out every Friday and Saturday night in front of all those fans, it's exciting and fun."
SEEN AND HEARD IN ATLANTIC HOCKEY
Mr. 2-to-1: Army junior Josh Kassel went to Brian Riley after a recent loss to Canisius and asked his coach to give him another shot to keep his starting job. Riley agreed, and Kassel has delivered with three consecutive 2-1 wins over Canisius and Air Force (twice).
"This is Kass just playing with a lot of confidence," Riley said. "Kass is basically giving us a chance to win in the last three games."
The three Army wins come on the tail of a streak of eight winless contests.
"Army, (Sunday), was the best team we played all year and we played some pretty damn good teams," Air Force coach Frank Serratore said. "I thought that they were stronger, they were more determined and they were better coached than we were. Their focus was great and they basically as the game went on imposed their will on us."
On The Wrong Side: Air Force coach Frank Serratore is none too pleased about the power outage his offense is having. The Falcons have dropped three consecutive games by 2-1 scores, once at Colorado College and twice at Army. Air Force ripped off 35 shots in the Friday loss to Army and only 25 in the Sunday setback.
"The game is about putting the puck in the net and keeping it out," Serratore said. "If we continue to score one, we're good enough to lose a lot of heartbreakers and that's what's happening."
"When we hold a team to two goals, we should win," Serratore added. "We should have beaten Colorado College last week and we should have beaten Army. If you can't score three goals a game, you don't deserve to win."
Air Force will have to do so without all-star forward Eric Ehn, who missed his first two games since fracturing the tibia in his left leg two weeks ago.
Paging Herb Brooks: Connecticut coach Bruce Marshall said his team played one of its most complete games of the season when the Huskies blanked RIT, 3-0, on Friday as Andrew Olson had a pair of goals.
"We were being physical and paying attention to detail," Marshall said.
It was a lot tougher on Saturday when Connecticut escaped with a 1-1 draw.
"We might have been gassed," Marshall said. "When they scored we found a way to answer the call."
Maybe the team is in better shape than he thought. It was mid-December when Marshall and his coaching staff sent a message loud and clear to the underachieving Huskies.
"We had a real reality check before we went into the break, about why we stumbled badly," Marshall said. "We had to send messages. (The practices) weren't fun. It wasn't fun coming to the rink. There was going to be a price to pay."
Former Olympic coach Herb Brooks helped get the undivided attention of the 1980 U.S. hockey team by skating the players into exhaustion following an exhibition in Europe while making his point about commitment.
"It wasn't that bad," Marshall said of his methods, "but there weren't many pucks out there (on the ice)."
Great Weekend Getaway

Mercyhurst at Holy Cross
(Fri.-Sat.)

This matchup has proved to be one of the more exciting, going back to the MAAC Hockey League days. The season advantage has bounced back and forth for the past five seasons, and Holy Cross has the edge to make it six, having posted a 4-1 win and posting a 2-2 tie in an earlier set in Erie. Mercyhurst has earned a point in five of its last six games. Holy Cross has split each of its last two weekend series. Mercyhurst's Ben Cottreau has 23 points and is seven shy of 150 for his career. Brodie Sheahan (24 points) and Dale Reinhardt (23) are battling for the Holy Cross scoring title. Six Crusaders have scored against the Lakers thus far.

Stick Salute

Simon Lambert of RIT earned player of the month honors with his four goals and six assists in eight games. It's no wonder the Tigers have leaped into first place in Atlantic Hockey.

Bench Minor

Air Force and Rochester Institute of Technology both clawed their way into the national polls, only to be bounced with disappointing road efforts. It just goes to show that Atlantic Hockey doesn't have that one dominant team to make headway in the national college circles.
FRIES AT THE BOTTOM OF THE BAG
• An empty weekend: When Air Force dropped a pair of 2-1 games at Army, it marked the first time the Falcons failed to earn a point in a weekend slate all season. The three-game losing streak is Air Force's longest since dropping five (Mercyhurst 2, RIT 2, Canisius) from Feb. 2-16, 2007.