December 19, 2003
2003-04 Atlantic Hockey Mid-Season Review
By James Jahnke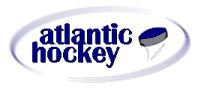 SURPRISE TEAM
Holy Cross was picked third in the league in most preseason prognostications, which is high praise when you consider Mercyhurst and Quinnipiac have been written in ink at the top of those lists for years. But no one (that I know of, at least) foresaw the Crusaders' ridiculous 13-point lead in the Atlantic Hockey standings at Christmastime. Coach Paul Pearl's squad is rolling with an 11-1-1 mark in conference play, well ahead of second-place Quinnipiac (4-0-2). Yeah, we recognize the discrepancy in games played between the two teams, but Holy Cross did earn 23 of 26 possible points in the first half, which ain't nothing to sneeze at. The Crusaders have scored the second-most goals and allowed the second-fewest in the league, and they account for half of the INCH First Half All-Atlantic Hockey Team at the bottom of this page. Their only drawback is an 0-3-0 nonleague record.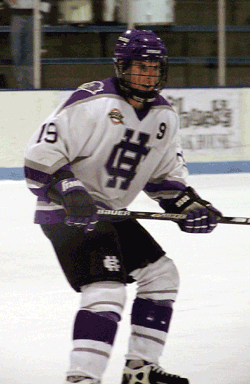 Greg Kealey has helped Holy Cross put together an 11-1-1 first half in Atlantic Hockey.
SURPRISE INDIVIDUAL
Nate Ewell got to name two players in this section of his Hockey East midseason report, so I'm going to exercise my right to do the same. Sacred Heart senior forward Mike Reagan and American International sophomore forward C.J. McConnell have both come from virtually nowhere to put up impressive offensive totals thus far. Reagan (5-6-11) leads the Pioneers in scoring after registering just five goals and nine assists all of last year. The 5-foot-7 sparkplug from Flin Flon, Manitoba, is one of the bright spots in an overall disappointing Sacred Heart offense. Plus, he's from Flin Flon. McConnell, meanwhile, is in a tie atop the conference with nine goals after netting just six in his rookie campaign. He has been especially torrid lately, with eight tallies and three assists in his last eight games.
BEST NEW FACE
Atlantic Hockey commissioner Bob DeGregorio took over the league when it broke away from the MAAC this summer. Since then, he has satisfied most onlookers by promising to revisit the conference's self-imposed 11-scholarship limit (the NCAA limit is 18), look into expansion plans to offset the losses of Fairfield and Iona and encourage member schools to consider building on-campus rinks. In short, he wants the nine Atlantic Hockey colleges and universities to make hockey an athletic priority. Obviously, DeGregorio, a former Hockey East commissioner, has the know-how to get jobs like these done. Here's hoping he will.
WHAT HAPPENED TO …
Now, I'm not saying Army goaltender Brad Roberts is having a bad year. His goals against average (2.90) and save percentage (.910) are respectable. But he just hasn't been able to give the Black Knights' struggling offense the boost it needs by stealing a game or two now and then. If he could turn some of their 3-1 losses into 1-0 wins, it just might be the catalyst the team needs to secure a decent tournament seed (remember, the postseason tourney is in Army's barn). With no apparent offensive help on the way, Roberts needs to go from good to great for coach Rob Riley in the second half.
BIGGEST UPSET
Mercyhurst's 3-2 win over host Ohio State (Oct. 24). The Buckeyes are nationally ranked for a reason, and it's never easy to beat them at cavernous Value City Arena. So when little old Mercyhurst marched in, scored the first goal and handed them an L – in the Lakers' second game of the season, mind you – the college hockey world took appropriate notice.
TOUGHEST ROAD OUT
When you have to play at Michigan after less than a week of training camp, you know you have a challenging schedule. But Mercyhurst doesn't shy away from scheduling the best of the best, anytime and anywhere. During the first half, the Lakers played the Buckeyes, Wolverines, Western Michigan (twice), Cornell and St. Lawrence. They went 2-3-1 in those contests, which is a mark many teams in the Big Four conferences would be happy with. Factor in two league games against Holy Cross and a tussle with Quinnipiac and, viola! You have a freaking tough first half.
TOUGHEST ROAD IN
This is a tough call. Bentley might have the toughest remaining schedule strictly from the standpoint of conference games, but Quinnipiac is going to get slammed both ways. Depending on when their snowed-out game against Canisius is rescheduled, the Bobcats might open the second half with four straight road games (at Providence, Ohio State and the Golden Griffins twice). And it doesn't get any easier after that. They don't get back-to-back home games until late February and they must play Holy Cross and Mercyhurst a total of five more times, including three on the road. A season-ending week consisting of visits to Sacred Heart and Holy Cross isn't very comforting, either.
MUST-SEE SERIES
Quinnipiac at Mercyhurst (Jan. 30-31). Sure, this could turn out to be just a battle for second place, but the stakes will be raised if Holy Cross starts to falter. The Bobcats and Lakers have finished in the top two spots in the league each of the last four seasons, but both teams must turn it up to make it a drive for five. Quinnipiac has seven games in hand on the Crusaders, but a trip to Erie can nullify that advantage in a heartbeat.
If either team gets swept in this series, they can all but kiss goodbye the No. 1 seed in the conference tournament.
BIGGEST QUESTION ANSWERED
Will Atlantic Hockey be any different than the MAAC? Well, not noticeably yet. The quality of play in the league, by all accounts, continues to improve, but that was the case under the MAAC's umbrella, too. The conference did notch its first ever win over Hockey East (Quinnipiac's 3-2 triumph over Merrimack on Nov. 29), but that doesn't seem to have anything to do with the league's governance either.
We'll see how things work out with the one-site conference tournament in West Point this March and continue to monitor the scholarship-limit situation before further comparing Atlantic Hockey to the MAAC.
BIGGEST QUESTION REMAINING
Can Holy Cross hang on? Sure they can. Whether they will is a different story. Only Mercyhurst and Quinnipiac seem capable of making a serious charge toward the top, so Holy Cross would be wise to do everything in its power to beat them in head-to-head meetings and make it twice as hard for them to make up ground. Pearl's squad gets both teams once at home, plus two contests at Quinnipiac in the second half.
INCH's First Half All-Atlantic Hockey Team

Pos.

Player
Of Note

G

Tony Quesada, Holy Cross
The South Freeport, Maine, product has dominated the league thus far with an 8-2-0 record, 1.87 GAA and .932 percentage.

D

Reid Cashman, Quinnipiac
The freshman leads league blueliners in scoring (1-10-11) and has played a large part in holding Bobcats opponents to just 2.71 goals per game.

D

R.J. Irving, Holy Cross
In a somewhat down year for AHA defensemen, Irving wins the tie-breaker on seniority and reputation. His point total (2-3-5) should be a little better, but he's invaluable on Crusaders special teams.

F

Guillaume Caron, American Intl.
Caron, a 5-foot-8 natural scorer, is a big reason the Yellow Jackets have won three of their last six games. Oh yeah, and he leads the league in scoring (8-11-19), too.

F

Pierre Napert-Frenette, Holy Cross
Napert-Frenette (9-8-17) is the go-to guy on the best team in Atlantic Hockey.

F

Rich Hansen, Mercyhurst
His 13 assists prove he's doing his job – distributing the puck to Mercyhurst's bevy of goal-scorers.

Send this to a friend
About Us | Advertiser Info | Site Map | Privacy Policy
© 2003 Inside College Hockey, Inc., All Rights Reserved