December 17, 2003
2003-04 Hockey East Mid-Season Review
By Nate Ewell

SURPRISE TEAM
Head coach Tim Whitehead seemed quiet about his Maine team's chances before the year, a bit too quiet, in retrospect. It's almost like he knew what a good hand he was holding, while everyone else could only guess. In a sense, that's true: three Black Bears – Jeff Mushaluk, Michel Leveille and Dustin Penner – sat out of games last season, so it was as if he was keeping them secret. Leveille and Penner have helped fill the gaps left by the graduation of a deep and talented corps of forwards, and Todd Jackson, Colin Shields and Greg Moore have been impressive in leadership roles.
The departure of the Black Bears' best offensive (Francis Nault) and defensive (Cliff Loya) defensemen has been offset by the play of Prestin Ryan, who probably fills both of those roles now. And none of that, of course, mentions the real reason the Black Bears have earned the nation's No. 3 ranking at the holiday break: goaltenders Jimmy Howard and Frank Doyle, who are really no surprise at all.
SURPRISE INDIVIDUAL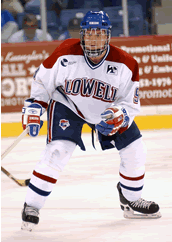 Ben Walter shares the UMass Lowell lead in points with Elias Godoy (20).
We've got to call this one a tie between a couple of players who have helped UMass Lowell match its conference win total from all of last year: Ben Walter on offense and Chris Davidson in goal. Calling last year's UMass Lowell goaltending situation a little unstable is like calling Britney Spears a little bit of an exhibitionist, and the River Hawks shed another layer in August when Dominic Smart decided not to return to school. Davidson has stepped up, however, posting a GAA (2.90) and save percentage (.889) that are huge improvements over last year (3.85, .848). He'll get additional help in the second half when sophomore transfer John Yaros becomes eligible. Meanwhile, Walter has gotten it done at the other end, as his 11 goals trail only Tony Voce (14) and Steve Saviano (12) among conference players. It's more than twice his goal total from last year and ranks him tied for eighth in the nation in goals.
WHAT HAPPENED TO …
Boston University's offensive woes belong to more than one player, but the Grady Little-sized share of the blame has gone to Frantisek Skladany. The skilled Slovakian hasn't disappeared in games – in fact, he still carries the puck, creates chances, and in many games has been the Terriers' most noticeable player. But he's been virtually invisible on the scoresheet, held without a goal until BU's last game of the first half, against Niagara. Head coach Jack Parker and the Terrier faithful hold out hope that he can duplicate last year's second half, when he scored 13 of his 14 goals after Dec. 7. He'll need to find the back of the net more often for BU to win another Beanpot and reach the NCAA Tournament again.
BEST NEW FACE
There have been twice as many new logos in the league (four, counting Providence's since-abandoned hooded Patriot head) as there are top-35 freshmen scorers (two), a surprising lack of production from the rookies, although it's picked up for some of them of late. Maine's Luchiano Aquino, New Hampshire's Brett Hemingway and Boston University's Kenny Roche are three who you can expect to see moving up the charts, and perhaps breaking into the top 25, as the season progresses. But for now, as we mentioned a few weeks back, the best freshmen reside on the blue line. Boston University's Kevin Schaeffer leads a crowded field here, with UMass Lowell's Cleve Kinley, Maine's Mike Lundin and Providence's Dinos Stamoulis close behind.
BIGGEST UPSET
Upsets weren't too plentiful in the early going, but Merrimack provided a stunner in the final weekend of league play before the holidays. With a convincing 7-2 win at New Hampshire to end a 29-game winless streak against the Wildcats, the Warriors didn't just shake the monkey from their backs – they knocked him to the floor and kicked him around a bit. That game, which featured a 5-1 Merrimack second period, has highlighted some big questions in the UNH camp. Among them: How has this team, once 7-1-0, stumble to 4-4-1 in its last nine? Where has the defensive intensity disappeared to? And is there an explanation for Mike Ayers' recent struggles?
TOUGHEST ROAD OUT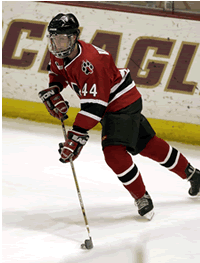 Steve Birnstill and the Northeastern Huskies wrapped up their first half with back-to-back shutouts for their first wins of the year.
No wonder Northeastern's path to a first victory seemed longer than Frodo's route with the Ring (and don't worry, you won't get too many Tolkien references from me; I've slept through both of the first two movies and am shooting for the hat trick when my fiancé drags me to the theater this weekend). The Huskies, after a 3-3 tie with Colgate to open the year, had to head west to face Denver, a team that has clearly shown itself to be among the top 10 teams in the country and a Frozen Four contender. Upon their return, Bruce Crowder's troops faced Maine-UNH-UNH-BC to wrap up their remarkable eight-game stretch in which they scored exactly two goals in each game. Boston College gets credit as well, especially for the hugely entertaining two-game series at North Dakota, but how tough can your schedule be when you've got more talent than your opponent every night? The choice here is Northeastern.
TOUGHEST ROAD IN
Massachusetts stands strong in the top 10 of both polls (13th in the INCH Power Rankings), even though the Minutemen's most impressive results were a pair of ties – against Maine and New Hampshire, both at home. They'll have plenty of opportunities to earn quality wins in the second half, when they meet those two teams twice (with three of four games on the road), Boston College in a home-and-home, and Boston University three times (including two after the Terriers hit their peak, something you can time by the groundhog).
MUST-SEE SERIES
Like last year's Boston College-New Haerence title couerence title could come down to the final weekend. The top two teams in the standings at the midway point – Boston College and Maine – meet in Orono March 5-6. Last year BC had to share the title when UNH took three out of four points on the final weekend, a fate they could avoid this year by either wrapping things up early, or taking care of business in the end.
BIGGEST QUESTION ANSWERED
Does Merrimack have a goaltender? We wondered in our Hockey East preview if the Warriors could catch a spell of good luck – something answered with an emphatic "no" when sophomore Matt Johnson suffered a broken jaw. One thing we do know, however, is that Merrimack has found a new goaltender, as Casey Guenther has stepped in for Joe Exter. The memories of Exter certainly remain – indeed, he's close by, working out with the team as he continues his comeback with an eye on a pro career – but Guenther has upheld Exter's standard of keeping his team in almost every game. It's more than most knew to expect from the junior, who struggled in just eight appearances last year (1-2-0, 4.44, .855).
BIGGEST QUESTION REMAINING
Is Matti Kaltiainen a championship-caliber goaltender? He's put together performances, and numbers, that should have answered this question already. But fair or not, when it comes to playoff goaltending, there's only one time of year when you can prove your mettle. And mixed in with his exceptional games this year have been outings like BC's 7-4 win over Providence Nov. 21, when the Eagles' offense had to bail out the Espoo, Finland, native time and again. Since that game, however, he's allowed two goals or fewer in four straight – the type of performance he'll need come March (and the first two Mondays in February) to quiet the critics.
INCH's First Half All-Hockey East Team

Pos.

Player
Of Note

G

Jim Howard, Maine

If two teammates could share this spot, it would certainly be Howard and Frank Doyle.

D

Thomas Pöck, Massachusetts
Thomas Vanek is indeed unbelievable, but you could make a case that college hockey's best Austrian resides in Amherst.

D

Ryan Whitney, Boston Univ.
Can you imagine where the Terriers would be without the resurgence of Whitney?

F

Ben Eaves, Boston College
Eaves is the Pied Piper of Hockey East: as he goes, so go the Eagles. He's playing a sweet tune so far this year.

F

Steve Saviano, New Hampshire
The one-time assist wizard has developed a goal-scoring touch in his senior season.

F

Tony Voce, Boston College
He'd argue for teammate Ryan Shannon in this spot, but the conference's best goal scorer (14) gets the nod.

Send this to a friend
About Us | Advertiser Info | Site Map | Privacy Policy
© 2003 Inside College Hockey, Inc., All Rights Reserved