December 3, 2003
Young Blood
Successful freshmen defensemen are no longer an endangered species
By Nate Ewell
Hockey East Notebook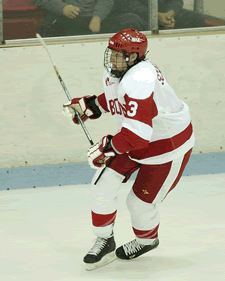 Kevin Schaeffer's hat trick Sunday was the first ever by a freshman defenseman at Boston University.

Freshmen defensemen who made significant contributions were once considered scarce, an endangered species that only survived thanks to the heroics of ultra-talents like Brian Leetch or Tom Poti.
But a quick glance around the league shows that those days may be over. Freshmen are making contributions on the blue line in impressive – perhaps even unprecedented – levels.
In all, seven freshmen defensemen from Hockey East are listed on the NHL Central Scouting Service's 35-player preliminary rankings of collegians eligible for the 2004 NHL Draft.
Boston University skates three freshmen defensemen, each of them notable, and the same is true at Northeastern. Merrimack, one year after a breakthrough performance by now-sophomore Bryan Schmidt, has two rookie defensemen following in his footsteps (Jeff Caron and Ryan Sullivan). Two freshmen patrol the UMass Lowell blueline, with Cleve Kinley earning accolades and power play time for his two-way ability. Maine's Mike Lundin and Providence's Dinos Stamoulis have looked like future stars.
Boston University head coach Jack Parker raves about Kevin Schaeffer, who Sunday against Yale became the first BU freshman defenseman ever to record a hat trick.
"All three freshmen defensemen have played well, especially Schaeffer," head coach Jack Parker said. "We knew more about what we were going to get from Sullivan and Morrow, but Schaeffer has been the best of them."
Northeastern head coach Bruce Crowder sees a bright future in his defense, thanks to freshmen Steve Birnstill, Bryan Cirullo and Brian Deeth.
"I think for the most part they've been extremely good," he said. "You can definitely see the potential and upside in all three of them. The flip side is that they are still freshmen, and they still have nights or shifts when they are going to struggle. But all in all, they are all getting quality ice time, and they are all contributing."
Green on the Blue Line
Fourteen freshmen defensemen have played at least 10 games already this season:
Boston University: Thomas Morrow, Kevin Schaeffer, Sean Sullivan
Maine: Mike Lundin, Tom Zabkowicz
Massachusetts: Mark Matheson
UMass Lowell: Cleve Kinley, Jake Pence
Merrimack: Jeff Caron, Ryan Sullivan
Northeastern: Steve Birnstill, Brian Cirullo, Bryan Deeth
Providence: Dinos Stamoulis

Despite the infusion of young talent on the blueline, the obstacles freshmen defensemen have always faced remain the same.
"Freshmen defensemen have to adapt to the speed of the game, and the strength factor," Crowder explains. "They are boys in men's bodies, and these guys are all 18-year-old freshmen going against men who are 22 or 23 years old. They've got to make the effort off the ice and get their strength up to that level."
So why do so many seem able to overcome those speed and strength roadblocks and contribute at a high level right away? Coaches identify a few reasons:
• Necessity: Early departures can force players to play earlier – and play in more significant situations – than they otherwise might have. Necessity is not only the mother of invention, it seems, but also of on-ice performance. Lundin, for example, didn't even sign with Maine until Francis Nault was denied a fourth year of eligibility by the NCAA.
• Schemes: The "dead-puck era" calls for defensemen to make the simple plays – chipping the puck off the glass and out of the zone, or dumping it deep into the offensive zone. Plus, when all five players on the ice are committed to defense, individuals are less likely to make glaring mistakes.
• Goaltending: By all accounts, the goaltending from top to bottom has never been better in Hockey East. Nothing like a nice glove save to make you forget a youthful mistake by a defenseman.
• Preparation: Clearly, junior coaches and leagues deserve some credit when defensemen arrive on campus prepared to play the college game.
Despite all these contributions, coaches are quick to note that these defensemen are "still freshmen." And there's one sure sign that, no matter how good freshmen defensemen have become, you're better off once they are sophomores: Boston College and New Hampshire, arguably Hockey East's top two teams, don't have any rookie defensemen in their regular lineups.
SEEN AND HEARD IN HOCKEY EAST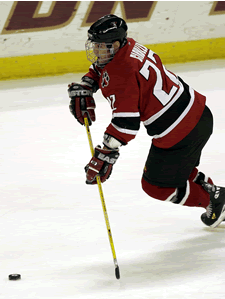 Freshman defenseman Bryan Cirullo and Northeastern seek their first win this weekend.
Stuck on Two – Friday night's Boston University vs. Boston College game will get the attention, but across town on Saturday night another intriguing matchup takes place. When winless Vermont (0-10-2) pays a visit to Northeastern (0-9-2), you know neither team will walk away happy with a tie.
It would seem like a nice break from Hockey East action for head coach Bruce Crowder's team, but he doesn't see it that way.
"In college hockey, you've got to come to play every night – whether it's Hockey East or not," he said. "Look at Wayne State beating Michigan State, or just this weekend and Quinnipiac, getting that league's first win over a Hockey East team. To me, every game is Hockey East. We're playing a team Saturday night that's in the same dilemma that we're in. It might be one of the most exciting games in college hockey this weekend, even though on paper it doesn't look that way."
For the Huskies this year, if it's not one thing, it's another. Goaltending plagued them early in the year, but lately they can't score – remarkably they've scored two goals, no more, no less, in each of the last eight games.
"If we can get three, we'll get 33," Crowder said. "We've had plenty of chances, we just need them to start going in."
Young Guns – While noting the accomplishments of freshmen defensemen, above, it's only fair to salute some recent breakthrough performances by rookie forwards.
Coming out of the gate, Providence's Chase Watson and New Hampshire's Jacob Micflikier were the league's rookie scoring stars. As the temperatures dipped, however, a few more forwards have gotten their skates under themselves and begun to make their mark offensively.
Maine's Luciano Aquino has been outstanding of late, possibly his team's best forward in its current four-game unbeaten streak. Aquino, who was held without a point in October, had 3-4—7 in November and was named Hockey East's Rookie of the Month.
Others who have come on lately include (with November stats): New Hampshire's Brett Hemingway (3-3—6), Boston College's Brian Boyle (4-1—5), Boston University's Kenny Roche (2-3—5), UMass Lowell's Jason Tejchma (2-3—5), and Massachusetts' Kevin Jarman (3-0—3).
FRIES AT THE BOTTOM OF THE BAG
• While it's too bad the conference's perfect record against Atlantic Hockey had to end at Merrimack's expense, at least we're not looking at all those non-conference games as automatic wins any more. (Right? C'mon, this is proof – it can happen.) Coaches around the league were probably relieved, since Quinnipiac's victory gives their teams a word of warning headed into their next game against an Atlantic Hockey opponent.
• There's not much better than a two-team trip through New York's North Country to play Clarkson and St. Lawrence, as UNH and UMass Lowell are doing this weekend. It's a traditional college hockey trip that teams from across the country have made for years – and it's yet another reason that the proposed NCAA Division III reforms need to be defeated for the sake of all of college hockey.
Great Weekend Getaway

Boston University at Boston College (Fri.)
There's nothing in sports that divides the city of Boston quite like a BC-BU game (someday a "who do you start, Pedro or Schilling" debate probably will, but we're not there yet). There's good news on both fronts, as BU found its much-needed scoring Sunday vs. Yale (albeit in a highly unlikely place, in the unheard-of form of two hat tricks from defensemen). BC, meanwhile, expects to get Patrick Eaves and Dave Spina back in the lineup. Spina has missed all but one game this year and adds even more offense to a lineup already deep up front. Eaves and his brother, Ben, have both been healthy for the whole game only seven times in the team's 14 outings this year.

While You're There: Visit the Coolidge Corner Clubhouse in Brookline, home of The Wayne Gretzky sandwich (mmm, bacon) and owners of a claim to fame so great, they should hang it out front: it's Bill Simmons' favorite sports bar.

Stick Salute

Hearty congratulations to Paul Pooley and the Providence team, which brought the Skating Friar back to the front of its sweaters for last Tuesday's Mayor's Cup game, ending the two-month flirtation with the hooded Patriots logo used by the rest of the athletic department. The Friars wore last year's jerseys against Brown, and the Woonsocket Call reports that they have placed an order for new sweaters, to be delivered later this year. Here at INCH, we celebrated by taking advantage of a great deal offered by one of our sponsors: a $10 Skating Friar T-shirt at SportDesigns.com.

Bench Minor

To the Nebraska-Omaha Mavericks. From thoughts that the CCHA couldn't beat anybody, or that UMass was ready for prime time, the Mavericks spoiled more theories than Peter Jennings' special on the Kennedy assassination. They also halted the Minutemen's road winning streak at seven games and non-conference unbeaten streak at 11 games.
• The Brampton Battalion acquired Luciano Aquino's OHL rights this week in a trade and plan to try to talk the Maine freshman into playing major junior hockey. Time will tell how it plays out – Aquino's family history might suggest a jump (his brother, Anthony, left Merrimack for major juniors), but these deals often don't play out for the major junior team (like the Calgary Hitmen's acquisition of Cornell goaltender David LeNeveu around this time last year).
• You have to love the honesty, enthusiasm and appreciation from UMass Lowell forward Elias Godoy upon learning that he was named Hockey East Player of the Week: "I knew coming into Tuesday night's game that I had to pick up my play from the previous weekend. Coach Blaise MacDonald and I talked about my performance against Boston University, and we both agreed that it wasn't my best. I resolved to play better overall at New Hampshire, and it was a great effort for me with the three goals and the assist. I give a lot of credit to my linemates for helping me, they did an excellent job of getting me the puck, especially on the power play. It's a great honor to be named Hockey East Player of the Week for the first time in my career."
• Hard to believe that Providence junior David Cacciola, who stopped 26 shots in the 1-1 tie vs. Brown last week, still doesn't have a win. He's 0-3-2 despite leading Hockey East in goals-against average (1.68) and save percentage (.945).
• There could be reason for concern in Durham, where Mike Ayers has struggled in two of his last three starts. He's 1-2-0 in that time, with a 4.85 goals-against average and a .845 save percentage; in the two losses, those numbers are 6.55 and .771. Ayers and sophomore Jeff Pietrasiak have alternated starts the past two weekends, and head coach Dick Umile could give each a start this weekend with two non-league games at Clarkson and St. Lawrence. Then again, Ayers – a competitor who loves to play as much as possible – might benefit from back-to-back games to help him get into a groove, especially heading into two key Hockey East games before the holidays (at Massachusetts next Thursday, vs. Merrimack next Saturday).
• With Ayers and Boston University's Sean Fields both having difficulty at times early in the season, INCH's first- and second-team Preseason All-Americans haven't lived up to their lofty standards. Luckily for us, we did all right with our third-team pick, Yann Danis of Brown.
• Tickets for Hockey East's championship weekend at the FleetCenter went on sale Monday. Championship tickets can be purchased through Ticketmaster and at the FleetCenter box office. Ticketmaster can be reached online at
www.ticketmaster.com/artist/852156
or by calling (617) 931-2000.
A variety of sources were utilized in the compilation of this report.