December 3, 2003
Down Time Is Tough Time For Top-Ranked Sioux
By Jess Myers
Some teams would welcome a few weeks of down time in the middle of the season as a way to rest and re-charge the batteries. That's not the case for the North Dakota Fighting Sioux, who are in the midst of a near two-week break from college hockey games (with only a match against the U.S. Under-18 Team on the docket). After solidifying the top ranking in the nation with an impressive sweep at Denver, the break hasn't been a welcome one in Grand Forks.
"It's been tough for us to take almost two weeks off at this point in the season," said Sioux coach Dean Blais. "We played so well at Denver that we'd prefer to keep going."
Despite the lack of hockey games, the UND campus has been abuzz with news recently. First, a 22-year-old student named Dru Sjodin disappeared from a local mall parking lot on Nov. 22. Her feared abduction has prompted hundreds of community residents and students to volunteer in the search. On Dec. 1, a convicted sex offender in Crookston, Minn. (25 miles from Grand Forks) was arrested and charged with kidnapping in the case. Sjodin has still not been found and searches continue.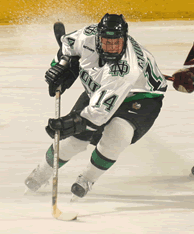 North Dakota's Brady Murray, who holds dual citizenship, chose to represent the U.S. at the World Junior Championship. (UND Athletics Photographer Scott Gaddini)
The biggest hockey-related news in the community came when Sioux freshman Brady Murray (son of Los Angeles Kings coach Andy Murray) elected to play for Team USA in the forthcoming World Junior Championship. Murray, who has dual citizenship, could have tried out for Team Canada as well. Blais said that Hockey Canada doesn't give players at American colleges an equal opportunity to make their team.
"We just wanted to know where we stood, and Hockey Canada didn't return four phone calls," said Blais. "Their team is all major junior guys [one collegian, Michigan's Jeff Tambellini, was named to Team Canada's upcoming camp]. Brady's one of the leading freshman scorers in all of college hockey, and they apparently weren't interested. I think that's discrimination against U.S. college guys."
Blais noted that because of the World Juniors, his team will be without three key players for a series at St. Cloud State on Jan. 2-3, while Wisconsin will be without its coach and a few key players for the Badgers' series at Minnesota State, Mankato, the same weekend.
"In the future, I think the WCHA has got to stay away from scheduling conference games in early January," he said. "Your team shouldn't get penalized for players serving their country."
Next year's World Junior Championship will be played between Dec. 25, 2004 and Jan. 4, 2005 at North Dakota's Ralph Engelstad Arena and the new rink (also named Ralph Engelstad Arena) in Thief River Falls, Minn.
SEEN AND HEARD IN THE WCHA
New Face Behind Bucky's Bench – While some Midwesterners prefer to spend their winters skiing in the mountains, Wisconsin coach Mike Eaves was able to convince a guy from ski country to spend his winter in the heart of the Midwest.
That is to say the Wisconsin hockey team wasn't short-staffed for very long. The Badgers have hired assistant coach Mark LeRose to fill in for John Hynes, who left the Wisconsin program in November to take the head coaching position with USA Hockey's National Team Development Program.
After joining the Badgers in Ann Arbor last weekend for the College Hockey Showcase, LeRose told reporters that he jumped at the chance to work with Eaves and Badgers assistant coach Troy Ward again. The trio had worked together with the Pittsburgh Penguins during the 1999-2000 season.
"Mark speaks our language, he knows the names of our drills, and he knows the way we like video broken down, so he'll fit right in," said Eaves, who will coach Team USA in the World Junior Championships later this month. Eaves will leave Ward and goalie coach Bill Howard in charge of the Badgers for four games during that time.
LeRose comes to Madison from Aspen, Colo., where he was working as a stockbroker and has been the coaching director for Aspen junior hockey off and on since 1996. He also served a stint as a coaching staff assistant with the Penguins, where he was responsible for video breakdown, statistical and performance reports, offensive and defensive charting, on-ice skill development of players, as well as system and player personnel decisions.
As a college player, LeRose served as captain at Canisius as a senior in 1992. He coached the midget, U-14 and U-10 levels in Aspen, and founded Rocky Mountain Hockey Schools during his time in Colorado.
LeRose was hired on an interim basis, and has a contract at Wisconsin that runs through April 30, 2004. Eaves said that LeRose came on board with the understanding that he will not be considered for the job when the Badgers hire a full-time replacement for Hynes next summer.
Great Weekend Getaway

Wisconsin at Denver (Fri.-Sat.)
Little more than a month ago, when the winless Badgers were struggling to beat Quinnipiac at home, this series didn't look to be a battle of two nationally ranked teams. But 10 games without a loss later, the Badgers are the hottest thing in college hockey. Denver has rebounded nicely after the weekend spanking at the hands of top-ranked North Dakota a few weeks ago and looks to be a formidable foe in the friendly confines of Magness Arena. These are two teams that play great defense, so in an NHL-crazy market like Denver, a pair of 1-0 games might be just what fans there have in mind.

While You're There: About halfway between DU's scenic campus and downtown Denver (just off I-25 near the Alameda exit) is a great little place called Brewery Bar II. One city guide calls it "a decidedly downscale watering hole," and adds; "the bar is packed with the mullet-and-sneaker set." Sounds EXACTLY like our kind of place. And if you get there at 11 am on a Saturday, you're bound to run into the DU off-ice officials enjoying a fantastic burrito and the restaurant's small (34 oz.) beers.

Stick Salute

To the Colorado College Tigers, for remaining the best college hockey team in all of the 719 area code. On Nov. 9, 1985, Air Force beat Colorado College 6-5 in overtime at the now-demolished Broadmoor World Arena, and the Falcons held bragging rights to all of Colorado Springs. Air Force hasn't seen those bragging rights since that night. After beating the Falcons 4-2 last Friday, the Tigers are now on a 25-0-1 tear versus their crosstown* rivals, and lead the all-time series 52-6-2.

* We know, the anal-retentive crowd will point out that the Air Force Academy is not technically in Colorado Springs. It's in a separate municipality called "Air Force Academy, Colorado," just like Notre Dame is not in South Bend but in "Notre Dame, Indiana." Whatever.


Bench Minor

To the cable and satellite providers serving the Upper Midwest. If you're not seeing Victory Sports coverage of St. Cloud State and Minnesota State, Mankato on your TV now, don't blame Victory. As a gesture of goodwill (and likely in hopes of getting viewers hooked) Victory last week announced that they were offering their programming, for free, to any cable or satellite companies who want to carry it, until March. Speaking on behalf of DirecTV owners, so far we've seen no addition of the channel to the lineup. Get it in gear, folks! Time's a-wasting!
PUCKS TO PICK UP AFTER PRACTICE
• After taking in the Wild-Stars game in St. Paul on Nov. 26, the Alaska Anchorage Seawolves spent Thanksgiving in St. Cloud in preparation for their one-point weekend with the Huskies. The on-ice results (a loss on Friday, and a tie on Saturday) were actually a vast improvement over what normally happens to the Seawolves at the National Hockey Center. Saturday night's 2-2 deadlock snapped a 10-game Seawolf losing streak in St. Cloud. Their last non-loss there was on Nov. 22, 1997, when the teams skated to a 0-0 tie. With the latest tie, the Seawolves "improved" to 0-24-2 all-time in St. Cloud's rink.
• In the "what's a team gotta do?" category, we find the Minnesota State, Mankato, Mavericks. After struggling to score goals early this season, the Mavs finally had everything clicking offensively last weekend at Minnesota Duluth. Mankato managed nine goals in the two-game series, and got hat tricks from David Backes and Jeff Marler in the process. And for all of that effort, this was their reward: nada. Despite all of the offensive heroics, and despite rallying back from huge deficits both nights, the Mavs lost 8-5 and 5-4 (OT) at the DECC. The Mavs have a weekend off to contemplate the cruelty of life before a trip to Madison on Dec. 12-13.
• Twin Cities-based author Ross Bernstein, who wore the Goldy Gopher suit as the Minnesota hockey mascot for two seasons, is out with a new book about former Gophers and St. Cloud State coach Herb Brooks. Bernstein, who was working with Brooks on a number of projects at the time of the coach's death last August, has compiled memories from dozens of colleagues, friends and players who knew Brooks during his time as a player and coach in college hockey, the NHL and the Olympics. The book is entitled "Remembering Herbie: Celebrating the Life & Times of Hockey Legend Herb Brooks." Bernstein has pledged some of the proceeds from sales of the book to the newly-created Herb Brooks Foundation. It's available at www.bernsteinbooks.com.
• A lesson in supply and demand for all of you economics majors at North Dakota: A group out of New Jersey is on eBay selling off the game-worn sweaters from the Oilers vs. Canadiens legends game at the Heritage Classic in Edmonton a few weeks ago. While the sweater worn by Wayne Gretzky was going for $22,000 or better by mid-week, the white Canadiens sweater worn by former Fighting Sioux star Craig Ludwig could be had for $500.
• We've seen a dramatic cooling trend in Houghton since the start of November. After scoring 12 goals in his first seven games, Michigan Tech sophomore Chris Conner has now been held without a point in five straight games. In what may be a sign that scoring is down, Conner still leads the nation in goals despite the three-week dry spell. Previously, he had never gone more than three games without a point.
• The WCHA's 4-0 showing in the College Hockey Showcase marked the first time in the 11-year history of the tournament that the western league has gone undefeated. By contrast, the CCHA had gone 4-0 three times previously, most recently in 2000. And for the small school conspiracy theorists scared that college's hockey's Big Ten teams could abandon the CCHA and WCHA in favor of a Big Ten hockey conference someday, former Minnesota coach Doug Woog added some fuel to that fire over the weekend. Between periods of one of the games he was calling for Fox Sports North, Woog noted that if Notre Dame joined the Big Ten, the conference would have six hockey-playing schools, which, under conference rules, is the number of teams required for the Big Ten to sanction a conference championship.
• Congratulations to Capital Times sports editor (and former Badger hockey beat writer) Adam Mertz and his wife Amy, who welcomed their first child into the world the night before Thanksgiving. Delaney Mertz arrived in Madison on Nov. 26 weighing 4 lbs, 8 oz. Mom and baby are both home and doing well, although there's no word on whether the nursery is decorated with any skating Bucky logos.
• Rachel Blount of the Minneapolis Star Tribune wrote a nice story on Thanksgiving Day about what has to be the largest family fan network in college hockey. Minnesota Duluth senior captain Beau Geisler hails from a family of 11 children, which is something akin to the Brady Bunch times two. Beau's birth mother, Ruthie, died of leukemia in 1991, just days after giving birth to her seventh child. Ten months later, Beau's father, Tom, married Gwen LeDoux, who had been widowed with two children of her own. Together, Tom and Gwen have had two more children, stopping just one child shy of an even dozen. Want to treat the Geisler-LeDoux clan to a fun night watching big brother at the rink? Imagine calling Ticketmaster and saying, "I need 12 on the blue line for Bulldogs-Gophers."
• If St. Cloud State fans thought they were hearing strange voices at the National Hockey Center last Friday, it wasn't just the after-effects of eating too many yams. Nick "Knuckles" Rasmussen filled in behind the microphone of the rink's p.a. system for one game, while regular men's hockey p.a. voice Chuck Claussen was out of town for the holiday. Rasmussen, who announces SCSU women's hockey, volleyball and other sports, normally works on the men's hockey stats crew in the pressbox. Claussen, renowned for his signature call when the home team hits the ice ("Yeessss… Yeeeessss… Here… are… your… HUSKIEEEEEEES! HUSKIEEEEEEES!") was back in the saddle for the Saturday game.
• Congratulations to former Minnesota star, U.S. Olympian and Minnesota North Star player and general manager Lou Nanne, a member of the International Ice Hockey Federation's 2004 Hall of Fame induction class.