March 18, 2004
New Power Generation?
By James Jahnke
Atlantic Hockey
CHAMPIONSHIP PREVIEW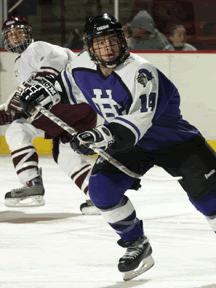 Jeff Dams was Atlantic Hockey's second-leading scorer, with 10-18—28 in conference games.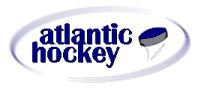 Atlantic Hockey Tourney Brackets
This week's schedule
National TV Schedule

CCHA Super 6 Preview
ECAC Semifinal Preview
Hockey East Semifinal Preview
WCHA Final Five Preview
Championship Matchup
No. 1 Holy Cross vs. No. 4 Sacred Heart
HC: 21-9-4 overall (17-4-3)
SHU: 14-16-5 overall (12-8-4)
Season series: Holy Cross leads 2-1-0
Crusader fact: Senior forward Tim Coskren won the Atlantic Hockey Sportsmanship Award this year, partly because he took just three penalties in 24 league games. Offensively, Coskren has 7-13-20 for the Crusaders, and he will set the school record by playing in his 137th career game Saturday.
Pioneer fact: Three is the magic number for the Pioneers, who ranked third in Atlantic Hockey in scoring offense, scoring defense, power play efficiency and penalty minutes in league games this season. Now, they're hoping for a third win in West Point to reach their first NCAA Tournament.
How Holy Cross wins: Score the first goal. Sacred Heart is 12-3-4 when scoring first this year, but only 2-13-1 when the opponent takes the first lead. The Crusaders' senior class – led by Coskren, Jeff Dams, Greg Kealey, J.R. Walker and R.J. Irving – must get the squad pumped up beforehand and have everybody come out flying.
How Sacred Heart wins: With another sterling performance by junior goaltender Kevin LaPointe, who shut down two of the better offensive teams in the league – Connecticut and Mercyhurst – last weekend. LaPointe, who has held off Devils draft pick Jason Smith for the No. 1 netminding job all year, stopped 46 of 48 shots last week at West Point. The Pioneers, without an offensive star, also need a steady, balanced attack from at least three lines against Holy Cross' formidable defense.
Forward Jeff Dams was a freshman on the Holy Cross team that endured an 8-22-2 season in 2000-01. But now, just three years later, he stands a win away from earning a ticket to the NCAA Tournament. It certainly has been quite a turnaround for the 5-foot-9, 185-pound Dams and the other senior Crusaders during their time in Worcester. From also-rans to regular-season Atlantic Hockey champions, the Crusaders have but one more goal to meet this season: claiming the Atlantic Hockey tournament championship and the automatic NCAA Tournament bid it entails.
To get it, Holy Cross will have to beat No. 4 seed Sacred Heart in the championship game Saturday in West Point. Earlier this week, Dams spoke with Inside College Hockey about his hopes for the title game, his feelings on Worcester and a certain postseason awards snub, among other things.
Inside College Hockey: As a senior, you've been through some not-so-hot years at Holy Cross. Does that make you appreciate this season even more?
Jeff Dams: Certainly, when we started, we were not very good at all. This is, by far, the most talented team I've been on. I think the biggest difference between the team I was on as a freshman and this year's team is that we're winning all the close games – the one-goal games, the overtime games. The 1-0 games were the ones we were losing when I was a freshman. I think we lost nine or 10 one-goal games that year. But now, we have confidence that we're going to win them.
INCH: Did it take a few wins for you guys to build that confidence? It wasn't just magically there at the start of the year, was it?
JD: I knew we were going to be pretty good, but we weren't picked to be first in the league or anything. I didn't know we would do that. But as soon as we beat some teams we had had a little trouble with in the past, our confidence shot up. When we went to Mercyhurst and beat them twice, I knew we had a legit team.
INCH: What were you expecting at the beginning of the year? Be honest.
JD: Well, I knew we had a good group coming back. The freshman class that came in was really good, and the sophomore class worked hard over the summer. Everybody came back in pretty good shape, and I could tell we had something good. I knew we were going to be a force, but I wanted to win a championship. Nothing less than that.
INCH: Does it surprise you that you might be able to get that championship without having to play Mercyhurst or Quinnipiac in the Atlantic Hockey Tournament?
JD: The Quinnipiac (vs. Canisius) game was before us (Saturday), and we got there for overtime. When I saw (Canisius) score in OT, we were like, "What?" It's definitely strange not to play either of them. I think Mercyhurst had been in the championship game every year before this. So it's a surprise we don't have to play them. But we can't take Sacred Heart lightly. They'll be a good test.
INCH: This will be the third straight team you've played that is coming off a major upset – AIC over tournament host Army, Canisius over Quinnipiac and now Sacred Heart over Mercyhurst. Do you find that teams coming off upsets generally carry a lot of momentum into the next game, or does it swing the other way?
JD: I think it's really easy to take that momentum and run with it. Teams can build on that success. We were actually on the bus on the way home when we found out (Sacred Heart) won. Me, Greg (Kealey), R.J. (Irving) and some of the other seniors were in the back of the bus and we were just like, "You know, it doesn't really matter. We just have to worry about ourselves and everything will be all right." Hopefully, we can avoid another upset, eh?
INCH: You're from Manotick, Ontario. How did you wind up at Holy Cross?
JD: Coach (Paul) Pearl was pretty much the only person recruiting me my second year of juniors and senior year of high school. In Grade 12, I was recruited a little by some Ivy Leagues, but nothing really serious. When Coach Pearl came, I knew Holy Cross was a good school. I knew the hockey program wasn't great at the time, but I thought I could step in and play. I was just ready to be done with juniors and high school.
INCH: No regrets, right?
JD: No. I love it here. My teammates are great. School's a lot of work, I guess. But pretty much everyone walks out of here with a job if they want one. It's a good place to be. Worcester's not the best town, though.
INCH: What do you mean?
JD: It's no Boston (laughs).
INCH: Are you planning on playing after this season, or are you hanging 'em up?
JD: Oh, I want to play. I really want to play in Europe, but I've been told that players in our league usually have to play a few years in the Coast (ECHL) to build their names up first. Players in the Big Four conferences – like the CCHA, WCHA, Hockey East and ECAC – have the advantage because of their prestige. So I'll have to get my name out there. But, ultimately, I just want to see the world a bit. Hockey got me here. Hopefully, it can take me to Europe for a few years.
INCH: Last thing. You were named to the All-Atlantic Hockey team this year. Was that a big deal for you?
JD: Our ultimate goal is to win that game this weekend. I'll be happiest when I have that ring on my finger. But I was very happy about it. I'm surprised Greg [Kealey] wasn't named to the team. But it's nice to get individual honors – it lets you know at least all that work isn't for nothing.
INCH: Of course, you weren't on Inside College Hockey's all-league team...
JD: Oh, that's all right (laughs). No worries.