March 17, 2004
Big Mac
By Joe Gladziszewski
ECAC
CHAMPIONSHIP WEEKEND PREVIEW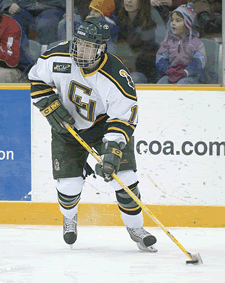 Mac Faulkner and Clarkson finished ninth in the regular season, but they've won back-to-back playoff series on the road.
(Photo by Christopher Lenney)

ECAC Tournament Brackets
This week's schedule
National TV Schedule

Atlantic Hockey Championship Preview
CCHA Super 6 Preview
Hockey East Semifinal Preview
WCHA Final Five Preview
Semifinal Team Previews
No. 1 Colgate
Record: 21-11-5 overall (14-6-2)
Raider fact: They're the highest ranked team in the league and the regular-season champions, but Colgate likely won't get an NCAA Tournament invite if they don't win the ECAC Tournament this weekend.
How Colgate wins: One of the maxims uttered over and over again in the Colgate dressing room this season encouraged playing on a high, flat line. That's what the Raiders did, keeping things steady and consistent throughout the year. The highs were never too high and the lows never were too low. The Raiders have played close, low-scoring games for most of the year which is good preparation for playoff time.
No. 4 Dartmouth
Record: 14-9-9 (10-5-7 ECAC)
Big Green fact: When Dan Yacey blanked Rensselaer over the last two games of the quarterfinals, he doubled the number of post-season shutouts in school history, which stood at two entering this year. The last Dartmouth goalie to shutout a playoff opponent was current head coach Bob Gaudet, also against Rensselaer, on March 11, 1980.
How Dartmouth wins: It's one of the immutable laws of hockey: you need good goaltending to win in the playoffs. All four teams playing in Albany this weekend have their netminders playing at their best, but perhaps none more than Dartmouth and Yacey. He made 65 saves in the Saturday and Sunday contests. Also, the line of Tanner Glass, Nathan Szymanski, and Eric Przepiorka has been a reliable alternate scoring option to the main scoring trio of Lee Stempniak, Hugh Jessiman, and Mike Ouellette.
No. 6 Harvard
Record: 16-14-3 (10-10-2 ECAC)
Crimson fact: This marks the fourth straight season that Harvard has advanced to the league semifinals. It's a favorable matchup in the opener, as Harvard is unbeaten in its last eight games against Dartmouth, with six wins and two ties.
How Harvard wins: It was a matter of when, rather than if, Harvard could turn things around. The regular-season was a real head-scratcher in Cambridge as great performances were followed by clunkers. By returning to health, gaining some team chemistry and confidence, the Crimson have advanced to Albany, where everyone expected them to be at the beginning of the year. Harvard's roster has the most playoff experience of the four teams participating, and they'll need to draw on that to pick up two wins.
No. 9 Clarkson
Record: 17-17-5 (8-12-2 ECAC)
Golden Knight fact: The No. 9 seed in the ECAC tournament has never advanced to the semifinals, until now. Clarkson also becomes the first school to win back-to-back series on the road in order to get to this point in the tournament.
How Clarkson wins: Keep on keepin' on. The Golden Knights have a ton of confidence and go into this weekend with the right mix of goaltending and scoring. The injured shoulder of freshman defenseman Matt Nickerson clouds the outlook a bit for Clarkson, but this team has shown that it can handle adverse circumstances.
Let's go ahead and attach this label to Clarkson forward Mac Faulkner. He's a gamer. After all, he's earned that label with his play over the last two weekends.
Faulkner scored three goals and added three assists in an opening-round playoff series sweep at Union. (And was INCH's National Player of the Week). In Sunday's series-clinching win at Cornell, he scored a short-handed goal late in the second period and added an empty-netter to seal the 5-1 win.
The junior from King City, Ontario, has shown that he's one of those guys who raises his level of play at this time of the year, and that's what makes him a gamer. He talked to Inside College Hockey in advance of his team's semifinal matchup against top-seeded Colgate in Albany.
Inside College Hockey: Let's talk about how you guys have grown as a team this year. You were in a lot of one-goal games, and there was a late losing streak, but you really put it together. With a new coach and seven or eight freshmen in the lineup every night, how hard was it?
Mac Faulkner: There were a lot of growing pains. You could see flashes of what we could be in games but it takes time. It takes a team like Cornell years and years to build into the type of system and a program like that. Our guys were always buying into the system, and I felt that we had as much talent as anyone. We were in a six-game losing streak but they were all one goal losses or with empty-net goals. One bounce or one goal in those games and we're 3-3 or 4-2 instead of losing all six. Once we beat Brown at home and then went down and won at Colgate we knew that we were starting to turn it around.
INCH: What's the mindset when you're going through a rough stretch like that, and things start to go your way? You've had to go on the road two weekends in a row.
MF: It's not like it's us against the world, it's just us realizing that it doesn't matter who is in our path. Nobody expects us to win, but we have the confidence that if we prepare and do what we need to do we can have success. Not much is going to change. We know that if we don't come to play we'll have trouble, but if we bring our best effort we can beat anybody.
INCH: And winning at Lynah Rink against the second seed, after losing the first game, seems like a perfect example of that. I noticed your excitement after getting that shorty to make it 2-0.
MF: I personally think it's the toughest rink I've ever played in, with some of the stuff their crowd does. I live with Dustin Traylen and they were chanting his phone number, and they had a sign with a picture of Mark Morris. You have a few personal things that maybe you shouldn't say. It feels nice when you can score a short-handed goal and skate by that section and hear how quiet they are.
INCH: Speaking of coming into difficult circumstances, let's talk about your coach, George Roll. It's no secret that things weren't going so well for the program last year. How has his personality helped the program?
MF: The fact is that he's so personable. There were a lot of mixed feelings about our program coming in to this year, and the head coach is the face of the program. Just the fact that he's so personable has helped the community and helped Clarkson hockey. He's got a lot of people past that. Mark Morris is a part of Clarkson hockey, but there's a greater history and tradition, and coach is bringing the pride back around the program.
INCH: There are a lot of forwards in this league that get more notoriety than you do, despite your point production, and those are the names that are probably going to be called when they announce all-league honors at the banquet on Thursday. Do you think about that at all?
MF: We're committed to winning. The way that I see it is that there are a lot of great players who aren't playing this weekend. Winning an individual award is a great honor, but winning Albany is something you can share with 25 other guys. If my name were not to be called, I would think about it for maybe 15 seconds. I believe that with the guys we have we can win the ECACs, and it will be something that lasts a lot longer than 15 seconds.
INCH: It's spring break this week at Clarkson. How are things on campus?
MF: Pretty much everyone is gone, so it's pretty slow up here.
INCH: But it's pretty slow in Potsdam even when there are people around.
MF: You're right, it is, but we're still playing hockey and that makes it a lot of fun.