March 24, 2003
Postcard: Meet George Roll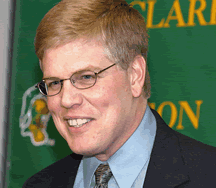 Former Clarkson assistant coach George Roll was introduced as the 10th coach in Golden Knights history at a Monday afternoon press conference.
By Joe Gladziszewski
Tom Kusmer lives near Toledo, Ohio, and wasn't a hockey fan at all growing up in the Buckeye State.
Yet, on short notice last week, he drove more than 10 hours from northeast Ohio to central Vermont to watch a hockey team from upstate New York compete for the Division III national championship.
Kusmer didn't think it was a big deal at all. He was simply returning an act of kindness that was shown to him eight years earlier, when one of his best friends drove from Potsdam, New York, to attend his college graduation party in northeast Ohio.
Kusmer met George Roll when the two arrived on the campus of Bowling Green State University in the fall of 1981. An Ohioan that had no interest in the game of hockey and a Falcon hockey recruit of head coach Jerry York forged a lifelong friendship.
Related Links

Nov. 15: Morris fired as Clarkson head coach
March 14: Clarkson tabs Roll

George Roll's Record at Oswego

Year
Overall
SUNYAC
2002-03*
24-7-1
10-3-1
2001-02
17-9-4
10-3-1
2000-01
17-9-1
10-4-0
1999-00
15-11-3
6-6-2
1998-99
15-13-3
12-5-3
1997-98*
17-13-2
12-5-1
1996-97
13-12-2
9-6-1
Total
118-74-16 (.606 win pct.)

* NCAA Tournament
Roll went on to win a national championship with the Falcons as a junior in the spring of 1984 and captained Bowling Green in his senior season. Kusmer eventually ended up getting his degree from Bowling Green 13 years after the two met on campus.
Kusmer's graduation was celebrated at a party hosted by current Falcon bench boss Scott Paluch – a close friend of both – and Roll trekked down from Potsdam where he was assistant coach of Clarkson at the time, to honor his pal "Kuz" and his accomplishment.
It's an act that Kusmer was happy to reciprocate during one of the biggest weekends of Roll's professional life, when he led Oswego State to the Division III Frozen Four.
"He's the kind of guy you want to be there to support," Kusmer said this weekend in Northfield, Vt., where he saw Roll's Oswego team reach the national championship game before falling, 2-1, to Norwich.
This is just one of many stories that people can tell about George Roll, who was introduced as the 10th coach of the Clarkson Golden Knights at an afternoon press conference on Monday.
Clarkson University is hiring a man with an exceptional hockey resume, but just as important, they're hiring an exceptional person. Kusmer, remember, is not a hockey guy. His opinions don't carry any weight in the tangled web that is the coaching profession. But his last-minute trip from Ohio to Vermont is an endorsement that's as strong as a professional reference from Jerry York, Rejean Houle or any other hockey honcho.
"George is a very genuine person, and that carries over to his hockey team," Kusmer said. "Anything he approaches, whether it's family, friendships, or coaching, he brings a level of dediation that's not surpassed."
Roll's reputation as a strong recruiter during his days as a Clarkson assistant helped him land the head coaching job at Oswego State. After seven years in charge of the Lakers, he returns to the Golden Knights, and brings along a simple philosophy that helped Oswego State move into the upper echelon of Division III programs.
"I've certainly learned that the most important thing is to recruit quality student athletes, and not just hockey players," Roll said. "People that are respectful away from the ice, and to other people, and strong in the community and on the college campus."
In other words, Roll wants to recruit people like himself.