March 14, 2003
Roll with it: Clarkson tabs Oswego coach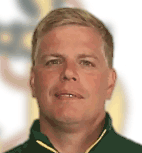 Former Clarkson assistant coach George Roll will become the 10th coach in Golden Knights history.
By Inside College Hockey Staff
Inside College Hockey has confirmed that Clarkson has offered its head coaching position to Oswego State head coach George Roll. Roll has not officially accepted the position, but is expected to do so at the conclusion of the Oswego State season. The Lakers are currently in the NCAA Division III Tournament and beat Wentworth Institute of Technology Saturday night to advance to the Frozen Four.
"They've called me, I have talked to them," Roll said in his press conference following Saturday night's win. "I've asked them to continue our discussions after the season."
Upon accepting the position, Roll will become the 10th head coach in Golden Knights history, replacing interim head coach Fred Parker. Parker took over for Mark Morris, who was fired by the university Nov. 15 after an alleged incident with a player at practice.
Related Link

Nov. 15: Morris fired as Clarkson head coach

George Roll's Record at Oswego

Year
Overall
SUNYAC
2002-03*
23-6-1
10-3-1
2001-02
17-9-4
10-3-1
2000-01
17-9-1
10-4-0
1999-00
15-11-3
6-6-2
1998-99
15-13-3
12-5-3
1997-98*
17-13-2
12-5-1
1996-97
13-12-2
9-6-1
Total
117-73-16 (.607 win pct.)

* NCAA Tournament
Roll was an assistant coach at Clarkson under Morris before assuming his current position at Oswego State (N.Y.). In seven years with the Lakers he has compiled a 117-73-16 record, entering Saturday night's game. His teams have reached the NCAA Tournament twice and qualified for the State University of New York Athletic Conference playoffs every season.
This year has been Roll's finest with the Lakers, as they captured the SUNYAC championship and posted the most wins and fewest losses of his tenure. They beat Wentworth Saturday night, 4-3, to reach next weekend's Frozen Four. In addition to serving as head coach, he assumed the duties of interim athletic director at the Upstate New York school this year.
A former captain at Bowling Green, Roll was a member of the Falcons' 1983-84 NCAA championship team.
The Blue Island, Ill., native currently resides in Oswego with his wife, Paula, and children, Chris and Sarah.
Clarkson finished its season last weekend, suffering a two-game sweep at the hands of Vermont in the first round of the ECAC Tournament. The Golden Knights finished the year with a 12-20-3 record (9-10-3 ECAC), its first year under .500 since 1974-75.