November 15, 2002
Morris fired as Clarkson head coach
Clarkson University fired coach Mark Morris Friday, ending the coach's 15-year tenure with the school.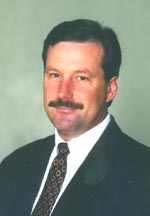 Clarkson's Mark Morris
Morris was placed on paid administrative leave by the university last week after an incident involving a player at the Golden Knights' Nov. 2 morning skate. The school launched an investigation to determine what disciplinary measures, if any, should be taken against the coach. Morris, however, was unwilling to participate in the investigation and that, coupled with facts collected from other witnesses to the incident, led to his termination.
"This has been a trying time for the hockey team and the coaches," Clarkson President Denny Brown said in a written statement. "They have demonstrated great character by focusing on their games. We are confident that the team will pull together and move forward to have a successful season."
The school's all-time winningest hockey coach, Morris compiled a 306-156-42 career record. He led the Golden Knights to 11 20-win seasons, nine NCAA Tournament appearances, five ECAC regular-season titles and three conference tournament championships.
President Brown released his statement just hours before the Golden Knights hosted Brown in their home opener at Cheel Arena (a game Clarkson won, 5-1). The Knights face Harvard Saturday.
First-year assistant coach Fred Parker will serve as head coach on an interim basis. He and assistant Jason Lammers coached the team in Morris' absence, including the Golden Knights' three-point weekend at Rensselaer and Union. Another assistant will be added in the near future.
Parker, Morris' top assistant, was the head coach of the Ottawa Junior Senators in the Central Junior Hockey League, a Tier II junior league in Canada, last season. He has also served as the head coach for the Nepean Raiders (1998-99), Smiths Falls Bears (1996-98), Ottawa Junior "A" Senators (1993-96) and the Brockville Braves (1992-93). Parker played college hockey at St. Francis Xavier University in Antigonish, Nova Scotia, where he graduated in 1989.
Clarkson will begin a national search for a permanent head coach at a later date. Among the names surfacing as possible candidates are Los Angeles Kings' scout Greg Dreschel, Lake Superior State assistant coach Jim Roque and Oswego State head coach George Roll — all former Clarkson assistant coaches.
– Nate Ewell and Mike Eidelbes