January 1, 2004
Ferris Wheels Into New Year
By Mike Eidelbes
The last time we checked in on Ferris State, the Bulldogs had shut out Nebraska-Omaha in Big Rapids Nov. 22 to salvage a series split. It was a welcome victory for the defending CCHA regular season champions, who had lost six of seven prior to their 4-0 win against the Mavericks.

"It's good to see the guys bearing down," junior goaltender Mike Brown told me after that game. "We've got a lot to look forward to."

Brown's prophecy has come to fruition as FSU hasn't lost since, reeling off a seven-game unbeaten streak with the last of five wins during that span coming Sunday in Madison when the Bulldogs downed Wisconsin, 3-1, in the Badger Hockey Showdown title game, ending the host's 15-game unbeaten streak in the process. Now Ferris (8-8-2 overall, 4-7-1 CCHA) heads into the latter part of the season with full head of steam.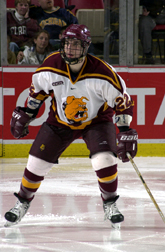 Defenseman Simon Mangos has 10 points during Ferris State's seven-game unbeaten streak.
"There's no doubt that beating Wisconsin...is a huge step in the right direction," coach Bob Daniels said following his team's Thursday practice. "We're kind of looking to the future and saying, 'Now we're going...let's see what kind of damage we can do in the second half."

It was fitting that Daniels used New Year's Day to discuss the Bulldogs' struggles during the early stages of the season, namely the team's hangover from the previous season.

"When the season started – and I'm guilty of it, too – we all kind of hoped for a seamless transition from last year," Daniels explained. "I think we really lost sight of some basic fundamentals. Little things like puck movement and playing better in our defensive zone."

Perhaps the best part of Ferris State's 5-0-2 stretch is that everyone is contributing, including a number of key players who were noticably quiet during the first seven weeks of the year. Defenseman Simon Mangos, who had 21 points last season, hadn't scored FSU's first 11 games but recorded 10 points during the unbeaten streak, including 1-3–4 at the Badger Hockey Showdown. Derek Nesbitt has five goals and two assists since Nov. 22. Likewise, Derrick McIver has 4-3–7 during the streak while highly touted freshman Mark Bomersback – the 2003 Canadian Junior A player of the year – has three goals and six points in the last seven games. Even Brett Smith, who's been the team's most consistent offensive threat thus far, has ratcheted his play up a notch, tallying 5-7–12 during the span.

"We are scoring more," Daniels said, "but I think a lot of that is because we're taking better care of the puck. We're not turning the puck over as much, or making low percentage plays on our end of the ice."

When the Bulldogs do suffer a defensive lapse, Brown has been there to erase the mistake. He's allowed a total of 14 goals during the streak and has made 27 or more saves on four occasions, including 38 stops in FSU's win against the fourth-rated Badgers.

Certainly, Ferris State has not reached the level of sustained consistency of last year's NCAA Tournament quarterfinalists. But they've got the potential to make a charge toward the higher reaches of the CCHA standings, especially with 11 of their remaining 18 games at home and a team that Daniels says has plenty of room for growth.

"We're improving...but there are certain areas of our game that are not even close to being up to speed yet," Daniels said, specifically making reference to the Bulldogs' power play (the CCHA's worst with a 10.3 percent success rate) and penalty kill.

"What we're trying to do is emphasize to the guys that we can be a lot better."
SEEN AND HEARD IN THE CCHA

BEN THERE, DONE THAT – Ben Tharp is a senior leader and experienced member of the Miami defensive corps. But at the Dodge Holiday Classic in Minneapolis earlier this month, he added another title to his repertoire: tour guide.

Tharp, a native of nearby Hastings, Minn., started his college career at Minnesota alongside high school teammates Jeff Taffe and Dan Welch. None of the three completed their eligibility with the Gophers, with Tharp was the first to leave. Despite playing 70 games and scoring 20 points in two seasons at Minnesota, he departed after the 2000-01 campaign and arrived at Miami last season after spending a year in the USHL.

"Everybody was asking me questions about everything," Tharp said following the RedHawks' 5-3 win against Providence in the tournament's third-place game Dec. 21. "What the rink is like, how big is the crowd going to be. I tried to fill them in on what I knew."

Even though he was to the RedHawks what Sherpas were to Sir Edmund Hillary and was about to play two games in front of a throng of family and friends, Tharp had to conquer some butterflies of his own during the team's pre-tournament practice at Mariucci Arena.

"I wasn't sure what to expect. I actually felt nervous for some reason," Tharp said. "I hadn't been back here since I made the decision to leave, so it was a different feeling being in the visitor's locker room and all that."

Tharp didn't seem agitated on the ice. He didn't score a point and had an even plus-minus rating on the weekend. Getting the opportunity to chat with a few acquaintances during the tournament may have helped Tharp relax. He spoke briefly with Minnesota captain Grant Potulny, exchanged pleasantries with television color commentator Doug Woog – who brought Tharp to the Gophers when he coached the team – and planned on renewing friendships with others following the tournament, a luxury he enjoyed since he skipped the team flight back to Ohio to spend the holiday with his family in the Twin Cities.
"I think my teammates are a little jealous of me that I only have a half-hour ride," Tharp said. "I'm right here at home. It's pretty nice."
Great Weekend Getaway

Bowling Green at Minnesota Duluth (Fri.-Sat.): It was 20 years ago that the Falcons and Bulldogs played one of the more memorable NCAA title games, with Bowling Green rallying for the tie late in regulation, then winning its only national championship in the fourth overtime. UMD will honor that 1983-84 squad (the school's first WCHA title team) this weekend while the current squad will try to get back on track following the losses they suffered at North Dakota before their holiday break. BGSU, meanwhile, ended December by snapping an eight-game winless streak with a win against Findlay Dec. 12.

While you're there: On a winter Saturday in the Twin Ports, a nice lunchtime getaway can be had if you're willing to put a few miles on the car. Just 20 minutes or so up the North Shore of Lake Superior you'll find the tiny town of Knife River. In the middle of town (on the bank of the river for which it is named) sits Emily's, a little Scandinavian deli which features great sandwiches, homemade salads and fresh fish chowder made with that morning's catch from the big lake they call Gitchee Gumee. It's not quite like driving up to Bar Harbor for a fresh lobster roll, but in the Midwest, Emily's is as close as you'll find.

Stick Salute

It's hard to look past Ferris State after the Bulldogs' performance at the Badger Hockey Showdown last weekend, where they beat a solid team in UMass Lowell and downed a very good (albeit shorthanded) Wisconsin club. Interesting note: FSU has won four tournament titles in its hockey history. Three of them – this year's Badger Hockey Showdown, the 1999 Minnesota Duluth Silverado Shootout and the 1993 Mariucci Classic in Minneapolis – have come in WCHA arenas.

Bench Minor

What's with players violating unspecified team rules? It happened with Boston College, Wisconsin and Miami. Three RedHawks were benched for the team's Dodge Holiday Classic contest against Princeton for their transgressions. Remember that list of rules the coach went over at the start of the season? You might want to take another look at them.
FRIES AT THE BOTTOM OF THE BAG

• The four parties that form the nucleus of the annual Great Lakes Invitational in Detroit – Michigan, Michigan State, Michigan Tech and Olympia Entertainment, which owns and operates Joe Louis Arena – agreed to a five-year deal prior to this year's tournament that will keep the Wolverines, Spartans and Huskies involved in the holiday event through 2008.

"The GLI has such tradition and it really belongs at Joe Louis," Michigan coach Red Berenson said. "It is the tournament all the top schools in the country want to get into."

Berenson is right. Since 2000, Michigan, MSU and Tech have been joined at the GLI by Boston College (twice), North Dakota and Boston University. Future fields include New Hampshire (2004), Colorado College (2005) and Harvard (2006).

• Interesting note from the World Junior Championships courtesy of Sports Illustrated. Michigan sophomore forward Jeff Tambellini was assigned to a room with 16-year-old phenom Sidney Crosby – the leading scorer in the major junior ranks with 76 points in 33 games – at Team Canada's training camp prior to the holiday break. Jeff's father, Steve, the Vancouver Canucks' vice president of player personnel, played for Canada's entry in the WJC 25 years ago and roomed with a 16-year-old phenom named Wayne Gretzky.

• Since we're on the subject of the World Junior Championships, USAHockey.com is featuring journal entries filed from Finland by Michigan State forward David Booth. The highlight from the Dec. 27 soliloquy: Booth stepping up to a challenge issued by a couple of teammates to cut his hair. "[My teammates] know that I had the best flow at the [WJC]," Booth reported. "I took them up on it since my pride could not be damaged."

How did Booth feel about his new look?

"I look like Mr. Bigglesworth," he wrote, referring to the Dr. Evil's hairless cat in the "Austin Powers" movie trilogy.

• The Hockey Humanitarian Foundation this week announced the 12 nominees for the 2004 Humanitarian Award, presented annually to college hockey's finest citizen. Among those on the list are a pair of CCHA seniors – Ohio State goaltender Mike Betz and Notre Dame defenseman Neil Komadoski.

Two CCHA players have earned the honor since its inception in 1996 (Michigan's Blake Sloan in 1997 and Jason Cupp of Nebraska-Omaha in 2001). The award committee will pare the list to a group of five finalists next week. The Hockey Humanitarian Award will be presented April 9 in Boston.

• From the Strange But True Dept., Notre Dame's 1-0 win against Maine at last week's Everblades Classic marks the first time in school history that the Irish have posted two victories against Hockey East foes in the same season. Earlier this year, Notre Dame shut out Boston College in Chestnut Hill by a 1-0 score. Sophomore forward Mike Walsh scored the lone goal in each of those games.

• With Scott Paluch's team in Duluth to face UMD in a rematch of the classic 1984 NCAA championship game, this week's Obscure Bowling Green Note of the Week looks back at the Falcons' run to the title 20 years ago. While the four-overtime title match thriller is the stuff of legend, many fans forget that Bowling Green pulled off an impressive rally to qualify for the Frozen Four. Needing four goals in a finale of a two-game, total-goal quarterfinal series to advance to Lake Placid, the Falcons beat host Boston University, 4-1, to force a sudden death overtime and advanced courtesy of Mike Pikul's winner during the extra session.

A variety of sources were utilized in the compilation of this report

Send this to a friend
About Us | Advertiser Info | Site Map | Privacy Policy
© 2004 Inside College Hockey, Inc., All Rights Reserved