June 27, 2004
NHL Entry Draft Notebook
Value City
Even on day two of the NHL Draft, teams get guys they covet
By Nate Ewell and Mike Eidelbes
RALEIGH, N.C. – While sitting through the second day can be a harrowing experience for players, it's a place where teams can find great value.
Before scouts went to bed Saturday night, they reevaluated their draft boards and identified the best remaining players. Some of them, like Maine's Mike Lundin, didn't last long on day two. He was taken by Tampa Bay with the fourth pick of the fourth round.
But even players like Matt Christie, who wasn't picked until Anaheim called his name in the eighth round, were coveted by the teams that drafted them.
"I think Christie is a great player," said David McNab, the Ducks assistant general manager, who likened Christie to two recent Hobey Baker finalists. "I don't really see any difference between he and Chris Kunitz as a freshman. To me, that's the comparison. He was as good as [Derek] Edwardson this year, and he was a Hobey finalist."
Getting value on a player like the 5-foot-10 Christie, who might have been seen as too small by some teams, is what the second day of the draft is all about, according to McNab.
"The second day, everyone has an opportunity to get guys they like," McNab said. "You'll get guys you have rated pretty high, when other teams are wondering what you're doing, because everyone rates guys differently."
Several other second-day collegians taken looked like they could prove to be valuable selections. Thirteen picks after Lundin was taken, the Islanders tabbed Notre Dame defenseman Wes O'Neill, projected by many as a top-50 selection. O'Neill's teammate, goaltender David Brown, went to Pittsburgh with the first pick in the eighth round and the Penguins used the first pick in round nine to grab Brown's talented Brian Inhacak.
The Penguins, said head scout Greg Malone, are less worried about rankings and more about selecting the right players, which they feel they've found in Brown and Ihnacak.
"One thing about our organization is it doesn't matter where you're
ranked," Malone said. "They all get thrown in the hat. These kids have to go out and prove themselves and the best kids are the one who are going to end up getting contracts and being on your team."

Malone need only look across his dining room table to see hard evidence of the Penguins' philosophy. His son, Ryan, one of the NHL's top rookie scorers last season, was the 115th overall pick in 1999.
ROBBIE EARL, DRAFT ANALYST
Wisconsin forward Robbie Earl didn't need a Maple Leafs official to praise his skills effusively. The self-described "crowd pleaser" compared his game to that of Pavel Bure and complimented Toronto's scouting staff for making an astute selection.
"I know I have first-day [rounds 1-3] potential and I think Toronto definitely got a steal here," Earl said. "Congratulations to them."
SEEN AND HEARD ON THE DRAFT FLOOR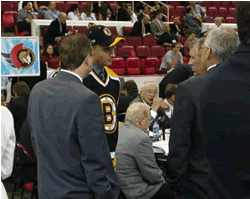 UMass Lowell forward Ben Walter chats with Mike O'Connell and the Bruins brain trust, after they picked him in the fifth round.
• Former Wisconsin goaltender David McNab, now the assistant general manager for the Anaheim Mighty Ducks, saw his team select two Badgers in the draft: Kyle Klubertanz and Matt Auffrey.
McNab insists, however, that he wasn't favoring his alma mater, except when it comes to the finer points of Madison.
"They just happened to be going to Wisconsin," McNab said. "I think our scouts heard me talking about State Street all the time, and they probably wanted an excuse to visit."
• UMass Lowell forward Ben Walter isn't doing anything to limit the high expectations the Riverhawks have for this season.
"The hockey program at UMass Lowell is really taking off," he said. "We're only losing one senior and expectations are going to be high. We're going to do everything we can to win a national championship."
• Columbus can't wait for the Frozen Four – not that the city doesn't have other events to look forward to.
"We're really excited for it," Blue Jackets general manager Doug MacLean said. "It's great for Ohio State hockey and great for the city of Columbus. With that and the World Cup, we've got two big events coming to town ... and we've got Norah Jones coming to Nationwide in August."
• The Vice President of Hockey Operations and Head Scout for the Edmonton Oilers, Kevin Prendergast, has always been supportive of college hockey, and he loves what he sees in the college game today.
"Players are getting a little older going into school, and that's helping the game," Prendergast said. "The USHL has gotten so good, and the talent pool has gotten really big. There were great playoffs this year, really in every conference."
• Atlanta general manager Don Waddell offered some music to Michigan State fans' ears in regards to 2002 top pick Jim Slater.
"We watched him a lot this year, and I saw him play," said Waddell, a former star defenseman at Northern Michigan. "I still think his development is better off if he stays in school another year."
PLUSSES AND MINUSES

The Los Angeles Kings are going global. In the eighth round they tabbed Yutaka Fukufuji, the goaltender of the Japanese national team. Looks like another area for college assistant coaches to start recruiting.

The ECAC, much maligned as the weakest of the "big four" college conferences, had a good weekend. Sixteen current or future ECAC players were selected, one more than Hockey East.

The New York Rangers and Columbus Blue Jackets called eighth- and ninth-round time outs, a sure-fire way to feel the wrath of a weary crowd. At least the Jackets used their extra time to settle on a college player, Clarkson-bound Grant Clitsome.