November 20, 2002
East Notebook
ECAC | HOCKEY EAST | MAAC
The new Coach Parker
By Nate Ewell
Hockey-wise, Fred Parker will tell you, he hasn't missed a beat.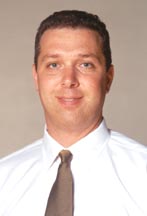 Clarkson interim head coach Fred Parker
That's not to say the last few weeks haven't been trying for Parker, now Clarkson's interim head coach for the 2002-03 season. He was, after all, brought to Potsdam by Mark Morris over the summer, well before the university fired Morris Nov. 15.
"Obviously it's been a tough situation all around," Parker said this week. "Mark Morris is a friend of mine, so that's difficult.
"But hockey's like that sometimes," he added. "It throws you a curveball and you just have to do your best."
Parker's doing that, working with the Clarkson team and managing his added duties as head coach. These days, when he's not on the ice, he's probably in a meeting. He took a minute to chat on Tuesday, interrupting a meeting about the vacant assistant coaching position on what is, all of a sudden, his staff.
"I'm getting to know the lay of the land," he said. "Obviously there are a lot more things that are going on when you are the head coach, whether that's a week or two or more."
Meanwhile, the former Canadian junior coach prepares his team to challenge for the ECAC title.
"Obviously there's a bit of a learning curve for me (in terms of the league)," he said. "But hockey's hockey. You've got to figure out what teams are using what systems and you go from there."
With a 2-1-1 record since Morris was first placed on administrative leave, the Golden Knights appear to have turned around after an 0-3-0 start. Despite Saturday's 2-1 loss to Harvard, Parker likes what he's seen.
"We've got to like our goaltending," Parker said. "It's been very strong. And we have the ability to play good team defense. Defense is the hardest thing to coach, and these guys are well-coached defensively."
Parker deflects talk of the Golden Knights' permanent head coaching position, not even acknowledging that he would be one of the candidates. But he clearly understands that a strong year would give him a shot at the position.
"Everyone who knows me knows that's not the way I think," he said, when asked about the job. "I came here to coach hockey and I'll do that to the best of my ability. It's not unlike being a player in that regard. You just do the best job you can – you don't have a whole lot of control over the situation, so you don't worry about that."
FIVE MORE NOTES NO FAN SHOULD BE WITHOUT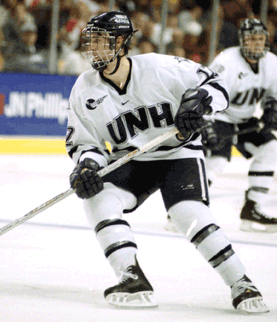 New Hampshire's Colin Hemingway will miss Friday's game at Maine after taking a fighting major during overtime of Tuesday's big win over Boston College. BC's Patrick Eaves, assessed a spearing penalty on the play, will miss the Eagles' game vs. Northeastern.
1. Defense in Durham – For all the explosiveness Colin Hemingway, Lanny Gare and Sean Collins provide, New Hampshire has risen to the top of the Hockey East standings for one big reason: defense.
The Wildcats have shut down two of Hockey East's most feared lines in their last two games. They held Providence's DiSalvatore-Fregoe-Rask trio scoreless in a 3-0 shutout last Friday, and limited Boston College's Eaves-Eaves-Voce group to one assist in Tuesday's No. 1 vs. 2 showdown win.
"'There wasn't a lot of space out there,'' BC head coach Jerry York told the Boston Globe after UNH's 3-2 overtime victory. ''Both teams played good defensively. They bottled us up a lot.''
Dick Umile's group has done it without senior Garrett Stafford, who was expected to be the leader of the defensive corps. Stafford was declared academically ineligible for the fall semester.
Meanwhile, Umile has built his team's depth on the blue line by rotating players in and out of the lineup. Only junior Tim Horst and senior Kevin Truelson have played all 10 of the team's games. Horst (3-4—7), the No. 2 scorer among Hockey East defensemen, leads the conference with a +13 rating overall (+8 in league games).
Horst and his colleagues get another test right away, traveling to Orono this weekend to try to shut down Maine's suddenly red-hot offense.
Yeah, What He Said
"The winner will be showered with praise, and the loser will be taunted and booed until my throat is sore."
– Homer Simpson
Think the rest of the ECAC wouldn't like to know Bob Gaudet's secret when it comes to beating Cornell?
Dartmouth's 5-2 win Saturday night gave the Big Green a 7-0-1 mark in their last eight against the Big Red. In that same time, Dartmouth is 24-32-12 against the rest of the ECAC.
Meanwhile, Cornell is 43-19-5 against the rest of the ECAC during its 0-7-1 stretch against Dartmouth.
In other words, nearly 25 percent of Dartmouth's ECAC wins since Feb. 13, 1999, have come against Cornell (and over 25 percent of Cornell's ECAC losses in that time have been to Dartmouth).
With players like senior defenseman Trevor Byrne (3-5—8) and sophomore forward Lee Stempniak (7-4—11) leading the way, Gaudet should see some improvement in his team's performance against the rest of the league.
But even if he doesn't, I bet they'll feel pretty confident heading into their Dec. 7 trip to Lynah Rink.

2. Minutemen: surprisingly good – Based on the number of people calling them "surprisingly good," you might get the Massachusetts Minutemen and Eminem's 8 Mile confused.
Instead of acting debuts, many of the Minutemen are making their collegiate debuts. Don Cahoon directs a lineup featuring as many as 10 freshmen, including Gabe Winer in a starring role as goaltender.
"He's extremely grounded emotionally," Cahoon says of Winer, crediting him for consistently giving the Minutemen a chance to win. "He has a great disposition for the position – he can handle the intensity and pressure that go with it."
Saturday night Winer kept Massachusetts in it during an early onslaught from UMass Lowell. The result: a comeback 4-3 victory, a weekend sweep of the River Hawks, and the Alumni Cup (which goes to the winner of the season series between the teams).
Cahoon's club, picked to finish eighth in the conference, is now 4-4-0 overall (3-3-0 in Hockey East). A win Thursday against Iona would give the Minutemen an over-.500 record nine games into the season for the first time since 1995-96 (6-3-0).
And Cahoon – raspy voice aside – has enjoyed it all.
"We've had a lot of tough games – a 4-3 win over RPI, an overtime loss to Nebraska-Omaha, an overtime loss to Providence," Cahoon says. "There are no easy nights for us. But you look at the freshmen in the face, and it's fun watching them develop and improve."
The wins over UMass Lowell were a just reward for Massachusetts after a 1-0 loss at Maine the weekend before (against a Maine team, lest you forget, that posted 15 goals in two games last weekend). And they helped the Minutemen equal their Hockey East win total from all of last season.
At that rate, Massachusetts wins won't be a surprise for long.
3. An eerie result – Erie, Pa., was certainly an unlikely place for Iona to pick up its first win.
But the Gaels pulled out a 5-4 overtime victory Saturday over Mercyhurst, improving to 1-9-1 on the season while Mercyhurst suffered its first MAAC loss of the year (4-5-1 overall, 4-1-1 MAAC). Junior Tim Krueckl's deflection goal 41 seconds into OT provided the difference.
Mercyhurst started last season 20-0-3 in the MAAC (11-0-1 at home) before the Lakers suffered their first conference loss, Feb. 23 to Sacred Heart.
Iona had some good fortune Saturday, even if things seemed to be turning against the Gaels when goaltender Ian Vigier had to leave the game after taking a shot to the head midway through the second period. With just one second remaining in the middle frame, freshman defenseman Ryan Swanson scored his first career goal on a 5-on-3 Iona power play, their first extra-man goal in 39 opportunities.
That tied the score 2-2 and helped lift the Gaels to the win, the biggest upset of the young MAAC season.
4. Red-hot Crimson – Harvard's win at Clarkson didn't just spoil Fred Parker's perfect record.
It also gave the Crimson their first two-game sweep at Clarkson and St. Lawrence since the 1992-93 season.
"When you consider it's been 10 years—yes, it is a big accomplishment," head coach Mark Mazzoleni said. "It is a very difficult trip and both these teams have played extremely well at home over the years."
The Crimson appear to have fully recovered from their 4-0 loss to Brown to open the season. Dominic Moore and Tim Pettit have captured the last two ECAC Player of the Week awards, with Pettit earning the honors this week with a three-goal effort that included a short-handed goal in each game.
Moore, who has a four-game point-scoring streak (4-3—7), will play his 100th career game Friday at Cornell.
Three Great Weekend Getaways
1. Harvard (Fri.) and Brown (Sat.) at Cornell
Harvard took two out of three from Cornell last year, including the ECAC tournament title game, and the two teams are league co-favorites this year. All of that adds a little spice to an already hot rivalry. Saturday's game features the two top goaltenders in the ECAC as well.
While You're There: Get to Ithaca on Thursday, drop by Benchwarmers and have them throw the UMass Lowell-BU game on TV. You can join the Big Red fans and root against the Terriers, since they've got to get ready for Jack Parker's boys to visit next week.
Runners-up:
2. New Hampshire at Maine (Fri.) – The Wildcats have excelled on defense (see above), while Maine posted 15 goals in two games last weekend. UNH holds the top spot in the conference, but Maine, with an eight-game unbeaten streak, is 3-0-0 in league play.
3. Mercyhurst at Rensselaer (Sat.) – Last Saturday night both of these teams saw their opponents earn their first win of the season. Neither plays Friday, so they have an extra day to reflect on those losses. I think they'll be ready for the puck to drop.
5. Oil drillings – Fair-weather Bruins fans awaiting the inevitable fall, take note: the Edmonton Oilers should be every college hockey fan's favorite team.
The Oil feature more former college players than a high-level men's league in Medford. Among the smart kids, Marty Reasoner (Boston College) and Todd Marchant (Clarkson) both made headlines this week.
Reasoner returned to Alberta after an ever-so-brief demotion to Hamilton, and has been red hot. He's been centering Ethan Moreau and highly-touted Oilers' prospect Ales Hemsky on the second line.
"It's good to get into the game and feel that you're a part of the end product in helping the team win,'' said Reasoner. "A lot of the credit goes to Ethan Moreau, he's kind of the catalyst. He's relentless and we kind
of feed off of that. The way he plays you can't help but try and step your own game up.''
Marchant, meanwhile, made waves with some slightly bolder statements after a game with Cliff Ronning and the Minnesota Wild.
"Cliff Ronning is an embarrassment to the sport," Marchant said. "If they're going to call it one way, they should call the dives, too. There's no place in the game for that."
Yikes. It's probably a good thing our Oilers aren't in the same division as the New Jersey Devils.
THIS WEEK'S NHL TRANSACTIONS
Columbus Blue Jackets – Recalled center Blake Bellefeuille (Boston College) from Syracuse of the AHL.
Nashville Predators – Recalled forward Greg Koehler (UMass Lowell) from Milwaukee of the AHL. Recalled forwards Greg Classen (Merrimack) and Darren Haydar (New Hampshire) from Milwaukee on Sunday before re-assigning them to Milwaukee on Monday.
New Jersey Devils – Recalled center Craig Darby (Providence) from Albany of the AHL.
Tampa Bay Lightning – Exercised contract option for coach John Tortorella (Maine) for the 2003-04 season.
MINOR PRO TRANSACTION OF THE WEEK
Atlantic City Boardwalk Bullies (ECHL) – Returned forward Brendan Walsh (Boston University and Maine) to Wilkes-Barre of the AHL.
FRIES AT THE BOTTOM OF THE BAG
• Darren Haydar (New Hampshire) made his NHL debut on Sunday, while Don Sweeney (Harvard) played in his 1,000th career NHL game last Thursday.
• New Hampshire sophomore Sean Collins scored on both shots he took in Tuesday night's showdown with Boston College. Collins has seven goals on 20 shots this year, an amazing 35.0 percent.
• Brown has already scored eight power-play goals (36.4 percent), half of their PPG total from all of last season.
Three Stars
3. The Cornell Daily Sun
The school's student paper gave the Harvard game the hype a great college rivalry deserves. Be sure to see the reprinted column from ex-Big Red captain Brad Chartrand.
2. The Ivy League
Brown, Harvard, Cornell and Yale occupy the top four spots in the ECAC.
1. Hat salesmen, Hamden, Conn.
Matt Craig, Brian Herbert and Wade Winkler have given Quinnipiac hat tricks in each of its last three games. Even more special for Winkler: the school's new mascot, Boomer the Bobcat, made his first appearance at the Northford Ice Pavilion on Saturday.
• Thomas Pock has moved to defense for Massachusetts, but still contributes offensively. He had a goal and an assist in each game last weekend and earned Hockey East Player of the Week honors.
• Clarkson's next nine games are all outside of the ECAC.
• The Golden Knights will honor their 1961-62, '65-66 and '69-70 teams – all of which were NCAA runners-up – at Saturday's game vs. Bemidji State.
• With Princeton and Iona winning Saturday night, every team in the country has at least one win. UMass Lowell (0-6-0 in Hockey East heading into Thursday's game at Boston University) is the lone team in the East without a conference win.
• Holy Cross holds the nation's longest current winning streak at seven games.
• One key to Maine's 7-3 win over Boston University was a 5-on-3 penalty kill early in the third when the Black Bears were clinging to a two-goal lead. Larry Mahoney of the Bangor Daily News writes that Maine has killed off all eight two-man disadvantages it has faced this season.
• Maine scored five goals in a span of 5:08 Friday at Northeastern, as Huskies coach Bruce Crowder used all three of his goalies in the second period.
• Massachusetts has outscored opponents in the third period 10-1 over the last seven games. Goaltender Gabe Winer has a .966 save percentage in the third period this season.
• Canisius has won four out of five games after starting the season 0-6-0.
A variety of sources were utilized in the compilation of this report.