November 26, 2002
East Notebook
ECAC | HOCKEY EAST | MAAC
OK, you can exhale now
By Nate Ewell
That collective sigh of relief that echoed this week across the 18 miles of coastline that link Maine, New Hampshire and Massachusetts can be easily explained.
After a week in which the three top teams in Hockey East faced off against each other in a pair of spectacular overtime games, they all take a well-deserved break from conference play.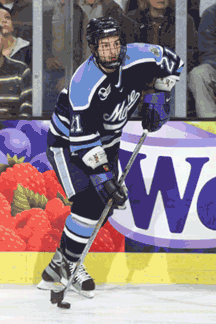 Maine forward Colin Shields (Photo by Monty Rand)
This week's schedule
Last week's East Notebook
This week's notebook is slightly abbreviated due to the Thanksgiving holiday. We will return in full force next week.
Of course, Tuesday night Boston College suffered the understandable letdown at Dartmouth, and Maine needed a late goal to beat Quinnipiac, 2-1. New Hampshire gets its letdown test on Saturday, at home, against Connecticut.
But BC's loss doesn't count in the Hockey East standings, where these three teams figure to be battling until the regular season ends March 1. (In fact, when you consider that Dartmouth is underrated and 6-0-0 at home, the loss doesn't look that bad.)
Regardless, they were great hockey games for fans, players and coaches alike.
"That was a great hockey game," Maine head coach Tim Whitehead told the Union Leader. "The atmosphere was fantastic. I thought UNH controlled play for the most part. We did feel pretty fortunate to come out of it with a win."
Fortunately for fans, there's not a long wait before the next big Hockey East showdown. Following Tuesday night's games, both Boston College and Maine relax during the Thanksgiving holiday and prepare for the Black Bears' visit to Conte Forum Dec. 6-7. Maine will enter the weekend with seven straight wins and a 10-game unbeaten streak.
THREE MORE NOTES NO FAN SHOULD BE WITHOUT
1. Meanwhile, in the MAAC – While the top teams in Hockey East were beating up on each other, two under .500 teams were beating the leaders of the MAAC.
Fresh on the heels of last week's Mercyhurst upset loss to Iona, Army handed Quinnipiac a 3-1 defeat and Connecticut beat Holy Cross, 3-2. Both upsets came on Friday night.
Freshman Brad Roberts backstopped Army to its win over Quinnipiac, stopping 53 shots.
"That was one of the best performances at Tate Rink that I can remember," said Army head coach Rob Riley.
The two teams combined for a remarkable 100 shots on goal – 54 by the Bobcats, 46 by the Black Knights – as Justin Eddy made 43 saves for Quinnipiac. Three different players scored for Army, which withstood a 24-12 Quinnipiac shot advantage in the third period, after Army had already built a 3-0 lead.
"(Roberts') second- and third-period efforts were tremendous, considering the enormous pressure he was under. It was outstanding for a freshman to respond the way he did for a team that really needed a win." Riley said.
Connecticut beat Holy Cross thanks to senior captain D.J. Miller, who scored all three Huskies' goals. Miller doubled his goal total for the season (6-2—8) and earned MAAC Player of the Week honors. The victory was just Connecticut's third of the year, while it snapped Holy Cross' seven-game winning streak.
Connecticut couldn't maintain the momentum in an 8-0 loss to Union Sunday, and the going doesn't get any easier this weekend. The Huskies visit New Hampshire for the program's first-ever game against a nationally-ranked opponent.
Three Great Weekend Getaways
1. Boston University at Cornell (Sat.-Sun.)
These meetings renew a great rivalry from the old ECAC, much like the College Hockey Showcase games do this weekend out west. "We hear their crowd really gets into it," BU captain Freddy Meyer said in anticipation of his team's visit to Lynah. "And we hear all about the old BU-Cornell rivalry, from back when Coach was playing."
While You're There: Sick of turkey? Try some Asian cuisine at Taste of Thai. The chicken panang comes highly recommended.
Runners-up:
2. Providence and Northeastern at Clarkson and St. Lawrence – North Country is full of storylines this weekend, as Providence tries to right the ship, Clarkson continues its tumultuous season, and Northeastern and St. Lawrence try to get untracked.
3. Princeton at Massachusetts (Sun.) – Don Cahoon welcomes his old team to the Mullins Center. The Tigers (1-7-0) are struggling, while the Minutemen continue to impress. They outshot New Hampshire 32-18 on Sunday, but were turned away by Mike Ayers in a 4-0 shutout.
2. Atop the ECAC – After Tuesday night's upset of Boston College, no one's about to overlook Dartmouth. But even considering the Big Green's resurgence, the Cornell-Harvard game earned its status as the ECAC's most compelling game of the first month of conference play.
"You need a game like that, and that's no disrespect to the ECAC," Harvard coach Mark Mazzoleni said, "but when you play a top-notch team like that – and the same with them playing us – it helps you find out where you've got to work on your game."
Mazzoleni liked what he learned Friday night at Lynah, even though his team lost, 5-2.
"We continue to battle, and I like that about our team," he said. "We just kept coming, and over the long haul you're going to win your share of games when you do that. It's a mentality that you've got to create and we started to move in that direction last year and we're getting there."
The Crimson certainly competed hard Saturday night, beating Colgate, 7-1.
Meanwhile, Cornell's wins over Harvard and Brown (5-0) helped the Big Red shake off their loss the previous Saturday to Dartmouth.
"It was a well-fought, hard hockey game," Cornell head coach Mike Schafer said after the Harvard game. "They've got a great hockey team and that kind of game is just going to make both of our teams right now, a better hockey team. That kind of competition is the only way you find the true strengths and weaknesses of our hockey team and we found both tonight."
3. SWAPPING E-MAIL WITH ... QUINNIPIAC'S BRIAN HERBERT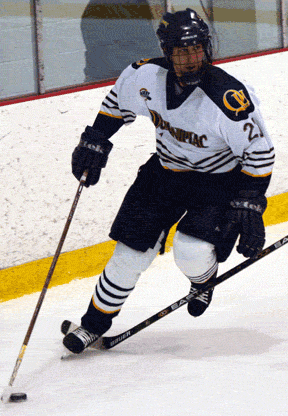 Senior forward Brian Herbert (5-15—20) leads the MAAC in scoring, and his 152 career points lead all active Division I scorers. We caught up with him via e-mail on Monday while he and the Bobcats were in Orono preparing for Tuesday night's 2-1 loss to Maine.
Inside College Hockey: I know this was a tough weekend for you guys, losing to Army Friday then in a close one to Northeastern Saturday. What was more disappointing – to drop a league game or to just miss a chance to win against a Hockey East team?
Brian Herbert: You never want to lose any game, but I think that the loss against Army stings more than the loss to Northeastern. It would have been nice to beat a Hockey East team, but that would have been a bonus. Losing a conference game hurts us more.
INCH: Do these non-league games carry a little extra importance fo you guys? Do you feel like you're proving the MAAC on a national level a little bit?
BH: Definitely. I don't think that the MAAC will start to gain respect until we start to compete and win non-conference games. I would like to think that we are starting to gain some national respect, but I still think that wins are a must before other leagues take us seriously.
INCH: You're in a tough stretch travel-wise. What types of things do you do on the road to pass the time – both on the bus and in the hotel?
BH: On the bus, some of the boys watch movies, while the others play cards. When we get to the hotel, many of the boys play cards while others watch TV.
INCH: Favorite road trip in the MAAC?
BH: Sacred Heart, for sure. It's only about a 15-minute ride and they are a big rival of ours.
INCH: What's one thing you miss when you're away from school?
BH: I really don't miss much when we are away from school. It's a relief when we get a break from school and the work.
INCH: I know you're from British Columbia, so your Thanksgiving has come and gone ... but what are your plans to celebrate U.S. Thanksgiving?
BH: As of right now, I will be in New Hampshire at my girlfriend's house. If the weather is not cooperating, I will stay in Hamden.
INCH: What was the nicest perk about playing in the NCAA Tournament last year?
BH: The nicest thing was seeing the support that our school showed us in Worcester. Our fans were great. I'm not sure of the number that showed up, but they sure were enthusiastic.
THIS WEEK'S NHL TRANSACTIONS
• Clarkson named former St. Lawrence defenseman Mike McCourt assistant coach, rounding out interim head coach Fred Parker's staff.
• Boston University goaltender Sean Fields made 36 saves Tuesday night against Harvard to earn his third career shutout. The first two came against Merrimack. "It was good to get a shutout against someone other than Merrimack," Fields said.
• Yale scored four straight goals to erase a 4-1 Vermont lead Saturday night and win, 5-4. Senior forward Evan Wax scored four of the Elis' five goals in the game.
• Brown traveled to Cornell and Colgate and was shut out in back-to-back games, a first for the Bears since 1960-61.
• Union freshman goaltender Kris Mayotte improved to 5-0-1 with the shutout win over Connecticut.
• Cornell senior Shane Palahicky has 11 goals and 40 points in his career. Three of those goals and nine of those points have come against Harvard. Did the chance to play in that kind of rivalry help convince him to go to Cornell? "It's the biggest reason," Palahicky said. "The program's great but when you get out there and you see the crowd and you see how loud they are and how crazy they are it just makes the decision so much easier."
• Sacred Heart and American International dueled to a scoreless tie Friday night, with sophomore Chad Davis (AIC, 38 saves) and senior Eddy Ferhi (Sacred Heart, 24 saves) earning the shutouts.
• Quinnipiac was 0-for-2 on the power play Tuesday night at Maine, its first game without a power-play goal this season. Maine has allowed just five power-play goals all year in 62 short-handed situations (a Hockey East-leading 91.9 percent), while scoring four short-handed goals.
• Clarkson goaltender Mike Walsh has not allowed an even-strength goal in his last three games. Walsh is under .500 at 2-3-0, but has a goals-against average of 1.82 and a save percentage of .932.
• Dartmouth has won eight home games in a row, dating back to last season, with a 6-0-0 record in Thompson Arena this year. Brown has won 10 in a row at home.
• Congratulations to St. Lawrence coach Joe Marsh, whose daughter, Katie, earned All-America honors in the NCAA Division III cross country championships. Katie, a sophomore at Williams, finished 33rd while the Ephs captured the national title.
A variety of sources were utilized in the compilation of this report, including special contributions from Joe Gladziszewski.