January 9, 2003
Comings and goings in Hockey East
By Nate Ewell
East Notebook
ECAC | HOCKEY EAST | MAAC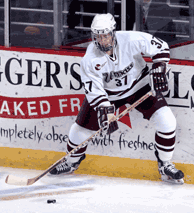 Junior defenseman Nick Kuiper and the Massachusetts Minutemen are 7-2-1 in their last 10.
Related Links
As Massachusetts erased a 2-0 Boston College lead and wrapped up a 3-2 win at Conte Forum Friday night, it made the start of the season seem like a distant memory – as antiquated as Grand Theft Auto on the original Playstation.
These two teams – which opened the year with a 6-0 Eagles win in Amherst – have been high-tailing it in opposite directions lately. BC, after an 8-0-1 start, is 2-5-2 in its last nine; UMass, which started 2-4-0, is 10-3-1 in its last 14.
Minutemen head coach Don Cahoon may protest that his young troops aren't a top-tier Hockey East team just yet, but they've got two more wins than the highly-regarded Eagles (albeit in two more games). And even with only two seniors on the roster, they're playing like veterans – their last three victories have come by one goal. UMass is 6-3 on the year in one-goal games and have come back from two-goal deficits to win four times.
''We're certainly not in the upper echelon,'' said Cahoon. ''But we're a young team that works hard.''
With a two-game set against Hockey East's other surprise team, Merrimack, this weekend, UMass could continue a charge towards possible home ice in the first round of the Hockey East tournament. This after finishing ninth (of nine) in the conference each of the last two years.
Meanwhile, Jerry York and BC try to battle through injuries and bad puck luck. All five Eagle losses this season have come by one goal, so clearly it's not as bad as the 2-5-2 stretch might indicate.
Ryan Shannon's return from the World Junior Championship should help, as will the pleasant surprise that Ben Eaves should be back for this weekend. Eaves was originally expected to miss at least three weeks with a groin injury.
"Certainly we're in a tough cycle,'' BC coach Jerry York told the Boston Herald. "We've played some very close games and we've tied some, lost some. We just have to keep plugging.''
FOUR MORE NOTES NO FAN SHOULD BE WITHOUT
1. Happy returns? – It's easier to predict New England winter weather than guess how players will respond in their first games back from the World Junior Championship. Some return bolstered by the experience of playing against top competition with national pride on the line; others are exhausted from a grueling schedule or disheartened by disappointing results.
Several Eastern schools welcome top young talent back to their lineups this weekend (click here for the U.S. roster, and don't forget Cornell's Dave LeNeveu, who played for Team Canada). One good thing – unlike many years, players didn't have to fly from Europe, since the tournament was in Nova Scotia. And since the bronze medal game was on Sunday, they've had a few days to recuperate.
Who catches fire and who cools off could have a big effect on the league races. Could Ryan Shannon (BC) or Chris Higgins (Yale) give their team a big spark? Shouldn't Ryan Whitney and Brian McConnell make BU even better? Of course. But keep an eye out. A post-WJC slump could really hurt teams that expect too much from these returning freshmen and sophomores.
Yeah, What He Said
"If you ask the president which he'd rather win, New Hampshire or the election, he'd have to think before he answered."
– Josh Lyman, The West Wing
Certainly Dartmouth and New Hampshire have bigger goals in mind this season than being crowned the best team in the state. But given the way both are playing, next Wednesday's matchup at Manchester's Verizon Wireless Arena deserves a little extra attention.
The Wildcats were very impressive in two wins last week after a so-so December. In conference play, they've got Hockey East's best offensive player this year (Lanny Gare) and its second-best goaltender (Mike Ayers).
Meanwhile, Dartmouth has turned heads with its 9-4-0 record, including a title in the Ledyard National Bank Classic in which it beat a CCHA team (Notre Dame) and a Hockey East team (UMass Lowell). The Big Green are 8-1-0 since Nov. 9.
It's fantastic to see this game taking place at the state's premier arena. The Wildcats hold a commanding 27-15-1 lead in a series that, admittedly, has never been much of a rivalry. But this year, at least, the being the best team in New Hampshire really means something.
2. Yeah, but could he stop dad? – Hall of Fame forward Mike Gartner was one of the best pure goal scorers the game has ever seen. But while it might have come naturally to him, goal scoring was not among the traits he passed along to his son, Josh.
That's just fine for Yale head coach Tim Taylor. Over the holidays, Josh – a freshman goaltender – emerged as the third goaltender to start between the pipes for the Bulldogs this season.
Gartner made his collegiate debut in hostile territory, stopping 17 of 18 shots in a relief appearance against Minnesota at Mariucci Arena. The next day he stopped 44 of 45 Bowling Green shots to help earn Taylor's 300th career victory.
"He was a real positive," Taylor said after the Minnesota game. "He made some very, very good saves and was competing ferociously. That was a really good way to get his feet wet in Division I."
Gartner faced another top-10 opponent last week, as his second straight start came against New Hampshire. Although he was lifted in the third period of the 5-0 loss, he made some impressive stops to keep it a one-goal game through the first 35 minutes, including a save on a Sean Collins breakaway.
Gartner gives Taylor – who says, "my rule of thumb is to play whoever is hot" – a strong option in goal to support Yale's outstanding offense, which ranks fifth in the nation (4.29 goals per game). Gartner has a 1-1-0 record, a 3.02 goals-against average and a .920 save percentage, numbers which, in limited action, compare well to sophomore Peter Cohen, who has seen the bulk of the work this year (7-4-0, 3.32, .877).
The Bulldogs face another potent offense Friday in another hostile environment – Harvard's Bright Center. With the eight top scorers in conference play all on the ice, the goaltenders – Harvard's Dov Grumet-Morris and Gartner or Cohen for Yale – had better be sharp.

Junior Joe Lovell leads Bentley's balanced scoring attack.

Bentley in Division I

1999-00

7-23-2 (7-18-2 MAAC)

2000-01

4-23-2 (3-21-2 MAAC)

2001-02

4-26-2 (4-20-2 MAAC)

2002-03

7-10-0 (6-5-0 MAAC)
3. Fast turnaround – Maybe there's something to the theory that the MTV generation has short attention spans. Bentley first-year head coach Ryan Soderquist, the youngest coach in Division I (25 years old), hasn't taken a gradual, patient approach when it comes to turning around the Falcons' fortunes.
Indeed, rebuilding has occurred well ahead of schedule in Watertown, where Bentley stands tied for third in the MAAC with 12 points (6-5-0). Even despite Tuesday night's surprising 7-2 loss to last-place Fairfield, the Falcons victory total in the MAAC is one shy of their total from the last two years combined. The three-game win streak that the Stags snapped was Bentley's first since making the move to Division I in 1999-2000.
Sophomore goaltender Simon St. Pierre has been a big reason for the resurgence, as he earned his second straight MAAC goaltender of the week honors following last weekend's sweep of Sacred Heart. He stopped 57 of 61 shots (.934 save percentage) in the two wins.
Offensively, Soderquist relies on a balanced attack, without one player among the top 17 scorers in the MAAC. Junior Joe Lovell, with 13 points in 17 games, leads a group of 10 players with between two and six goals.
It's a young team, too, as juniors and seniors have combined for only 11 goals (more than half from Lovell). Young or not, Soderquist certainly has their attention – and that of the rest of the league.
4. Right back where we started from – If the Boston College-Massachusetts game made the start of the season seem like a distant memory, there was Providence's upset of Maine to remind you that it really wasn't that long ago. The calendar said 2003, but it felt like October 2002 in Schneider Arena as the Friars raced to a 4-0 lead and won, 4-2.
Returning from a long layoff (28 days), Providence recaptured the glory of its 7-0-0 start and ended Maine's 16-game unbeaten streak. Terrific special teams (one short-handed goal, two power plays) helped a great deal, as did the return of Peter Zingoni (two goals), who missed four games due to injury.
"We put a lot of emphasis on special teams this week," Zingoni said. "We had a great practice week, things were flowing well, and we proved it tonight."
Meanwhile, as Providence's Bob Goepfert was outplaying Maine's Jim Howard at the World Junior Championship, the Friars also got the better of the battle between the teams' "other" goalies. Nolan Schaefer stopped 31 shots to earn the win, perhaps establishing the Friars' goaltending tandem as the best in Hockey East, if not the nation.
And although they lost the next night to Massachusetts, maybe a little time off was just what the Friars needed to feel like things were starting all over again.
Three Great Weekend Getaways

1. Yale at Harvard (Fri.)
The fact that the conference's top eight scorers will be playing in this game is testament to how good these two offenses are (and a little bit to how wacky the ECAC schedule can be before Harvard and Princeton take exams).
While You're There: There are plenty of places in Harvard Square, just across the river from Bright, worth checking out. But I used to make pizzas at Giannino's, and if they still make 'em like I used to, you can't go wrong.

Runners-up:
2.Holy Cross at Mercyhurst (Fri.) – The MAAC's second- and third-place teams both snapped six game winless streaks Saturday night (in fact, the Crusaders had lost six straight). The ships appear to have righted just in time for this key league matchup – and heck, even if they haven't, it's better than seeing the premier of Just Married.

3. Rensselaer at Union (Fri.) – These two Capital District rivals have hovered around .500 in the league all year, each showing signs that they could make a run into the upper half of the ECAC. The Engineers hope to finish off a season-series sweep of the Engineers for the first time since 1995-96.
• In the championship game at the Everblades College Classic, Maine's lineup featured just one true freshman, while Massachusetts featured just one senior.
• Credit New Hampshire with some strong performances at the right times last week. Facing one of the nation's best offenses at Yale, the Wildcats turned in a shutout. Then, against one of the nation's hottest goaltenders in Joe Exter of Merrimack, the offense hung eight goals on the board (six against Exter). The defense was bolstered by the return of Garrett Stafford, a much needed addition with the loss of senior stalwart Kevin Truelson to a nagging ankle injury.
• Ten players scheduled to participate in the American Hockey League All-Star Game, which will be held in Portland Feb. 3, played college hockey in the East. Yale's Ray Giroux, New Hampshire's Darren Haydar, Maine's Niko Dimitrakos and Rensselaer's Brian Pothier were selected as starters. Former Black Bears Chris and Peter Ferraro will serve as captains for one team.
• Quinnipiac, with a stranglehold on the MAAC standings at 10-1-1 in the conference, faces a challenge in a home-and-home against Iona this weekend. The Gaels are 4-1-0 in their last five conference games, starting with their upset of Mercyhurst.
• This year marks the first time since 1920 that Massachusetts beat both BC and BU in a season and the first time ever they beat BC, BU and Northeastern in one year.
• Boston University has done everything right during its six-game winning streak, outscoring opponents 29-9. Offensively, credit senior John Sabo, who leads Hockey East with nine goals in conference games, and Frantisek Skladany, who has 5-4—9 during the winning streak.
Three Stars
3. Dartmouth's road game
The Big Green finally won away from Thompson Arena, beating Vermont, 3-2. They get a bigger test Friday at Clarkson, where they've never won at Cheel (0-10-1).
2. Four-year players
The top nine scorers in Hockey East (overall) are all seniors.
1. YES Network
Hearty thanks for televising three U.S. games from the World Junior Championship. Maybe if the Yanks hadn't given Roger Clemens $10 million, you could show more college hockey.
• Cornell's Todd Marr did an exemplary job in his first action of the season, filling in for starting goaltender Dave Leneveu. Marr posted a 2-2-0 record with a 1.76 goals-against average and a .923 save percentage.
• UMass senior forward Tim Turner has a career-best 10-game point-scoring streak. Maine senior forward Martin Kariya has 6-8—14 during an eight-game streak of his own.
• Connecticut's Matt Grew had a hand in every goal (1-3—4) as the Huskies earned a 4-4 tie with Mercyhurst Friday night, and recorded the team's only goal in Saturday's loss.
• Quinnipiac's 32.2 percent power play is second in the nation behind only Colorado College. The Bobcats are even better in MAAC action, at 33.8 percent.
• Clarkson alumnus Todd White, now a member of the Ottawa Senators, was named the NHL's Player of the Month for December. White had 7-11—18 in 15 GP as the Senators went 10-3-2-0.
• Jerry York enters Friday's game against UMass Lowell with 654 career victories, one shy of Inside College Hockey's own Jeff Sauer for fifth on the all-time list.
A variety of sources were utilized in the compilation of this report.