The Dean's List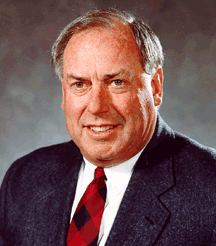 Jeff Sauer – the fifth-winningest coach in college history – writes a bi-weekly column for Inside College Hockey.com. "The Dean" was the head coach for 31 years at Colorado College and Wisconsin, where he won two national titles. Sauer retired at the end of the 2001-02 season.
Previous Editions of The Dean's List
On early departures for the pros
On this year's rule changes
On rinks, old and new
On major junior eligibility
On The Dean's favorite things
Looking ahead to the WJC
For your listening pleasure, find The Bud Song on Wisconsin's official site.
thedean@insidecollegehockey.com
Part of the fun in doing this column is the opportunity to interact with you, the hockey fan. Please send your questions or comments to thedean@insidecollegehockey.com.
This Week's Question
Coach,
Who were some of the U.S. players that impressed you?
– Brian P. Stoughton, Wis.
We had a lot of them. Zach Parise of North Dakota was our leading scorer, and he is as good as advertised. He gets a lot of attention from the media and handled it well. He's a good player.
So is Chris Higgins of Yale. We used him in a lot of critical situations and he might have been our best player.
But we had a lot of good players, including Ryan Kesler from Ohio State. I was impressed with Ryan Shannon of Boston College and the two kids from Michigan (Dwight Helminen and Eric Nystrom). Barry Tallackson hadn't scored for Minnesota and he had three goals for us.
Mark Stuart of Colorado College is going to be a big-time player and Ryan Suter, the defenseman who is going to Wisconsin, really stepped up when one of our major junior players went down in the first game. Ryan become an important part of the program. He looked right at home out there, which is good because he'll be eligible for the junior team again next year.
January 7, 2003
The Dean's List by Jeff Sauer
HALIFAX, NOVA SCOTIA – While many of you spent the holidays with family and friends, I had the chance to take in the IIHF World Junior Championship as an assistant coach for Team USA. What a unique and unforgettable way to spend the 12 days of Christmas.
As most of you know, we came in fourth in the tournament with a 4-1 record in the preliminary round and suffered 3-2 losses to Canada, the host team, in the semifinals and Finland in the bronze medal game.
I think from the coaches to the players, we'd tell you we were disappointed we didn't win a medal. In 27 years of participating in the tournament, the U.S. has only had three medals (two bronze and a silver). To get that close to winning one makes it a letdown right now, but what an experience.
I think I saw about 27 games over two weeks and seemed like everyone in hockey was there – National Hockey League scouts and general managers, media, agents and the best teenage players in the world. I enjoyed seeing the different styles of play from the teams of the world and the talent level was amazing.
It was a thrill to see future NHL superstars performing at that high level while playing for their countries in pressure situations.
Remember some of these names because you'll be hearing about them in the NHL for years to come:
A 17-year-old Russian kid named Alexander Ovechkin was incredible. His mom was on the Olympic basketball team. He's a future superstar. And the Finns had a defenseman, Joni Pitkanen, who is big and strong and controls the game. He, a forward named Tuomo Ruutu, and Kari Lehtonen, who was really strong in goal, are guys to watch for. The Czechs had a great prospect in Jiri Hudler and Canada's goalie, Marc-Andre Fleury, just stood on his ear the whole tournament. Fleury kept the kid from Cornell (Dave LeNeveu) on the bench for most of the tournament.
As a coach it was great preparing to play against different styles. It was fun to work with head coach Lou Vairo and the assistants, Ronnie Rolston (an assistant at Boston College) and Mike Hastings (head coach of the USHL's River City Lancers).
The different styles meant we had to make quite a few adjustments. The only teams that forechcked us were the Canadian team and the Swiss team. Everyone else stayed back and played the trap. They basically gave us a third of the ice to set up and we weren't used to that. Each country was unique in its system of play. It is fun to coach against different challenges and adjust. I had a lot of fun getting ready in this tournament.
I liked our team. We had a good bunch of kids who came together right away and that was the key. I know the coaching staff, and I'm sure the players, would like to have bronze game back. If we had played well at all in the first period, we would have beaten the Finns.
But as Lou said, you have to be ready. This isn't like North Dakota playing Minnesota. This is playing for your country against other countries. The level of patriotism was very high, particularly from the Canadians.
I have to give the Canadian fans a lot of credit. They came to the forefront and packed the arena. It was a great environment for hockey and a major factor for the successes Canada had.
And in holding the tournament here, they set a new standard. They did an excellent job. Grand Forks is hosting down the road and the bar was raised by Halifax. They ran a great tournament. The crowds and enthusiasm were incredible. North Dakota has a lot to live up to for the next time the tournament is in North America.
The 17 college guys we had really played well. It renewed my faith once again that the college game is doing things the right way – that we are doing a good job preparing players and developing players. The guys we had on our team played very well. Bob Goepfert, our goaltender from Providence, stood on his head for two weeks. He was very good.
I'm sure our guys are tired as they return to their college teams. They played a lot of hockey against world-class competition in two weeks. But they will return to the college games as better players.