The Dean's List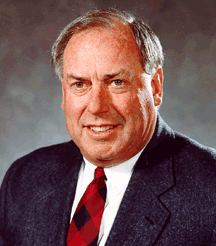 Jeff Sauer – the fifth-winningest coach in college history – writes a bi-weekly column for Inside College Hockey.com. "The Dean" was the head coach for 31 years at Colorado College and Wisconsin, where he won two national titles. Sauer retired at the end of the 2001-02 season.
Previous Editions of The Dean's List
On early departures for the pros
On this year's rule changes
On rinks, old and new
On major junior eligibility
On The Dean's favorite things
For your listening pleasure, find The Bud Song on Wisconsin's official site.
thedean@insidecollegehockey.com
Part of the fun in doing this column is the opportunity to interact with you, the hockey fan. Please send your questions or comments to thedean@insidecollegehockey.com.
This Week's Question
Coach,
As a coach, how do you change momentum when things aren't going your way?
– Mark Mitchell, Lansing, Mich.
There are a number of things you can do, but your goal is to change the momentum of the game. You can do that by calling a timeout. You can turn to your third- and fourth-line guys – those are the guys who have been watching – and tell them, "We need some energy. Go change things around with a big play or a big hit, something to jack us up."
You can change the forecheck, but basically change the flow of the game. And that's tougher to do in college hockey now with the new 15-second faceoff rule. In the past, you could try to slow the pace of the game down. That strategy is gone now that they drop the puck 15 seconds after a stoppage, but you still have to find a way to reverse the momentum.
December 12, 2002
The Dean's List by Jeff Sauer
Around college hockey this is the time of the season when teams shut down for Christmas break. In the world of international hockey, it is not only a time of Christmas decorations, parties, shoppping and good cheer, but also the International Ice Hockey Federation World Junior Championship.
This year the event will be held in Nova Scotia, Canada, Dec. 26 to Jan. 5. I am fortunate to be an assistant coach to Lou Vairo for the United States team. And while I wish I could be home for Christmas, I am excited about reporting to Halifax, Nova Scotia, for a mini-training camp. I like our roster, which is dominated with college players. Of the 22 players named, 17 play for U.S. colleges (see link, right).
International competition does bring some challenges that are different from the college game. Mark King, who did video for the Western Collegaite Hockey Association all-star team on its two tours of Europe, recalls paying $32 for a pizza overseas and Rob Malnory, the equipment manager for the Badgers, still boasts of paying only $2 for a can of Heineken at the Pravda Cup in Leningrad. So the exchange rate gets some getting used to, but that shouldn't be a problem at this year's junior tournament in North America.
There are other advantages of playing in Canada. Guys won't have to adjust to the food or a different culture. At that age, junior players often have trouble with overseas travel and a different lifestyle. Those are issues that can complicate your preparations in some years. Playing in Canada, conditions will be as close to home as possible. The players will be able to block out a lot of the distractions that often exist in this tournament and concentrate on hockey.
We gather on the 19th, practice for four days and play Sweden in an exhibition game on Dec. 23. We open the tournament against Russia Dec. 26 in Sydney, Nova Scotia. We catch a break in that the home team is in the other five-team bracket, so we wouldn't see Canada until the crossover round.
Our competition consists of the best teenage hockey players in the world. When we played Finland in August in an exhibition game, they had four first-round National Hockey League draft choices. I assume this will be as big a collection of NHL scouts as ever assembled, since the games will be played in Canada. The fact that the games will be played on an NHL rink (200 feet by 85 feet) instead of the bigger Olympic sheet (200 x 100) means the games will be more physical than a lot of international games.
When we picked the team, Lou took that into account. You might recall that Lou coached the U.S. team in the 1984 Olympics, and he has Mike Hastings, the coach of the River City Lancers, handling the defense and penalty killing. Lou will work with the forwards. He has me working with the power play and Ronnie Rolston, assistant coach at Boston College, scouting the other teams in the field.
I have watched a lot of tape on the players we have selected and talked with college coaches all over the country to learn how players are used on power plays and how they respond to pressure situations. I've tried to get ideas on guys' strengths and weaknesses, who is strong on faceoffs, things like that.
When you deal with an all-star team, one of the challenges is that guys never think they get enough ice time and you only have a short time to get people into line combinations and work on special teams.
But is very exciting to think about putting people like Zach Parise of North Dakota, Ryan Shannon of Boston College and Chris Higgins of Yale out there. It's a shame that Patrick Eaves of Boston College got hurt last week because he would have fit in well on our power play. (We added Brian McConnell from BU as an injury replacement.)
Like Lou, I like our team. Higgins, a first-round pick of the Montreal Canadiens, is one of 10 NHL drafted players on the team, and he is one of six guys who played for the U.S. last year in Slovakia. He had four goals and two assists for the team which had the tournament's best record, but failed to win a medal. Nine of these players won a gold medal in May with the U.S. National Under-18 Team at the 2002 IIHF World Under-18 Championship in Slovakia. Tim Gleason, a forward from Livonia, Mich., who plays for Windsor of the Ontario Hockey League, will be participating in his third World Junior tournament.
I have been very fortunate to be involved in a lot of international competition at the world tournaments and the Goodwill Games. It will be nice for me to be reunited with Lou and U.S. team leader Jimmy Johannson, who played for me at Wisconsin and later at the Goodwill Games.
I always remember those Goodwill Games in '90, when I had guys trying to get Jane Fonda's autograph, and when the representative for the Russian team came to hotel room telling us that a player named Sergei Federov had left the team and was about to defect.
International competition always brings something unusual. I'm very excited to coach against players who will go on to play in future world tournaments, the Olympics and the National Hockey League.