January 16, 2003
Last but not least
By Nate Ewell
East Notebook
ECAC | HOCKEY EAST | MAAC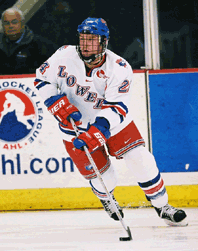 Senior Mark Concannon has eight points in his last 12 games after starting the season with just two in his first nine games.
Related Links
Coaches love to defend the top-to-bottom strength of their conferences by noting that on any given night, the last-place team can reach up and steal a win.
Of course, it goes without saying that every coach who says that would hate to actually be behind the bench for the last place team. But for at least 60 minutes in the ECAC, Hockey East and MAAC last week, it wasn't a bad place to be – and those common words of warning proved prophetic.
UMass Lowell (Hockey East), Princeton (ECAC) and Fairfield (MAAC) all picked up victories last week, with the River Hawks beating Merrimack, Princeton beating Harvard and Fairfield posting two wins (vs. Bentley and Connecticut).
Never mind that UMass Lowell's win was followed by two thumpings by Boston College. With conference victory No. 1 under their belt, head coach Blaise MacDonald's troops could have something to build on. Now they face Northeastern (one point ahead in the standings) in a weekend series to get out of the cellar – and into Hockey East's final playoff position.
"Northeastern is a team that is very similar to us," MacDonald said. "A lot of their games this season are similar to (ours), they have played very well for most portions of the game, maybe failed to capitalize on some critical scoring chances, and then either gave up a power-play goal or allowed a goal scored against them at the wrong time ... Just like us, they are a team that could get on a roll and win a lot of hockey games going down the stretch, and be right in the thick of things."
Likewise, Princeton – where MacDonald coached current Tiger head coach Len Quesnelle as an assistant – will look to build on its victory. By beating first-place Harvard, 2-1, the Tigers produced the biggest upset among last week's last-place victors and head into final exams on a high note.
"It's a real big win for this team," said Princeton coach Len Quesnelle. "This is a great way to go into exams. Our guys will feel really good when they step onto the ice again after the break. This is a stepping stone for our program."
Meanwhile, Fairfield's two victories – capped by a dramatic overtime win on Saturday against UConn – give the Stags a shot at moving out of the cellar this weekend. Currently tied with American International at 3-7-1 in MAAC play, Fairfield faces struggling Sacred Heart in a home-and-home this weekend.
Perhaps most importantly in terms of conference races, last week's events give top-tier teams a good mid-season warning about facing a team that is out of the race for the league title.
"Gives you something to think about it, doesn't it," said Harvard coach Mark Mazzoleni. "games like this terrify you, because you hope your team will look past their record and not have a letdown."
Thus revealing another reason you hear coaches talk about how last-place teams can win on any given night: to remind their teams not to take anyone lightly. The events of last week illustrate that better than their words ever could.
THREE MORE NOTES NO FAN SHOULD BE WITHOUT
1. Standing balancing act – The loss to Princeton isn't all that hurts Harvard's hold on first place in the ECAC – now's the time of year when the Crimson (and Tigers) hit the books for exams as the rest of the league catches up in the games played column.
Cornell (12-3-0 overall, 7-1-0 ECAC), with just one loss, looks poised to move up as the schedule balances out. The way the Big Red have played this year, Harvard's eight-point lead in the standings is certainly less imposing.
Another team to watch in the next few weeks: Clarkson (8-11-1, 5-3-1), which could break into the league's top four – an even more important echelon this year, given the new playoff format (Nos. 5 through 12 will play a first-round best-of-three series, with the winners facing Nos. 1 through 4 in best-of-three series).
The Golden Knights stand three points behind Yale with three games in hand (the Bulldogs have exams out of the way, but with travel partner Princeton in study mode, Yale heads out of conference for the next two weeks).
The Golden Knights are 3-1-0 the last two weeks and have shown that they can win with offense (6-0 vs. Colgate, 7-5 vs. Dartmouth) or defense (1-0 vs. Vermont).
"We needed to prove to ourselves that we could take four points on the weekend and we did it with two different styles of play," interim head coach Fred Parker said of the Dartmouth-Vermont sweep at Cheel. "We showed that we can play on both levels this weekend."
Parker's troops, who are 8-8-1 since Mark Morris was fired, host rival St. Lawrence Saturday to continue their charge toward the top four.
Yeah, What He Said
"Hey! His name's like my name!"
– Homer Simpson
There's always a little more on the line when Army and Air Force – the two Division I hockey-playing service academies – face off, as they do this weekend in Colorado.
To get you ready for the series, here's a reason – perhaps not a good one, but a reason nonetheless – to root for the Black Knights: senior captain Joe Dudek.
Dudek has plenty of admirable qualities. He grew up near the Academy, attending Army games as a kid. He can play both forward and defense. He posted over 20 points last year while playing with a painful shoulder injury.
But here's why we like him: his name. Seventeen years ago, Sports Illustrated tabbed another Joe Dudek – a running back at Division III Plymouth State College – as its choice for the Heisman Trophy over players like Bo Jackson and Chuck Long.
We hope this Joe Dudek doesn't mind if we don't hype him for the Hobey. But we will pull for him this weekend.

2. The rivalry – The most compelling matchup of the week comes at an opportune time: both Boston College and Boston University are playing well headed into their Thursday-Friday series.
Sure, Providence beat BU in the Terriers' only action last weekend, but Jack Parker's troops had reeled off six straight wins before that loss. The pucks have been going in for the likes of John Sabo (nine goals), Mark Mullen (who scored his seventh against PC) and Brian Collins (six-game point streak) while Sean Fields has been strong behind what is universally acclaimed as a formidable group of defensemen.
Meanwhile, the Eagles righted the ship against UMass Lowell last weekend, snapping out of a 1-4-2 funk. Ben Eaves returned more quickly than expected from a groin injury to post eight points and earn Hockey East Player of the Week honors. When healthy, he's probably the best player in the league.
In the first meeting this season between BC and BU, a 3-2 Eagle win on Nov. 15, Eaves was held off the scoresheet entirely. But often in the battles between these big-name schools, it's the lesser-known players who play big roles.
As they take the ice this week for the 213th and 214th meetings, everybody will have a chance to make a name for themselves against their archrivals.
3. Big-game goalie in Green – After giving up a pair of touchdowns in the North Country to Clarkson (7-5) and St. Lawrence (7-3), Dartmouth turned to Dan Yacey in goal Wednesday night against New Hampshire in the battle for the Riverstone Trophy, in front of over 10,000 fans in Manchester's Verizon Wireless Arena.
Tough atmosphere to ask the sophomore to step in to for his first start of the season, but consider the high-pressure spots Yacey played in last season:
• against UNH, also in Manchester (his collegiate debut, where he stopped all 21 shots he faced in relief)
• against Maine, in Portland (where he stopped 30 shots in a 4-1 loss), and
• against Colgate, in the ECAC playoffs (where he stopped five of seven shots before being relieved).
He responded Wednesday night, making 36 saves and earning Player of the Game honors in the 1-1 tie.
"I knew that when the shot came, I'd take it," Yacey said. "I felt good coming into this game and I've supported the team all year."
Have the Big Green – like Yale with Josh Gartner – found a viable option in net midway through the season? Quite possibly. And no doubt head coach Bob Gaudet – himself a former goaltender – took into account Yacey's experience in big games last year before he gave him the nod Wednesday night.
"Dan made the puck hit him," Gaudet said. "He was out on his angles and he played big. They didn't have a whole lot to shoot at. He made some really key saves in the second period when we were a little tentative."
Three Great Weekend Getaways

1. Boston College vs. Boston University (at BU Thurs., at BC Fri.)
Combined these teams are 24-12-5, so while you could throw out the records, why would you want to? This could be a preview of the Beanpot final or Hockey East final – but it's two games. Sit back and enjoy.
While You're There: Who are we kidding – no out-of-towners are getting tickets to these tilts. But if you're visiting, you can watch Thursday's game at Fours, near the FleetCenter, which features college jerseys among its spectacular wall decor (including a couple mentioned in this week's Cocktail Napkin).

Runners-up:
2.Mercyhurst at Quinnipiac (Fri.-Sat.) – A sweep here would virtually assure Quinnipiac of the MAAC regular-season title. The Bobcats, with a nine-point lead in the standings, have won five in a row (three by one goal, including two in overtime) and are unbeaten in 21 straight at home. Mercyhurst – which is 11 points back but with four games in hand – could really make things interesting if it picks up two wins. A split (or a win and a tie) is more likely, especially if this series follows along the lines of the first meeting between the two teams, a 3-3 tie in November.

3. Massachusetts vs. New Hampshire (at UNH Fri., at UMass Sun.) – New Hampshire returns to the Hockey East grind just two days after an emotional in-state game against Dartmouth Wednesday night. Massachusetts should be ready for the Wildcats, and have more confidence than when they first met, a 4-0 New Hampshire win in Durham Nov. 24.
• Rensselaer head coach Dan Fridgen has signed a three-year contract extension, keeping him behind the Engineers' bench through the 2005-06 season.
• Ed Caron's college hockey travels continue. A freshman last year for New Hampshire, he transferred to Yale and spent the fall semester in New Haven, sitting out the season as a transfer. The Edmonton Oilers draft pick and Hudson, N.H., native has since returned to Durham and will begin spring semester classes on Jan. 21. He will be eligible to return to the ice after the fall semester next season.
• Give Massachusetts and head coach Don Cahoon credit for turning around a program without playing a boring style. The Minutemen like offense, as evidenced by their 26.4 percent Hockey East power play (which leads the conference) and the frequency with which defenseman Thomas Pock jumps into the offense (11-11—22 in 22 GP). UMass wants to maintain its attacking style in this weekend's series with New Hampshire. "We need to play a little more aggressive than we did the first time we played them," freshman Stephen Werner said. "They're a good skating team and they're used to the big surface. We need to really go after them and provide some pressure instead of thinking, 'Whoa, this is UNH, a top-five team.'"
• The Sharks are still struggling, but it's great to see Ron Wilson (Providence) back behind an NHL bench. The one-time star offensive defenseman might have another on his hands in Jim Fahey, formerly of Northeastern. Fahey has seen plenty of power-play time among his 17-or-so minutes per night, an endorsement in itself from a coach often slow to embrace rookies. And it's probably a mistake to read too much into it, but it's one we'll go ahead and make: nice to see Fahey, a four-year college guy, beating out Jeff Jillson, who left early, for time on the Sharks' blue line.
Three Stars
3. Bill Guerin and Brian Leetch
The Boston College alums were the only collegians to earn starting nods in the NHL All-Star Game – for what that's worth.
2. The schedule makers
Big games Wednesday, Thursday, Friday, Saturday and Sunday this week. Who needs the NHL?
1. New Hampshire hockey fans
A crowd of 10,104 attended the UNH-Dartmouth game, compared to 815 at the men's basketball game between the two schools the same night. The hoops haters among us love numbers like that. More kudos to the Granite State media for their coverage of the game, highlighted by Allen Lessels' historical look at the two programs in Sunday's Union Leader.
• MAAC teams were involved in three overtime games both Friday and Saturday nights, including a pair of ties for Canisius at Lake Superior State. Those ties marked the conference's first points against a team from the CCHA.
• Freshman Bobby Robins had his first two career goals in UMass Lowell's win over Merrimack. Defenseman Jerramie Domish added his first two goals of the season during the weekend losses to BC.
• Who has the edge if BC and BU go into overtime? The Eagles are 0-3-3 in OT; the Terriers are 0-2-2.
• Chris Owen scored both goals in Princeton's 2-1 upset of Harvard. Owen has four of his team-leading nine goals this season against the Crimson.
• Martin Kariya remains one of the hottest players in the nation, although his point streak was snapped Saturday against Northeastern. He posted 1-5—6 Friday night, the 10th player in Black Bear history to have six points in a game (joining his brothers, Paul and Steve).
• Quinnipiac sophomore Matt Craig leads the MAAC with 14 goals after recording his second hat trick of the season Saturday vs. Iona. He scored 11 goals last season.
• New Hampshire teammates Lanny Gare and Colin Hemingway are tied in career points with 127 apiece entering the weekend.
• St. Lawrence is 1-8-0 on Fridays and 4-5-2 on Saturdays.
A variety of sources were utilized in the compilation of this report.