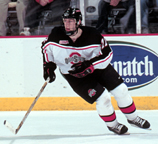 West Notebook
CCHA | CHA | WCHA
R.J. Umberger admits it. He listened to the hype. He believed he could get by on reputation. He was wrong.
The Ohio State forward was named 2001 CCHA Rookie of the Year after scoring 37 points in 32 games. He entered his sophomore season looking to increase those totals and justifying his status as the 16th overall pick in the 2001 National Hockey League Entry Draft by the Vancouver Canucks. He did score 39 points, but for Umberger, it wasn't enough.
"Last year I thought I slowed down a little and didn't play nearly as good as I should have," the 6-foot-2, 202-pound Pittsburgh native said recently. "I figured that things would come easy. There were a lot of expectations from myself and everybody else."
24 games into the 2001-02 season, Umberger had 11 goals and 10 assists. The Buckeyes got hot late with six wins in their last nine games, a run which ended with an overtime loss to Michigan in the CCHA playoff semifinals. Over roughly that same stretch Umberger exploded, tallying seven goals and 11 assists in 13 games.
"At the end of the year and in the CCHA playoffs, we found out how to play as a team," explained Umbeger. "From the beginning of this season, that was our goal – to play like that the entire season."
So far, Ohio State has made significant progress toward that goal. The Buckeyes boast a 15-4-2 overall record, are tied for second in the CCHA with Michigan and own an eight-game unbeaten streak, the second longest of its kind in the nation. Not coincidentally, Umberger's strong finish last season has carried over to this year – he leads the conference with 17 goals and five game-winning goals, and ranks fourth in the league with 29 points. He's also in the midst of an eight-game scoring streak – suprise! – during which he's racked up 11-7—18.
"The biggest change this year is my work ethic," said Umberger when asked about the differences between his sophomore and junior seasons. "It's like the draft never happened and I've got to prove myself. I'm more confident. I know how I want to play, what I want to do and where I should be."
Thanks to a strong junior class – besides Umberger, fellow forwards Scott May (24 points) and Paul Caponigri (18 points) and goaltender Mike Betz (11-3-2, 2.10 GAA, .912 save pct.) are all in their third years in Columbus – and contributions from freshmen Ryan Kesler (21 points) and Dan Knapp (18), the Buckeyes harbor hopes of winning a conference championship for the first time in school history and earning their first NCAA Tournament berth since 1999.
We're more mature," Umberger said, who was speaking about the team as a whole but could have just as well been referring to himself. "We're on the same page."


MARVELOUS MARTIN
Things People Say
"Does the guy not own a cell phone?" – Talk show host Ed Shultz, after North Dakota coach an was unable to conduct a previously arranged interview on KFAN-AM in Minneapolis Friday due to other commitments.
"Based on the demographics of Munn Arena, you could get the crowd fired up by playing Frank Sinatra" – MSU hockey radio analyst Joe Blackburn, commenting on classical music playing over the arena's speakers and the gentrification of Spartan hockey fans.
"With all the things that have been going on the last couple of weeks we've been trying to get some different combinations...we've been kind of forced into some different combinations, and I thought they were smart with the puck and made some pretty smart plays" – Bowling Green coach Scott Paluch, who booted two players from the squad and suspended five others earlier this month, after Friday's win against Northern Michigan. The Falcons swept the Wildcats with a victory the following night.
While Umberger struggled to live up to expectations last season, Minnesota defenseman Paul Martin has thrived this year while after being singled out by coach Don Lucia as the heir apparent to 2002 Hobey Baker Award winner Jordan Leopold, now a regular with the Calgary Flames.
No problem.
After last weekend's split with North Dakota at Mariucci Arena, Martin had amassed 24 points in 23 games and playing a key role on the Gopher power play. Kind of like ol' number 3, wouldn't you say?
"I don't really look at it like me trying to be like Jordan Leopold or trying to do what he did," Martin says. "Once someone like that leaves, (the coaches) expect the younger players who might have the same...style of play to step up and become the next one down the line. That's tough to do."
Tough, yes, but Martin is pulling it off, and his duties on defense haven't suffered, either. The junior from Elk River, Minn., who drew raves for his play in his own zone at last year's NCAA Frozen Four, has been even better this season and is making a name for himself as quite possibly the best all-around rearguard in the college game today.
"Coming in as a freshman, my goal has always been to not let (the opponent) put the puck in the back of the net," Martin says. "Defense comes first. As long as you take care of defense first, the offense comes later.
"It's important to have offensive defensemen – they need to get the puck to the net and they need to join the rush. But you've got to pick your spots. That all starts on the defensive end. If you take the body, they may turn the puck over and we can get some odd-man rushes if we can get them tied up down low."
Martin's challenges this season aren 't just limited to the ice. As assistant captain on a young squad that has been slowed by injuries this season, he's also looking for ways to jump start his teammates.
"Our upperclassmen have to step up and lead by example," Martin says. "We have to get more consistency throughout our lineup. Our biggest challenge has been coming to the rink every day and competing. We have troubles in the first game of our series on Friday and then if we lose or struggle, we come back strong on Saturday."
And while the Gophers are a pedestrian 1-2-1 in January, Martin isn't panicking. Minnesota was 4-4-1 in the first nine games after the holiday break last season before winning 14 of 16 and an NCAA championship.

"Things are starting to fall into place," Martin says. "We're getting some guys back and the freshmen are starting to get into their roles. The second push of the season is important to put ourselves in position where we can get in the (NCAA) tourney.


BLAIS MAKES RADIO WAVES
North Dakota coach Dean Blais made news last week by engaging in a verbal tiff with a Fargo talk show host.
The incident started when Ed Schultz of KFGO-AM, who was filling in as guest host on KFAN-AM in the Twin Cities Friday, criticized Blais for missing a scheduled interview, calling the coach "bush league." Blais responded by saying Schulz, who also serves as the play-by-play voice for Fighting Sioux football, should be ousted from that position.
The North Dakota coach was scheduled to participate in a 1:30 p.m. interview, but UND sports information director Dan Benson warned show producers Blais was attending the Gophers' noon booster luncheon and may be delayed. Benson placed a follow-up phone call to KFAN to see if Blais had been contacted. When producers said they hadn't been in touch with Blais, Benson tracked him down at the team's game-day lunch and strategy session and would be unavailable.
Benson delivered the news to KFAN and apologized for the inconvenience. That apology wasn't good enough for Schultz, however, who launched into an on-air tirade against Blais. The coach boycotted his pregame and postgame radio interviews with the Grand Forks station that carries UND hockey Friday, but returned to his normal routine Saturday.

RIPPED FROM TODAY'S HEADLINES
Three Great Weekend Getaways

1) Yale vs. Notre Dame at Allstate Arena, Rosemount, Ill. (Saturday): Granted, this isn't really the most stimulating matchup on the slate this week, as both teams hover around the Mendoza Line. But the mere curiosity of college hockey in the Chicagoland area is intriguing. Selfishly, we'd love to see the game succeed so the Windy City can become an NCAA Frozen Four site in the future. How great would that be?

While you're there: Take the day (well, at least the part prior to the hockey game) off a la Ferris Bueller. Walk the Magnificent Mile. See the Michaelangelo exhibit at the Art Institute of Chicago. Take a ride on the El to Wrigleyville, or better yet, check out Wicker Park, the hip neighborhood where the "Real World: Chicago" cast lived. And if you see Abe Vroman, the sausage king of Chicago, tell him we send our best.

Runners-up:

2. Providence at St. Cloud State: Both teams are lodged squarely on the INCH Power Rankings bubble. An interesting non-conference series as far as the postseason in concerned. Note to area fans: even if you're not interested in Providence, just go to see the Friars' sweaters, the best in the college game.

3. Army at Air Force: Any time two service academies get together for any athletic event, the play is always spirited and hotly-contested. On a totally unrelated note, why doesn't the Marine Corps have a four-year institute of higher learning? Can you imagine what their hockey team would be like? They'd make the Charlestown Chiefs look like a bunch of Brian Boitanos.

1) CCHA Tourney Title Sponsor: The CCHA has reached an agreement with sporting goods chain Galyan's to serve as title sponsor for the league's postseason tournament for the next three seasons. The conference playoffs will now be known as the CCHA Super Six Tournament Presented by Galyan's.
2) Minnesota Medical Update: Golden Gopher forward Matt Koalska is expected to miss four games after undergoing hernia surgery Monday. A junior, Koalska had never missed a game, appearing in 109 straight contests before sitting out last weekend's series with North Dakota. Team doctors expect the St. Paul native to return in time for the team's two-game set at Colorado College Feb. 7-8. The injury-plagued Gophers have lost 56 man-games to injury this year, 22 of them by Grant Potulny, who hopes to return to the ice for Minnesota's series against Minnesota State University, Mankato Jan. 24-25.
3) Erickson Departs: Staying with the Gophers, sophomore forward Mike Erickson left the team earlier this week to join the United States Hockey League's Des Moines Buccaneers. A high school standout at Eden Prairie, Minn., and a third-round pick of the Minnesota Wild in last year's NHL Entry Draft, Erickson contributed two assists in 16 games this season. He has a goal and two helpers in nine games as a freshman before a broken foot ended his season prematurely.
4) Rally Broncos: One night after enduring a 10-3 pummeling in Ann Arbor, Western Michigan salvaged a series split with Michigan, scoring three third-period goals to turn a 3-1 deficit into a 4-3 victory. For the Broncos, it was their first win this season when trailing after two periods – WMU was 0-10-0 when behind at the second intermission. The loss continued a disturbing trend for the Wolverines, who have allowed three third-period goals in each of their last three losses and are 0-5-1 this season when giving up two or more goals in the final frame.
5) Breaking Beavers: Bemidji State plays its first contests since Dec. 27-28 as the Beavers travel to Alabama-Huntsville for a key College Hockey America series. Neither the Chargers nor the Von Braun Center have been kind to BSU recently – the Beavers have dropped four in a row to UAH and have lost six straight in Huntsville. The Chargers, meanwhile, enter the weekend with the nation's longest active unbeaten streak at 11 games (9-0-2).


STICK SALUTES
Minnesota State University, Mankato: The school with the most unwieldy name in the history of college athletics ran its unbeaten streak to seven (5-0-2) with a sweep of Michigan Tech last weekend. The Mavericks, third in the WCHA standings, travel to Denver this week.
Nelson Emerson: The longtime NHLer and leading scorer in Bowling Green history was honored by his alma mater Friday for his contributions to the recently completed renovation of the Falcons' hockey facilities.


BENCH MINORS
Northern Michigan: The Wildcats were swept by Bowling Green last weekend, the first time that's happened since 1984. Since improving to 9-5-1 with two wins against Michigan in Marquette Dec. 6-7, NMU is 1-4-0 with losses to Michigan Tech, Wisconsin and Bowling Green – teams with a combined record of 17-38-8.
LeBron James' critics: Everyone is piling on this kid, and there really is no reason for an 18-year-old to be driving a $50,000 Hummer H2. But James is a lock to be the first pick in this year's NBA Draft. The day he officially announces his intentions to turn pro, he'll probably sign a $25 million agreement with adidas or Nike. You don't think he's good for the loan money on the ride?

THIS WEEK'S NHL TRANSACTIONS
Mighty Ducks of Anaheim: Recalled forward Rob Valicevic (Lake Superior State) from Cincinnati of the American Hockey League.

Atlanta Thrashers: Assigned forward J.P. Vigier (Northern Michigan) to Chicago of the American Hockey League.
Nashville Predators: Assigned forward Wyatt Smith (Minnesota) to Milwaukee of the American Hockey League.
New York Rangers: Recalled defenseman David Karpa (Ferris State) from Hartford of the American Hockey League.

Philadelphia Flyers: Assigned forward Andre Savage (Michigan Tech) to Philadelphia of the American Hockey League.
Tampa Bay Lightning: Acquired goaltender John Grahame (Lake Superior State) from the Boston Bruins for a fourth-round pick in the 2004 NHL Entry Draft; placed defenseman Dan Boyle (Miami) on injured reserve, retroactive to Jan. 4; assigned right wing Brian Holzinger (Bowling Green) to Springfield of the American Hockey League.

MINOR LEAGUE TRANSACTION OF THE WEEK
Mississippi Sea Wolves (ECHL): Acquired defenseman Sean Peach (Michigan) from the Baton Rouge Kingfish for forward Dwayne Blais (Alabama-Huntsville) and defenseman Curtis Menzul.