January 23, 2003
Oh, Mercy!
By Nate Ewell
East Notebook
ECAC | HOCKEY EAST | MAAC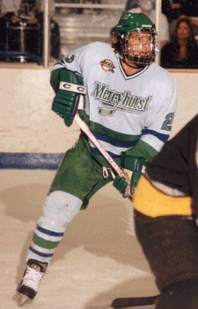 Adam Tackaberry and Mercyhurst became the first team ever to sweep a two-game series at Quinnipiac last weekend.
Related Links
Rick Gotkin doesn't want to sound like someone who just unwrapped a pair of socks on Christmas day. The Mercyhurst coach is grateful for the excitement generated by his team posting the first-ever sweep at Quinnipiac, but he knows that it was part of the journey, not the destination.
"The number of calls I've been getting with congratulations, I think, jeez, did we win the MAAC championship?" he wonders. "But that shows the respect people have for Quinnipiac – everyone knows they have a very good hockey program. They were certainly two great wins, I don't want to downplay that, but we've got 14 games left, and that's a long way to go."
The best news for Gotkin and the Lakers – they keep getting better. That's partly a credit to his coaching, and partly the natural progression of a young team that was challenged early by a brutal schedule that included trips to Maine, Colorado College, Denver, and Rensselaer.
"There's no question that we are playing better than we have, especially looking back to November," he said. "Whether we've peaked, I don't know. That's what we talked to the team about yesterday. We told them now the big question is, 'How much better can we get?'"
They're playing better than anyone in the MAAC right now because of balanced production – from every position and all four lines – a quality so important to Gotkin that he avoids identifying a first, second, third and fourth line.
Defensively, Nolan Brown anchors the Laker blue line and penalty kill. The stay-at-home type that never gets attention – but deserves it – Brown picked a good weekend to record his first three points of the year, earning MAAC Player of the Week honors in the process.
Meanwhile, freshman Andy Franck has emerged as the No. 1 goaltender, starting each of the last four games (all wins), after splitting time to start the season. Franck leads the MAAC with a .928 conference save percentage, and has strong overall numbers as well (6-4-0, 3.18, .905).
"He's a lock back there for us," Gotkin said of the rookie from Lakewood, Ohio. "A lot of things go into a good hockey program, but if you want to be good in college hockey, get a good goalie. That's the big secret."
Meanwhile, Gotkin's focus remains on getting better over these last 14 games and not worrying about the conference championship. It's a possibility, since the Lakers are seven points back with four games in hand, but the real prize is the MAAC playoff championship. With that comes the conference's automatic NCAA Tournament bid – not to mention a slew of congratulatory phone calls.
THREE MORE NOTES NO FAN SHOULD BE WITHOUT
1. Three-legged race – As Boston College and New Hampshire posted sweeps last weekend and Maine took a hard-fought three points at Merrimack, those three clubs separated themselves from the pack in the Hockey East standings. Best of all, with six weeks left in the Hockey East regular season, all three play the other two at least once, highlighted by the BC-UNH series to close out the season.
Here's a look at their remaining schedules:
Boston College (5 home, 5 away): Providence (2); Massachusetts; Maine; Merrimack (2); Northeastern (2); New Hampshire (2)
Maine (8 home, 4 away): UMass Lowell (2); New Hampshire (2); Boston College; Merrimack; Providence (2); Massachusetts (2); Boston University (2)
New Hampshire (5 home, 6 away): Boston University (2); Maine (2); Providence; Northeastern (2); Merrimack; UMass Lowell; Boston College (2)
Maine trails by a point, but with two games in hand and only one loss, the Black Bears are probably in the best position of the trio. Until the Beanpot wraps up and everyone has played the same number of games, you'll hear the term "loss column" as often as when the Red Sox were in a pennant race (ah, the good old days…).
Another nice wrinkle in the three-way race: Ben Eaves (BC), Martin Kariya (Maine) and Lanny Gare (UNH) figure to battle for the conference scoring title. Eaves leads the other two by one point at the moment, 23 to 22.
Yeah, What They Said
"He buried all his memories of home in an icy clump that lies beneath the ground." – Phish
All year, things were working at Dartmouth's Thompson Arena.
Then, late in the second period of Saturday's game with Vermont, the clock malfunctioned. The Big Green's perfect home record followed suit.
The Catamounts had already scored twice to narrow the Dartmouth lead to 3-2 before technical difficulties sent them to the locker room just under a minute early for the second intermission. They played 20:48 in the third period.
Three more goals upon the return to the ice gave Vermont five goals in less than five minutes, and carried the Catamounts to the win. They host Rensselaer and Union this weekend with a chance to move into the top half of the league standings.
"That team deserved to win the game," Dartmouth head coach Bob Gaudet said. "They out-played us, out-worked us, out-hit us, out-everything. I have tremendous respect for the effort they put into the game."

2. Ivy revival – Foremost among the curiosities in this year's ECAC standings: the dominance of the Ivy League.
Between the strength of Cornell and Harvard and the strong years turned in by Brown, Yale and Dartmouth, the Ancient Eight – as its known in sports where Columbia and Penn field teams – has debunked the idea that schedule, scholarship and admissions restrictions put those teams at a competitive disadvantage.

While these schools may have some things working against them, there's no shortage of theories to explain the Ivies' strength. Cornell and Harvard both have great hockey traditions to draw from; all of the schools offer attractive options for qualified students (and those admissions restrictions, some say, aren't as tough as you think).
Whatever the reason, Ivy teams occupy the top four spots in the conference, and if not for Dartmouth's three-game ECAC losing streak, they would be five-for-five. All five have made appearances in the INCH Power Rankings at some point this season.
We asked the coach of the sixth Ivy team, Len Quesnelle at Princeton, for his take on the Ivies' resurgence.
"It proves the point that there are some very good head coaches and assistant coaches at the Ivy League schools. They're doing a great job of identifying the types of players that fit into their systems," Quesnelle said. "It's a testament to the outstanding coaching at the Ivies and the ECAC in general."
3. Hurting Heights – Boston College swept Boston University despite missing star defenseman J.D. Forrest with a quadriceps injury. This while news broke that freshman Patrick Eaves – due to have his neck brace removed in two weeks – could be out for the season.
Not all the injury news in Chestnut Hill is bad, of course, as Ben Eaves made his quick return from a groin injury two weeks ago without having to miss a game (although he missed three earlier games with a rib injury). Patrick's progress will no doubt be monitored closely in the coming weeks – while head coach Jerry York said he was likely out for the season, a slim chance of a return exists.
It's been remarkable what York's team has been able to accomplish despite the losses of Eaves, Eaves and Forrest. Last weekend, for example, without their best offensive defenseman, the Eagles still produced a 4-for-13 effort on the power play (including 3-for-5, accounting for all three goals, on Thursday night).
Boston College's success speaks well for its depth, and its chances as the season moves forward – especially if the Eagles can stay healthy.
Three Great Weekend Getaways

1. Providence at Brown (Tues.)
Two remarkably similar teams take the ice for this year's Mayor's Cup in their black, white and brown jerseys (easily college hockey's least colorful rivalry). Both Brown and Providence got off to impressive starts before tailing off in November. Yet they've both shown signs of life lately. Brown enters on a roll, with a 4-0-1 record in its last five entering Saturday's game at Merrimack. Even though Providence has lost three straight, including a sweep at St. Cloud State, the Friars have beaten Maine and BU this month. When they've played well, goaltending has carried both teams – expect it to be the key in this one.
While You're There: Try not to make too many jokes about Providence's currently-jailed ex-mayor, Buddy Cianci. Like, "did you know this year's Mayor's Cup, for a change, won't be won by the coach who makes the biggest bribe?" That's just in bad taste (never mind not very funny).

Runners-up:
2.Boston University vs. New Hampshire (at BU Thurs., at UNH Sat.) – The Wildcats are unbeaten in January, with a 5-0-1 mark since their loss at Denver. BU has lost three straight, but in a maddeningly inconsistent season, they've shown the ability to turn things around quickly. The Beanpot's approaching, and you've got to wonder if the Terriers' next inevitable hot streak could start this weekend.

3. Clarkson (Fri.) and St. Lawrence (Sat.) at Cornell – It's been almost two months since Cornell played a home game, so the Faithful will be restless. Their heroes make their return Friday. With two wins, they'll return to their rightful position in the ECAC – first place.
THIS WEEK'S NHL TRANSACTIONS
Atlanta Thrashers – Acquired center Jeff Farkas (Boston College) from Vancouver for center Chris Herperger and right wing Chris Nielsen; assigned Farkas to Chicago of the American Hockey League.
Calgary Flames – Acquired Mike Mottau (Boston College) from the New York Rangers for a sixth-round pick in the 2003 or 2004 NHL Entry Draft.
Carolina Hurricanes - Recalled center Craig MacDonald (Harvard) from Lowell of the American Hockey League.
Chicago Blackhawks – Loaned right wing Yorick Treille (UMass Lowell) to IFK Helsinki (Finland).
Los Angeles Kings – Activated defenseman Aaron Miller (Vermont) from the injured reserve list.
New York Islanders – Recalled goaltender Rick DiPietro (Boston University) from Bridgeport of the American Hockey League.
MINOR PRO TRANSACTION OF THE WEEK
Fort Worth Brahmas (CHL) – Signed goaltender Erasmo Saltarelli (Princeton) and added him to the roster.
FRIES AT THE BOTTOM OF THE BAG
• Merrimack assistant coach Stu Irving was among the award winners recently announced by the American Hockey Coaches Association. Irving captured the Terry Flanagan Award, presented to an assistant coach to recognize his career body of work. Irving and head coach Chris Serino deserve raves for the work they've done with Merrimack this season. Rarely do players hurt as much after a loss as their coaches do, but you can feel how much the Warriors care about the game – and that's a big reason for their surprising sixth-place standing in Hockey East.
• In each of Maine's three ties this year, including last Friday against Merrimack, the Black Bears have scored with the goaltender pulled to tie the game.
• Army's sweep of Air Force last weekend was its first on the road in series history. Army freshman goalie Brad Roberts made 74 saves in the two games and did not allow an even-strength goal.
• The Calgary Flames acquired ex-Boston College defenseman Mike Mottau from the New York Rangers this week for a draft pick (one of two ex-Eagles to get traded this week; see above). The acquisition gives the Flames organization three Hobey Baker winners: Mottau, Chris Drury and Jordan Leopold.
• Massachusetts has outscored opponents 35-16 in the third period this season.
• Cornell's Sam Paolini is one of five finalists for the Hockey Humanitarian Award, presented to the game's finest citizen.
• Ben Eaves got a big break when he tied Friday's BC-BU game at 2-2. Defenseman John Adams, killing a penalty, threw a long pass to Eaves that skipped past Eaves' stick and fooled BU goalie Sean Fields. "It was not our typical play that we work on, but we just got the bounce tonight,'' Eaves told the Boston Herald. "I've put a couple in off my rear end, a couple off my head going to the net when a guy's shooting and you get spun around, but I haven't done anything like this yet.''
• Yale freshman goaltender Josh Gartner gets a lot of credit for his team's sweep of Notre Dame on the road last weekend. Gartner stopped 59 of 61 shots in the victories, his first starts since losing to New Hampshire two weeks ago. The son of Hall of Famer Mike Gartner is now 3-1-0 with a 2.17 goals-against average and a .935 save percentage on the year. "We gave up 12 goals last weekend (against Harvard and Brown)," said Yale head coach Tim Taylor. "We talked about that a lot this week and were focusing on it."
Three Stars
(The Coach's Quote Edition)
3. Mercyhurst's Rick Gotkin on his team's building confidence
"I think our guys know that we have a pretty good hockey team here. They all believe in each other and they believe in the systems."
2. Cornell's Mike Schafer, whose team beat Union and Rensselaer last weekend
"We used this last week as a test run to get ready for the playoffs. We tried to build towards tonight and use it. We were just ready to play. Our guys had a lot of jump in their legs all night long. We just played very, very solid."
1. Merrimack's Chris Serino, after Saturday's 2-1 loss to Maine
"What do I tell my kids? They just played their butts off and lost the game. But we know this: If we play our best game and they play their best game, 9 out of 10 times we probably lose. Tonight, I thought we played pretty close to our best game."
• Here's why Union head coach Kevin Sneddon thinks Cornell is a strong national championship contender: "They're big and they're physical. They can score and they can play defense. And, if all else fails, they have one of the best goalies in the country."
• Merrimack, in its 22nd game, outshot its opponent for the first time this season, but lost to Maine.
• Rivalry-be-damned, Jack Parker benched Brian McConnell in Friday's showdown with BC for taking a 10-minute misconduct in Thursday night's game. McConnell, who was a member of the U.S. National Junior Team, has 6-6—12 in 18 GP for the Terriers.
• Freshman forward Tim Morrison joined the Quinnipiac team for the spring semester and played Saturday night against Mercyhurst. Morrison was leading the North American Hockey League in goals before joining the Bobcats.
• Boston College's league series sweep of BU is its first since 1990-91. Stay tuned, though: that year, the Terriers beat the Eagles in the Beanpot title game.
• Martin St. Louis (Vermont) was named to the NHL's Eastern Conference All-Star team, joining Bill Guerin and Brian Leetch (both Boston College) in the All-Star Game. Erik Cole (Clarkson) will play in the Youngstars game.
• Dartmouth sophomore Lee Stempniak recorded his seventh multiple-point game of the season with three points against Vermont. He leads the team and stands tied for second in the conference in scoring with 26 points, trailing only Harvard's Tim Pettit (28).
Special thanks to Joe Gladziszewski for his contributions. A variety of other sources were utilized in the compilation of this report.