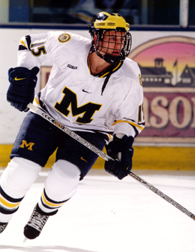 Michigan forward Jeff Tambellini
West Notebook
CCHA | CHA | WCHA
"To you from failing hands we throw the torch. Be yours to hold it high."
That line, taken from the John McCrae poem "In Flanders Field", is emblazoned above the lockers in the Montreal Canadiens dressing room. It serves as a reminder that each player who dons the bleu, blanc et rouge is responsible for perpetuating the franchise's proud tradition.
Red Berenson would know. The Michigan coach spent four seasons with the Habs. So it's no surprise that a similar philosophy has taken hold in Ann Arbor. One veteran star moves on; a fresh face fills the vacancy by elevating his game.
Case in point: freshmen forwards Jeff Tambellini and Brandon Kaleniecki, who've done more than their share to fill the gaping vacancy created when Mike Cammalleri decided to forego his senior season and sign with the Los Angeles Kings.
"With him leaving, it opens up an enormous role," says Tambellini. "Nobody can fill a player like Mike Cammalleri's shoes, but I thought it was a chance to make a big step right away."
A big step, indeed. The Port Moody, B.C., product leads the Wolverines with 12 goals and 18 points in 22 games. Not far behind are Kaleniecki (10 goals, 15 points) and fellow rookie Andrew Ebbett (seven goals, 14 points). Their contributions, coupled with the improvement of sophomores David Moss and Dwight Helminen, have kept the Maize and Blue afloat despite injuries – seniors John Shouneyia and Jed Ortmeyer have both missed significant time this season – and sub-par efforts from key players such as second-year forward Eric Nystrom (11 points in 18 games).
"My expectations were to help out in any way I can and just be in the lineup," said Kaleniecki, a product of nearby Livonia. "At first, it's obviously pretty tough adjusting. It was a gradual process over time."
The Wolverines enter the weekend third in the CCHA with 19 points, trailing front-running Ferris State by six points. The good news: Michigan has two games in hand over the Bulldogs. The bad news: the team's murderous schedule down the stretch includes a home-and-home series with Ferris State, two games against Northern Michigan at Yost Arena, series at Nebraska-Omaha and Ohio State, and four outings with Michigan State.
"I remember (former U-M star and current Vancouver Canuck) Brendan Morrison telling me, "This is as close as it's going to get (to the NHL)," said Tambellini, whose father, Steve, is the Canucks' vice president of player personnel. "You want to play in the tight games, the tight-checking games. That was half the reason I came to Michigan. I wanted to play in a situation that's as close to the NHL as I can get."
While both Tambellini and Kaleniecki say their transition has been made easier due to the fact they're part of a relatively large freshman class – a half-dozen rookies dot the Michigan roster – they're quick to point out that regardless of the newcomers' success, they'll only go as far as the teams quintet of seniors lead them.
"They're the heart and soul of the team," said Kaleniecki. "They're the reason we're as good as we are and the team is as good as it is. We're just fortunate to help out."


NEBRASKA WOE-MAHA
Things People Say
"When you start something, a lot of people say 'You'll never do this,' or 'You'll never do that.' I never thought about winning 300 games. I just tried to go get good players, build a solid base and run a good program." – St. Cloud State head coach Craig Dahl, after winning his 300th game behind the Huskies' bench Saturday vs. Providence.
"I have full confidence in this team that they are going to respond in a positive way. Third place still is within reach, but more important is that we have to make sure we finish on a strong note." – Denver head coach George Gwozdecky, whose Pioneers are in sixth place in the WCHA after earning one point in last weekend's series with Minnesota State.
"I want everyone to stand up and join me in singing happy birthday to Woody" – Ferris State President Dr. William Sederburg, at a ceremony commemorating the 150th anniversary of university founder Woodbridge Ferris' birth during the first intermission of Saturday's Northern Michigan-Ferris State game.
What has happened to Nebraska-Omaha? Perhaps the better question is, What hasn't happened to the Mavericks? A 1-6-1 showing since posting a sweep of Lake Superior State early last month has UNO mired in 10th place in the CCHA standings. With just eight conference games remaining, the Mavs are virtually assured of spending the first round of the conference playoffs on the road.
"Actually from the end of last season to now, it's been one thing after another," said UNO coach Mike Kemp. "It's taken the heart out of the team. Every time you turn around, another key member of the team is on the disabled list."
UNO has lost players for every reason short of alien abduction. The list:
Injuries: Defensemen Greg Zanon (knee injury, staph infection), Brett Davis (medial collateral ligament sprain) and Chris Claffey (Achilles tendon) are out. Forward Andrew Wong missed all but one period of the recent Michigan State series with a knee injury and will sit out the upcoming series against Ohio State, but goaltender Dan Ellis, who couldn't play in Saturday's finale at MSU due to severe cramping, will be back to face the Buckeyes.
Departures: Coveted recruit Matt Ellison skipped out on a college career and joined the Western Hockey League's Red Deer Rebels. He's currently fourth in the league in points. Blueliner Craig Zubersky bolted after just two games for the WHL's Kootenay Ice, while defenseman Bryce Lampman departed for the American Hockey League's Hartford Wolfpack.
Eligibility: Freshman Kaleb Betts has been sidelined the entire season due to academics.
Despite the personnel shortcomings – the Mavericks have dressed four defensemen twice this season – some UNO players have openly questioned the team's desire.
"We've got a handful of guys who come with their hard hats every night and a lot of guys playing like pretenders," senior forward Joe Periera told the Omaha World-Herald.
Kemp echoed Periera's sentiments.
"Certainly, there's been players who have come and gone over the last couple weeks," the sixth-year head coach said. "Some play some nights, some don't. And the results speak for themselves."


MIDSEASON PRO-SPECTUS
The National Hockey League's Central Scouting Bureau last week released its mid-term ranking of prospects eligible for this year's NHL Entry Draft and, as usual, there was a healthy representation of college players among North American skaters evaluated.
Minnesota freshman forward Thomas Vanek is rated third overall, trailing only Ontario Hockey League standouts Derek Staal of Peterborough and Dustin Brown of Guelph. North Dakota's Zach Parise is 11th on the list, followed by defenseman Mark Stuart of Colorado College (17th) and Ohio State forward Ryan Kesler (20th)
The remaining college players ranked, by conference:
CCHA: Jeff Tambellini, Michigan, 37th; Danny Richmond, Michigan, 48th; David Booth, Michigan State, 71st; Corey Potter, Michigan State, 80th; Tim Wallace, Notre Dame, 122nd; Cody Blanshan, Nebraska-Omaha, 135th; Jamie Milam, Northern Michigan, 181st; Stephen Dennis, Miami, 237; Alvaro Montoya, Michigan, 2nd (goalies are ranked separately).

WCHA: Gino Guyer, Minnesota, 84th; Jonathon Lehun, St. Cloud State, 99th; Alex Leavitt, Wisconsin, 151st; Peter Kennedy, Minnesota, 175th; Dan Kronick, Minnesota-Duluth, 194th.


RIPPED FROM TODAY'S HEADLINES

Jason Grinevitch
Do You Take This Nanook to Be Your Husband?: Alaska-Fairbanks forward Jason Grinevitch had a fairly normal week leading up to last weekend's home series with Lake Superior State – went to class, attended practice, got married.
That's right. He tied the knot with Lindsay Duterte, his girlfriend of four years, in Haines Junction, Yukon Territory, Jan. 15. The skinny:
Lindsay, who lives with Jason, was trying to return to Fairbanks from Edmonton Jan. 12, but was not allowed to board the airplane because of a visa issue. When she was denied entry into the U.S. the following day, she took the advice of a customs agent, who told her if she and Jason were married she could cross the border via his student visa.
After ironing out the details that night, Duterte and her parents met Grinevitch in Whitehorse, the Yukon Territory capital city, the following day. They obtained a marriage license, complied with the obligatory 24-hour waiting period and tracked down a justice of the peace in Haines Junction. After the ceremony – which took place at the home of the justice of the peace – the newlyweds drove to Fairbanks. Grinevitch was back in time for practice Thursday, and earned an assist in the Nanooks' 2-2 tie with LSSU Friday.
"I was in jeans and a T-shirt and Jason had his hockey training pants and shirt on," said Lindsay to Fairbanks Daily News-Miner reporter Richard Larson. "We didn't look that good, but it didn't matter."
"I was…devastated when she couldn't make it across," Grinevitch told Larson. "I'm willing to do anything for her."
The couple had originally scheduled their wedding for July 26 in Lindsay's hometown of Bonnyville, Alberta. They're still planning on going through with the ceremony.

I Want My Leafs TV: The CCHA announced last week that Leafs TV, the 24-hour hockey cable network owned and operated by the Toronto Maple Leafs, will carry 25 regular-season and playoff games this season.
All but seven of the games will be broadcast on a tape-delay basis. Each of the league's 12 teams will appear on Leafs TV at least once. Leafs TV, which debuted in September 2001, is available to most of the province of Ontario.
Three Great Weekend Getaways

1. Ferris State at Miami: Both teams have different sets of motivators in this series. The Bulldogs wouldn't mind creating breathing room between themselves and Ohio State atop the CCHA standings. The RedHawks, 2-7-1 in their last 10 games, are fighting to earn home ice in the first round of the conference playoffs for good reason - they're 8-1-2 at Goggin Ice Arena this season.

While you're there: No trip to Oxford is complete without a visit to the First Run, arguably the finest post-game hangout in the CCHA. Housed in a former movie theatre, the First Run is routinely packed with Miami students and features three bars and a huge dance floor. If the club scene isn't your bag, there are a number of options on High Street, including Steinkeller, a comfortable – and popular – German pub and restaurant.

Runners-up:

2. Minnesota State, Mankato at Minnesota: Minnesota is four points behind the surprising Mavericks in the WCHA standings, but the Gophers have four games in hand. These two teams split in Mankato earlier this season. The anticipated return of junior captain Grant Potulny should provide a boost for the home team.

3. Alabama-Huntsville at Northern Michigan: Not only is Alabama-Huntsville the nation's hottest team, but a pair of wins in Marquette would undoubtedly boost the Chargers' Pairwise ranking. The up-and-down Wildcats, meanwhile, could use two quality wins to boost their confidence.
BSU OT 411: Bemidji State lost a pair of overtime decisions at Alabama-Huntsville last week, the team's 10th and 11th extra-session contests this season. The 11 overtime games set new school and College Hockey America conference records. With seven weeks remaining in the regular season, the Beavers are well within reach of breaking the NCAA record of 13 overtime games shared by many teams. Maine, in 2000-01, was the most recent to do so.
Incidentally, last weekend's series marked the first time Alabama-Huntsville had ever won consecutive overtime games. It was also the first time in school history Bemidji State had dropped back-to-back OT games.
Contents Under Pressure: Certainly, coach George Gwozdecky and his Denver squad weren't pleased to earn just one point in last weekend's WCHA series against Minnesota State University, Mankato. It could have been worse.
With goaltender Wade Dubielewicz lifted for an extra attacker, the Pioneers got two goals in the final minute of regulation to salvage a 3-3 tie with the Mavericks. Luke Fulghum cut the Minnesota State lead in half with 56 seconds to play in the third period; Kevin Ulanski evened the score with 20 seconds to go.
"We played desperate at the end of the game," Denver forward Connor James told the Rocky Mountain News. "That's the way you have to play in this league."
News of the Weird: Lake Superior State goaltender Matt Violin stopped a school-record 60 shots in a 2-2 tie at Alaska-Fairbanks Friday, including 23 in the third period. The kicker: Violin was named the game's No. 2 star. Who voted, Simon Cowell?...Speaking of Upper Peninsula netminders, Michigan Tech's Cam Ellsworth made 55 saves – including 28 in the first period – in a 3-1 loss to Colorado College in Houghton Saturday...With a tie and win at Tech last weekend, CC extended its regular-season unbeaten streak against the Huskies to 34 games (27-0-7) dating back to the 1992-93 season. That span, of course, doesn't include MTU's upset of the top-seeded Tigers in the opening round of the 1994 WCHA playoffs...Milam Redux: The Milam brothers – Ferris State's Troy and Jamie of Northern Michigan – each went home with a victory as the Bulldogs and Wildcats split in Big Rapids last weekend. The big winner, however, was the boys' mother, Linda. She held the winning ticket in Saturday's 50-50 drawing at Ewigleben Ice Arena.


STICK SALUTES
Ryan Miller: Congratulations on your first career shutout, a 1-0 win against the Minnesota Wild last week. Don't look now, but Buffalo is on a roll, and Miller has a 2.18 GAA and a .915 svs% in nine starts.
Scott McConnell: A junior forward at Denver, the grandson of the legendary "Badger" Bob Johnson made his collegiate debut in Saturday's 4-2 loss to Minnesota State at Magness Arena.


BENCH MINORS

Notre Dame: The Fighting Irish, currently ninth in the CCHA, are 1-5-2 since Christmas after being swept by Yale last weekend. The Dave Poulin Watch has officially begun, especially with back-to-back series against Michigan State and Ohio State up next.
Munn Ice Arena music: MSU radio analyst Joe Blackburn referenced the music selection in this space last week, but it bears repeating. I sometimes think Alan Freed is picking the records. Seriously, I keep waiting for a sock hop to break out.


THIS WEEK'S NHL TRANSACTIONS
National Hockey League: Suspended Dallas goaltender Marty Turco (Michigan) one game without pay for high-sticking incident in Jan. 20 game vs. Colorado.
Atlanta Thrashers: Assigned forward J.P. Vigier (Northern Michigan) to Chicago of the American Hockey League.
Boston Bruins: Acquired defenseman Jeff Jillson (Michigan) and goaltender Jeff Hackett from the San Jose Sharks for defenseman Kyle McLaren and a 2004 fourth-round draft pick as part of a three-team trade involving the Montreal Canadiens.

Calgary Flames: Assigned defenseman Jordan Leopold (Minnesota) to Saint John of the American Hockey League.
Carolina Hurricanes: Placed center Rod Brind'Amour (Michigan State) on injured reserve.
Columbus Blue Jackets: Assigned defenseman Paul Manning (Colorado College) to Syracuse of the American Hockey League.
Los Angeles Kings: Recalled forward Mike Cammalleri (Michigan) from Manchester of the American Hockey League; activated forward Bryan Smolinski (Michigan State) from injured reserve; assigned Cammalleri to Manchester.
Minnesota Wild: Activated forward Darby Hendrickson (Minnesota) from injured reserve.
Tampa Bay Lightning: Placed forward Ben Clymer (Minnesota) on injured reserve, retroactive to Jan. 14.

MINOR LEAGUE TRANSACTION OF THE WEEK
Hartford Wolf Pack (AHL): Recalled forward David Inman (Notre Dame) from Charlotte of the East Coast Hockey League.