February 6, 2003
Union troops: The Dutchmen are on a roll
By Nate Ewell
East Notebook
ECAC | H. EAST | MAAC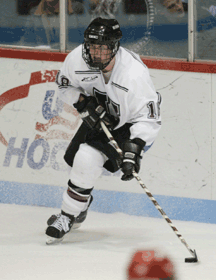 Union head coach Kevin Sneddon on sophomore Jordan Webb (above): "absolutely hands-down the smartest hockey player we've ever had here."
Related Links
A winning streak is a winning streak – and you're always happy to take five games in a row. But if you do it while the calendar turns to February, in the midst of a jumbled conference race, it feels all the better.
That's what Union has enjoyed over the last three weeks, and the Skating Dutchmen carry the nation's longest winning streak into Friday's game against Brown. Head coach Kevin Sneddon's club has won each of the last four games on the road, helping erase the memory of an 0-5-1 stretch in December and January.
"The timing of it is great," Sneddon said. "We faced some adversity just prior to the holidays and once we got back, but the players kept their focus. It's all about confidence right now. Our players are starting to believe in each other, and that's what you hope for in a young team."
Sneddon's terrific top line of right wing Jordan Webb, center Nathan Gillies and left wing Joel Beal has keyed the team's resurgence. They've combined for 28 points in the five games (11-17—28), accounting for 58 percent of the team's goals in that time, including Beal's overtime winner at St. Lawrence Saturday night.
"You look at the last couple of weeks and they've really been strong," Sneddon said of his No. 1 unit. "You need key players to make key plays at key times. They've certainly had good support from the other lines, but that line is obviously the offensive spark for us."
Sneddon notes that each member of the trio offers something special – in general terms, Beal is the setup man, while Gillies creates space with his physical play. The coach saves his most effusive praise for Webb: "to be honest, Jordan Webb is absolutely hands-down the smartest hockey player we've ever had here. To think that he's only a sophomore is really incredible."
Their play has helped Union gain a little separation from a cluttered middle-of-the-pack in the ECAC. The Skating Dutchmen stand in third place with 18 points, with four teams just two or three points behind them. Not bad for a team that was just 3-5-2 in league play as recently as Jan. 17.
With his team on such a roll, you might think Sneddon would want to play the typical two games this weekend instead of one – a result of the schedule adjustments to accommodate Harvard's Beanpot games. But typical of his team's everything's-going-great-right-now attitude, Sneddon's happy with the situation.
"We've got a very big challenge in facing a team like Brown, and this allows us to focus on Brown and only Brown," he said. "It helps from a health standpoint, too, because we'll have an extra day of rest on Saturday. This time of year, any time you play only one game can only be a positive."
THREE MORE NOTES NO FAN SHOULD BE WITHOUT
Yeah, What They Said
"What would Brian Gionta do, if he were here right now?" – Sung to the tune of the Brian Boitano song from South Park: The Movie; author unknown
A familiar name has begun terrorizing Boston College opponents – Gionta.
No, Brian isn't rehabbing his broken leg with the Eagles. It's Stephen, who for the first half of the season was notable because of his name, but not his offensive production. With three goals in his last two games, that's changing fast.
Gionta began the year in a checking role, and considering how annoying Brian was to play against, you can imagine that he was effective. He's become a scorer of late, due in no small part to his joining Ben Eaves and Tony Voce on the Eagles' first line. Playing alongside those two, you probably could score with a broken leg.
That's not to downplay Gionta's abilities. His emergence in the space previously filled by Ben's brother, Patrick, has given to give Jerry York's club another offensive weapon up front – one to take note of the rest of the way.
1. Beans, Beans ... – The rivalry is probably the best between two teams of any sport in the Boston area. And it's one of the city's signature events.
It all adds up to a great event Monday night. Boston College or Boston University have been represented in every one of the Beanpot's 50 championship games. Monday they'll meet each other on that stage for the 16th time (BU holds a 9-6 edge).
Here's a great note that captures the level of hockey you'll see at the Fleet (and on NESN) Monday night – four of the last five times these teams have met in the Beanpot final, the winner has gone on to reach that season's NCAA championship game (winning twice – BU in 1995 and BC in 2001). The lone exception, 2000, saw the losing team reach the national title game (BC).
In short, you can count on both of these teams for more highlights as the season moves on. Win either Hockey East title (regular season or tournament), and the Eagles would inevitably gain ground in the pursuit of a No. 1 seed in the NCAA Tournament. The Terriers, meanwhile, hope the Beanpot has delivered its annual shot in their collective arm.
''It won't be the last time we play BU (this season),'' York speculated in the Globe. ''Because both teams are capable of extending our seasons.''
2. Think Christmas: Green and Red – You can be sure head coach Mike Schafer has told his troops this week how to beat Dartmouth on Friday night.
The Cornell alum might also want to tell them what it's like to beat Dartmouth.
The Big Green come to Lynah for the 100th game in the series with an improbable 7-0-1 record in their last eight meetings with the Big Red, dating back to the time when the current Cornell seniors were still awaiting their college acceptance letters.
Dartmouth shook off an 0-4-1 stretch last weekend, posting a sweep at Princeton and Yale. Cornell, meanwhile, suffered its first ECAC loss since these two teams met in November in the first half of its home-and-home with Colgate last weekend.
The Big Red dominated the Red Raiders in shots and clanged a hanful off the pipe, but were held scoreless for the last 58 minutes of regulation. In overtime, Red Raider Adam Mitchell's apparent goal was initially waved off, but after referee Alex Dell conferred with assistant referees Kevin Sullivan and Andy Petrus at center ice, Colgate's celebration began.
"(Goaltender) David (LeNeveu) told me the net was off its moorings and that's why the puck went in short side," Schafer told the Cornell Daily Sun. "The head official waved it off, and the linesman called it."
3. That wacky MAAC – It was a wild week in the Metro Atlantic Athletic Conference. Consider:
• Mercyhurst and Quinnipiac, the two teams running away in the regular-season title race, both lost;
• Army swept Holy Cross in a series between two teams headed in very opposite directions, and yet tied in the standings;
• Fairfield beat Canisius for its first-ever road win over the Ice Griffs; and
• the Stags learned Wednesday that their program will be eliminated at the end of the season.
Worst things first – there's not much tougher to deal with in college athletics than having your program cut. Maine fans, if you think you were upset by the penalty call in overtime last year, multiply that by a thousand. Here's hoping Fairfield continues to battle for the rest of the season. In baseball they'd call the Stags a tough out; they may be 5-16-2, but eight of those 16 losses came by one goal.
As for what the decision means for the rest of the MAAC – very little in the short run. Sure, you'll hear about potential additions to the league. The possibility of expanding the league into two conferences, which led to the uncertainty surrounding the CHA and WCHA's automatic NCAA Tournament bids, has been shelved for the time being.
Meanwhile, back in this year's standings, the Lakers and Bobcats both lost MAAC games (to teams other than each other) in the same weekend for the first time since Jan. 26-27, 2001. Mercyhurst still controls its own destiny in the regular-season title race, three points behind Quinnipiac but with two games in hand. Army, which plays an exhibition game this week (more on that later), is tied for sixth, but at 7-3-0 in its last 10, is moving up in the world. Holy Cross, losers of eight of 10, tries to snap out of it with two vs. American International this weekend.
Three Great Weekend Getaways

1. Boston College vs. Boston University (Beanpot; Mon.)
The Eagles lead Hockey East conference games in offense, defense, power play and penalty killing – and yet not only does it feel tough to call them a favorite in this game, it feels like they're guests at BU's tournament. Boston College has prevailed by close margins in the three prior meetings this year – maybe close enough for BU's Beanpot magic to overcome.
While you're there: Tournament director Steve Nazro recalled in the Globe this week how he was eating at Durgin Park while the snow started falling in the Blizzard of '78. The folks who were trapped at the Garden for three days got steak dinners in the Blades and Boards Club, but I'd bet they would have rather had Durgin Park's prime rib. A short walk from the Fleet, it would make a good pre-game meal, as long as you don't have to play that night.

Runners-up:
2.Boston College at Maine (Fri.) – It's almost enough to feel sorry for Boston College. With Maine and BU ahead this week, never mind the difficulty of the schedule – their players have to suffer through a whole week of media- and coach-speak about not looking ahead, playing one game at a time, etc. Then again, they have the pleasure of playing in games with Hockey East title implications and a Beanpot championship on the line in a four-day span.

3. Dartmouth at Cornell (Fri.) – Can Cornell solve its Dartmouth hex? Or perhaps a better way to phrase it – can the Big Green continue their improbable mastery of the ECAC's best team? They carry a 7-0-1 record in their last eight against the Big Red into Lynah.
• Army's exhibition game against Canada's Royal Military College doesn't count in the standings – but it counts for much more than that.
"It's a special game," Army head coach Rob Riley said. "It's an historic
rivalry played with a lot of emotion on both sides."
Army looks to reclaim the Challenge Trophy after losing a 3-2 overtime game on the road last season. A win will give the Black Knights a memory they'll never forget.
"Beating them in overtime my junior year, in our rink, ranks as one of the
biggest highlights in my four years as a cadet," said former team MVP Maj. Rich Sheridan. "There is nothing more satisfying for an Army hockey player than beating RMC. This is the hockey team's Army-Navy game and it's the biggest game on the schedule. The battle on the ice is very rough and full of hostile energy."
• The 12 finalists for the Walter Brown Award, presented to the top American-born player in New England, were announced this week. This award always makes me wonder – why exclude Canadians? Or why not, if it's limited to Americans, limit it to New England natives? If you know the answer – or want to make up a creative one – pass it along. Meanwhile, here are the finalists:
Mike Ayers (New Hampshire), Trevor Byrne (Dartmouth), Jon DiSalvatore (Providence), Brandon Doria (Holy Cross), Ben Eaves (Boston College), Joe Exter (Merrimack), Chris Higgins (Yale), Jim Howard (Maine), Greg Mauldin (Massachusetts), Tim Pettit (Harvard), Mike Ryan (Northeastern) and Noah Welch (Harvard).
Three Stars
3. Ben Eaves, Boston College
Consistently strong effort every weekend looks really good to Hobey voters. As does the occasional six-point night.
2. Jim Hunt, Fairfield
A good guy in the game, the Stags' coach deserves a better fate. He'll get one, but it's unfortunate that it can't be at Fairfield.
1. Daniel Fogel, Vermont
Congrats to new Catamount president for his ambitious goal of a 9,000-seat arena in Burlington. Getting it done might be another hurdle entirely, but it's nice to see a university administrator with a positive vision for his athletic department.
• In case there was still doubt about Lanny Gare's ability to step into the high-profile, go-to role at New Hampshire, it was erased last weekend. He was fantastic in the Wildcats' split with Maine, posting three goals.
• For the first time since Jan. 3, 1977, Madison Square Garden will host a college hockey game this March 1, as Quinnipiac takes on Connecticut. The two MAAC teams will play for the Heroes Hat, an award established last year to honor those who lost their lives on September 11, 2001.
• Clarkson had scored a total of nine goals in the previous five games before its 7-1 win over Rensselaer Saturday. Thirteen Golden Knights recorded a point.
• Vermont is 7-2-1 when it outshoots its opponent, something the Catamounts have done in four of their last five games.
• Bentley's impressive 6-5 win over Mercyhurst – highlighted by junior Joe Lovell's four assists – puts the Falcons three games over .500 in the league, in good shape in terms of hosting a first-round playoff game. But that might not necessarily be a good thing: they are 6-3-0 on the road in MAAC play, 4-4-0 at home.
• With regular-season non-conference play complete, Hockey East's .718 winning percentage outside the league is the best in conference history. Maine (9-1-1) and Massachusetts (6-1-1) led the way.
• It's pretty clear goaltending has been the key to UMass Lowell's fortunes. The River Hawks are 6-0-1 when allowing two goals or fewer, 3-14-2 when allowing three goals or more.
A variety of sources were utilized in the compilation of this report.