February 27, 2003
Summit meeting: UNH, BC battle for title
By Nate Ewell
East Notebook
ECAC | H. EAST | MAAC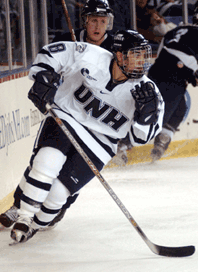 Steve Saviano ranks third on the UNH team in scoring with 26 points, 15 of which have come in the new year.
Related Links
Dick Umile knows that things would have to go nearly perfectly for his New Hampshire Wildcats this weekend to take three out of four points – and the Hockey East regular-season title – from Boston College. That said, he's thrilled for the chance to try to make it happen.
"You could play very, very well and still lose, and that's the case for both BC and UNH," he said. "But this is something that you strive for. To have an opportunity to play for the regular-season title – that's really hard to do in our league."
Umile admits that he took note of this series on the schedule before the season even started and wondered just what might be on the line. It's played out just as he had suspected, with BC and UNH ranking 1-2 in conference offense, defense, power play and penalty killing. They've been the class of the league all year – along with Maine (which could still conceivably earn the No. 1 seed in the Hockey East tournament if it sweeps BU and UNH posts a win and a tie vs. BC, creating a three-way tie for the title).
New Hampshire, which has won five in a row against Boston College, could be bolstered by the return of defenseman Kevin Truelson, who missed the last two games with a cast on his troublesome foot. The cast was removed Wednesday, and the gritty Truelson hopes to play through the pain. He would be a crucial addition against BC's high-flying lineup, providing some defensive leadership to try to slow the likes of Ben Eaves, Tony Voce and Ryan Shannon.
Up front, Umile credits the line of Steve Saviano, Sean Collins and Nathan Martz, which has emerged to take pressure off the Wildcats' top unit of Lanny Gare, Colin Hemingway and Josh Prudden. Saviano, for one, has 15 of his 26 points since the start of 2003.
"That line has really come on since we put them together early in January," Umile said. "They've been one of the best lines in the league, and they've given us some real balance."
Despite the excitement a weekend like this generates – with a title on the line, packed crowds and television Saturday night – Umile says that there's no threat of making out to be too big. A potential trip to the FleetCenter and the NCAA Tournament both await, after all.
"It's not the end of the world if we don't win," he said. "It's a fun opportunity to play in, but coming in first, second or third in this league isn't a bad thing."
THREE MORE NOTES NO FAN SHOULD BE WITHOUT
Yeah, What He Said
"You're not leaving now, are you?"
Last week's revelations in my colleague Mike Eidelbes's West Notebook that the CHA was looking to add a seventh member from an existing Division I conference prompted plenty of speculation as to the identity of that team, with the focus on the MAAC.
Quinnipiac would appear to be a candidate to flee the scholarship restrictions of the MAAC. But head coach Rand Pecknold said that while his school always keeps its options open, the Bobcats have no immediate plans to leave the MAAC.
"We're always looking at the options that might be available," he said. "We've had talks in the past with Hockey East. Our women are looking at going to the CHA – I'm not sure if that's going to happen, but the thought came up that if they did that, it might make sense for the men's program, too.
"Right now we're pretty happy in the MAAC, and we're not going anywhere in the immediate future. I think the MAAC has improved greatly each year, and we're
happy with the direction it's heading."
Quinnipiac athletic director Jack McDonald reiterated that the school is happy in the MAAC. Meanwhile, the CHA's Structure Committee met last week but didn't come to any conclusions about the addition of a seventh team. The issue will be discussed by the conference athletic directors either at the conference tournament in March or at the league meetings in April.
"We want to make sure we're doing it right, and there doesn't seem to be an immediate urgency," CHA commissioner Bob Peters told Eidelbes.

1. No place like ... – No one in the nation enjoys a better home-ice advantage than Cornell. Not only were the Big Red perfect at Lynah this season, at 13-0-0, but visitors were lucky to score a goal – Dave LeNeveu and the boys held opponents to 12 goals in the 13 games.
This marks the first time since 1970-71 that the Big Red have been perfect at home, and they'll have a chance to build on that mark in two weeks when the ECAC quarterfinals come to town.
Earning that home-ice advantage is high on every team's list of goals, even though it only means two (maybe three) extra games in front of the home crowd. But for some clubs, like Cornell, it's much more significant than others.
Consider, for another example, Providence (11-4-1 at home, but under .500 on the road). Think the Friars wouldn't feel a whole lot better about their quarterfinal series against Boston University – and thus their NCAA Tournament chances – if they can play the series at home instead of at Walter Brown Arena?
Here, then – with BU-PC and a few other home-ice spots up for grabs – is a quick look at who else stands to gain considerably from home-ice advantage:
• Dartmouth: Thompson Arena has been jumping this year, and the Big Green have responded. They are 12-3-0 at home, but 3-8-1 away from home.
• Brown: Currently tied with Dartmouth for fourth place, the Bears will be similarly motivated to gain home ice. They've posted an 8-2-3 record at home (4-9-0 on the road). By the records, both Brown and Dartmouth stand to benefit from home ice more than Union (6-5-2 at home, 7-10-2 on the road), which stands two points behind them entering this weekend.
• Holy Cross (third place), Army (tied for sixth) and Canisius (tied for sixth) are all over .500 at home and would love to play their MAAC quarterfinal games at home.
Of course, there are other teams where home-ice advantage doesn't mean quite as much. Bentley currently stands in fourth in the MAAC – the final spot for home ice in the quarterfinals. The Falcons, however, are the rare team that seems to be better off on the road – they are the only team in the East with an under .500 home record (5-7-0) and a road record of .500 or better (8-8-0).
Then we come back to Providence. The Friars, while much better on the season at home, haven't lost a road game in Hockey East since Jan. 5, posting a 4-0-2 record since then.
2. Play-in game – UMass Lowell's ties in back-to-back games – against an excellent team in New Hampshire and a good team with an excellent goaltender in Merrimack – sets up a battle for the eighth and final playoff spot in Hockey East Saturday night against Northeastern.
Winner take all? Well, not exactly. But winner takes a little something, and the loser is stuck at home for the playoffs.
"The true competitor loves the matchup," River Hawks head coach Blaise MacDonald said. "It's a sixty-minute season.
"We're playing at home, we're playing against a good team, a team we match up well against, and a team that is going to give us a lot of problems if we don't execute our game plan. It's going to be exciting. It is similar to last year when we played Northeastern where it came down to a one-game series. The winner goes to the FleetCenter and the loser goes home, and last year we were able to get it done. I expect a high-intensity game out of our team."
The River Hawks probably have an edge based on how their playing – and every opposing coach this year seems to have said they're the best last-place team they can imagine. They've been bolstered by the season-long improvement of their freshmen, and rookies Danny O'Brien and Elias Godoy recorded the team's lone goals against Merrimack star goalie Joe Exter Tuesday night. Freshman Andrew Martin has been strong as well, standing second on the team in goals with 10.
So keep an eye on the freshmen, but remember this as well – with seniors Ed McGrane (UMass Lowell) and Mike Ryan (Northeastern) participating, this game will be the last for one of Hockey East's elite players. They both lead their teams in scoring, and one might have a say in making sure his team's season continues.
Three Great Weekend Getaways

1. Boston College vs. New Hampshire (at BC Fri., at UNH Sat.)
I'd brag that I predicted this series could have the Hockey East title hanging in the balance in Inside College Hockey's conference preview, but I also said the series would decide the scoring race between BC's Ben Eaves and UNH's Colin Hemingway. Close, but not quite – Eaves has it wrapped up, with a seven-point lead over Hemingway's linemate, Lanny Gare. I'll stay out of the prediction game in this one, and leave it to Merrimack head coach Chris Serino, who has seen each team play over the last two weeks: "I personally think UNH is the best team," he told the Portsmouth Herald. "I hope we don't see them anymore."
While you're there: Why not visit Boston Common Saturday morning for a skate on the Frog Pond? It's not quite as invigorating as true pond hockey – no sticks and pucks allowed – but it's a treat nonetheless.

Runners-up:
2.Cornell at Yale (Sat.) – Can the Bulldogs match their typical offensive output against Cornell's stingy defense? If they can, this is the place to do it. Yale holds a 5-0-1 record in Cornell's last six trips to the Whale. If you can't make it to this one, catch it on NESN or YES – it kicks off the ECAC's television package and is one of a host of great games available on the dish this weekend (check out our National TV Schedule).

3. Quinnipiac vs. Connecticut (Sat.) – Easy, MAAC bashers. The location alone makes this one worth the trip – Madison Square Garden. And don't worry, you don't have to stay to watch the Rangers.
3. The big top – Quinnipiac has a solid grip on a top-two finish in the MAAC, and controls its own destiny in terms of the regular-season title. But head coach Rand Pecknold is pointing to this weekend's series with Connecticut – which features a televised game Friday night and a trip to Madison Square Garden Saturday afternoon – as a chance to regain some momentum before the playoffs begin in two weeks.
"We certainly need to start playing better," said Pecknold, whose team is 4-6-0 in its last 10. "Everyone on the team has been struggling the last few games. We had a big win against Holy Cross Saturday in overtime, so hopefully we can build on that."
The game at the Garden is the first appearance for college hockey at MSG in 25 years, since the ECAC Holiday Tournament was held there in 1976-77.
"Everyone's excited," Pecknold said. "I know the players are, and our students and alumni are excited as well. We've got seven or eight busses going to the game already."
Moving the game to the Garden was possible thanks to Quinnipiac's association with the NHL in a program that allows former NHL players to study at the school. That initiative was announced in the fall at MSG, and Quinnipiac athletic director Jack McDonald began discussions about bringing college hockey back to the world's most famous arena.
Adding to the stakes for this weekend's series is the Heroes Hat, which goes to the winner of the UConn-Quinnipiac series in honor of the victims of Sept. 11. Pecknold calls that the team's focal point, even amid the other excitement of the weekend, but he hopes it all will contribute to his team's motivation.
"You would certainly hope so," Pecknold said. "But you've always got to wait and see how the team responds. This is an exciting time of year – we're getting ready for the playoffs, Friday's game is on NESN, then Saturday at the Garden. It's probably our biggest weekend of the year."
• Boston University forward John Sabo was arraigned this week on charges that he allegedly assaulted a BU senior outside a bar last September. Sabo – who is expected to be in the lineup this weekend against Maine – pleaded not guilty to assault and battery, assault and battery with a dangerous weapon (a shod foot) and making threats. Sabo will make his next court appearance for a pre-trial hearing April 8, which will be after the Terriers' season unless they reach the Frozen Four (the semifinals are April 10).
Three Stars
3. Trevor Byrne, Dartmouth
One of the best two-way defensemen in the college game, Byrne has recorded his third straight 20-point season. He scored his career-best seventh goal in the Big Green's win over Brown Saturday.
2. Chris Owen, Princeton
In an unhappy season at Old Nassau, Owen has been a big bright spot, accounting for a remarkable 30.2 percent of Princeton's goals in ECAC play. His two goals Saturday night give him 13 in league games, tied for fourth in the conference (that's offensive ability usually reserved for Princeton's lacrosse team). He and Princeton's other top eight scorers will all return next year to try to improve on the Tigers' 3-23-1 record.
1. Scott Clemmensen, ex-Boston College
Wednesday night was like 2001 all over again at Pepsi Arena, where Clemmensen's Albany River Rats beat ex-North Dakota netminder Karl Goehring and the Syracuse Crunch, 4-2. Maybe if the Crunch had pulled Goehring for an extra attacker earlier, it would have gone to overtime.
• It's a credit to Cornell that there was a good deal of debate at Inside College Hockey about which Big Red player deserved mention as "second fiddle" to Dave LeNeveu in this week's edition of Go-To Guys. We nearly gave the nod to Ryan Vesce over senior defenseman and returning Hobey finalist Doug Murray. You can make a great case for the junior center, who leads the team in scoring with 15-22—37. Most importantly, the smooth, creative Vesce makes everyone around him better – helping make his line, including wingers Stephen Bâby and Matt Moulson, into one of the ECAC's best trios. Help us settle the debate – who's better, Vesce or Murray?
• The ECAC's new 12-team tournament format creates some intriguing possibilities entering the final weekend of the year. Clarkson, for example, could conceivably earn a first-round bye (first through fourth), or it could be on the road for the first round (ninth through 12th). Most likely, the Knights will be somewhere between fifth and eighth and host a first-round series (they're currently seventh). The Golden Knights' travel partner, St. Lawrence, swept a weekend series for the first time last weekend (vs. Princeton and Yale). The Saints (tied for ninth), however, could still host a first-round series if things go well this weekend at Brown and Harvard.
• Clarkson leads the ECAC in penalty minutes per league game with 21.5, nearly five more than Brown and Harvard (its opponents this weekend), which are tied for second (16.8). It's a good thing for the Knights, therefore, that they lead the conference in penalty killing as well (88.0 percent, with five short-handed goals).
• Mercyhurst athletic trainer Mike Folga has been busy lately, with forward Adam Tackaberry headlining a large group of injured Lakers. Tackaberry is joined by three defensemen – Mark Chambers, Mike Kirby and Mike Muldoon – and all four are listed as out indefinitely.
• At first glance, the Mercyhurst-Bentley game Saturday night is the most enticing on the MAAC slate this weekend. But don't overlook Bentley's game the night before, against Fairfield. Two of the Stags' seven victories this season have come against Bentley. Stag fans should be raring to go, as well – they're meeting up at Tom's Busy Bee Pub in Watertown beforehand. I've never been, but with a name like that, it's got to be a good place.
• ESPN will air a one-hour documentary on the Beanpot during the Frozen Four. It will air between the semifinals on ESPN2 (April 10, 3 p.m. EST) and before the championship game on ESPN (April 12, 5:30 p.m. EST). If you're making the trip to Buffalo, set your VCR – or better yet, get TiVo, man's best invention since the curved blade.
• Big week for shutouts in the ECAC: Cornell's Dave LeNeveu tied Ken Dryden's school record with his sixth of the season, while Brown's Yann Danis set school records for shutouts in a season (four) and career (seven).
• Harvard is 18-0-0 when leading after the second period, but 0-6-0 when trailing.
A variety of sources were utilized in the compilation of this report. Special thanks to Joe Gladziszewski and Ken Schott for their contributions.
FEEDBACK: VESCE OR MURRAY?
If you guys really paid any attention to Cornell hockey, you'd know the correct answer is Stephen Bâby. See Moy and Blaeser's choice for ECAC player of the year over on USCHO – the thinking man's college hockey web site.
– Al DeFlorio
Stephen Bâby deserves all the kudos behind LeNeveu. He is a monster along the boards and a star on the power play. Possibly the ECAC Player of the Year?
– Adam Brown
Murray, but only by a hair. As a Cornell fan, while Vesce is the key to the offense, Murray is the key to the defense on the best defensive team in the country, and the key to a Big Red power play which is among the best in the country. However, the player who perhaps plays second fiddle most is LW Stephen Bâby, one of the best defensive forwards in the ECAC.
– Michael Cohen
Murray!
– Catherine van Buren