February 27, 2003

Should St. Cloud Skate?
Does mediocre record, impressive strength of schedule add up to NCAA Tourney invite?
By Mike Eidelbes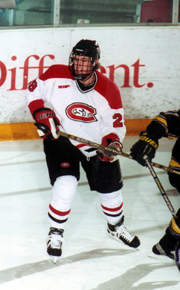 Ryan Malone and St. Cloud State are tied for eighth in the Pairwise Rankings despite a 14-12-4 record.
West Notebook
CCHA | CHA | WCHA
The selection process for the NCAA Tournament has been pretty much fail-safe over the past few seasons because teams are chosen largely on empirical data. Thanks to its system of statistics-based comparisons, the deserving teams outside of the conference playoff champions have ended up with invitations to the national tournament, for the most part.
However, a flaw in the machinery could be exposed this season should St. Cloud State receive an at-large invitation. The Huskies, a pedestrian 14-12-4 overall and seventh place in the WCHA, rank 24th among Division I schools in winning percentage and trail such teams as Dartmouth, Minnesota-Duluth and Yale in that category. Thanks to their strength of schedule – currently recognized as the nation's toughest – SCSU sits in a tie for with Minnesota eighth in the latest Pairwise Rankings, ahead of 20-win teams Michigan, North Dakota, Ohio State and Denver.
The juxtaposition begs the question, does St. Cloud State belong in the NCAA Tournament? Former Bowling Green and Rensselaer coach Buddy Powers, who sat on the selection committee in the past, says if the data says the Huskies belong, they'll get an invite.
"The way this thing is set up, they're pretty cut and dried," Powers explains. "The days of five guys in a back room are long gone. The way they have it down now, they've got it refined pretty good. The numbers spit things out."
Granted, there's a lot of hockey left to be played. St. Cloud State could conceivably finish the season with a .500 record or worse, what with a series remaining against Minnesota and the possibility of opening the WCHA playoffs on the road against a team such as the Gophers, Denver or North Dakota. Plus, it's hard to predict what the Huskies' two games against Alaska Anchorage this weekend will do to their strength of schedule rating.
"We've got a long way to go yet," said Wayne State coach Bill Wilkinson, also a former member of the selection committee. "A lot of it depends on what happens in the league tournaments."
While the selection process is based mainly on factual data, Wilkinson believes there is room for interpretation. For example, the committee might be inclined to choose a 25-win team over a team with fewer wins, even if the data leans in favor of the latter.
"It's not as cut and dried as you think…but there's not too much personal evaluation," Wilkinson said. "It's pretty much factual. (The committee) looks at the numbers across the board and see where (the teams) fit in."
Powers says any time there are changes to the tournament format, as there are this year with the expansion to 16 teams, cracks in the selection process may begin to show. But he adds that the NCAA will work quickly to shore up any issues.
"It's the first year (of the 16-team tournament) and there are going to be some glitches," Powers stated. "There are going to be questions as far as how things went. But when all is said and done after the playoffs are over in all the leagues, the committee will follow the criteria. Whoever comes out as the top 16 in criteria – that's who's going to get the spots."
WILD WEST WALK-ON


Alaska-Fairbanks is currently in ninth place in the CCHA standings and has two fewer league games than the teams in front of them, so odds are slim the Nanooks will host a first-round playoff series for the second straight season. Thanks to the contributions of walk-on goaltender Keith Bartusch, however, UAF could prove to be a handful for its first-round foe.
Bartusch, a sophomore from Graham, Wash., has started five straight games for the Nanooks and is 3-0-2 during that span. The latest victories came last weekend in Columbus, as UAF surprised nationally-ranked Ohio State, beating the Buckeyes, 4-1, Friday and posting a 5-4 win in the series finale.
Things People Say
"They're probably a little upset I didn't stay here. But I'm more than pleased with my decision to go to Michigan." – Wolverine captain and Omaha native Jed Ortmeyer, who's greeted with a chorus of boos from the home fans every time his team plays at Nebraska-Omaha.
"All of the above." – Minnesota captain Grant Potulny, when asked by a reporter if his team's mood was one of anger, frustration or disappointment following the Gophers' 5-4 overtime loss at Minnesota-Duluth Saturday.
"Maybe in the beer league over the summer." – Minnesota State, Mankato forward Grant Stevenson, to a scribe who asked when the Mavericks, unbeaten in 17 straight, will lose again.
"We have a senior and a junior who are excellent goaltenders and have proven they can win CCHA hockey games on their own," said UAF coach Guy Gadowsky, referring to backstops Preston McKay and Lance Mayes. "Unfortunately, that hasn't been happening, and that opened the door for Keith to step in and he has been unbelievable."
More interesting than Bartusch's transformation from gate-opener to go-to guy is his background. He didn't start playing organized hockey until he was a teenager, and that was because his mother forbade him from continuing on in his favorite extra-curricular activity at the time – bull riding.
"When he got old enough, around 13, I think, when he couldn't ride the baby bulls anymore – he had to ride the big boys – his mom said, 'Enough of that,'" Gadowsky explained. "He was looking for something to do and happened to go to a hockey game in Tacoma and loved it."
Bartusch spent one year as a forward, then moved between the pipes at 14. Eventually, he joined the Fairbanks Ice Dogs of the American West Hockey League and spent one season with that organization before returning to Graham. He worked construction for a year, but decided he wanted to take another crack at hockey.
"He got in great shape and got the opportunity to come (to UAF) and try out," said Gadowsky. "He certainly made the best of it."
REFLECTIVE RED


Coming into the weekend with 499 career victories, Michigan coach Red Berenson took time to reflect on his career in Ann Arbor with Detroit
Free Press
writer Michael Rosenberg in a question-and-answer session that appears in today's issue. The topics ranged from the rivalry to Michigan State to his plans for retirement, but the most interesting comments surrounded Jeff Jillson and Mike Cammalleri – former players who left the Wolverines early to pursue professional careers.
Berenson told Rosenberg that Jillson was up front about his decision to go pro. In fact, the coach said he could sense the defenseman's prevailing attitude during his junior year at U-M.
"He wasn't taking to the day-to-day work ethic and practice that we were preaching," Berenson stated. "He was already looking past...he wasn't challenging himself. There were nights I wanted to bench him. He was wasting our time and his. You hate to say that about a kid. His head was turned by pro hockey."
Berenson saved most of his vitriol for Mike Cammalleri, who stunned his coach by announcing he was signing with the Los Angeles Kings last summer. Clearly, comments Berenson made to Rosenberg indicate the coach still harbors ill will toward Cammalleri.
"Jillson did it right," Berenson said. "He told me after spring term he would give me a yes or no. Andy Hilbert was up front. Cammalleri was all cloak and dagger. I didn't like the way Mike did it, how it happened and I was really disappointed in him. Mike got in bed with an agent that told him what to do.
"Our relationship is not very good right now, I'll tell you that. It might smooth out in time. I told him, 'Our players don't act this way. If you do it, you do it up front. But don't lie to your best friends on the team.'"
When asked whether freshman Jeff Tambellini would consider forgoing part of his college career to pursue a professional career, Berenson expressed optimism. It's fair to say if you read between the lines, however, one can infer a veiled criticism of Cammalleri.
"I think Jeff has his head screwed on right," Berenson told Rosenberg. "He is from a hockey background – his dad, Steve, is a pro, and he knows what I know. So there is no rush. He can have a Brendan Morrison(-type) career at Michigan, and you can't buy that."

RIPPED FROM TODAY'S HEADLINES
Winchester arrested, suspended: Wisconsin senior captain Brad Winchester was suspended Thursday by for two games by coach Mike Eaves for his role in an altercation outside a campus bar early Sunday morning during which he allegedly punched a police officer. The 21-year-old Madison native will miss both games of this weekend's series with Michigan Tech and return to practice Monday.
Three Great Weekend Getaways

1. Minnesota State, Mankato at Colorado College: Could this be the weekend the Mavericks' impressive 17-game unbeaten streak comes to an end? The Tigers can salt away their first MacNaughton Cup since 1995-96 – hard to believe it's been that long – by earning two points against Minnesota State in this series.

While you're there: The March weather in Colorado can be glorious (but it's only supposed to be in the low 30s this weekend) so if the sun is out Saturday afternoon, do yourself a favor and drive down to the CC campus at 1 p.m. as the Tiger men's lacrosse team (an NCAA Division III program) hosts the Colorado State club squad at Washburn Field. After all, lacrosse is Canada's national sport.

Runners-up:

Denver at Minnesota: This series has major implications on seeding for the conference playoffs and NCAA Tournament. There's still bad blood between these two teams stemming from an incident more than three years ago, when Minnesota's Erik Westrum kicked Pioneer defenseman Erik Adams in the chest with his skate blade in the WCHA's first instance of Erik-on-Erik violence.

Michigan State vs. Michigan: This grudge match starts Friday in Ann Arbor and concludes Saturday at Joe Louis Arena in Detroit. Coach Red Berenson is in search of his 500th win behind the Wolverine bench. What could be better than reaching that milestone at Yost Arena? How about doing it against your most bitter rival? The Spartans, meanwhile, hope forward Jim Slater (shoulder) can suit up this weekend, but it doesn't look good.
"Brad Winchester is a fine young person and no one is as disappointed as Brad with the incident of last week," Eaves said in a prepared statement. "He made a poor decision last week, but over the four years of his career has shown good character. Brad will work through this situation, and our hockey team will support him throughout the process."

Winchester faces a felony charge of battery to a police officer and a misdemeanor charge of disorderly conduct. He was released from custody on a signature bond after making his initial appearance in Dane County Court Monday afternoon.

According to police reports, four Madison police officers and a supervisor were called to the Kollege Klub, across the street from the UW campus, shortly after 2 a.m. to break up a fight. One of the officers – Caleb Bedford – saw Winchester hit an unidentified man in the face with a closed fist. Bedford grabbed Winchester as he prepared to through another punch; the hockey player wheeled and hit the police officer in the face, giving him a bloody nose. Winchester then punched him once more.

Winchester makes his next court appearance March 11. The battery charge is punishable by a fine of up to $10,000 and up to six years in prison. The misdemeanor charge carries a maximum sentence of 90 days.

It's the second black mark in as many weeks on the Badger hockey program. Last week, sophomore forward Alex Leavitt revealed Eaves used unnecessary physical force in a November confrontation at a Grand Forks, N.D., hotel.

Doell on a roll: Denver forward Kevin Doell is a pretty good hockey player, After all, in his final year with the Melfort Mustangs of the Saskatchewan Junior Hockey League, he was runner-up for Canadian Junior A player of the year to a guy named Dany Heatley.

So how is it that he's quietly become one of the most dangerous scorers in the nation? With 23 goals and 22 assists this season, he ranks tied for thirteenth nationally in points and is tied for eighth in goals. He's scored at least one point in 13 of the Pioneers' last 14 games, including seven goals and two assists in the team's four previous outings.

"I have to credit my linemates, Greg Keith and Connor James," says the senior from Saskatoon, who was named WCHA offensive player of the week after notching four goals and an assist in a win against Michigan Tech Friday. "They just put the puck on my stick."

He makes a good point, but sells himself short. Listed as 5-feet, 11-inches and 192 pounds, Doell possesses a nasty streak common among players from the western Canadian prairie. Besides, he had a great role model when it came to toughness – his brother, Curtis, was a rugged defenseman and fan favorite at Minnesota-Duluth from 1996-98. There's one huge difference between Curtis and Kevin, however.

"Kevin is a goal scorer," said Denver coach George Gwozdecky. "When you put the puck on his stick and he's in the slot, there's a good chance he's going to score."

The DECC – Reunion Arena?: From frequent INCH contributor Jess Myers, who reports Saturday's Minnesota-Duluth game against Minnesota featured a between-periods reunion of the Bulldogs' 1992-93 WCHA regular-season title team. Six members of that team are still playing professionally and couldn't attend, but the likes of Joe Biondi, Jon Rohloff, Kraig Karakas, Taras Lendzyk and Chris Sittlow were introduced to an appreciative sellout crowd.

For the benefit of the 1,000-plus Gopher fans at the DECC, the Bulldogs were recognized by the public address announcer as "the last team from Minnesota to win a WCHA championship outright." Indeed, since that night a decade ago when the Bulldogs stood alone atop the league, the closest a Minnesota team has come to the MacNaughton Cup was in 1997, when the Gophers shared the title with North Dakota.

News of the weird: Bemidji State tied the NCAA record by playing its 13th overtime game of the season last weekend, an extra-session win vs. first-place Alabama-Huntsville Saturday…Count Niagara among the nation's hottest teams. The Purple Eagles are 8-2-2 in their last 12 games…All but one of Michigan's 23 wins have been decided by two or more goals…Michigan State marked its 300th consecutive regular season sellout at Munn Ice Arena Saturday with a 4-2 loss to Northern Michigan. The first game in that steak took place on Dec. 19, 1985 – a 3-2 loss to Northern Michigan…Nebraska-Omaha played its final CCHA series at Civic Auditorium last weekend. Only three conference schools posted sweeps at The Bullpen – Michigan (once, last weekend), Michigan State (once, in the first CCHA games at the building in 1999) and Alaska-Fairbanks (twice)…Denver defenseman Jason Grahame was a whopping +6 in Friday's 7-2 win vs. Michigan Tech…Minnesota-Duluth's dramatic win against visiting Minnesota Saturday ended the Gophers' 21-game unbeaten streak (17-0-4) in WCHA series finales…A Midwest Wireless Arena-record 5,182 fans watched Saturday's MSU-Mankato game against North Dakota. The Mavs-Sioux series also set a two-game series record for attendance at 10,294…The Fighting Sioux have lost three straight games – all by one goal.


STICK SALUTES
Dan Benson: North Dakota's hockey sports information director and a 17-year member of the Army Reserve, was one of 15 soldiers from the 308th Engineer Detachment called for active duty, with initial orders for one year. Benson arrives in Fort Carson, Colo., near Colorado Springs this week; no word on further assignment of his unit. Outside of a few lazy, shameless self-promoters who care more about getting on TV and quoted in newspapers than about their athletic programs, sports information directors are – not unlike our armed forces – a hard-working, affable, under-appreciated lot. We've never met, Dan, but good luck, be safe…and we thank you.
Erik Drygas: The former Alaska-Fairbanks skater was named Alaska's top high school hockey coach by the Anchorage Daily News. Drygas, whose career at UAF ended prematurely after he was paralyzed when he crashed into the boards during a practice in 1996, led West Valley High School to the Alaska 4A state semifinals.


BENCH MINORS

Dean Blais: I don't know enough about Blais' alleged altercation with a fan following the Fighting Sioux's 2-1 loss at Mankato Friday to comment on it, but refusing to talk with the media after the game and barring players from doing the same was a petty, short-sided move by a coach who's won plenty of contests during his tenure in Grand Forks.

Miami: Saturday's loss to Sacred Heart (yes, that Sacred Heart) in Oxford isn't going to help in the Pairwise Rankings.


THIS WEEK'S NHL TRANSACTIONS
Atlanta Thrashers: Assigned forward Ben Simon (Notre Dame) to Chicago of the American Hockey League; recalled forward Mark Hartigan (St. Cloud State) from Chicago.
Buffalo Sabres: Assigned goaltender Ryan Miller (Michigan State) to Rochester of the American Hockey League.


MINOR LEAGUE TRANSACTION OF THE WEEK

Manitoba Moose (AHL): Recalled center Jason Goulet (St. Cloud State) from Quad City of the United Hockey League.