October 15, 2003
Sioux Showdown
By Nate Ewell
The Grand Forks, N.D., chamber of commerce should get a hold of Jerry York. It's probably been a while since anyone's shown the enthusiasm about a trip to the city that the Eagles' coach has going into this weekend's series with the Fighting Sioux.
"There's plenty of excitement on our side," York said. "It's a great matchup between two storied college hockey programs, and I think we will both benefit from it."
The two-game series between BC and North Dakota really does have all you could ask for in October:
• the top-ranked team in the East vs. the top-ranked team in the West
• a rematch of the 2000 and 2001 national championship games
• a national television audience on CSTV's Friday Night Hockey broadcast
• two of the most dynamic players in the game in BC's Ben Eaves and North Dakota's Zach Parise (if he's healthy)
• the two best first lines in the game
York, although he doesn't have the last change, would like to see those two first lines square off. If it was up to him, his Ben Eaves-Patrick Eaves-Tony Voce trio would go against Brandon Bochenski, Brady Murray and Zach Parise (who left last weekend's exhibition game with a knee injury; his status is in doubt for this weekend).
"That's a line we feel is a threat every time they come on the ice," York said of the Sioux's top unit. "I would like to see (them against our top line). Play the best against the best and see how it plays out."
Adding to the intrigue, four of those six players know each other very well. The Eaves brothers, Parise and Murray are all products of the Shattuck St. Mary's program in Minnesota.
But those aren't the only players thrilled to be a part of this kind of series, obviously. Even the defensemen – who might face their toughest challenge of the year – are looking forward to it.
"I'm sure they can wheel," said junior John Adams, an all-tournament pick at last weekend's Ice Breaker Invitational. "More than anything, we've got Ryan Shannon, Ben Eaves, Patrick Eaves, Tony Voce, Dave Spina – forwards who can match them. It's going to be fun to go up to their place and play a couple games in their new rink."
The games are the first series in a four-year agreement between Boston College, North Dakota and Northeastern. The Sioux head east next fall to face the Huskies, and Northeastern travels to Grand Forks the following year. In 2006, North Dakota will visit Boston College.
But in a series that recalls Minnesota's trip to New Hampshire last fall that previewed the national championship, you get the sense that these two teams could be meeting in Boston well before 2006.
"You always keep that in the back of your mind," York admitted when asked if this could be a Frozen Four preview. "But right now we're focused on October. We want to be as good as we can be right now."
SEEN AND HEARD IN HOCKEY EAST
Forrest for the Trees – Coach York confirms that defenseman J.D. Forrest – academically ineligible for the first three games of the year – will make his return to the ice this weekend in Grand Forks. An INCH Preseason Second-Team All-American, Forrest adds a lot of puck-moving ability to the Eagles' blue line, especially on the power play.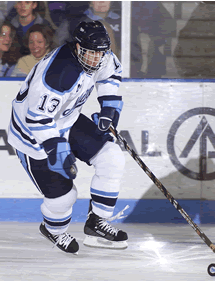 Todd Jackson led Maine with back-to-back two-goal games in last weekend's Maverick Stampede.
Action Jackson – Todd Jackson, a Yankee fan who skates alongside a pair of Mainers for the Black Bears, knows a thing or two about keeping things quiet. And he didn't mind that his Maine team was flying under everyone's radar in the preseason.
That changed in a big way last Friday, however, as the Black Bears made the early season's biggest blip with their 4-0 upset of Minnesota. They produced the perfect game plan against the Gophers – stifling Minnesota's high-powered forwards and forcing turnovers by their defensemen – while getting timely goals and terrific saves from Jim Howard.
"I think it's kind of nice not to have that target on our back," said Jackson, the Black Bears' captain and INCH's Player of the Week after a pair of two-goal games in the Maverick Stampede. "But we knew what kind of a team we had here."
Jackson has shown great chemistry with linemates Derek Damon and Greg Moore, giving the Black Bears what may be an even more threatening first line than they had last year, when seven senior forwards were in the lineup.
"The main thing we all do is talk when we're on the ice," Jackson said. "Especially Derek. He's always got his mouth going, and I always know where he is on the ice. Greg Moore is a smart, skilled player, too. They were linemates back in high school, so they play well together."
Jackson seems to fit right in. His first goal against Minnesota was a short-handed tally created when Damon stole the puck from a Gopher defenseman at the point. His second came as a result of a perfect goal-mouth pass from Moore.
"There's no denying that we lost a lot of firepower," said Jackson. "A lot of guys have the opportunity to step up and contribute. We have guys on every single line who can get it done."
And despite beating the overwhelming favorites to win the national title and capturing a tournament championship in their first two games, the Black Bears also have a level-headed approach. There was no confetti ready for them when they returned home to prepare for this weekend's Black Bear Classic.
Great Weekend Getaway

Merrimack at New Hampshire (Thurs.)
Maine, Massachusetts and New Hampshire are the only Hockey East teams with home games this week, and while all eyes will be focused on Grand Forks, the Merrimack-UNH game has the most intrigue of the local fare. Can the Wildcats maintain their 28-game unbeaten streak against the Warriors? Will Merrimack be the first team in 2003-04 to score a goal on Mike Ayers? Check it out Thursday night, and you can still tune in to Friday's game at North Dakota.


Stick Salutes

Merrimack's Joe Exter deserves acclaim for his performance as in-studio analyst for CSTV's pre-game and intermission shows during last week's Friday Night Hockey broadcast. Exter is serving as a volunteer assistant coach for the Warriors while continuing his comeback.

Todd Jackson rightfully heaps praise on Maine's redshirt sophomores, especially forward Michel Leveille and defenseman Jeff Mushaluk. Leveille showed uncanny patience with the puck in his first collegiate game against Minnesota, and posted assists on four of Maine's 10 goals on the weekend. Mushaluk, a transfer from Lake Superior State, proved to be a big and strong defenseman, but versatile as well, playing the point on the Black Bears' power play.

Bench Minors

Perhaps preoccupied by the Sox, Boston College forgot to pack its socks for the trip to the Ice Breaker Invitational. Michigan State equipment manager Tom Magee helped the Eagles secure plain white socks for Friday's game, and their usual socks arrived from Chestnut Hill in time for Saturday's championship game.

Shame on you, Boston College and Northeastern. Your ties last weekend were the only thing keeping Hockey East from a perfect 12-0-0 non-conference record.
"Everybody's on break right now, so we came back to a really quiet campus," Jackson said. "But it's still early. It's not time to celebrate yet."
Getting to Know You – Providence's visit to Minnesota State, Mankato, this weekend could tell a lot about two teams that suffered significant losses from last season – but both bring back some talent.
The Mavericks, of course, feature the nation's top returning scorer in Shane Joseph, while Providence features senior Peter Zingoni. Zingoni has four goals through two games on an astounding 15 shots. He finished fifth on last year's Friar team with 12-13—25 in 32 games.
Sophomore goaltender Bobby Goepfert will have to contend with Joseph, who had four assists as the Friars swept a two-game series with the Mavericks early last year. Head coach Paul Pooley got another close look at Minnesota State when they came to the Dunkin Donuts Center for the East Regional.
FRIES AT THE BOTTOM OF THE BAG
• Be sure to take a look at my colleague Mike Eidelbes's Postcard on the return to the ice of Patrick Eaves, if you haven't already.
• A popular choice as a potential breakthrough player on New Hampshire is Mark Kolanos, a sophomore who only played four games last season. Kolanos, the younger brother of former Boston College Eagle and current Phoenix Coyote Krys, centered a line with Eddie Caron and Patrick Foley in Saturday's opener for the Wildcats. He'll start Thursday's game against Merrimack on the fourth line, between Tyler Scott and Shawn Vinz.
• It's RedHawks against River Hawks Saturday night, as UMass Lowell partakes in its first of two straight weekend tournaments. This trip takes the Hawks to Alaska, where they'll open against Miami in the Nye Frontier Classic. Ben Walter, one of a promising group of sophomores for Blaise MacDonald's team, had two goals in the opener against Massachusetts. Walter didn't score his first goal last year until Dec. 28 and finished the year with five goals.
• This weekend marks the third straight year that Northeastern and Denver have met, and it's in the third location. In 2001, the Pioneers' Adam Berkhoel posted a 3-0 shutout of the Huskies in Alaska's Nye Frontier Classic. Last year, he made 29 saves in a 3-1 DU win at Matthews Arena. Denver leads the all-time series, 11-5-0, but it's tied in the last 10 meetings.
• Seniors make up only five of the 27 roster spots for Merrimack, but that quintet combined for three goals and two assists in the season-opening win over Sacred Heart. That group will look to erase three years of misery against New Hampshire Thursday night. Tim Reidy had a pair of third-period goals for the Warriors, while Marco Rosa started the scoring just 15 seconds into the game.